CUSTOMIZABLE FOOD SAFETY FORMS
Use our food safety checklist templates to create food allergy chart, product specification sheet and much more.
So, go and use them for yourself.
Food safety checklist
Having a comprehensive plan on how to keep all aspects of food safety always in check in your entire food process is a big yet very essential task in the food industry. Practices that help control food safety threats protect your food business from lawsuits and the consumers from any type of foodborne illnesses. These food safety procedures can range from simple handwashing to your actual food preparation of cooking at the right food temperature. They are used to control food safety threats such as hazards and protect public health. Any food process operation would need an appropriate approach to food safety that must be remembered by your whole team. A great way to help them would be to provide them with a food safety checklist.
Learn what goes in a food safety checklist and what is the fastest way to build or get one in this article.
What is a food safety checklist?
A food safety checklist is a tool that you can use to list down all important food safety activities and safety protocols related to your food production process. These practices aim to prevent food safety issues and other forms of foodborne illness risk factors. A food safety checklist can be used to remind and facilitate your food employees of what needs to be done in a day to monitor any identified critical control point in your current food process. Some checklists can even be used for verification procedures for internal audits to ensure that critical limits are within acceptable levels. In addition to being a part of your HACCP food safety program resource materials, a food safety checklist can ensure kitchen staff healthy personal hygiene.
Some tasks which can be included in a food safety checklist to control any food safety hazard are as follows:
Washing hands with soap for a minimum of 20 seconds before and after operations
Kitchen cleaning
Processing food to minimum cooking temperatures to maintain the safety of any food products
Storage of any perishable food item such as raw meat, unpasteurized milk products, poultry, raw seafood, and fruits in cold storage or safe temperatures
Control measures for sanitizing countertops and kitchen table before processing
Food storage checks
Food temperature logs
Proper waste disposal
Report all employee illnesses present and overall health of employees
The relevant control measures included in a food safety checklist depend on the main objective of the form. These can greatly vary in number, degree, and types of information needed.
Who needs a food safety checklist?
This food safety inspection checklist is for all food handlers who work in the food industry. Food safety practices in this type of list can be for different areas of the food business. They can be for the receiving, processing in the kitchen, cleaning, or serving sections. A daily food safety & hygiene checklist can be used by any establishment with food safety commitments to prevent food cross-contamination or health diseases to avoid loss of food safety process control and legal issues. These checklists can be used for maintenance of kitchen safety and sanitation and other measures to food safety to provide a high level of assurance.
What are the benefits of a food safety checklist?
A food safety checklist can offer several advantages in keeping control of food safety hazards in the work environment. As an example, daily kitchen food safety regulations can be kept by listing down all preventative measures needed to be repeatedly done every day. It's not enough to rely on memory. Anyone tends to forget some tasks now and then which increases food safety risks.
Here is a list of other advantages that you can get from using food safety checklists on a regular basis:
Helps everyone summarize repetitive preventive measures.

Helps prevent food losses.

Can be used for a detailed analysis or comprehensive report of daily tasks.

Reminds person in charge of important food safety tasks.

Ensures that all food safety concerns are controlled and addressed when needed.

Effective cleaning process.

Checklists can be used for inspections for food safety.

Helps prevent the occurrence of food safety violations.

Improve productivity in terms of food safety tasks by performing them with fewer mistakes and lesser need for corrective action.

Acts as part of a training module for food safety education to produce empowered staff and evidence of food safety commitment.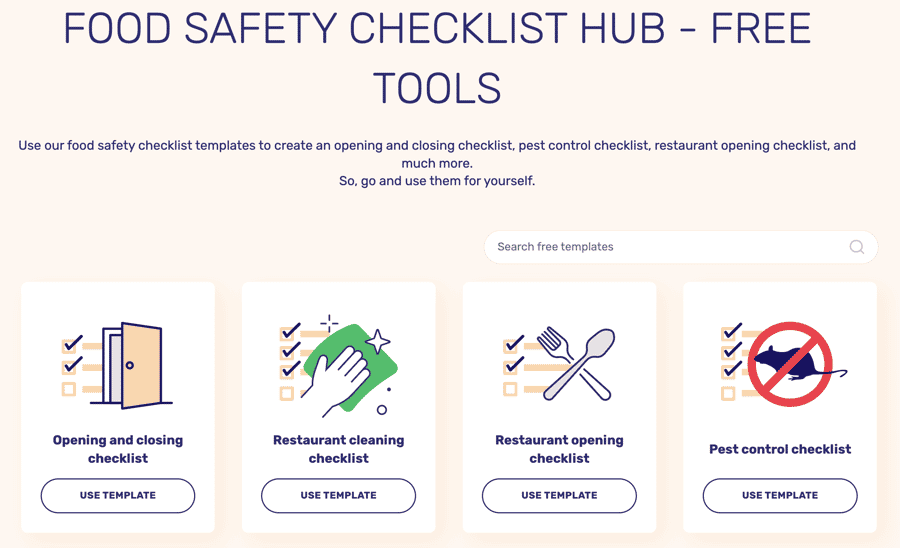 Free food safety checklists at FoodDocs
To help you monitor all food safety practices in your operations and gain consumer trust efficiently, we put up this list of stock templates for your food safety checklist needs. These templates are free, downloadable tools that you can use to remind your staff and emphasize the importance of keeping food safety in mind all the time.
Here is a list of our latest food safety checklists:
Opening and closing checklist template
Preoperational food safety checklist tasks such as briefing staff for a day's agenda, sanitizing work stations and inspecting all areas for stocks ready your employees for your operations. Similarly, tasks such as inventory checking to check food supply and emptying all waste bins to prevent food build-up can become your verification procedures before closing. Use our opening and closing checklist template to keep all these tasks in check.
Cleaning Checklist template
Cleaning procedures for all food contact areas and service locations are routine tasks to control potential hazards. These tasks must be performed daily without missing anything. Use our cleaning checklist template to remember all important food safety tasks and the frequency of their execution.
Restaurant opening checklist template
Keep basic tasks for opening a restaurant every day done in an organized fashion by using our restaurant opening checklist template. Remind employees which tasks need to be done first before starting your day-to-day operations.
Pest control checklist template
Help your food establishment team achieve an effective pest control system by reminding them when are the tasks due, how to perform them, and how to evaluate their efficiency using our pest control checklist template.
These templates are customizable to fit your operation's needs. No need to make your template and figure out which are the basic ones that need to be listed down because we already did that for you. Can't find the specific tasks you need for your food production process? Our templates can be easily customized with just a few clicks on the different form fields. We strive to add more electronic food safety checklists to our roster for your more convenient operations.
How to help my team keep all food safety rules in mind?
A good food safety compliance checklist has all of the most important tasks within a food supply chain. It must be comprehensive and must encompass all aspects of food handling and manufacturing practices. These ideas were what we had in mind when we created a roster of food safety checklists for food companies. As part of our Food Safety Management System features at FoodDocs, we offer free, customizable food safety checklists for some of the most important tasks in the food industry as a great alternative to your usual cumbersome paper lists.
What is more exciting is our digital Food Safety Management System that you can get from us at FoodDocs. This software helps you digitize your whole FSMS in just 15 minutes and help you achieve and maintain compliance standards. You wouldn't need paper-oriented monitoring forms as our system automatically generates digital checklists and monitoring documents for you.
Here are a few benefits of going digital for your FSMS with FoodDocs and using our food safety checklists:
Switching to a digital solution would only take 15 minutes tops without the overly technical stuff! FoodDocs offers the only digital solution in the world that automatically suggests the necessary monitoring forms, checklists, and procedures, based on your answers to questions about your business.
Help your team remember all daily food safety checks with a digital solution. Our FSMS food safety app notifies you through any mobile device of any food safety task or monitoring procedures that need to be done on time.
Save time for all your staff by making them fill up and check on monitoring forms and checklists. Our FSMS features an automated registration of information to your forms and checklists according to previously inserted data. All that is left to do is to verify the results and we can even generate a report for you.
Our real-time dashboard allows you to monitor all of your food safety tasks and compliance with food safety standards. With this, you can save up to 20% of the time you spend on supervising.
Our Food Safety Management System at FoodDocs makes food safety daily task management easy to do and in the most efficient way possible. Get your own food safety management system up and running in 15 minutes with our free 14-day trial and continue being food safety compliant by signing up with us.
Check also these popular templates
Easy app for monitoring to have an instant overview
Implement your

Food Safety System

in 15 minutes

Easy app for monitoring

to have an instant overview
Ready-to-use

HACCP Plan

in 1 hour