CUSTOMIZABLE RESTAURANT OPENING CHECKLIST
Use our free tool to create a restaurant opening checklist.
Just replace the words on the form when needed and download.
Restaurant opening checklist
In the everyday operations of the restaurant industry, there are essential tasks that you need to fulfill to prepare your team before going into service. Some tasks are general to keep operations in order, whereas some are very specific to your restaurant. These tasks can be a part of your approach to food safety standards, food quality, accounting matters, or the security of your food business. To help you remember all these tasks essential tasks before opening your restaurant, a restaurant opening checklist would be best.
Restaurant owners such as yourself would significantly benefit from a checklist and improve operations by ensuring that not a single preparatory task is left undone. Restaurant opening tasks are very important as they set the facility and ensure a safe dining experience for customers.
Get to know how a restaurant daily checklist can help you ensure your tasks are fulfilled and the best way to make one in this article.
What is a restaurant opening checklist?
A restaurant opening checklist is a simple yet useful tool containing standard operating procedures and important daily tasks that need to be done before your service starts. This checklist is focused on preparatory tasks that are usually done to ensure that your establishment is prepared to accept customers safely. Tasks in such a checklist may include sanitizing all food preparation surfaces, wiping down the tables and chairs, confirming early morning deliveries, and other cleaning tasks to comply with safety regulations.
As part of the many restaurant manager duties, an opening checklist can be used to help your team perform tasks in a more organized manner. It can be a printed document that must be accessible to everyone involved in the tasks indicated. Alternatively, checklists can also be digital and filled via a mobile device.
Here is a list of tasks that can be included in a restaurant opening checklist include:
Ensuring all cooking equipment is clean
Distributing all restaurant menu on tables
Opening air conditioning units
Checking cash registers
Restocking all condiment vessels such as salt and pepper shakers
Who needs a restaurant opening checklist?
Any kind of food establishment whether a dining restaurant or a pop-up restaurant will benefit from a restaurant opening checklist. Its benefits expand from the manager's convenience to the restaurant staff's efficiency. A food establishment such as a restaurant has food handlers with several different tasks that sometimes may be overlapping. A checklist would be able to sort out who is assigned to a specific task and when does it need to be done for restaurant employees.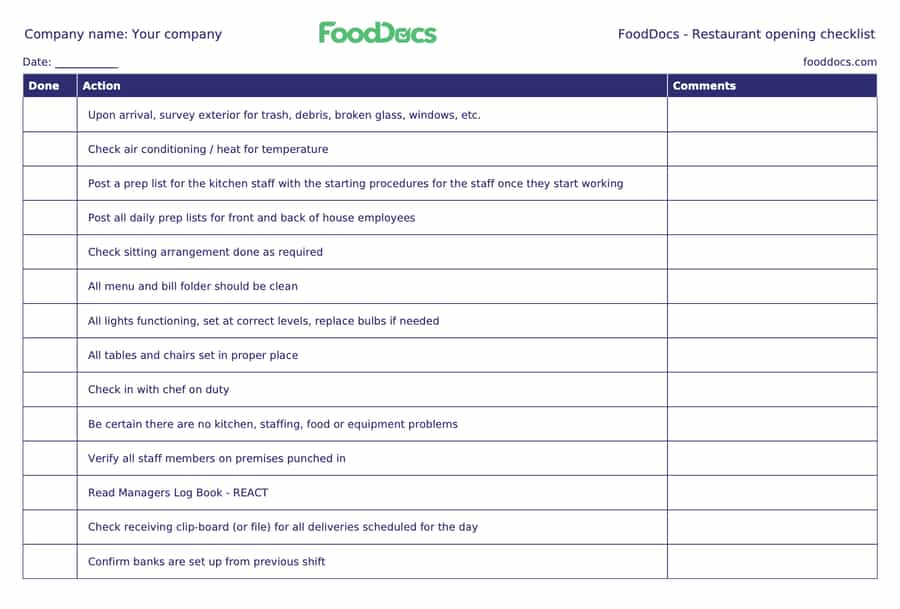 What are the benefits of a restaurant opening checklist?
A restaurant opening checklist does more than just remind employees of their tasks. This cheap yet essential tool can save your restaurant a lot of work through an organized lineup of tasks.
Here are some examples of the many benefits of using a restaurant daily checklist for your operations:
Helpful reminder. As mentioned, the main purpose of having a restaurant checklist is to have a useful tool to help your restaurant employees remember all the necessary tasks before your opening hours of operation. Any opening operations plan and task tend to be very important as this ensures the sanitation, safety, and preparedness of your team.
Prioritize activities. Using an opening checklist, your restaurant team will know which tasks to prioritize. This benefit promotes focus in doing tasks by ensuring that urgent matters and critical tasks come first at a given time. As an example, inventory checking must be placed under urgent or key tasks to give your staff time to restock on low quantity products before you start operations.
Cost-saving. In a way, a restaurant checklist prevents safety tasks from being left undone. This benefit ensures that any of your daily restaurant operations is safely executed and that your customers are protected. With this, you are less likely to face issues that will cost your business. Additionally, checklists can be used to ensure that unused light fixtures and water sources are turned off when not in use to reduce restaurant costs.
Promote accountability. The restaurant opening checklist can be used to assign specific employees to a task and ensure that someone gets it done. Additionally, when your restaurant team has a checklist, everyone gets to check if someone has already fulfilled a task or it is still in pending status.
Promote safety. Safety practices for food production are also part of daily restaurant checks, and therefore are included in the checklist. Your opening checklist can help you ensure that tasks such as sanitizing the preparation area, cleaning the bathroom, and refilling sanitizer dispensers are always in check.
To guarantee that the benefits you get from an opening checklist are maximized, it needs to be complete and goes in-depth with your operations. Restaurant opening checklists would also have to be flexible to accommodate new tasks which need to be added.
How to create a restaurant opening checklist?
In making a restaurant opening checklist, there are a few things you have to remember and consider to make it as effective as it can be. Your checklist must contain all necessary tasks for opening your restaurant in detail. Some tasks may be specific to the type of restaurant you have and that is why a lot of thinking process goes into making a restaurant pre-opening checklist.
Here are a few pointers when making a restaurant opening checklist:
Brainstorm tasks with all employees. Having a restaurant opening checklist even before you launch your operations is a smart way to keep all things organized. There are several examples of generic tasks which can be included in a checklist. When drafting your opening checklist in restaurant planning, always involve your employees and gather their ideas. Aside from the fact that this promotes their feeling of being heard, they are the ones who know the in and out of your operations. Your restaurant employees work all day long with your business operations and they would know which ones are urgent and which ones are not.
Observe your operations. Restaurant managers are expected to know all the necessary tasks that your business needs to operate. Despite this, being in the service area yourself with the floor staff or the kitchen manager allows you to see the nuances or small details that play a big role in your operations. Spend time in the service area or kitchen and conduct a personal audit on your staff schedule to know which tasks to put into your restaurant opening checklist.
Arrange tasks in an organized manner. Take advantage of making a checklist to organize the tasks. You can classify tasks as urgent or important. You can also just arrange the tasks according to their significance in the task, with the most important once being at the top.
Make a complete checklist. A complete checklist does not only mean that your daily restaurant operation tasks are all on the checklist. This step also means including a section for the assigned employee, as well as a column for important remarks should there be anything to note about a task. This section can serve to replace shift notes between the opening and closing shifts.
Continuously improve your checklist. As we have mentioned, your restaurant business will highly benefit from a versatile restaurant opening checklist. Along the way of your operations, you will have to add or reduce tasks from your checklist. This scenario is likely to happen when you introduce new operations to your food business.
Perhaps the best way to integrate all these steps in making a restaurant opening checklist is to use a template. At FoodDocs, we offer a digital restaurant opening checklist along with other useful templates for your food business.
What is the easiest way to get a restaurant opening checklist?
Nowadays, you do not need to make your restaurant opening checklist from scratch. Gone are the days where you need to pass on a draft checklist to all of your employees for them to add necessary tasks. You also do not need to conceptualize how your checklist would look like. As part of our digital Food Safety Management System features, we have come up with several different checklist templates that include a Restaurant Opening Checklist and are all in our template hub.
Our checklist templates are absolutely free and can be easily edited, downloaded, and printed for your convenience. This way, you can tailor your restaurant opening checklist to the specific tasks you do on your restaurant premises. Get access to our digital restaurant operation checklist templates and monitoring forms by joining us at FoodDocs with our Food Safety Management System. By signing up with us, you get more benefits than you can imagine.
Here are some benefits that you can get when you join us at FoodDocs:
Switching to digital FSMS would only take up to 15 minutes of your time. Our digital FSMS feature automatically generates customizable monitoring forms and checklists fit for your restaurant business depending on the nature of your food business.
Using our FSMS mobile application and real-time dashboard, you will get regular notifications on tasks that need to be done. This feature will ensure that you will not miss any task in your daily operations. Additionally, it can also be used to schedule food safety audits and other planning requirements.
Help your team save time by joining us. Our FSMS checklists and monitoring forms are automatically prefilled based on your previous data entries. All you have to do is verify them. Additionally, our system will notify you should there be any breach of your standard control limits.
Get an automatically generated overview of your whole food safety status which you can review in our real-time dashboard. With this, you can identify which section of your food safety system is lacking and save at least 20% of your time on supervising.
Get rid of all your paper checklists by going digital with FoodDocs. All of your information and monitoring forms are stored in single cloud storage for ease of access in case of health inspections. Impress your health inspectors by presenting a digital FSMS even before your audit.
Our food safety management system at FoodDocs was built to help food businesses become compliant and stay that way through continuous monitoring. All information, checklists, and templates generated by our system are based on the information from our team of food safety experts and similarly natured businesses like yours.
Sign-up now for our food safety management system and make your monitoring activities easier in just 15 minutes. Save your energy from spending too much time manually creating checklists and monitoring your restaurant operations by allowing us to help you. Join us now and get a free 14-day trial of our services. Once you join us, you will become part of our system and will receive updates on new checklists and templates that you can use for your business!
Easy app for monitoring to have an instant overview
Implement your

Food Safety System

in 15 minutes

Easy app for monitoring

to have an instant overview
Ready-to-use

HACCP Plan

in 1 hour