KITCHEN SAFETY POSTER
Feel free to use our free Kitchen Safety Poster.
Just enter your email and download the template.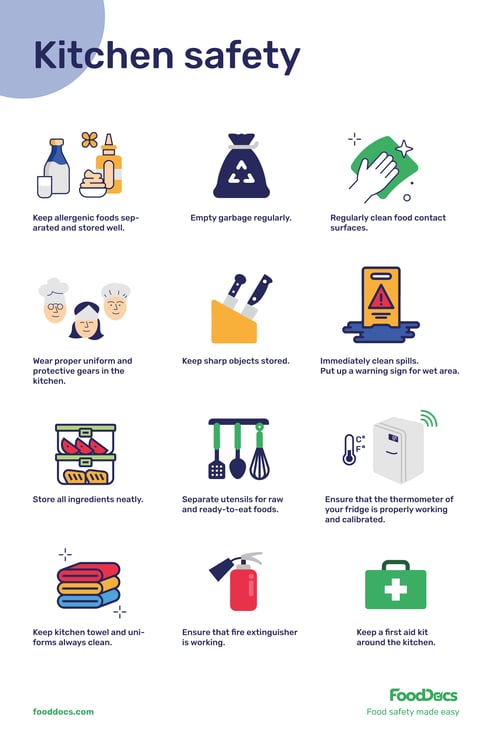 Kitchen safety poster
Some may say that the kitchen is the heart of a food establishment. It is where most food operations happen and where food handlers spend most of their time. At the same time, the kitchen area is where most food safety hazards can be found. As such, food handlers must always be well aware of how they can be controlled. Learning materials such as a kitchen safety poster can help food handlers acquaint themselves with the most important food safety tasks.
As part of every food handler's training, they must be aware of the most basic food safety operations. Having specific and clear materials can help even new food handlers understand the objective of food safety.
Learn about one of the most useful visual aid for any kitchen in a food establishment.
What is a Kitchen safety poster?
A kitchen safety poster is a useful general tool that contains several basic food safety practices for a kitchen setup. The main objective of a kitchen safety poster is to protect food handlers from accidents and the consumers from the risk of food safety hazards. In relation to accidents, approximately 6,000 fire cases are related to restaurant kitchens. Of these cases, at least 61% are caused by cooking equipment.
In addition to physical accidents, kitchen restaurants also account for the main source of foodborne illnesses. At least 44% of the yearly number of outbreaks are connected to restaurants. With constant reminders and visual tools, food handlers can always remember the most important food safety tasks. Although simple, tasks such as regularly washing your hands can significantly reduce the risk of foodborne illnesses from contamination of food.
A Kitchen safety poster can include, but is not limited to, the following kitchen safety tips:
Keep allergenic ingredients separated and stored well.
Empty garbage regularly.
Regularly clean food contact surfaces.
Wear proper uniforms and protective gear in the kitchen.
Keep sharp objects stored.
Immediately clean spills. Put up a warning sign for the wet areas.
Store all ingredients neatly.
Separate utensils for raw and ready-to-eat foods.
Ensure that the thermometer of your fridge is properly working and calibrated.
Keep kitchen towels and uniforms always clean.
Ensure that the fire extinguisher is working.
Keep a first aid kit around the kitchen.
Who needs a Kitchen safety poster?
Any food establishment such as a restaurant, food truck, cafeteria, or grocery store that prepares food in a kitchen can use a kitchen safety poster. A kitchen setup would only vary depending on the types of food being served in a food establishment. Despite this, basic food safety operations are general and can be applied in any type of kitchen. As such, simple posters such as this one are a great visual tool to become a part of your team's food safety system.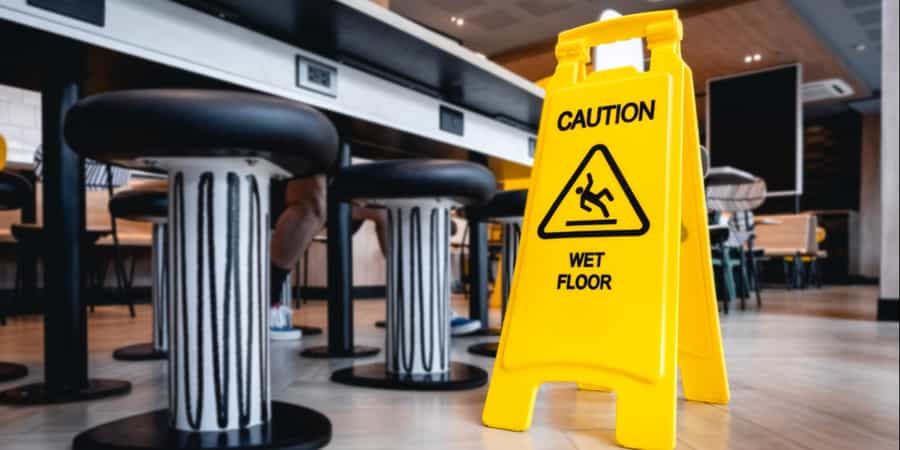 What are the benefits of a Kitchen safety poster?
Accidents and foodborne illnesses that occur in and from a kitchen can result from the lack of basic food safety knowledge. Food handlers must always be aware of how to conduct themselves and behave in a kitchen to avoid any problems. A kitchen safety poster can help achieve these objectives in your food establishment.
Training material. More than a reminder, a kitchen safety poster can be used as part of your teaching resources to orient food handlers on the most basic yet effective food safety practices. This kitchen poster includes tasks that need to be done every day to control any potential risks that may cause food poisoning or even accidents. It is an invaluable tool to ensure that your employees are well-equipped with the necessary knowledge to protect your food business.

Reminder. Kitchen operations are very demanding. To keep up with the quality and safety demand, there are a lot of tasks that need to be fulfilled. To help employees remember which operations need to be done every day, you can use a kitchen safety poster as a reminder. When making your own kitchen safety poster, you can also add unique operations from your food business.

Reduce the occurrence of accidents. In addition to food safety, accidents are also common (although they should not be) inside a kitchen. These accidents can include slipping, cuts, or hurting yourself in the kitchen. A kitchen safety poster, when used to orient food employees, can help your team reduce these accidents. Display posters in a visible spot where everyone can see them.

Cost-saving. With proper guidance using a kitchen safety poster, your team can prevent foodborne illnesses that can lead to more complaints such as lawsuits. These complaints can have a bad effect on your brand image and reputation. Additionally, while a kitchen promotes food safety and hygiene, it also prevents the occurrence of food wastage which ultimately leads to more expenses.
In general, a kitchen safety poster is used to promote safety. Whether it is for the sake of the food and the consumers or your employees, safety is an important element in a kitchen. In combination with this reference poster, you can also use different food safety checklists to help your employees remember all food safety tasks.
How to create a Kitchen safety poster?
A kitchen display poster is a basic visual aid. You can make one yourself, or better yet download our free printable restaurant posters here on FoodDocs! When making food safety posters such as this one, we make sure to include the following things to make them effective:
List basic safety precautions. Include operations such as always keeping a complete first aid kit as well as updating the condition of your fire extinguisher on your kitchen safety poster. Although not necessarily related to foods, these operations help keep a safe environment in your kitchen. These tasks can help prepare your team for any unforeseen accidents in your kitchen.

Include food safety and hygiene operations. Include the most important food safety tasks such as storing foods at the correct temperature, cooking to the safe internal temperature, and using separate utensils for raw and ready-to-eat foods. Additionally, include food hygiene operations such as proper handwashing and keeping informs and kitchen towels clean all the time.

Clearly identify operations. When making a kitchen safety poster, you can assign images or portray a scenario. This can help food employees to locate a task they need to review. Additionally, any image and color in poster can make it more eye-catchy and would be inviting to be read by your employees.

Personalize your list. To make your kitchen safety poster more effective, you can add safety messages that are unique to your food business. Because different food establishments have their own nature of operations, it would be helpful to add your most important tasks to your poster.
In addition to a kitchen food safety downloadable poster, you can also get other important food safety tools and food-service-specific posters from FoodDocs. Our HACCP plan template hub has all the most in-demand food safety documents in the food industry. You can download templates for checklists, a variety of posters, and a consumer advisory from FoodDocs and print them for your everyday use.
Here are a few questions that are frequently asked about this topic:
What are 5 safety rules in the kitchen?
Five of the most important food safety rules include
Cook foods thoroughly

Keep foods in a controlled temperature storage

Use separate utensils for raw and ready-to-eat foods

Always clean food contact surfaces

Practice food hygiene
What is basic kitchen safety?
Basic kitchen safety includes rules that help protect employees from any potential accidents in the kitchen. It may include operations such as keeping knives in a secure place, using cutting boards, and putting up signs for wet floors.
Digital solution to ensure kitchen safety
Kitchen safety is a very important aspect of a food establishment. In addition to protecting consumers from potential food safety hazards, your employees must also be safe. As a food business manager, you are required to oversee these operations in addition to the many other food safety tasks, plus your everyday business operations. How will you ever survive every day while ensuring that all these tasks are fulfilled?
The answer is at FoodDocs! Using our digital Food Safety Management System (FSMS), you can ensure that all food safety tasks are fulfilled, minus the hassle of overseeing everything yourself. In addition, our system can help optimize your operations and save a significant amount of time for you and your employees. The best part is that switching to our digital FSMS would only take an average of 15 minutes! All you have to do is answer questions about your food business and everyday operations. Afterwhich, our system will automatically generate your digital FSMS.
Our digital FSMS is powered by AI to build a comprehensive food safety system that is specific to your operations. Using our system, you can get the following components:
Customizable, digital monitoring forms specific to your everyday tasks. These forms can help your employees save time as they can be set to be auto-filled based on the previously logged entries.
To remind your employees of everyday tasks, our system features a smart notification system. Through our versatile mobile application, our system will send notifications to concerned employees when a food safety task is due to be done.
Save at least 20% of your time from managing your business with our system's real-time dashboard. This feature gives you a quick overview of your operations that you can use to point out areas that need improvement.
Get unlimited cloud storage where you can store all of your digital documents and access them at any given time.
To further optimize your automatically generated digital FSMS, you can customize the majority of the sections. This feature will allow you to add any unique operations from your food business. Through this feature, you can have a more tailored experience using our digital FSMS.
With our digital FSMS, you can remain compliant and focus on other aspects of our food business with full confidence. In a matter of 15 minutes, you can get a comprehensive digital FSMS to help keep your customers safe with your services.
Join over 15,000 customers who are enjoying food safety compliance through our system's help and discover how our digital FSMS can help your food business. We offer a free, 14-day trial so you can experience our services yourself!
Easy app for monitoring to have an instant overview
Implement your

Food Safety System

in 15 minutes

Easy app for monitoring

to have an instant overview
Ready-to-use

HACCP Plan

in 1 hour