RESTAURANT DEEP CLEANING CHECKLIST
Use our free tool to create a deep cleaning checklist.
Just replace the words on the form when needed and download.

Company name:

Your company

_
| Daily | Mon | Tue | Wed | Thu | Fri | Sat | Sun | Notes |
| --- | --- | --- | --- | --- | --- | --- | --- | --- |
| Weekly | Mon | Tue | Wed | Thu | Fri | Sat | Sun | Notes |
| --- | --- | --- | --- | --- | --- | --- | --- | --- |
| Monthly | Mon | Tue | Wed | Thu | Fri | Sat | Sun | Notes |
| --- | --- | --- | --- | --- | --- | --- | --- | --- |
Restaurant deep cleaning
Among the many preventive food safety practices, cleaning is one of the most effective preventive measures there is. Food establishments are some of the most meticulously cleaned businesses there could be. This is because food safety significantly depends on regular restaurant deep cleaning. Food businesses are expected to uphold strict cleaning standards in their space and food prep equipment.
Restaurant deep cleaning involves several cleaning practices that must be done regularly, sometimes even on a daily basis. Consistently applying the correct cleaning procedures ensures that your food processing facility meets food and health codes and laws established by food safety agencies.
In this article, we discuss the importance of restaurant deep cleaning process and how you can help your team remember the cleaning tasks that need to be done every day.
What is restaurant deep cleaning?
Restaurant deep cleaning is a collection of operations and cleaning duties performed to remove dirt in a food facility and kitchen equipment and sanitize it to ensure food safety. Deep cleaning goes beyond just sweeping or wiping kitchen floors of food stains, waste disposal, and cleaning tables for food particles.
Any Restaurant business requires a set of cleaning and sanitation operations in different areas of the establishment. A food establishment team's responsibility includes maintaining a certain level of restaurant cleanliness to keep their space sanitary and contaminations controlled. Some cleaning operations need to be done every day, even twice or more, whereas others are scheduled for a larger interval.
To help food handlers remember which restaurant cleaning task needs to be done in a day, use a restaurant deep cleaning checklist. Some of the operations and items included in this type of checklist include:
Daily cleaning checklist

Wipe any food residue on walls, tables, food contact surfaces and food preparation tables

Wipe and sanitize dining tables

Clean exterior of oven and other cooking equipment (e.g., meat slicer, ice machine, and grill surface)

Clean beverage dispensers

Replenish condiment bottles (e.g., pepper shakers)

Replenish paper towel dispensers

Sanitize counters, steam tables, and prep tables or cooking surfaces

Launder all bar towels, table cloths, floor mats, and aprons in washing stations

Clean out trash cans/ trash bins and empty recycling bins

Clean and sanitize sinks

Vacuum carpet and clean floor mats

Sanitize entrance doors

Refill soap dispensers

Sanitize drip trays/ drain pans

Weekly cleaning checklist

Perform fixture and window cleaning

Dust ceiling fans

Flush floor drains with drain cleaner

Sanitize espresso machines/ coffee machines/ coffee makers

Monthly cleaning checklist

Sweep and sanitize walk-in refrigerators

Clean ovens

Perform air vents and exhaust hood cleaning

Clean and change hood filters

Clean refrigerator coils

Perform air duct cleaning

Deep clean restrooms, sink drains, and handwashing areas

Clean grease buildup from grease traps of the deep fryer

Remove buildup on grout lines

Delime dishwashers

Replenish pest traps
Regular cleaning and sanitation procedures must be applied throughout the establishment. This means that every section of your restaurant must properly have a list of cleaning operations for maintenance, including special cleaning requirements.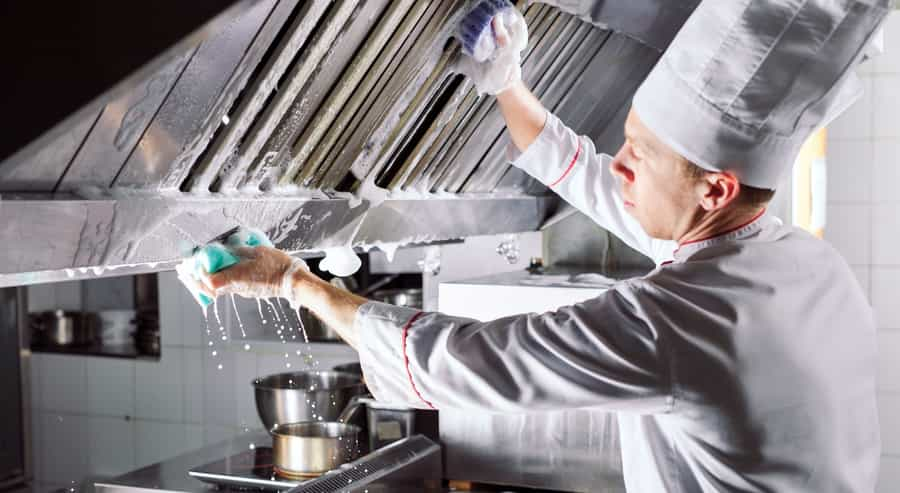 Why do you need a deep cleaning checklist?
Industrial restaurant kitchen cleaning entails several stages of operations. It won't be a big surprise if food handlers occasionally forget one operation or two. The problem is that forgetting a cleaning task may result in very big problems.
For one, proper cleaning and sanitation tasks are essential operations that prevent the spread of viruses, cross - contamination, and a health crisis. They help ensure that the surfaces you use in preparing food are clean. A clean cooking area will not harbor any growth and spread of bacteria and other pathogens.
During any food and health inspection, a health inspector uses a related restaurant cleaning schedule checklist to evaluate your food business. A restaurant deep cleaning checklist can help your team do a more organized job and ensure that every spot and corner of your establishment is clean for the safety of staff and customer satisfaction.
Who needs a deep cleaning checklist?
Every food business needs a deep cleaning checklist. It is an essential tool that helps food safety teams cover all cleaning tasks. Since restaurants, food retailers, - producers, cafeterias, and food trucks have different cleaning tasks, a versatile restaurant kitchen cleaning checklist would be very helpful for your team.
With our restaurant deep cleaning checklists, you can easily add a unique and wide selection of operations to your business. Our checklist also acts as a template as we add the most common and essential tasks for cleaning and sanitizing. You can create a comprehensive cleaning program starting with this comprehensive checklist. A clean restaurant is a very big factor for any consumer to patronize your business.
Why is deep cleaning important?
A food establishment is very prone to accumulating dirt and, therefore, contamination. Foods, customers, and employees that go in and out of the establishment attract dirt. In addition, everyday operations also contribute to generating elements that may lead to contamination. As such, comprehensive cleaning strategies or cleaning routines must be implemented.
For example, fryers accumulate grease, windows gather dust, food debris buildup on tile floors, and table tops and prep area surfaces in commercial kitchens will always need sanitizing. Deep cleaning aims to create a good working environment for a food establishment.
Activities involved in deep cleaning can save your business from a food safety violation, negative review, or causing food poisoning. Some activities must be done daily, weekly, or monthly. For one, daily cleaning operations are very essential. The frequency of performing the tasks may translate to the rate of dirt accumulation.
Without a restaurant deep cleaning, your food business may become more prone to causing foodborne illness due to unsanitary working conditions and cross-contamination.
How can you help your team complete deep cleaning correctly?
Cleaning and sanitation to remove food hazards are invaluable operations when it comes to running a food business. You cannot run a food establishment with an unsanitary environment, or you will be the main attractant of food contaminations. All cleaning tasks for restaurant kitchens and service areas must be done to ensure consistent food safety.
The problem is that too many cleaning operations must be done. We're talking about a lot of operations in a day. Not to mention the monthly and weekly tasks. These operations must be performed on top of other food handling practices and hygiene rules.
Food cleaning and sanitation rules are too important to miss out on. As such, we encourage you to use our Free Restaurant Deep Cleaning Checklist. Place this checklist in a visible area such as a board with cleaning procedures that is accessible to all employees.
You can add any new operation at any time during service with our customizable template. This deep cleaning restaurant checklist is just one of our many food safety documents that can help you remind your team of important tasks for your food business. Check out more free food safety tools, such as our food sanitation rule poster. For more free checklists, templates, and posters, head over to our free HACCP plan template hub.
Automatic food safety solution
While a restaurant cleaning checklist can be very helpful for your entire restaurant, it may not be able to adapt to your constantly improving food business efficiently. Additionally, a checklist would generate too much paperwork for cleaning records if you have a business with a very large number of employees and cleaning tasks.
At FoodDocs, we have developed an automatic, digital solution for your cleaning and sanitation tasks. With our digital solution, you would not have to worry if your employees will remember the tasks that need to be done daily, weekly, and monthly. When you use our digital solution, you can get the following benefits:
Our digital solution can help your employees remember every cleaning task with a smart notification system. This feature alerts the responsible cleaner to remind them of the cleaning or sanitation checklist task on time.

You will get detailed instructions on correctly performing deep cleaning procedures to guide food employees in performing every task and ensure their effective application.
Deep cleaning checklist with training instructions
In addition, our digital Food Safety Management System can also help restaurant owners and managers save time:
Switching to a digital food safety management system would only take an average of 15 minutes with our solution. All you need to do is answer a few basic questions about your business operations, and our artificial intelligence-powered system will do the rest.

Using our digital solution's real-time dashboard, you can save 20% of your time supervising your team. With this feature, you will always be updated with the status of your business, including sanitation aspects.

Save time finding and organizing all of your digital documents using the digital cloud storage that comes with our digital solution.
In addition to a more efficient cleaning operation, our digital solution can be your first step to becoming more sustainable. No more paper-based monitoring forms and checklists for your team.
Our digital solution was created by food safety experts with efficiency and high standards of food safety in mind. With our help, you can achieve food safety compliance in the foodservice industry with very little effort and protect your consumers effectively all the time.
Start your digital food safety journey by using our free, 14-day trial. With this trial, you can experience the convenience and effectiveness that our solution can bring to your team.
Easy app for monitoring to have an instant overview
Implement your

Food Safety System

in 15 minutes

Easy app for monitoring

to have an instant overview
Ready-to-use

HACCP Plan

in 1 hour