Create and resize Your Recipe
This free tool will help you
create and rescale your recipes easily
Ingredients
| QT | Measurement | Ingredient |
| --- | --- | --- |
| | | |
| | | |
| | | |
Add image:
Recipe converter calculator
Recipes are one of the many essential kitchen instructions in a food business. They are used daily to replicate dishes promoted and served in your food facility with uniform quality. Sometimes, this makes the preparation process a bit more time-consuming than it should be. In a food business setup, converting recipes also means upsizing or downsizing recipes depending on the number of customers served. The quickest way to translate a recipe to your needs is to use a Food Recipe Converter Calculator.
Recipe conversion can take up a lot of time, which could be costly for a fast-paced environment like a food service or production facility. What you need is a quick and accurate solution to generate recipes, calculate conversions, and implement correct values in your operations.
Learn how to use our Recipe Converter Calculator and its importance in this article.
What is a Recipe Converter Calculator?
A Recipe Converter Calculator is a conversion tool that you can use to translate or scale recipes to the correct portion size that you will need to prepare. This tool is a quick and easy solution when you need to prepare a bigger or smaller batch of a favorite recipe on hand.
The recipe measurement converter calculator can automatically scale the number of ingredient amounts needed to the desired recipe size with a few clicks. It can accommodate ingredients by weight, volume, or other measurements. The tool takes away the tedious task of thinking and manually computing with a kitchen calculator how much additional flour, milk, cups of water, baking powder, and butter to use when the cake recipe is good for 15 servings, and you only need 4 portions.
A conventional recipe calculator can help rescale ingredient weight measurements without manually computing everything. This tool helps reduce errors and promote the accuracy of all computations. In operations such as baking, a slight offset in the recipe can ruin the entire final product. The recipe will not go well even if you have the correct conventional oven, the perfect baking instructions, the exact time for baking, and high-quality baking ingredients if the recipe ratio is incorrect. Amounts of ingredient quantities, such as the exact percentage of water and dry ingredients, must be precise when scaling the recipe.
Who needs a Recipe Converter Calculator?
Food businesses with varying requirements of serving sizes would benefit the most from a Recipe Converter Calculator. Food service restaurants that operate catering services can use this handy recipe scaler to estimate the needed recipe ingredients from a recipe based on the target number of customers for an event. Also, production companies and retailers that produce bigger yields that may vary daily can use the recipe converter to gain accurate products. A good example is a large bakery business with different target yields daily will find the recipe calculator very useful for varieties of cakes and loaves of bread.
How to use a Recipe Converter Calculator?
The Recipe Converter Calculator at FoodDocs is a free tool that is quick and easy to use. The converter for cooking recipes can be used as a recipe multiplier or recipe divider to rescale a recipe according to your needs and download and print the recipe as a reference or even a grocery list.
The recipe calculator does not take rocket science to operate. Below are six easy steps to use our Recipe Converter Calculator.
We've provided an example of a basic Brownie Recipe to show you how this converter tool works.
Step 1: Enter the name of the recipe. For example, Fudge Brownie.

Recipe name
Step 2: List down the original recipe ingredient list, cooking measurement amount, and indicated unit of measurement from the original recipe. Choose from units of measurement for dry and liquid ingredients. Add more rows as needed. (Example: You can add Flour in grams or cups, depending on your given recipe.)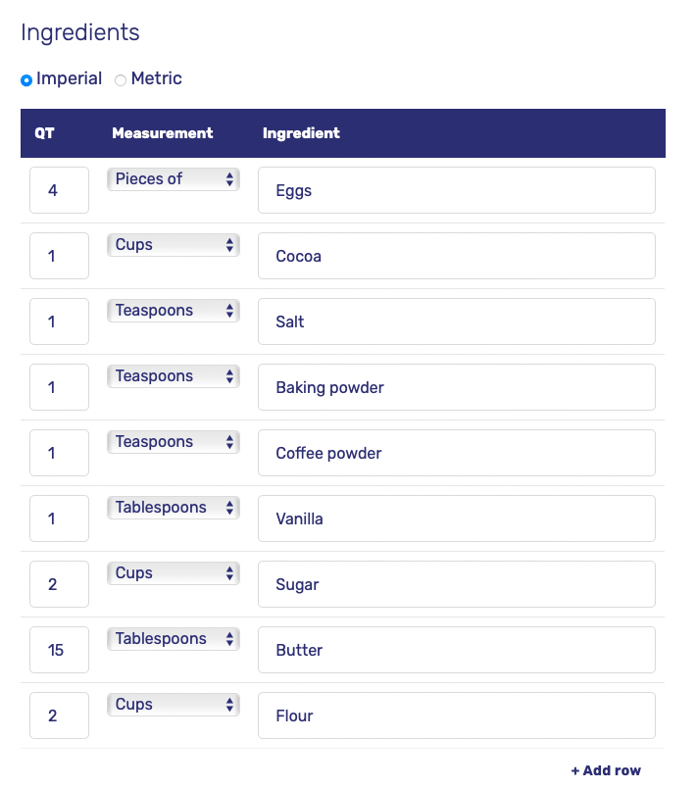 Ingredients list for a brownie recipe
Step 3: Describe the instructions for preparing the dish in detail. Add any remarks, notes on conventional cooking time, instructions, or additional steps for the recipe in the provided section.

Preparation notes for recipe
Step 4: Add a picture/image of the prepared food.

Add image field for recipe
Step 5: Input the original recipe yield and desired yield for the converted recipe.

Original and target recipe yields
Step 6: CREATE THE RECIPES to get the original and converted recipes.
Step 7: Enter your email address and download the recipe cards for free.
The recipe calculator application will feature both versions of the recipe, the original and recomputed lists, for complete recipe comparisons in standard recipe formats. Verify the recomputed and previous recipe for correctness, ingredient conversions, and the basic steps for instructions before printing.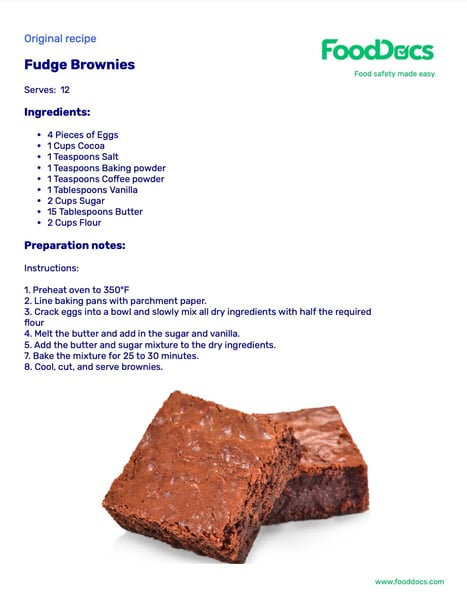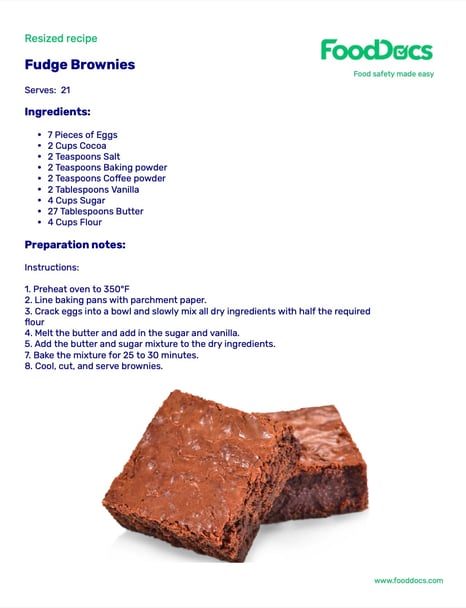 Generated recipe cards from the converter tool
This free tool is just one of our many useful free tools at FoodDocs. We feature more than 70+ free tools and templatesthat can help you assess and control food safety in your operations and help you improve your operation's efficiency, such as our Food Cost Calculator. Use this calculator to estimate recipe prices and get accurate recipe pricing all the time. Visit our whole list of HACCP plan free tools here.
What are the benefits of a proper Recipe Converter Calculator?
The simplicity of a Recipe Converter Calculator is one of its greatest appeals. Using the recipe scaler can save you valuable time and reduce the likelihood of unnecessary deviations in the final quality and safety of the product. With a cooking measurement converter, you can ensure that your operations will always yield a consistent result, no matter the scale of the preparation.
Specifically, using this Recipe Converter App can provide you with the following benefits:
Time-saving. The converted recipe the converter tool will generate is instantly reflected on the same screen. You do not have to spend much time computing nor wait minutes for the system to generate the needed information with a recipe cooking converter. You can instantly get the converted version of ingredients in recipes in just a few seconds. If you need to revise anything, you can freely use the application for editing ingredient items, cooking instructions, and other recipe conversion activities.
Convenience. This recipe converter tool is a digital solution that removes the need for pen and paper, as well as the manual computation for converting a common recipe to a different scale. You do not need to use a calculator, a complicated formula, conversion rules, and notes, as the tool will do all the elaborate conversions to scale recipes. The converter features a wide range of common units. You can input all common ingredients by volume for cooking liquids or mass for dry ingredients. In addition, the final result yields a detailed and neatly presented custom recipe card that you can print and use for your operations and planning.
Accuracy of conversion. Performing the conversion and cooking calculations manually has a higher risk of inaccurate measurements, which could lead to problems with food safety and quality. For example, the wrong conversion of the required preservative for the recipe may significantly affect the product's shelf life and increase the risk of causing foodborne illness. The recipe cooking calculator ensures that all values for cooking conversions are correct for accurate preparation.
Less waste production. This tool can help reduce the potential waste from over-preparing a meat recipe due to wrong conversions. The precision and accuracy of the performed conversions using this tool can help ensure that the dishes you will be making are uniform and up to your standards without having to repeat the process again due to wrong measurements.
What is the fastest way to plan and manage your food production?
Managing your food production operations can take a significant amount of your time. In addition, mistakes can cost you a lot, including safety, quality, and customer confidence. As such, accuracy and uniformity of information every time is a must.
Information such as recipes, food costs, food preparations, and cleaning records must be duly documented, analyzed, and verified to ensure that your business complies with regulations and at a profit-generating phase.
At FoodDocs, we will help you manage your food production information while improving your food safety compliance efficiency at the same time. We provide a digital solution that will help you manage all product-related information.
Our digital solution can help you create and compile all complete recipes and preparation instructions in one digital platform.
Our food production solutions include a dynamic view of all the significant allergens in your operations.
Calculate and plan your production using our Production Planning App, where you can access all information anytime.
Food Production App from FoodDocs
In addition to these production management features, our digital Food Safety Management System can help managers improve supervision efficiency with the following benefits:
Our digital Food Safety Management System requires 15 minutes to set up. Switching to our digital platform is as easy as answering basic questions about your operations.
Save at least 20% of your time from manually supervising your team with our real-time dashboard. This feature gives you a quick overview of your operations and can help you identify areas that need more attention.
Get secure cloud storage to archive all digital information in one dedicated place.
Become more sustainable and environmentally friendly by switching to our digital platform and leaving the paper-based monitoring system behind. Our digital solution is powered by artificial intelligence and a machine-learning program, which allows it to automatically and intuitively generate significant monitoring logs and checklists for your operations.
What makes our digital solution even more helpful is its customizable feature that allows your team to tailor the digital forms to the nature of your operations even more.
Join our list of more than 30,000 food business customers enjoying food safety compliance through the help of our digital solution now using our free 14-day trial.

Frequently Asked Questions
Need more information on the importance of recipe calculator and conversion? Here are some of the most frequently asked questions regarding this topic.
What is the formula for converting a recipe?
In converting a recipe, you need first to compute the conversion factor. This factor will be used as a multiplier to get the desired yield of recipe.
To compute using the conversion factor method, you must determine the original Recipe Yield and the Required Yield. The conversion factor is computed using this formula:
Conversion factor = (Required Yield) / (Recipe Yield)
The conversion factor will then be used to convert the required ingredient portion from the original recipe. That is, if the original recipe calls for 2 cups of flour, and the conversion factor is 2.5, then:
= 2 cup of flour x 2.5
= 5 cups flour
Convert values to the nearest cooking fraction for convenience.
How do you resize a recipe?
Resizing a recipe is most commonly done by dividing or multiplying each ingredient requirement by the computed multiplier to get the required fractional amount. This recipe multiplier is acquired using the formula
Conversion factor = (Required Yield) / (Recipe Yield)
Example: You only need a recipe for 5 servings, and the original recipe serves 10 portions. Computing for the conversion factor,
Conversion factor = 5 / 10
= 0.5
This conversion factor will then be multiplied by all ingredients from the original recipe.
| | |
| --- | --- |
| Original recipe x Conversion factor | Resized recipe |
| 2 cups of vegetable oil (x 0.5) | 1 cup of vegetable oil |
| 1 cup of low-fat milk (x 0.5) | 0.5 cups of low-fat milk |
| 6 spoons of peanut butter | 3 spoons of peanut butter |
How do you change the number of servings in a recipe?
Changing the number of servings in a recipe size means multiplying or dividing the amount of each needed ingredient needed by the conversion factor. If you have a recipe that can serve 6 servings and you need to serve 12 individuals, you need to multiply all ingredients by 2.
How do you measure a double recipe?
A double recipe means multiplying all of the ingredients used in a recipe by two to yield twice the original amount.
Easy app for monitoring to have an instant overview
Implement your

Food Safety System

in 15 minutes

Easy app for monitoring

to have an instant overview
Ready-to-use

HACCP Plan

in 1 hour