Free Recipe Cards Creator
Recipe cards are a staple tool in any food business that offers amazing food options. Restaurant recipes help guide even the most professional chefs from popular restaurants, bakeries, or food production to replicate a delicious dish. This tool also makes onboarding new kitchen staff easier. Food handlers can be sure that every food product they serve will always be up to standards in terms of taste when recipe templates are followed. This tool is a key item to ensure that you will always cook that famous chicken with uniform quality all the time.
Recipe cards, although small, are significant tools that can help your food business optimize raw materials and achieve maximum profits and customer satisfaction. In addition, they are used to keep records of the most mouthwatering food in recipe binders at any food business. Recipes also help food businesses update their ingredient database and the cost of menu items.
In this food blog post, we discuss how a simple recipe card can help you in your kitchen. Get to know how you can easily turn any restaurant or family recipe into a printable modern recipe card with our free fillable recipe template card and the easiest way to manage food safety in your operations.
What is Recipe Card?
Recipe cards or recipe templates are documented cooking guides containing a detailed list of ingredients, instructions, and special notes for making a dish. They are commonly printed on regular paper and are neatly compiled. More modern and innovative food businesses have recently compiled their recipe cards in a digital recipe book. Digital platforms for recipe cards offer sustainability and more significant benefits compared to a card written on paper.
These tools serve as a reference for food handlers to create or replicate a dish at a food business exactly as the chef or owner intended.
A staple recipe card design in a restaurant means it is the most updated version of a dish and must be consistently followed to uphold the product's quality. Some recipes are handed down from generation to generation.
A recipe card front-end contains the following recipe details and design elements:
Recipe title
Serving size
Ingredients list
Preparation Instructions
Prep time and cooking time
Recipe image
Special note for dishes (e.g., allergen information, author, and major updates from previous recipe cards)
More detailed and modern recipe cards can include storage information, notes for styling option, kitchen equipment, product price, and alternative ingredients in the absence of accessible ingredients or when there is an issue with ingredients. These details are added for informational purposes. To show ownership, some businesses add recipe card headers.
Recipe cards must use clear and specific terms and have readable fonts to avoid confusion among food handlers. Design options and different styles of recipe layouts are available depending on the standards of your food business.
Recipe cards are often collected and archived in a recipe box or recipe binders for safekeeping and future generations. Recipe card styles may vary depending on the standard format of a food business.
What is a Recipe Card Template Tool?
The Recipe Card Template tool is a free tool at FoodDocs built to help food businesses digitalize their recipes instantly and easily create printable recipe cards. This free, blank recipe template can be used by anyone and is part of our list of many food safety instruments.
Encode all details from your physical recipe cards into this free, editable recipe template and get a neatly formatted digital, editable recipe card with a few clicks. Download the final food recipe template in a pdf file for free anytime you want using this recipe card maker.
What are the benefits of a proper Recipe Card?
A collection of recipe cards hold vital information from a food business. A recipe file contains some of the core instructions and confidential details for your top-selling shop product and, sometimes, industry operations or cooking secrets exclusive to your company.
In particular, recipe cards can offer the following benefits to every food business:
Product quality. A standardized recipe file provides a reference for food handlers on the ingredients or items and the cooking process needed to produce a finished product. Recipes of any mouthwatering food are often the result of long trials and experimentations to arrive at the final product being sold in a food business. A recipe card ensures that products are produced uniformly and according to company standards.
Employee training. Recipe cards can be provided to new kitchen staff to acquaint them with the cooking methods, and recipe workflow used to process your food products. This tool facilitates onboarding as recipe cards provide specific recipe directions and important notes. Employees can also improve their skills with recipes by using them from time to time during regular operations.
Cost-efficiency. Recipe cards indicate the exact ingredients and directions to use for batch recipes. These tools can be used to plan the procurement process of your stock ingredients and avoid overbuying or overusing them during preparation, which can produce more food waste.
Food safety. Some recipe cards indicate special instructions regarding the safety of the final food product. Important steps, such as the target cooking temperature of food, may be indicated in the recipe card as a food safety precaution to prevent causing foodborne illness. Similarly, instructions that may include prohibited ingredients to be used as alternative or allergen information can also be added to the recipe cards.
Who needs a Recipe Card Tool?
The Recipe Card Tool was built for every food business in the industry. Commercial businesses, including food service, production, development, and commercial kitchens, use recipes as a reference for their food products. Restaurants and bars often keep detailed records of their dish recipes and bar drink recipe card.
This recipe card maker can help food businesses create or digitize portable recipe cards in a standard format. The design tool also allows food restaurant owners to improve their recipes as this Recipe Card Tool can be used as often as needed.
How to use Recipe Card Creator Tool?
The Recipe Card maker features an editable recipe sheet template that needs to be filled to create detailed digital cards with recipes. Text and number fields or card block settings are conveniently provided for food handlers to fill them. Preferred options of pre-set units, both Imperial and Metric, are provided in dropdown menus for convenience and ease of using this simple template.
Here is a step-by-step design process on how to use this printable Recipe Card Template:
Step 1: Enter the Recipe Name for the heading block.

Recipe name
Step 2: List the ingredients for this recipe and indicate the quantity to be used. These blocks for ingredients provide Imperial or Metric measurement units that you can use for automatic ingredient quantities adjustment. You can add dry ingredients and use cups, ounces, or milligrams as a unit of measurement. Add more single block rows depending on the required fields for the recipe ingredients.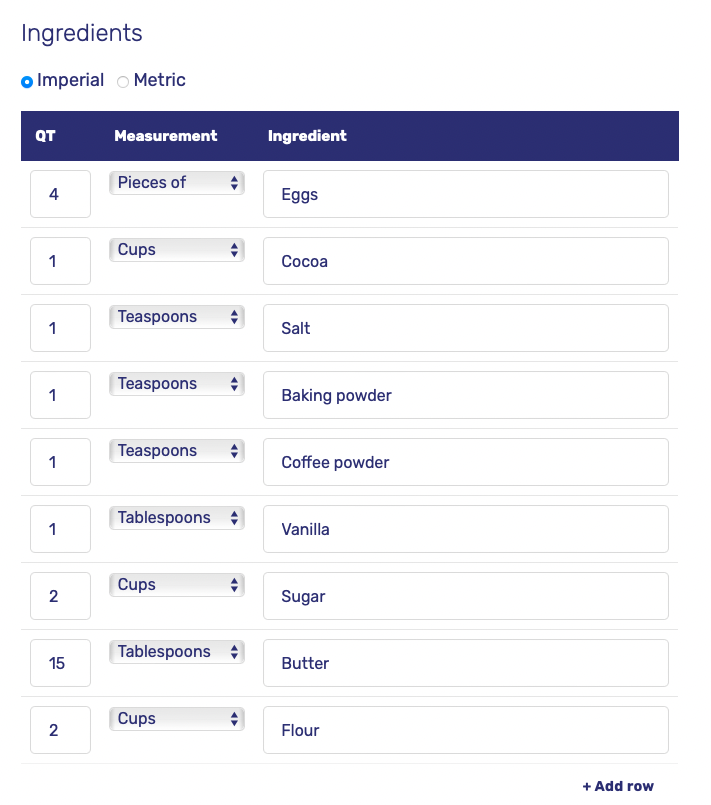 Ingredients list
Step 3: Describe the method of preparation on the Preparation notes block design tool. Use this section to include any special remarks or cooking instructions, such as allergen information, preparation time, the author of the recipe, an alternative bunch of ingredients, recipe directions for plating, and updates on recipe changes.

Preparation notes for recipe
Step 4: Upload an image of the final plating. Use this built-in feature to show food handlers what the final product should look like. Choose clear photos and appropriate image sizes.

Add image field for recipe
Step 5: Identify the recipe's intended yield or portion size.

Recipe yield
Step 6: Click the selection "Create recipe" to generate the formatted recipe card.

Create the recipe
Step 7: Enter your email address and click the recipe card download link to get the final template file for free.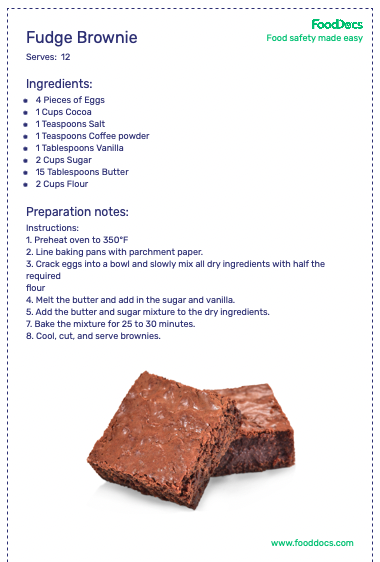 Generated printable recipe card
The free tool will generate amazing recipe cards in a uniform format. Use the provided basic customization options to tailor the recipe cards to your needs. You can use the tool multiple times to create editable recipe cards for free! Apply updates on recipe changes through our free tool.
Print all existing and future recipe request in your chosen card size that will fit your recipe card box, or use digital versions.
Build your list of menu item recipes, or even a small recipe cookbook, with this free tool.
This printable recipe template is just one of our free tools. Do you need to convert or resize your favorite recipe card blocks to make larger batch recipe portions for restaurants? Use our
free Recipe Converter Calculator
and skip the manual calculation and writing yourself. This free tool works similarly to the blank Recipe Card Template.
Access more free tools and advanced options on design templates from our list of food safety features
here
!
What is the fastest way to plan and manage your food production?
Building your list of personalized recipe cards is just the beginning of a long list of food production operations. Every food business has its own list of everyday food production and safety tasks that must be done in a day. All operations must be documented and archived properly to maintain a good record and accountability.
Operating the food business is a big task, let alone documenting every essential information. These repetitive tasks can take away a significant amount of time you could spend focusing on improving your food business.
What you need is an intuitive solution that can help you generate and compile all information in a digital platform. A box of recipe cards will not keep your information safe over time.
Get a dynamic view of the significant allergen information in your operations through our product solutions.

Precisely plan your production using our Production Planning App.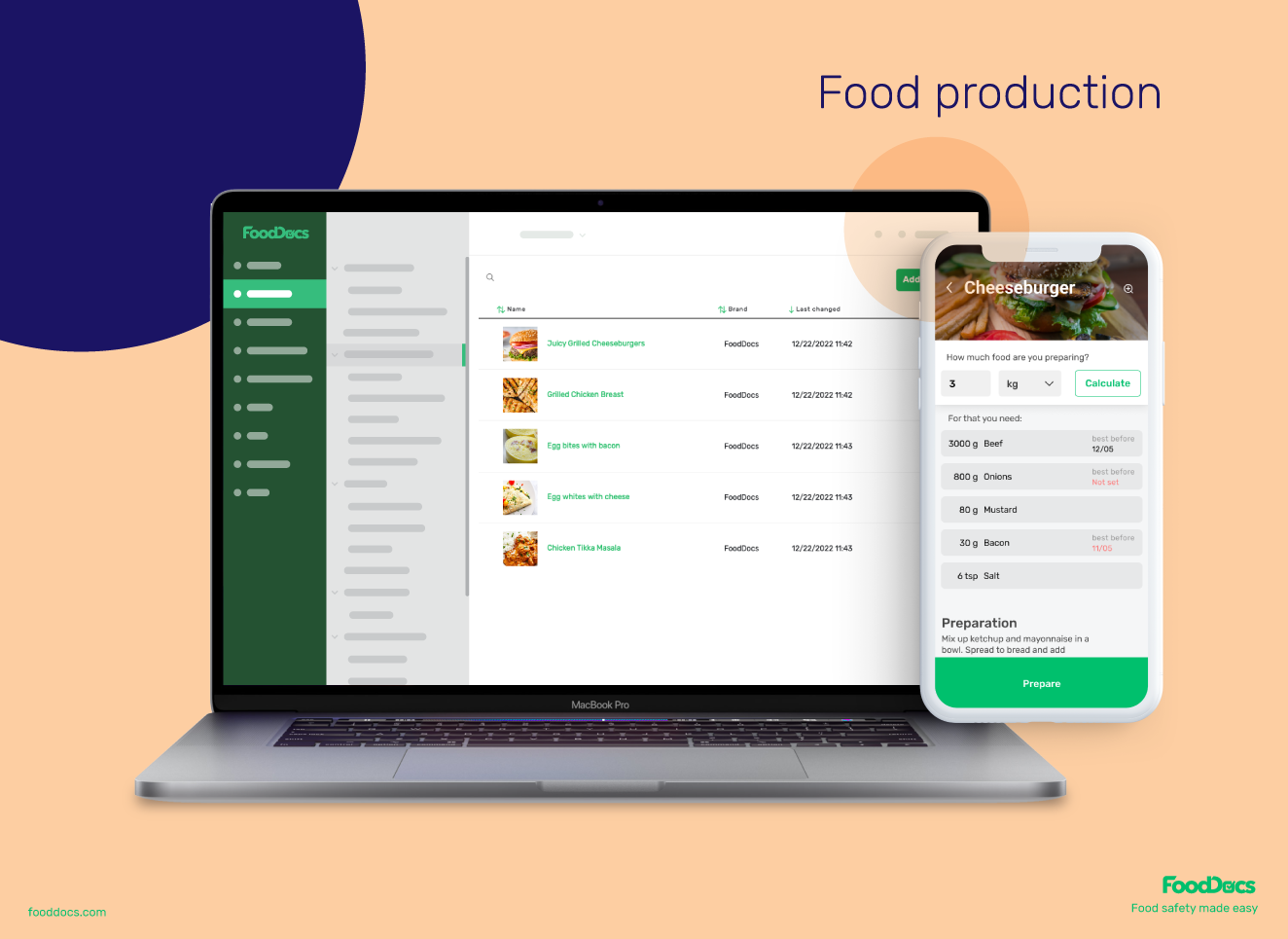 Food production application from FoodDocs
All these benefits and more come with our digital Food Safety Management System software. You can also get more premium features that will benefit managers and improve supervision efficiency through the following:
Set up your own digital Food Safety Management System using a few basic steps in just 15 minutes. All you need to do is answer questions about your operations.
Gain 20% more of your time from the convenience of remotely supervising your operations through a real-time dashboard. Review your operations and identify areas that need more attention with a quick glance.
Secure and store digital documents in cloud storage provided for your team.
Save more time, secure your document information, and become more sustainable by switching to our digital platform. The switch requires very little effort and does not need abundant knowledge of technical stuff. Using artificial intelligence and a machine-learning program, our digital Food Safety Management System will offer intuitive solutions for your team.
Consistently secure and improve your production planning with the help of our digital solution. Customize and tailor every digital log and template to further fit your unique operations.
Start your food safety and production management journey using our free 14-day trial.
Frequently Asked Questions
Do you have more questions about recipe cards? We gathered some of the most frequently asked questions about this topic and answered them for you.
Does Word have a recipe card template?
Microsoft Word offers a free manual recipe card template that you can use through their application. The blank recipe cardstock includes a format you can edit and customize to input your information. You can also print blank recipe card templates when recording dishes and cooking ideas in the development stage.
How to make a recipe card?
To make a recipe card, follow these key steps:
Write the recipe's name

List the required ingredients with exact measurements

Clearly identify instructions for preparation and serving size

Include an image of the product.
More detailed recipes include alternative ingredients and food allergy information. Pack recipe cards in a single binder for convenience and protection of treasured recipes.
Why is it important to read a recipe carefully?
Actual recipes contain precise information and exact prep steps for a dish. Food businesses use kitchen recipe cards to document standardized formulations that need to be used to produce the exact quality of product identified by the company. Deviations from the recipe and cooking process can cause significant changes in the quality and safety of the food item. Especially for exact recipes, such as for bread making, slight changes may produce a very soft or very stiff dough.
What can I print recipe cards on?
Recipe cards can be printed on regular paper cards for recipe keeping. Some prefer heavy cards, whereas others prefer lightweight standard papers. Despite this, always consider that recipe cards are used in the kitchen where bits of ingredients and water are present, and the card is always prone to get moistened and produce issue with recipe card. Use hard or laminated materials for printing recipe cards on standard sizes.
A great alternative to printing your recipe cards is to use a digital recipe book where you can create, manage and plan your production, saving 20% of your time.
Easy app for monitoring to have an instant overview
Implement your

Food Safety System

in 15 minutes

Easy app for monitoring

to have an instant overview
Ready-to-use

HACCP Plan

in 1 hour