HOT HOLDING TEMPERATURE
Feel free to use our free Hot Holding Temperature Chart.
Just enter your email and download the template.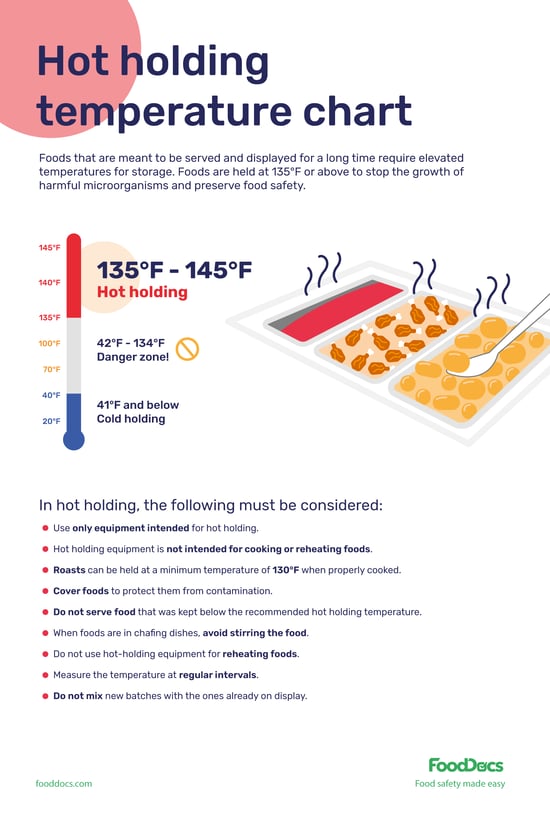 Hot holding temperature
Some products cooked at safe cooking temperatures are meant to be served and displayed for prolonged periods of time with temperature controls at a buffet table or other hot food storage. When foods are held for a long time at a particular internal temperature range, the risk of causing any foodborne illness increases. As part of food safety regulations, the process of hot holding and cold holding prepared food at safe temperatures is performed to keep food safe. All food handlers must be acquainted with proper hot holding temperature as part of training to also learn about its significance, how to control it, and the consequences of not following it as a food safety requirement to serve safe food.
In the food industry, food services such as catering event that holds food in containers for a long time have been reported to cause a large number of foodborne illnesses by serving harmful foods. Improper storage and food preparation have been common sources of harmful foods. In a report, catering businesses were found to have caused more outbreaks of food poisoning when compared to the occurrences from home cooking and restaurant dining. These cases may have been caused by the pathogenic microorganism growth when foods are held at the temp danger zone for foods.
Find out more about hot holding temperature and how to use our chart for your food business.
What is the hot holding temperature?
The hot holding temperature refers to the minimum product temperature at which cooked or ready-to-eat foods in advance can be held to maintain proper food safety. After cooking to the recommended internal temperature, the minimum temperature requirement for hot holding foods in terms of food safety is 135°F with no minimum time to prevent any harmful bacteria from growing on the food. Hot holding at food service is most especially required for keeping safety in time and temperature control for safety or TCS food. This food type is considered high-risk TCS foods or highly perishable items and is very prone to contamination and spoilage.
Some common examples of this type of food include:
Cooked meat and raw meat
Deli meats
Dairy products
Egg products
Leafy greens and fresh fruits
Shellfish
Baked potatoes
Cooked and raw poultry
Keeping ready-to-eat food or fresh food warm can prevent the growth and introduction of food safety hazards such as pathogenic organisms. Most pathogenic organisms grow below the hot holding temp which is the temperature danger zone for foods and is between 40°F and 140°F. This danger zone temperature is the perfect environment for bacteria growth. The correct holding temp is consistently maintained using kitchen thermometers and is usually used for foods served in food businesses that are meant to be displayed for a while.
The hot holding temperature is maintained using a food container or FWE / Food warming equipment that can receive direct heat such as:
chafing dish
restaurant food warmers
steam tables
warming trays
A small heat source, sometimes with a heat setting for fire or warm water, is used on the food warming equipment which is distributed uniformly throughout the food inside to maintain safe temperature conditions. Ideally, you are not supposed to use plastic containers as they will only melt or not promote heat distribution. The hot holding safe temperatures must be consistently monitored to ensure serving safe food for consumption. When the temperature drops into the food temperature danger zone, the risk of food spoilage and causing foodborne illnesses increases significantly.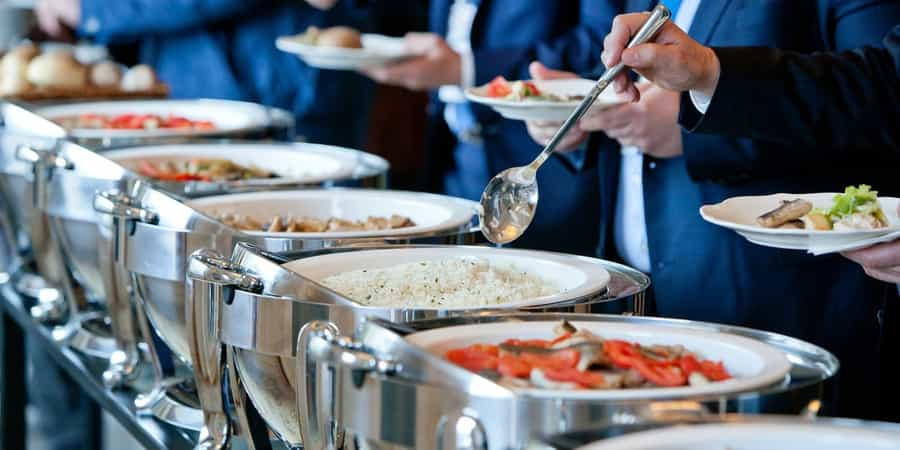 What is a hot holding temperature chart?
A hot holding temperature chart is a graphic representation of the safe and unsafe temperature ranges for foods with an emphasis on hot holding for a restaurant kitchen. This tool also contains a set of any common source of contamination and a specific wide range of instructions on how to keep any hot food hot. It includes steps such as:
Maintain the correct temperature at a constant rate.
Cover the containers to prevent contamination of foods prepared.
Avoid stirring the hot held food in steam tables.
Use a properly calibrated dial or digital food thermometer that gives accurate readings to monitor the hot holding temperature.
Do not mix in new batches of food with the leftover foods in the container.
Hot holding equipment is not meant for reheating cooked food but rather to keep food safe.
Ideally, all of these directions and a few others must be maintained for the duration of hot holding to prevent the growth of bacteria. Depending on the initial amounts of bacteria and the thoroughness of the cooking process, foods can stay in a hot holding condition for a long time. Operations such as constant minimum temperature monitoring will allow for a quick response from the food service operator and apply any appropriate corrective action procedure with haste.
This tool was formulated based on the optimal temperature range where the majority of bacteria and other pathogen growth is the fastest. At the suggested temperature of 135°F, harmful bacteria and other pathogens such as viruses and molds will not grow to dangerous levels and therefore cannot cause any harm to customers. Additionally, this chart also shows the temperature range for cold storage or cold-held food.
Using a hot holding temperature chart, the food service operator will know how to maintain food safety and protect customers from foodborne disease-causing bacteria on perishable products. Additionally, a hot holding chart can save your food business from unnecessary food-related complaints by reducing the risk of contamination.
Who needs a hot holding temperature chart?
Hot holding is usually the case for food businesses such as cafeterias, food trucks, commercial kitchen, buffet restaurants, and catering operations that serve hot dishes and other common foods.
Why should you monitor holding time and temperature?
The maintenance of the hot holding temperature requirement needs constant monitoring. This operation ensures that the foods are still safe and that the process of hot holding is being performed up to food safety agency standards. Hot holding is a very useful food safety operation to prolong the shelf life of food and serve quality dishes.
Specifically, it offers the following benefits:
Food safety maintenance. The main objective of a hot holding minimum temperature requirement is to prevent the growth of food microorganisms and make common food unsafe from the risk of cross-contamination. Constant monitoring activities of correct temperatures allow the food handler to assess whether the food for service being displayed is still safe to prevent any negative effects. In addition, it can also help maintain quality. Cold buffet food from improperly heated containers makes buffet food unappetizing.
Timely application of corrective actions. When food handlers regularly monitor the holding time and temperature, they will be able to immediately detect whether there is a problem with the operation or none. They will also be able to address any present problem and apply appropriate corrective actions to minimize any potential damages such as additional cooking time or rework. Bacterial growth and other potential food safety issues that can lead to the creation of hazardous foods can be prevented.
Cost-saving. When the hot holding temperature is regularly monitored, your food safety team can be assured that all foods being served are safe. This will help you prevent problems such as complaints or even lawsuits from foodborne illnesses. Additionally, constantly held hot holding food temperatures can prevent the accumulation of high quantities of food waste as a result of food spoilage.
A hot holding temperature chart can help food handlers by guiding them through the correct procedures to maintain when serving perishable products in hot holding containers. It can become a major component of food safety plans. Use other similarly important food safety tools such as any temperature log, monitoring form templates, checklists, posters, and advisories from our HACCP plan template hub to ensure food safety in your food business.
Need more help understanding hot holding temperature? Here are some of the most frequently asked questions regarding this topic.
What temperature should hot holding be?
The minimum hot holding requirement is 135°F to 140°F to prevent pathogen growth.
What are the proper hot and cold holding temperatures?
While the hot holding temperature is recognized to be 135°F to 140°F, cold holding foods must be done at 41°F and below to cool foods and prevent the growth of pathogens.
How can you help your team monitor hot holding?
The frequency of monitoring the hot holding temperature of different types of foods in food carriers may be as recurring as every one to two hours. Although proper temperature readings take a little amount of your time, it still takes you away from other food safety tasks that you are required to do. You still need to write accurate food temperature measurements down on temperature logs. Not to mention that each container with different batches of food for hot holding must be individually monitored as preventive steps. In no time, your paper-based monitoring forms will fill up fast. When you are required to double-check food temperatures, it will take almost all of your time, especially in a fast-paced restaurant environment.
Monitoring your hot holding temperatures is a very critical food safety practice. Failure to detect problems during hot holding increases the risk of causing foodborne illnesses to customers. This can lead to other food safety issues that can be damaging to your food business. Problems like these can easily be solved by having a comprehensive food safety management system (FSMS). Despite this, your traditional FSMS won't make the cut in this modern world. As your aim is to expand and have more food items, you can expect to monitor more foods at once. Your FSMS must work for you and to your advantage.
The best way to do this is to use our digital Food Safety Management System at FoodDocs! Using our system, maintaining food safety compliance can be super easy and effortless without sacrificing strict standards. How? Our digital FSMS is capable of automating the majority of your food safety monitoring tasks which lets you make more room to improve your business.
In just an average of 15 minutes, you can easily create a digital FSMS based specifically on your food safety operations. Our process is as easy as answering a few basic questions that will help us understand your business. Using artificial intelligence and machine learning, our system will automatically cross-reference your information with similar-natured businesses and create a complete digital FSMS for you.
What comes with our digital FSMS, you ask? Here are some of the key features of the digital FSMS that you will get from FoodDocs:
Digital monitoring forms that are based on your food safety operations. You can set these digital forms to allow the auto-fill feature that comes with our system. This feature will automatically insert information on your forms based on previously logged data. It can help your employees save time by only requiring them to verify the logged information.

Using our digital system, you can integrate the use of QR codes in tracking the status of your food products. Stay on top of every product's condition and preserve food safety during hot holding operations.


Smart notification system. Using our mobile application, our system can send your employees automatic alerts to remind them of food safety tasks that need to be done on time.

This feature can be paired with a smart timer that you can use to remind food handlers to monitor the temperature of hot holding conditions. You can also use this to intuitively signal to your food employees that the maximum time for hot holding has been reached and foods must be disposed of.


A real-time food safety dashboard. With this feature, you can save 20% of your time from supervising your operations and easily point out which areas need more attention. Focus your resources and energy on improving an evaluated area to improve your food business efficiently.


Cloud storage. Store and organize all of your digital documents in digital storage dedicated to your whole food business.



Corrective action suggestions. In case a monitoring step detects irregularities in your data entries, our system will automatically suggest appropriate corrective actions for your specific food safety operation. This feature can guide your employees in applying corrective actions in the most efficient manner.
As our team is made up of food safety professionals who understand the hardships of food handlers, we have developed these features to make food safety compliance easy and enjoyable. You can pair our notification feature and smart digital monitoring forms to remind food handlers about monitoring the hot holding and other food safety temperatures for storage. With our digital FSMS product, no food safety operation will be forgotten.
How to use our hot holding features at FoodDocs?
Using our mobile application, you can easily keep track of every perishable food under hot holding. Follow these easy steps to ensure food safety:
Step 1: Select a product or easily find it with the QR scanner;

Step 2: Insert the hot holding temperature or use our automated temperature pre-filling solution. If the temperature is incorrect, the app will ask you to insert the corrective action

Step 3: Track the hot holding duration with the expiration timer. FoodDocs app will automatically send a notification when the food should be removed from the hot hold.
Use our hot holding feature to track any ready-to-eat or TCS food and maintain compliance everytime.
Ensure that your food business is running in compliance with rules set by food regulatory agencies with our digital FSMS. Experience the benefits of our system's features yourself by subscribing to our free, 14-day trial. Join our list of more than 20,000 customers who are enjoying food safety compliance and have had control in the palm of their hands now. Spend your next 15 minutes answering our questions and get your comprehensive digital FSMS immediately.
Easy app for monitoring to have an instant overview
Implement your

Food Safety System

in 15 minutes

Easy app for monitoring

to have an instant overview
Ready-to-use

HACCP Plan

in 1 hour