Use our free tool to create a cooking log template.
Just enter your email and download the template.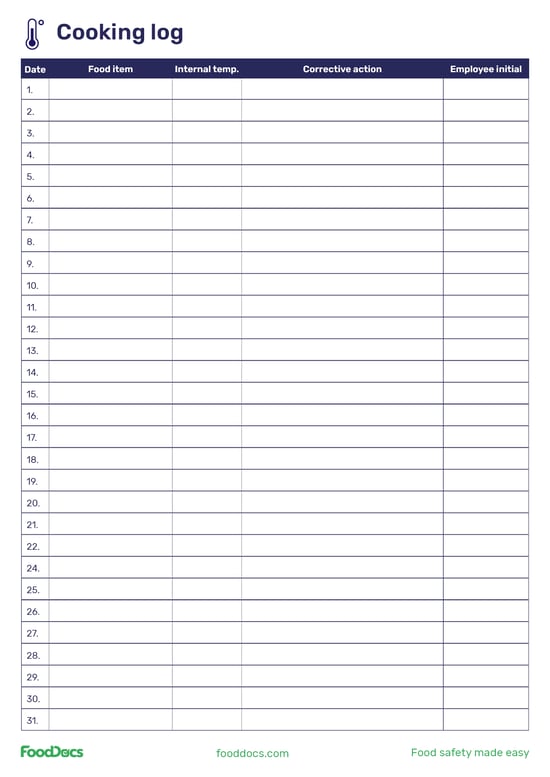 Why do I need a cooking temperature log?
A cooking log is an essential temperature log checklist that assists you when measuring food core temperature. To keep in mind all needed core temperatures and activities, use a cooking temperature chart. If you don't have any, use our cooking temperature chart template to create one.
For food businesses, measuring a core temperature is crucially important because of the two reasons:
To ensure food safety. Cooking food at the right temperature for the correct time ensures that all harmful bacteria are killed and protects your customers from foodborne illnesses.


Cooking tasty food to the correct doneness. The core temperature helps you to serve food at the right doneness, whether rare, medium, or well-done. Keep in mind that to ensure 100% food safety, the meat should be well-done. If you want to offer undercooked food, think through a consumer advisory statement.
Read more about measuring the cooking temperature correctly, what is a food probe, and the correct cooking temperatures. Also, don't forget to calibrate the food probe on time using correct calibration methods.
Use this cooking log to measure the core temperature.
Maximize use by the following points:
Mark the date of the cooking.
Mark the food item you measure.
Mark internal temperature.
Take notes in the corrective action section if any issues were found. Also, add what the corrective action was.
Add your name and signature to the cooking temperature log.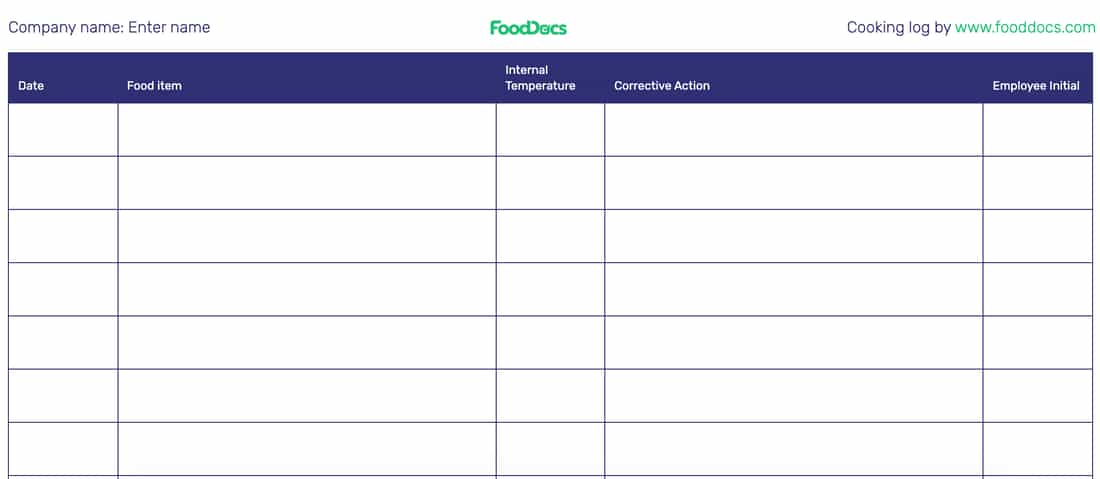 Save all your cooking log checklists with your HACCP plan and all other temperature log checklists. All your temperature log checklists have to be ready for the food safety audit at any time. Check also our HACCP plan template hub to see more HACCP-related documents and templates.
Not sure where to start with your temperature log checklists? Don't have enough time? FoodDocs platform can direct you through the HACCP process and get your cooking temperature log documents done in no time so you can focus on what you really need to – managing your business.

Easy app for monitoring to have an instant overview
Implement your

Food Safety System

in 15 minutes

Easy app for monitoring

to have an instant overview
Ready-to-use

HACCP Plan

in 1 hour