HOW TO GET GFSI CERTIFICATION?
Feel free to use our free GFSI Audit Checklist Poster.
Just enter your email and download the template.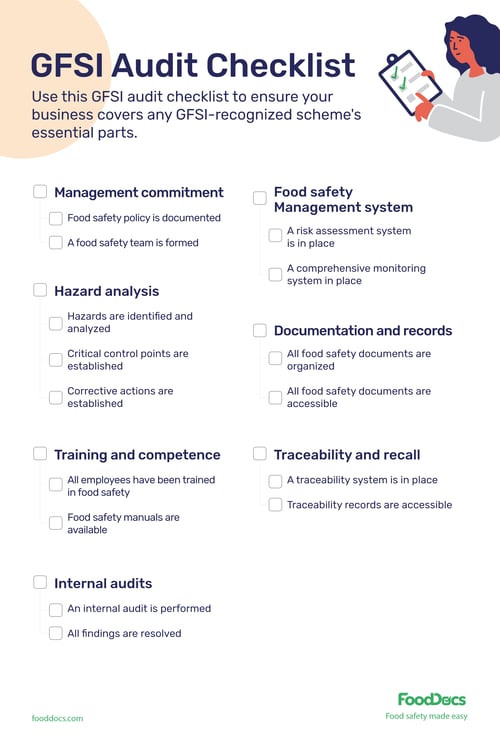 How to use the GFSI audit checklist?
GFSI-recognized certification schemes are always composed of systematic inspections. They involve evaluating critical parts of your food safety system to prove your commitment to food safety.
Although strict, GFSI certification inspections can be easier with adequate preparation. Use FoodDocs' free GFSI audit checklist to ensure that your team has covered all key areas for an inspection.
Here is a clear step-by-step guide on how to use our GFSI audit checklist:
Familiarize the checklist. Understand the key areas of the inspection.
Download the checklist. Enter a valid email address and click on "Download." The GFSI audit checklist will automatically be stored in your downloads folder.
Use the checklist and evaluate your operations. Orient your team about the inspection and perform an in-house audit.
Address all gaps. Quickly resolve all gaps identified during the evaluation.
Re-evaluate your food safety system regularly. Use the checklist quarterly to re-evaluate your operations for compliance.
Using this free tool can help you ensure that your business stays compliant with the highest recognized standards in the food industry. Head over to our Template Hub for more free tools, checklists, and templates.
Get a smarter solution for auditing your operations and staying compliant with GFSI scheme standards with FoodDocs' smart Food Safety Management System. Use our software's intelligent tools, such as a food safety auditing feature that allows you to conduct in-house evaluations using any device.
Learn more about our Food Safety Software below.


Compliance Roadmap: GFSI Audit Checklist and Compliance Confidence
A GFSI audit checklist consists of the general key areas from any GFSI-recognized scheme.
Whether you're a primary production business, a food manufacturer, or a food service provider, getting a GFSI certification in food safety is an excellent idea. The road to certification is hard and has several challenges because certification schemes demand strict compliance with complex standards. Unsurprisingly, food manufacturing companies often find these benchmarks challenging to meet.
Key points covered:
The GFSI is a non-profit, business-oriented organization that benchmarks standards for developing food safety systems.
Each GFSI scheme has a comprehensive GFSI audit process that aims to evaluate your business's compliance with strict standards.
GFSI certification audit can make your food safer for potential customers, access global food markets, and begin doing business with leading food and beverage companies worldwide.
The findings from a GFSI audit checklist can be used to improve your food safety operations according to the requirements of GFSI-recognized schemes.
FoodDocs' smart Food Safety Management System features intelligent auditing tools that can be used according to GFSI requirements.
Our food safety software features a smart and two-in-one Traceability System that can help your business track ingredient and product movement as a main requirement of every GFSI scheme.

Fortunately, a GFSI audit checklist can make the process easier by breaking down audit regulatory requirements into instructions that any food company can quickly comply with.
But how do you use it? Let's find out.
What is GFSI?
The Global Food Safety Initiative (GFSI) is an organization for evaluating and benchmarking food safety management schemes to ensure they align with globally acknowledged food safety standards.
GFSI does not provide food safety certifications to food manufacturing businesses. Instead, it plays the role of an advisor, recognizing the certification programs that meet all GFSI benchmarking requirements. It also helps food companies:
Although obtaining GFSI certification is optional, most businesses in the food industry seek it to show their commitment to producing safe and high-quality food products.
What is a GFSI audit?
Companies have to successfully pass food manufacturing audits to get a GFSI-recognised certification.
A third-party GFSI audit is an assessment of a food business' food safety management system (FSMS) and food safety plan. Food manufacturing auditors confirm that the business complies with the standards of a GFSI-recognized scheme and effectively manages food safety risks across its food supply chain.
The food safety audit process is carried out by a representative or recognized authority authorized by the scheme.
Companies with GFSI certification also need to go through regular audits to keep their certification valid. These audits look for any food manufacturing operation non-conformances from industry standards, like those set by Codex Alimentarius and the Global Retailer Produce Group (GRPG).
Check out the detailed article that we wrote about GFSI and the key areas of a GFSI audit here.

What is a GFSI audit checklist?
A GFSI audit checklist ensures that your food safety systems meet the applicable food safety standards set by the GFSI. It offers a comprehensive list of criteria that helps companies self-audit their food safety processes and ensure that they comply with all GFSI standards.
The checklist also offers a step-by-step guide for the certification, covering everything from conducting employee medical screening, establishing food safety procedures, obtaining scheme documents, coordinating an external audit, and getting certified.
It helps companies minimize errors, improve accountability, and give employees the necessary resources to perform their tasks efficiently.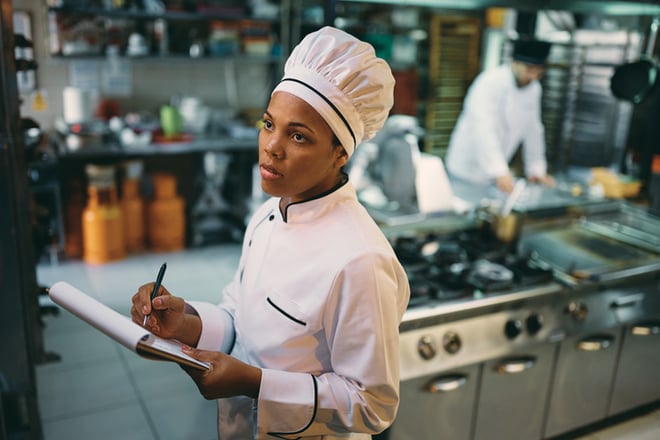 How to optimize a GFSI audit checklist for your food business?
Let's understand how you can use a GFSI audit checklist to ensure you meet a particular audit standard:
1. Understand the Checklist Requirements. Before starting the audit, go through the list of criteria and ask yourself what needs to be measured, what needs to be implemented, and whether you have records or documents to prove you've been meeting all the criteria.
2. Develop a Compliance Strategy. Once you've understood what you need to comply with, develop a strategy to ensure compliance. The strategy may include:
Conducting interviews

Reviewing records, including past performance records

Observing the process

Following audit trails

Monitoring all production shifts and testing backup personnel across all food facilities

Observing critical tasks in action

Using a vantage point to keep a check on personnel

Following the process map for accuracy

Consulting local food authorities

Identifying gaps, imperfections, and anomalies.
3. Implement Your Strategy. Once you've developed your strategy, begin to implement it, making sure to document your findings using the GFSI checklist. You should tick any area that complies with GFSI benchmarks and record any areas of non-compliance, then discuss them with management.
Remember, no facility is flawless. However, you should address issues quickly.
Plus, when documenting findings, specify what was checked and provide objective evidence of compliance or non-compliance.
If you run into non-compliance issues, you should create a corrective action plan and set reasonable completion dates to ensure all issues have been resolved. Once they have, mark them off your checklist.
How to complement a GFSI audit checklist with FoodDocs for quicker compliance?
Once you've chosen a GFSI scheme for certification, preparing for the process can require months of work.
However, you can bypass all the all-nighters and food safety expert consultations with FoodDocs' smart Food Safety Management System.
Our software provides the following features to make your certification journey more efficient:
Customizable task monitoring

Clear, step-by-step training for food handlers

Smart audit tools to ensure compliance with GFSI scheme standards

Traceability system to track the movement of products and ingredients

Real-time dashboard to review the status of food safety
1. Customizable task monitoring
All GFSI-recognized programs require you to set up a comprehensive FSMS to keep track of your operations and ensure you don't exceed a critical limit. With FoodDocs' customizable task monitoring tool, you can easily tailor your FSMS to your company's specific operations.
You can also tailor each task according to the specific legal and compliance requirements of your chosen GFSI scheme. Here are some tasks you can monitor:
Temperature log

Cooking log

Calibration log

Cleaning checklist.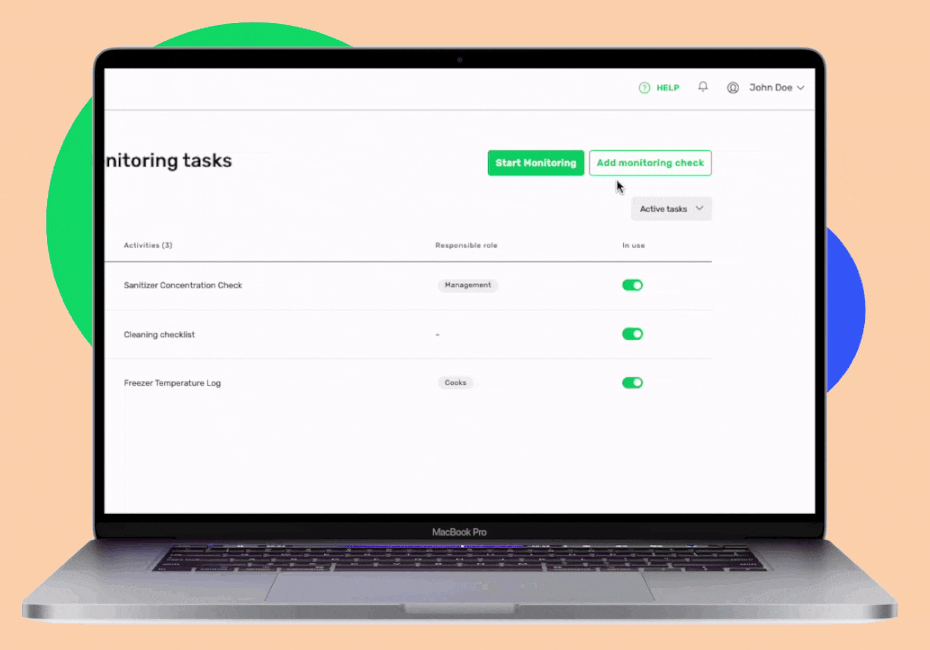 Aside from these pre-generated logs, you can also create detailed checklists and forms using our effective food safety program. The process is user-friendly, and it takes only a few minutes to make new forms.
This can help you quickly ensure compliance with even the most complex scheme requirements.


2. Clear, step-by-step training for food handlers
Training your team on food safety is crucial if you want to meet the food certification requirements of your chosen GFSI scheme.
We can help you simplify this process by providing detailed, step-by-step instructions and checklists for each task. These instructions are excellent for training your staff on proper food safety practices.
Aside from that, managers can also upload custom instructions in the form of images or videos to meet specific GFSI scheme requirements. This makes it easier for your company to provide educational instructions about the more obscure scheme requirements.
3. Smart audit tools to ensure compliance with GFSI scheme standards
Our food safety app enables you to perform internal audits and inspect your GFSI compliance without moving around your business.
The best part is that you can create your own GFSI-based audit checklists and run them. This enables you to conduct practice audits, addressing any food safety issues before the actual inspection. And the great thing is that you can perform these audits using any mobile device.
4. Traceability system to track the movement of products and ingredients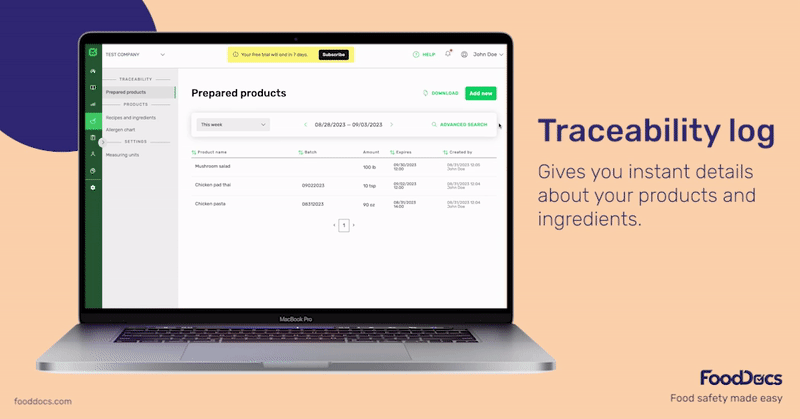 Traceability is important for successfully complying with your chosen GFSI certification. Our two-in-one traceability system makes logging the following product and ingredient movement information a breeze:
Product names

Batch numbers

Product yields

Expiry dates
The system also provides an advanced search option that helps you find and print out specific production details for analysis or non-conforming product recalls.
It also helps with automatic recipe recalculation and production planning. This ensures transparency and accountability in line with GFSI standards.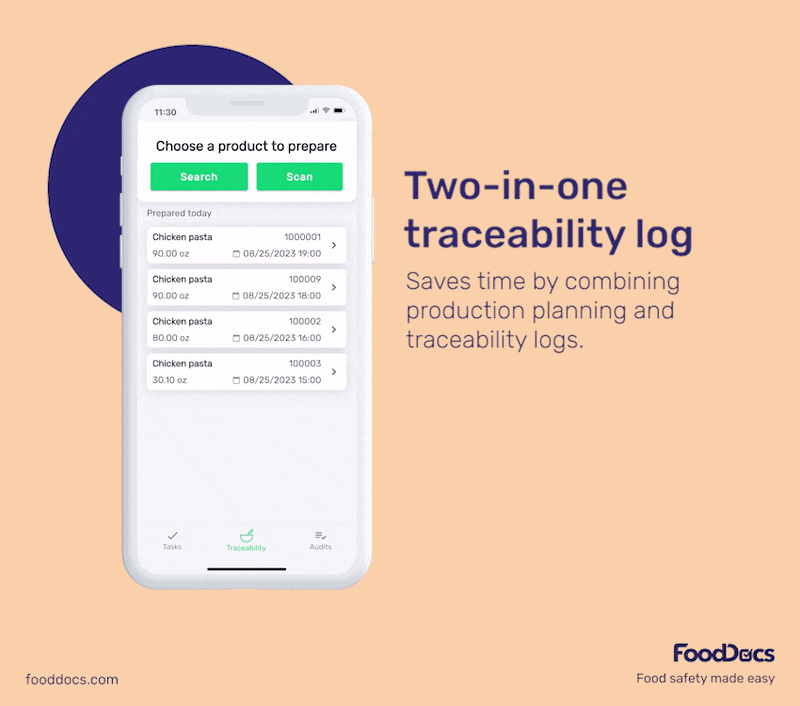 Traceability System from FoodDocs software

You can also check out our free food traceability template here.

5. Real-time dashboard to review the status of food safety
Last but not least, our real-time dashboard offers a quick overview of your compliance status and ensures all aspects of your GFSI certification program are managed effectively.
You can also immediately identify non-compliant areas and address them promptly with corrective actions. This enables you to completely control your food safety status and potentially save up to 20% of the time required for compliance.
By now, it's clear that our smart Food Safety Management System is your ticket to GFSI certification. It can help you streamline your preparation, reduce wasted time, and keep your data inspection-ready.
Plus, you can optimize your operations and stay GFSI-compliant with our smart solution in only 15 minutes! Ready for more? Give our 14-day free trial a try, or schedule a one-on-one demo with our experts to understand how we can make GFSI compliance easy for you.
Frequently Asked Questions (FAQs)
Do GFSI standards require an internal audit?
Yes, no matter which GFSI certification program you choose, you have to perform a comprehensive food safety audit internally. This is where FoodDocs can come in, making the internal audit process easy and streamlined. Of course, each scheme will have a different audit checklist that you'll have to follow. For example, the BRC food safety audit checklist will be different from that created for FSSC 22000.
What is the GFSI audit score?
There's no GFSI audit score. Every GFSI-recognized standard has a scoring system of its own. For instance, FSSC 22000 only has a fail/pass scoring system. In contrast, IFS uses a points-based scoring system to rate food companies. Here's what it looks like:
| | | |
| --- | --- | --- |
| Non-conformance | Result | Points |
| Complete Compliance | A | 20 |
| Almost Complete Compliance | B | 15 |
| Minor Compliance | C | 5 |
| No Compliance | D | -20 |

To get FLS certified, food manufacturers need to get at least 75% points. Those in the 75-94% points range get a foundation certificate, while companies with 95%+ points get a high certificate.
What is the GFSI guidance document?
The GFSI guidance document outlines how food safety schemes can be recognized by GFSI. It offers guidance to schemes looking to comply with GFSI standards.
The document also defines the criteria that a food safety scheme must adhere to for GFSI recognition. These criteria are based on food safety principles provided by the following:
Codex Alimentarius Commission (Codex)

National Advisory Committee on Microbiological Criteria for Foods (NACMCF)

ISO

International Codes of Practice.
The guidance document is not a food safety standard and doesn't dictate policies for food retailers, manufacturers, or scheme owners, nor does it set requirements for food quality, animal welfare, environmental standards, or areas beyond the realm of food safety.
Instead, the document works as a framework against which food safety management schemes can be compared, ensuring they meet contemporary, science-based, and rigorous standards.
Which standards are GFSI approved?
At present, eleven food safety management standards have been certified by GFSI. These benchmarks for food safety include:
BRCGS Global Standard for Food Safety

Canada GAP

Equitable Food Initiative

FSSC 22000

Freshcare

Global Aquaculture Alliance Seafood

Global G.A.P.

Global Red Meat Standard (GRMS)

International Featured Standards (IFS)

Japan Food Safety Management Association (JFSM)

Japan Gap Foundation (ASIAGAP)

Primus GFS Standard

Safe Quality Food (SQF).
Importantly, all of these show your commitment to food safety, highlight your excellence in food safety, and enhance consumer confidence in food safety of your establishment.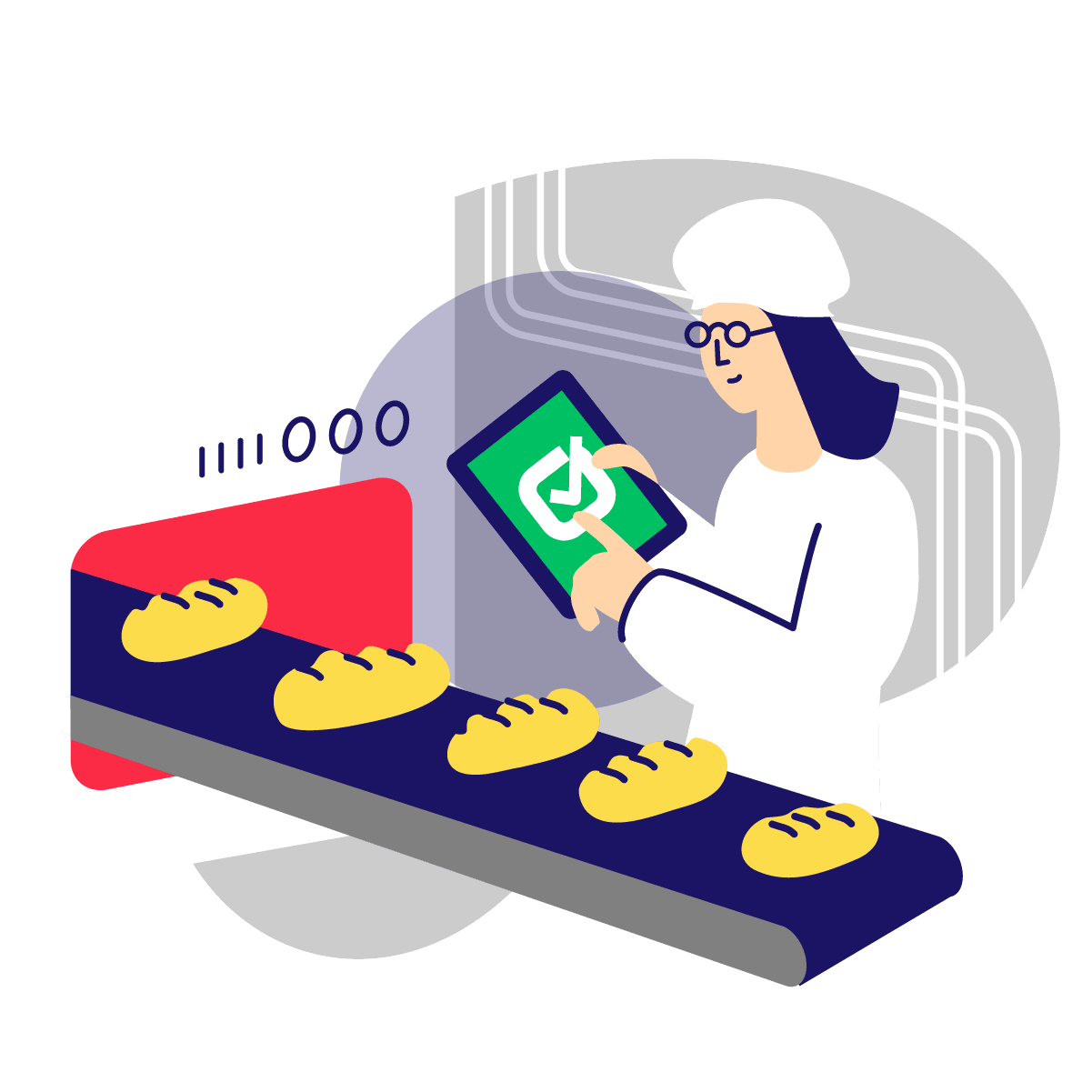 Switch to digital in 15 minutes

An automated setup enables you to go digital in 15 minutes

Our app notifications help your team to remember all daily tasks bam

Save time on supervising and use automatically filled monitoring sheets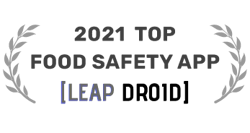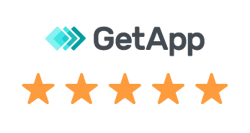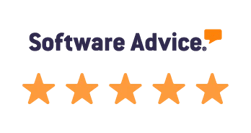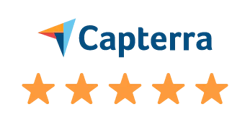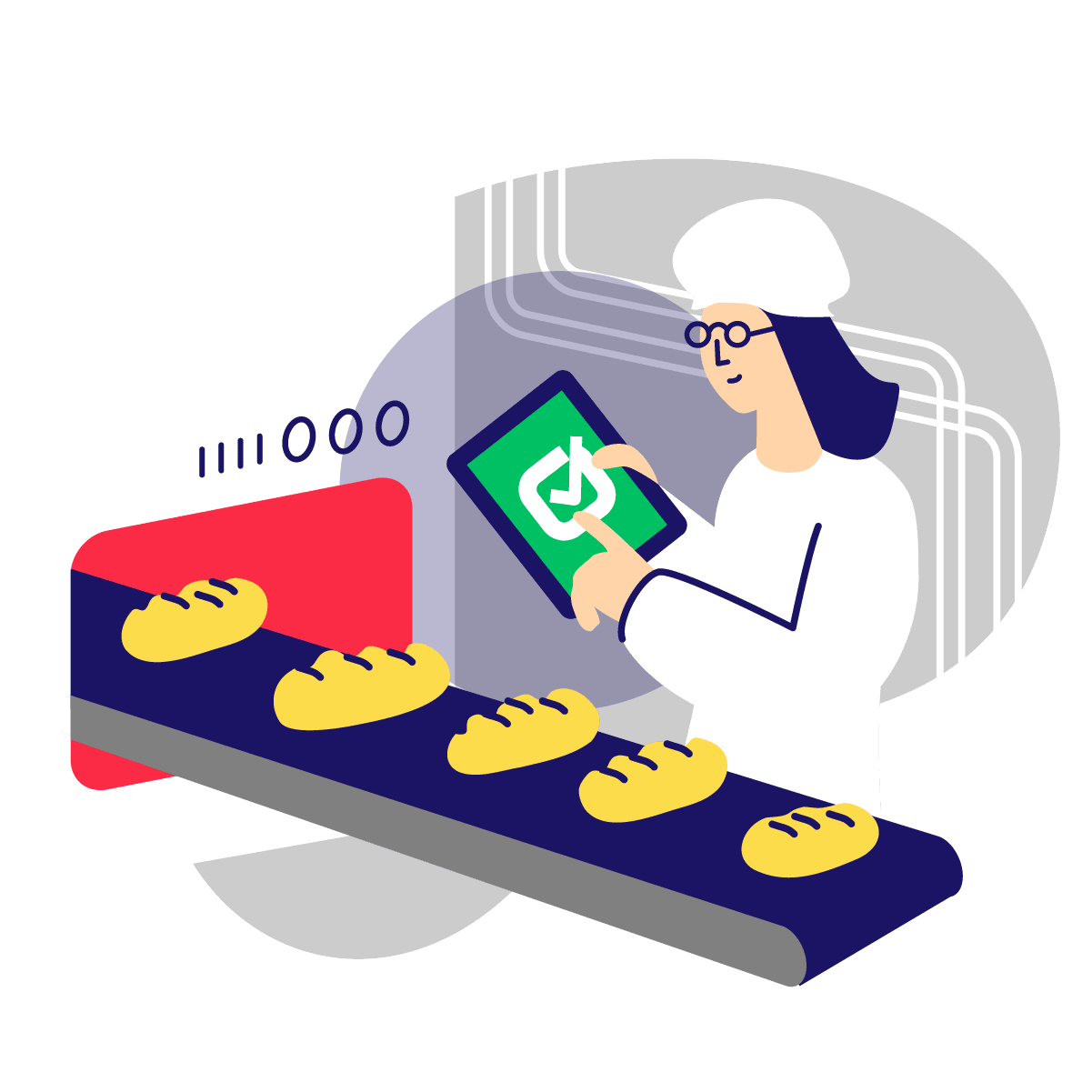 No need to hire a food safety specialist to open your food business

Saves time - artificial intelligence is 500 times faster than a consultant

Let's you change your HACCP content at any time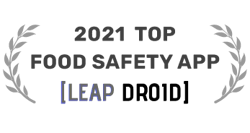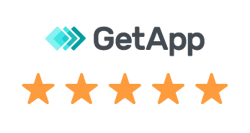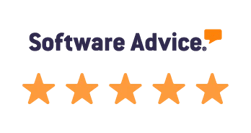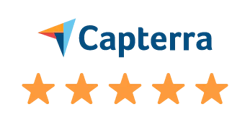 Easy app for monitoring to have an instant overview
Implement your

Food Safety System

in 15 minutes

Easy app for monitoring

to have an instant overview
Ready-to-use

HACCP Plan

in 1 hour