Get to know FoodDocs - book a free demo
What to expect?
We help to define your business needs regarding food safety management
We will make you familiar the features of FoodDocs
We answer all your questions
During the demo we'll walk you through the following:
How to switch from a pen-and-paper system to a digital solution in 15 minutes?

How to have a real-time overview of your business's food safety compliance?

How to access all monitoring data in the cloud dashboard?

How to track deviations in your process flow?

How to maintain the same standards across all your business sites?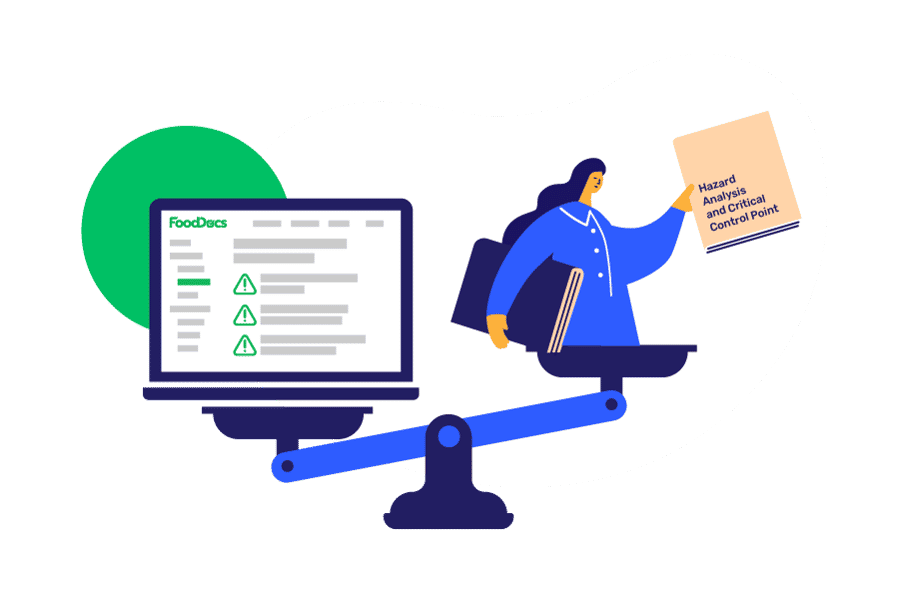 Switch to digital in 15 minutes - automated setup enables you to go digital after completing your profile.

Help your team to remember all daily tasks - notifications and reminders in our app keep your food safety under control.

Save your employees' time - our FSMS fills monitoring sheets automatically according to previously inserted data.

A real-time food safety dashboard helps you to be compliant and save 20% of the time you spend on supervising.

Grow fast with our HACCP builder - create your HACCP plan in 1 hour and save 120 hours.
Still not sure? Get a glimpse of the demo and our software from this video:
The easiest Food Safety Software to manage it all

"It's really intuitive. Everything you want is there. It is so easy to get your employees to use this, and actually enhances their ability to keep accurate records.
From a management perspective, I now see our documentation as something to admire rather than a burden to be constantly worried about."
Hugh Carter
Managing Director, Simpkin & Roses, London, UK

"FoodDocs provides you with all the necessary information, documents, and processes needed to ensure safe and effective running, keeping your company compliant and up to date.
The software is very responsive and easy to use. I would recommend FoodDocs to any upcoming, new, or established companies."
Carol H.
Owner
Food Production

"The thing I like most about FoodDocs is its straightforward design. It is easy to set up and customize the information within the system.

FoodDocs creates useful records for our Company to track food safety management and compliance. The Monitoring Checks allow for all sorts of daily tasks to be recorded quickly and efficiently.."
Michael W.
HR & Operations Safety Specialist
Restaurants
More than 30 000 satisfied customers
Check also these popular templates
Easy app for monitoring to have an instant overview
Implement your

Food Safety System

in 15 minutes

Easy app for monitoring

to have an instant overview
Ready-to-use

HACCP Plan

in 1 hour