MEAT COOKING CHART
Feel free to use our free Meat Cooking Food Safety Chart.
Just enter your email and download the template.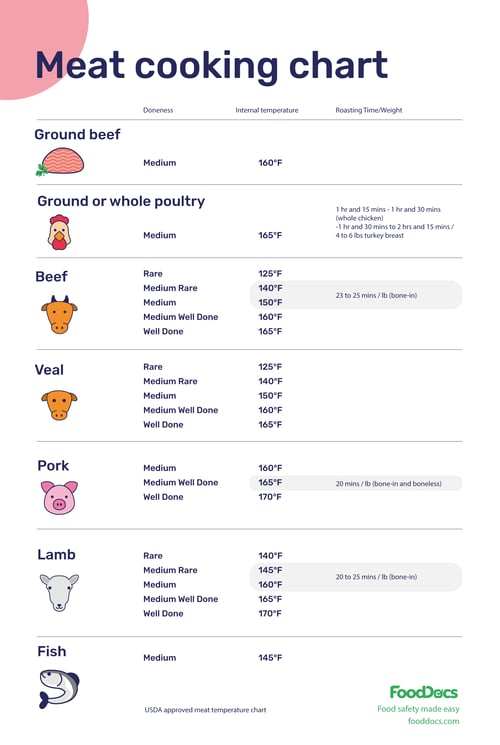 Meat cooking chart
Some types of meats can be cooked and consumed in different degrees of doneness. Each type offers a whole new and different eating experience in terms of flavor, texture, and mouthfeel. Meats such as beef, veal, and mutton can be served from rare to well done, whereas some, such as poultry meat, need to be thoroughly cooked. To guide you on how to achieve the level of doneness that you prefer, use a meat cooking chart.
While some types of meats can be enjoyed when undercooked, others need to be thoroughly processed to become safe for consumption. Poultry meat is a non-negotiable example of meats that need to be cooked well. Offering rare to medium doneness on some meat to your customers comes with a precautionary measure. High sanitary standards and good food handling practices must be observed as well. Accurate and precise temperature reading by using a food thermometer or instant-read thermometers are key elements to this process.
Learn how to use a meat cooking temperatures chart printable for your food business and the easiest way to get one in this article.
What is a meat cooking chart?
A meat cooking temperature chart is a visual tool that contains information about the correct internal temperature ranges to cook a type of meat at a certain level of doneness. This cooking chart applies to all kinds of poultry, pork, beef, veal, lamb, and fish. Additionally, meat cooking charts can also have information about how to properly cook ground poultry and ground beef. A meat temperature cooking chart is used as a reference to avoid undercooking a piece of meat unless it is intentionally meant to be cooked as such.
Undercooking meat is a sensitive topic especially for restaurants and other food establishments that serve meat. Unintentionally serving undercooked meat is a food safety hazard and can potentially cause consumer complaints, let alone foodborne illnesses. A meat cooking chart is often used in combination with a consumer advisory to inform consumers about the potential implications of consuming undercooked foods.
Who needs a meat cooking temperature chart?
For restaurants, food trucks, hotels, and other food establishments serving meat that can be requested to be undercooked, a meat cooking temperature chart would be best. Different types of meat may require different internal cooking temperatures to achieve a certain level of doneness while maintaining food safety. Restaurant kitchen staff can use this meat temperature cooking chart to accurately hit the target internal temperature. Additionally, home kitchen owners can also use this meat cooking chart.
Why do we need to cook meat?
As with any type of food, any raw meat inherently contains dangerous bacteria that are mostly found on their surface. As such, improper food handling and inadequate temperatures for meat cooking can cause cross-contamination or insufficiently stop potentially pathogenic microorganisms from causing food poisoning. Heating meats is not enough if the required internal temperature is not reached inherent microorganisms might still be alive.
Minimum cooking temperatures are also important to give the food the correct degree of doneness (rare, medium, well-done). Although some consumers prefer their meat a bit rare, this is only advisable for dine-in businesses such as restaurants. To ensure 100% food safety, the meat should be well-done. To serve undercooked food, you need to provide a consumer advisory to protect highly susceptible customers like the elderly, pregnant women, toddlers, and people with compromised immune systems. For them, undercooked food can be dangerous and cause foodborne illness.
Correct internal meat temperature chart
The standard cooking time and ideal temperature cooking recommendations used for cooking raw meat such as pork, veal, lamb, and beef were established by the USDA. A uniform standard for cooking these types of meat was established to avoid further confusion. Cooking steak to rare doneness requires an internal temperature of at least 125 °F must be reached and determined by using a meat thermometer or a digital food thermometer. This level of cooking will give the meat a slightly seared outside layer but will retain 75% of the meat's raw and cooler center. Ideally, meat should be cooked as well done, but less cooking gives some meat a different eating experience enjoyed by many others. As the internal cooking temperature increases, the firmness of the cooked meat also does. On the other hand, ground meat products and meat mixtures are required to be cooked thoroughly to an internal temperature of 160 °F.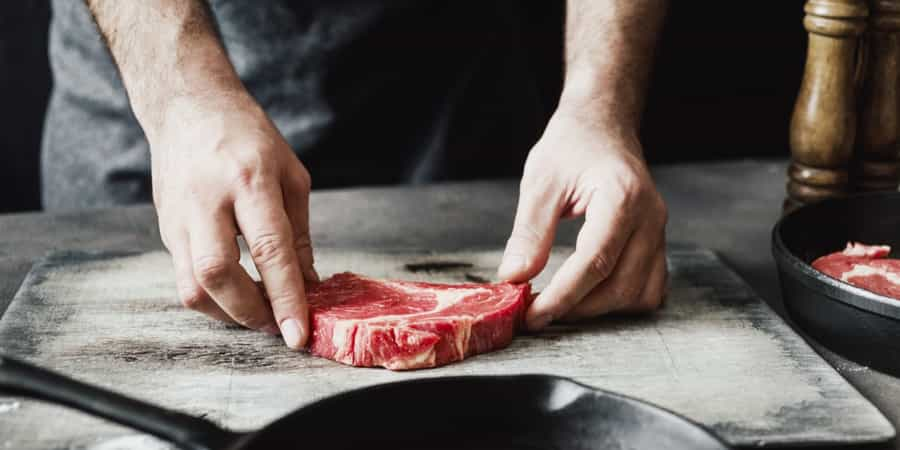 Chicken temp chart
Chicken and other game meats are a different case. Game birds or poultry meat are what we can call "non-negotiable". When we say this term, what we mean is that poultry cannot be safely enjoyed when cooked less than the prescribed standard cooking temperature. Poultry is associated with the pathogen Salmonella which requires proper cooking to be inactivated. Undercooked poultry is a well-known source of foodborne illnesses and has caused quite a several outbreaks in the past. As such, poultry meat, including ground chicken and other poultry, must be cooked at 165°F internal temperature to become safe for consumption.
Minimum cooking temp for fish
A meat cooking chart also includes the minimum cooking temp for fish. This type of meat can also be eaten raw for dishes such as sushi and ceviche. This fact comes with the responsibility of maintaining very high food handling standards to keep the food safe as well as public health. When served as a cooked dish, seafood cook temp must reach an internal temperature of 145°F.
When cooking some types and cuts of meat, an additional three-minute rest time is also established by the USDA to allow carryover cooking from the residual heat as the meat rests. This process also prevents overcooking the meat more than what the consumer has requested.
What are the benefits of a meat temperature cooking chart?
A meat temperature cooking chart is a very useful visual aid in the kitchen. Anyone who is handling and cooking food can use it as a useful guide. Using an accurate meat cooking chart, your restaurant food business can rest easy that all of your staff have the same idea of the correct internal temp for each type of meat.
Using a meat cooking chart offers a lot of benefits for every food establishment and includes the following:
Reminder. The main benefit of an internal meat temperature chart is that it serves as a reminder for everyone in the kitchen on the correct cooking process to achieve a certain level of doneness. Failure to meet a customer's requested doneness can cause dissatisfaction or potential foodborne illness. Some consumers are more likely to be afflicted with foodborne disease than others as they have a weaker immunity.
Ensure food safety. Properly following a meat cooking temp chart means adhering to food safety regulations. The information on a meat cooking temperature chart is based on the guidelines established by food safety agencies. These standards are the result of information gathered through literature and scientific study.
Train food workers. Orienting food workers about the meat cooking chart serves as an additional training step for them. This stage can become a good way to introduce the significance of cooking meat to the right internal temperature. Your meat cooking chart will serve as the main temperature guide for your kitchen staff.
Ensure quality as promised. In addition to safety, cooking meat at different temperatures results in different flavors and textures. Some consumers prefer medium-rare steak over well-done. As such, you have to make sure that you serve them what they asked for provided that they know the consequences of consuming undercooked foods.
An accurate meat cooking temperatures chart printable for food establishments can ensure protect both consumers and food businesses while satisfying their preferences. To achieve this, your meat cooking chart must have the correct key elements.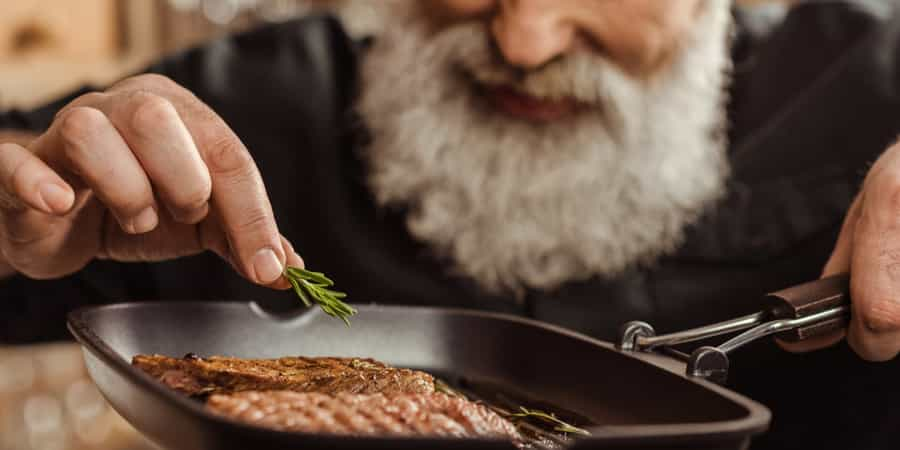 How to make a meat cooking chart?
To make a meat temperature cooking chart effective, it must have all the necessary information and must be noticeable in a professional kitchen. Making a chart that is inaccurate or based on resources without credibility will defeat the entire purpose of this tool. As such, when making a meat cooking chart, you should consider adding the following key elements:
Accurate. There is no point in using a meat cooking chart that has inaccurate information. The temperature information written in this type of chart must be based on established information. Data on the correct temperature for cooking certain types of meats are based on the minimum temperature to inactivate harmful bacteria in food. Appropriate cooking times and temperature combinations to inactivate these microorganisms must be based on sound scientific results.
Updated. Similar to how food agencies such as the USDA released a uniform cooking temperature for veal, pork, beef, and lamb, meat cooking temperature standards can change. As such, it is important to regularly check for updates when it comes to the information you use in your meat cooking temp charts.
Brief and concise. A meat temperature cooking chart must have the complete set of safe cooking temperature information especially if your food business is offering a wide variety of dishes. Despite being thorough, the information you put in this type of chart must be brief yet concise. Keep the information to a minimum and only add the necessary information while practicing brevity. Meat cooking temp charts are commonly used in fast-paced restaurants, as such, the information must be translated at a glance. You can use images to show the type of meat each temperature applies to.
Clear. As you can visualize, a meat cooking chart contains a lot of information. For this reason, the chart must be very clear and easily understood. A mistaken glance at the chart can cause foodborne illnesses and significantly affect public health. Be sure that the temperatures, words, and images are all easily recognizable.
There are many ways on how you can get a professional-looking meat cooking chart with all these elements. You can hire a professional graphic artist so you can customize and fit everything in one chart. On the other hand, if you are on a budget and need a comprehensive art with all of the key elements we mentioned, then the best place to get your internal meat temperature chart is at FoodDocs! Our meat cooking chart has the complete information for cooking the major types of meat to any doneness that is permitted to be served in a food establishment. Additionally, our chart contains precise information on how long it would take you to roast meat as well as the correct oven temp. Oh, our meat cooking chart totally free along with our other templates, checklists, and even consumer advisory which can be found at our free HACCP template hub.
Digital solution to monitoring meat cooking temp chart
Safe food handling includes properly cooking your food to a safe temperature. This rule must be applied even if your consumers are requesting slightly undercooked meat such as rare or medium-rare doneness, very high food safety standards must be applied. A part of the difficult task of being a food owner and food safety manager is training all your food workers regarding the correct way to cook different meats. It is a very easily confused topic.
To resolve this difficulty in food safety management, your best solution is to use our digital Food Safety Management System at FoodDocs. You might be asking yourself, "How is this digital FSMS going to help me?" The answer is that we provide every FSMS document requirement for you! Ditch the paper-based monitoring system for your FSMS and embrace this digital innovation.
To give you a clearer picture of what our digital FSMS can do, here is a list of what you will be getting once you sign up with us:
Our system can ease the load of training new employees when it comes to the correct internal cooking temperatures. Based on your food business, we automatically create clearly defined monitoring tasks and appropriate forms. These forms are automatically filled in based on your previous data entries. Employees will only need to verify them.
In case of any standard food safety rule breach, our system sends prompt notification alerts through our mobile application for immediate response. Additionally, our monitoring system has prepared corrective actions for any potential breach. This notification system also sends alerts for any food safety task that is due or deadlines that need to be met.
Our automatically generated monitoring forms can be customized for your convenience. We understand how some food businesses have their specific tasks. As such, you can easily edit the monitoring forms we give you to best fit your operations.
Get to review your whole food safety operations with our automatically generated report in our real-time dashboard. Review which areas need more attention, and which ones are doing great.
Get access to cloud storage where you can store and organize all documents including monitoring forms, certificates, and permits in one place dedicated for you.
Become more sustainable by switching to a completely digital food safety management system. This process will only even take you 15 minutes to finish! After answering a few common questions about your food business, you are good to go and you can implement your new system right away.
Save your team's time from scrambling around and get on with your operations as we help you with your food safety tasks. Get more time for yourself to manage your business while being completely confident with your digital FSMS. Join our list of around 10,000 satisfied customers at FoodDocs and switch to digital FSMS now.
Easy app for monitoring to have an instant overview
Implement your

Food Safety System

in 15 minutes

Easy app for monitoring

to have an instant overview
Ready-to-use

HACCP Plan

in 1 hour