CLEANING SCHEDULE TEMPLATE FOR FREE
Use our free tool to create a Cleaning Schedule.
Just replace the words on the form when needed and download.

Company name:
Date:
_________

Cleanable surface
Stage
Product
Dosage
Frequency/time
Use
Cleaning supplies
Responsible
Hands
Washing
Liquid soap
One dose
Before work, after toilet, smoking, etc.
According to the drawing
Brush (Optional)
Every employee
Disinfecting
Disinfect
One dose
Before work, after toilet, smoking, etc.
According to the drawing
Brush (optional)
Every employee
Stainless and artificial material surfaces
Cleaning
Detergent 1
2 ml
After work process
Dilute detergent 1:10
Red sponge
Chef
Disinfecting
Chlorine solution
50-100ppmm
After work process
2ml of 5% Liquid bleach in 1L of water (100ppm)
Red sponge
Chef
Floors
Cleaning
Detergent 2
2 ml
Once a day or as needed
Dilute detergent 1:10
Floor mop
Cleaner
Dish washing in dishwasher
Cleaning
Dishwash detergent
Automatic
As needed
-
-
All employees

Company name:
Date:
_________
| | | |
| --- | --- | --- |
| Cleanable surface | Hand wash and disinfection | |
| Stage | Washing | |
| Product | Liquid soap | |
| Dosage | One dose | |
| Frequency/time | Before work, after toilet, smoking, etc. | |
| Use | According to the drawing | |
| Cleaning supplies | - | |
| Responsible | Every employee | |
| Cleanable surface | Hand wash and disinfection | |
| Stage | Desinfection | |
| Product | Desinfect | |
| Dosage | One dose | |
| Frequency/time | Before work, after toilet, smoking, etc. | |
| Use | According to the drawing | |
| Cleaning supplies | - | |
| Responsible | Every employee | |
| Cleanable surface | Stainless and artificial material surfaces | |
| Stage | Washing | |
| Product | Detergent 1 | |
| Dosage | 2 ml | |
| Frequency/time | After work process | |
| Use | Dilute detergent 1:10 | |
| Cleaning supplies | Red sponge | |
| Responsible | Chef | |
| Cleanable surface | Stainless and artificial material surfaces | |
| Stage | Disinfection | |
| Product | Detergent 2 | |
| Dosage | 2 ml | |
| Frequency/time | After work process | |
| Use | Dilute detergent 1:20 | |
| Cleaning supplies | Red sponge | |
| Responsible | Chef | |
| Cleanable surface | Floors | |
| Stage | Washing | |
| Product | Detergent 2 | |
| Dosage | 2 ml | |
| Frequency/time | Once a day or as needed | |
| Use | Dilute detergent 1:10 | |
| Cleaning supplies | Floor mop | |
| Responsible | Cleaner | |
| Cleanable surface | Dish washing in dishwasher | |
| Stage | Washing | |
| Product | Dishwash detergent | |
| Dosage | Automatic | |
| Frequency/time | As needed | |
| Use | - | |
| Cleaning supplies | - | |
| Responsible | All employees | |
HACCP cleaning schedule template
Cleaning and sanitizing are two of the most important criteria for food safety practices. Every food establishment must implement these operations to ensure the safe production processes of a wholesome food supply. These control measures embody the basic principle of how to keep food safety hazards, especially biological hazards such as harmful microorganisms, out of your kitchen and service area. Regardless of the type of food establishment that you have, you must always have a cleaning schedule. It is an integral part of your food defense from food supply to your food transportation. To create an effective cleaning routine, use a HACCP cleaning schedule template.
Cleaning and sanitizing include several different factors to make these operations effective. These factors may be the type of solution you use, its concentration, the frequency of application, duration of cleaning, the areas that need to be cleaned, and more. As part of every food business' approach to food safety and commitment to their consumers, you must have a complete and effective cleaning schedule in place. This objective ensures that your food establishment is only producing safe food products and is free from food safety risks.
Find out how to get an effective and flexible HACCP cleaning schedule template and its importance from this article.
What is a HACCP cleaning schedule template?
A HACCP cleaning schedule template is a useful tool for creating a detailed plan on how to effectively reduce the risk of food safety hazards in your food establishment. This document is an integral part of any food safety plan. Food safety consultants or an environmental health officer may request this document as an aspect of verification. It is used to create a schedule for the cleaning and sanitizing process of your food establishment. A HACCP cleaning schedule template is used to note when and how to perform the food operation. It includes the following components:
Surfaces to be cleaned (Cleanable surface)
Stage of operation (Cleaning or sanitation)
Product to be used (e.g., liquid soap, hand soap, sanitizer, etc)
Dosage
Frequency of operation
Other cleaning supplies needed
Responsible employee
Other factors that significantly affect the effectiveness of the cleaning process may also be added such as contact time and temperature of the solution. Cleaning and sanitation need to be performed precisely as suggested by the manufacturer. In the food industry, recommendations from health departments such as 50-100 ppm concentration of chlorine for at least 7 seconds or 200 ppm for quaternary ammonium salts for at least 30 seconds in ambient temperature are considered legal requirements for an acceptable limit. These parameters ensure that the target outcome is achieved to make every food you produce safe. Any critical limit deviation related to these factors can affect the food operation's effectiveness.
Cleaning and sanitation of all surfaces where any raw material may come in contact are necessary operations for every food establishment. They must be regularly performed to ensure food safety. Neglecting cleaning and sanitation can lead to the growth of many different pathogens and even attract pests such as flies and cockroaches.
Who needs a HACCP cleaning schedule template?
All food establishments in the food chain including a restaurant, food trucks, cafeterias, grocery stores preparing foods, and even a deli stand need a HACCP cleaning schedule template. Because every food establishment needs a cleaning plan, you'll surely need this document as part of your food hygiene plan. It would even be better if the template can be easily customized to fit your specific needs. A HACCP cleaning schedule template can help food establishments organize cleaning-related activities and serve as a reminder for the whole team to keep your food facility always in top shape and reduce the risk of food poisoning.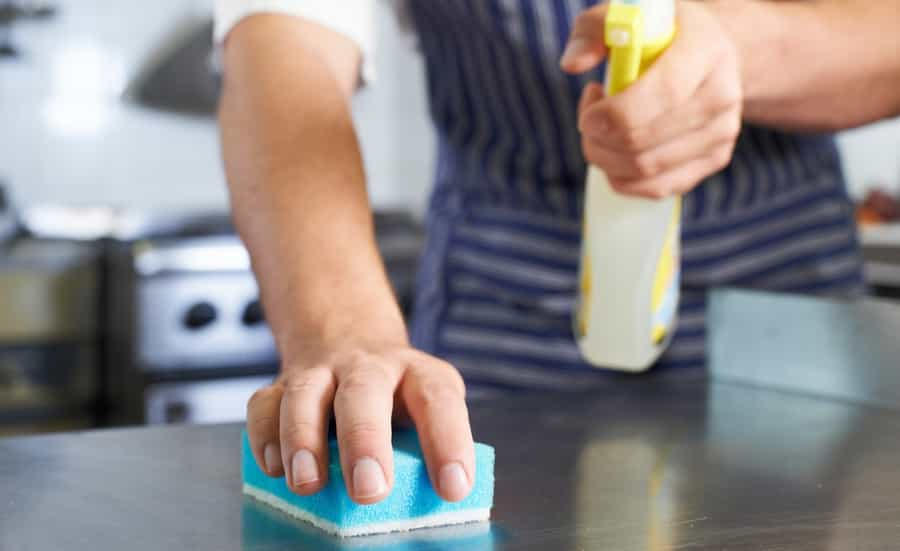 How to create a HACCP cleaning schedule template?
To create an effective HACCP cleaning schedule template, your document must have the necessary parameters. These parameters are the information needed to ensure that the cleaning and sanitizing operations are effective to produce safe food products. We know from our own experience that one of the biggest challenges of running a food business is keeping it clean. This can be a big challenge, as there are a lot of employees and they are constantly changing. To help you design an effective HACCP cleaning schedule template, here are some steps that you can follow:
7 steps to a perfect cleaning schedule
STEP 1: Determine what needs to be cleaned.
The best way to do that is physically walk through all rooms and define all surfaces, items, spaces, and equipment that you need to clean regularly. It doesn't matter if you need to clean it daily, weekly, or monthly, just write it all down.
For example, sinks, floors, stainless surfaces, ventilation systems, hot marmite, fridges, doors, surfaces, toilets, mirror surfaces, trash bins, doorknobs, walls, closets, and artificial material surfaces,
STEP 2: Define whether the surface needs cleaning, disinfecting, or sanitizing.
What is the difference between cleaning, disinfecting, and sanitizing?
Determining whether the food contact surfaces that you listed need cleaning, sanitizing, disinfecting or a combination of two food handling practices require rationalization of their intended use. To understand which operation you need, learn to differentiate the three tasks.
Cleaning refers to the physical removal of dust or any debris found on surfaces or any other source of contamination. It can be achieved through sweeping, wiping, washing, or manually picking up the dirt.
Sanitizing effectively decreases the number of pathogens in food contact surfaces to an acceptable level. This operation does not guarantee the elimination of viruses on surfaces.
Disinfection is the harshest operation of the three. It involves killing specified pathogens to kill them to nearly 100%. Disinfection products usually need a longer contact time with the source of contamination to allow the solution to work when compared with sanitizing.
STEP 3: Determine products, dosage, and proper use.
All chemicals used in food establishments for cleaning and disinfecting food contact surfaces and equipment must be approved as food safe. Otherwise, their use may lead to food poisoning as the solution gets into the food.
For every item, surface, or room, determine how the products are used including the correct concentration to be used. Follow the manufacturer's preparation and cleaning instructions to prevent overdosing and the use of the wrong cleaning products.
Detergents are mostly used when cleaning, and they clean the surface to remove grease, but they do not kill bacteria and viruses.
Sanitizers are used both as part of a two-stage cleaning procedure. First, use the sanitizer to remove dirt, food, and grease. Then, re-apply to the visibly clean surface and leave for the required time to sanitize the surface. Most sanitizers recommended for food contact surfaces include chlorine, quaternary ammonium salts (Quats), and iodine.
Disinfectants kill pathogens and viruses and are used on a visibly clean surface. Disinfection products do not work effectively if the surface is covered in visible dirt. Here, it's also important to leave the disinfectant product on the surface for the time specified in the product instructions to remove all bacteria.
*It's important also to note how to store the cleaning products – keep all chemicals and supplies separately in a special place, away from food areas.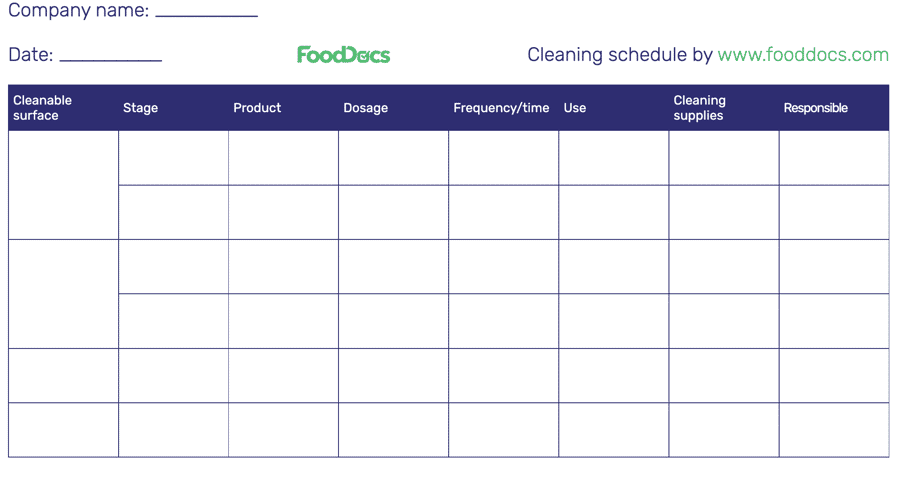 STEP 4: Determine the frequency of operation.
Generally, the more people touch a surface or item, the higher is the risk of pathogen and the more often such a surface should be cleaned.
Some examples of often touched surfaces in or kitchen include preparation tables, utensils, counters, and your cooking equipment. These surfaces are commonly used the whole day for food preparation. They may be used for any raw food or sometimes ready-to-eat ones such as raw meat slicers, blenders, and other equipment for any cooking process.
Some examples of surfaces that need to be cleaned less often, but still tend to be forgotten are ventilation equipment, walls, lamps, and other complex equipment.
Set the cleaning schedule to clean frequently touched surfaces at least once a day. When space is a high traffic area, clean it even more frequently.
STEP 5: Choose the right cleaning supplies
If you want to keep your cleaning plan working and to ensure your kitchen is always tidy and free from contamination, you need to have a good selection of professional cleaning equipment on hand. Basic items include:
Clean kitchen cloths
Sponges and scourers
Dusters
Gloves
Mops
Brushes
Drain cleaners
Sanitizers and hand soaps
Make sure there are enough cleaning products to avoid cross-contamination. In addition, always check whether the cleaning equipment you have is in good condition. Any loose material such as brushes tends to leave bristles on contact surfaces and are then considered a potential physical hazard.
STEP 6: Set a team for your cleaning schedule activities
The next step in creating your cleaning plan is to define who will be responsible for these cleaning activities. This task encourages accountability from all of your employees. By involving your team in this work, they will also feel a greater sense of responsibility and perform their tasks better.
STEP 7. Documentation
An accurate record of the HACCP cleaning schedule template, when used correctly, is an important part of your food safety system. It can serve as proof that your food establishment upholds your commitment to serving safe food items. It also can become a support for your procedures for monitoring your cleaning operations.
Creating your own HACCP food safety cleaning schedule template can be tricky. You may need to customize it every now and then, especially during your pilot use. To help you get a flexible template, use our HACCP cleaning schedule template at FoodDocs! This template considers the most important parameters when it comes to cleaning and sanitation. If you can't find the parameter that you need, then you can add it yourself. Our templates are completely customizable to help you build a better schedule for your team.
This template is part of our list of many other free, food safety documents such as any checklist template, posters, and consumer advisory. Pair this HACCP cleaning schedule with a restaurant cleaning checklist template to optimize your cleaning operations and become part of your monitoring procedures and preventive measures. Check out our HACCP plan template hub for more!
What are the benefits of a HACCP cleaning schedule template?
When it comes to running a food business, cleanliness is a top priority. Whether you run a small restaurant, a hotel, or a retail store, all facilities must put food safety as a priority. A kitchen must be clean not only because the law requires it but also because it keeps your staff and consumers safe from any potential hazard. Keeping a high level of sanitary conditions in your food establishment is an everyday task to ensure the safety of food products within the food chain.
Cleaning and sanitation are some of the most effective preventive measures against any potential health hazards that can lead to loss of control of food safety. To always maintain a clean condition in your food establishment, everyday hygiene procedures must be applied. A proper cleaning plan helps to lower food waste, create a sanitary food production process, prevent foodborne illnesses from consuming unsafe food, produce wholesome food, and also keep the team on the same page about cleaning tasks.
A HACCP cleaning schedule template can help you with this:
Guide. A HACCP cleaning schedule template such as what we have at FoodDocs already contains the most important parameters to create an effective cleaning schedule. This template can help your team save time and ensure that your schedule is complete and would serve its purpose.
Reminder. Using a completed HACCP cleaning schedule template can help food handlers remember when, how, and which areas to clean. This schedule can help employees perform critical control procedures to reduce the occurrences of any potential food safety hazard. Some areas of a kitchen may need to be cleaned at least twice and sanitized once a day. This routine ensures that there will be no buildup of dirt or leftover debris anywhere in the kitchen for safer production processes.
Accountability. A HACCP cleaning schedule template is also meant to encourage accountability. This schedule is used to take note of which food handler is responsible to perform a cleaning or sanitizing task. It can help in identifying whether the task was done or not or whether it was correctly done or lacking. This purpose can help food employees learn the value of food safety even when no one is looking. It can also serve as a note for the application of corrective action procedures in case a cleaning task was improperly done.
Ensure food safety. Keeping your kitchen and service area always clean is an assurance of food safety. Cleaning any sanitizing ensure that the conditions for any of your food production process are at a safe level to prevent any unsafe food from reaching the consumers. Additionally, since cleaning solutions can also serve as chemical hazards, your HACCP food safety cleaning schedule can also act as a reference for the correct concentration of the solution and the recommended critical limits dilution for use.
Employee training. More than just a schedule template, a HACCP cleaning schedule can also be part of a food employee's training. It contains the necessary factors to make cleaning and sanitizing effective which is an important part of any food safety management system. This schedule can be used to acquaint food employee's with the proper steps of cleaning for the control of food safety.
Cost-saving. When your service and kitchen area are regularly kept clean and are free from any food hazard, your food business becomes farther from any food safety issues such as costly fines. A clean preparation area gives customers the confidence that the finished product that they are getting is clean and free from food safety risks. This schedule template can also become a cost-effective way to help your team reduce the amount of food waste as a result of spoilage from food contaminants.
Ensuring food safety with digital FSMS
Every food business has its own daily cleaning routine. In addition to having a food establishment with solid sanitary design principles, regularly cleaning and sanitizing your preparation areas is a must. Maintaining sanitary conditions is part of the long list of food handling practices in your food establishment ensures that you are operating at a very high food safety standard to prevent the occurrence of food poisoning from any food hazard. Food business owners are tasked to ensure that this basic condition is carried out every single day. This is in addition to the task of managing and nurturing a food business.
It can become hard at some point to juggle all food operations single-handedly. Luckily, FoodDocs is here to lift the responsibility of food safety off your shoulders. With our digital Food Safety Management System, you can rest easy that every cleaning, sanitizing, and food handling practices are subject to daily monitoring and are performed on time.
With a few clicks and simple answers to our system's basic questions, you can get a comprehensive digital food safety plan in just 15 minutes! This digital FSMS was built with the knowledge of food safety consultants and experts together with the power of artificial intelligence. Our system automatically generates a complete digital FSMS based on the information you provide.
What do you get when you sign up with us? Here is a list:
Save your employees' time from doing repetitive tasks using our digital monitoring forms. These forms can be used to make your everyday monitoring procedures faster and more efficient. With an auto-fill feature, our system automatically inserts information on your forms based on your previous data entries. All that is left to do is to verify the information.
Never forget any food safety task such as cleaning and sanitizing with our smart notification system. With our mobile application, our system will send intuitive notifications to responsible food handlers and remind them of any food safety task that is due.
Get a quick overview of your daily food operations using a real-time dashboard as part of our digital FSMS. With this feature, you can identify your strongest points and which areas need more attention. Save at least 20% of your time from micromanaging your everyday tasks.
Store all of your digital food safety documents in one place with your dedicated cloud storage.
Never worry about how to navigate your way around our digital platform. The whole process would only be a question and answer exchange between you and our system. Need to change something to fit your daily operations? Our system can accommodate that! Every section of our digital FSMS caters to customizations to create a more fitting FSMS for your team.
In just an average of 15 minutes, you can get a comprehensive digital FSMS that can help you achieve a clean and sanitized food facility every day. Get any process step done and increase the efficiency of your team with our digital FSMS. Experience our services and try our digital FSMS using our free, 14-day free trial.
Easy app for monitoring to have an instant overview
Implement your

Food Safety System

in 15 minutes

Easy app for monitoring

to have an instant overview
Ready-to-use

HACCP Plan

in 1 hour