DUCK COOKING TEMPERATURE CHART
Feel free to use our free Duck Cooking Temperature Chart.
Just enter your email and download the template.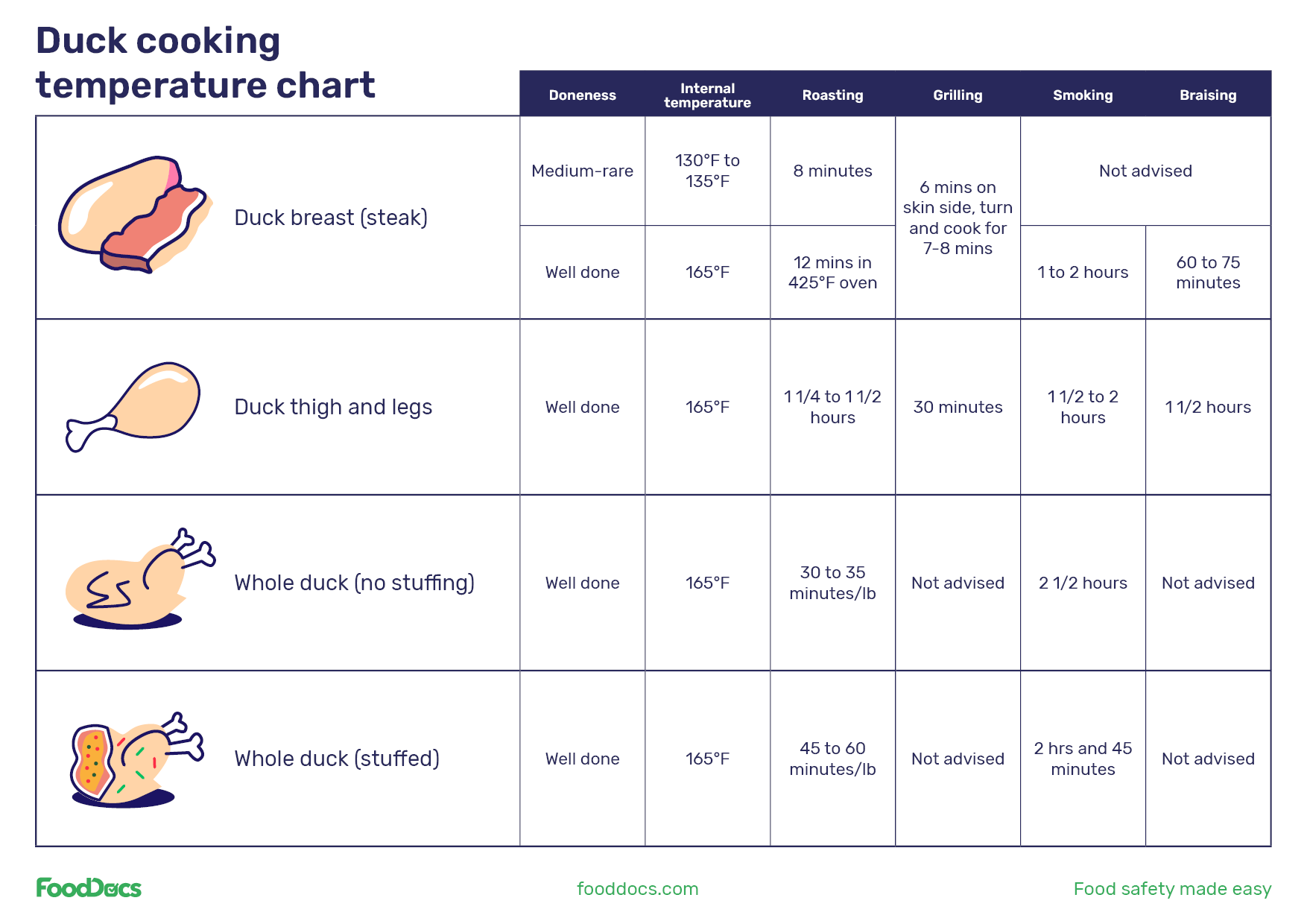 Duck cooking temperature chart
Even a basic roast duck recipe that can ensure a juicy duck breast can make consumers forget about chicken dishes. Duck is a trickier bird protein in comparison to chicken and a traditional turkey. Although less available, duck meat is a popular protein component that offers bold flavors. Duck meat is more compared with red meat as with game birds than white. Since ducks can fly, more oxygen is needed in their breast muscle fibers which then brings more blood to this area. In addition, duck meat with skin contains more fat when compared with chicken. The advantage of duck fat is the strong flavor it provides the dish. Overcooking duck meat, especially its breast part, can result in bland and rubbery traits. Nailing the ideal cooking method for duck can be easily achieved when guided by a duck cooking temperature chart and a food thermometer.
Cooking duck meat can sometimes confuse food handlers. Roasted duck meat takes many hours of cooking practice and distinctive step-by-step instructions to make this food amazing. Processing it a few minutes more in direct heat than the recommended cook time, even at the correct internal temperature can give you a dry texture. Most chefs recommend cooking duck to medium-rare doneness where the meat shows a pink center as you run a sharp knife through it and the juices are still intact. Although, you may have heard how bird meat, including ducks, is associated with the pathogen Salmonella. So, is it safe to eat duck medium-rare?
Find out the answer and how to use a duck cooking temperature chart in this article.
What is a duck cooking temperature chart?
A duck cooking temperature chart is a visual tool that food handlers can use to guide themselves in properly cooking duck meat. This temperature chart contains the different cuts of duck meat, recommended internal cooking temperature, and duck cooking time for each type of ideal cooking method. Although the oven temperature for roasting and baking duck and the temperature of the pan for frying may vary, the target internal temperature remains the same. While there are many contradicting reports on consuming duck in medium-rare doneness, this is usually how duck is enjoyed in restaurants similar to beef steak and lamb. Duck, unlike chicken and other poultry meats, is known to have less risk of Salmonellosis, which is the foodborne illness that you can get from eating any undercooked meat.
To cook a fantastic duck breast at medium-well doneness with the duck skin crisp, the internal temperature must be at 135°F which can be attained with medium-high heat. At this internal cooking temperature, the outside of the duck is perfectly seared with crispy skin, and exterior meat but still has a slightly pink center. Although, eating undercooked game meat, like any other meat, still has the risk of causing foodborne illnesses especially for high-risk groups. This group includes the elderly, pregnant, children below 5 years old, and immunocompromised individuals.
By standard, the USDA recommends duck to be cooked at 165°F for all parts of the duck and then transfer duck to a baking tray or rack at ambient temperature for carryover cooking from residual heat. Duck leg, duck thigh, and duck drumstick when cooked to this internal temperature, will become perfect as the connective tissues will help the meat stay moist for tender duck meat. A similar internal temperature for cooking is suggested for a whole domesticated duck for at least 35 minutes per pound. On the other hand, duck breast meat, when cooked at this temperature, tends to become very dry.
To learn more about cooking duck meat, here are a few frequently asked questions about this topic:
What temperature does the duck need to be cooked to?
Generally, duck meat is advised to be cooked in indirect heat and at a cooking thermometer reading of 165°F to prevent the risk of causing foodborne illnesses.
What temperature should duck breast be?
Like any other part of a domesticated duck, the bird breast meat including other parts such as duck thigh and wing tips is suggested to be cooked at 165°F. Despite this, this part of the duck is often served medium-rare to medium duck breast cooked meat to retain its flavors and texture. To achieve this, cook duck for about 8 minutes for medium-rare at 135°F with gentle heat.
Is it safe to eat duck medium-rare?
Duck meat is known to contain less risk of Salmonella-related foodborne illnesses when compared with poultry meats and is widely served as medium-rare. Proper food handling practices of fresh or frozen duck, accurate cooking temperature using a duck cooking temperature chart, and a digital food thermometer can help you achieve this.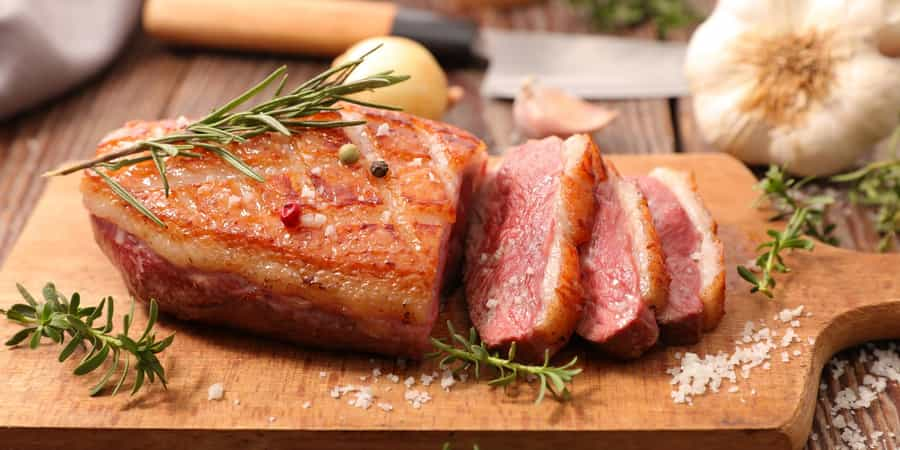 Who needs a duck temperature chart?
Despite duck meat being an unusual everyday food offered in restaurants or cafeterias, any food establishment can use a duck cooking temperature chart as a guide. If your food establishment is serving duck dishes such as roasted duck meat, then you have a very high standard to fulfill. Duck is known to be a hard protein to cook since it can easily become dry. As such, you can use a duck cooking temperature chart to guide you in this cooking process.
For restaurants cooking medium-rare any duck recipe, a consumer advisory is most advised to be used to protect consumers from potential food safety hazards.
What are the benefits of a duck cooking temperature chart?
To ensure that you only serve safe cooked foods and quality dishes to your consumers, properly cooking your duck dishes is a must. Cooking a perfect duck breast dish is not a simple step and requires accurate temperature reading using a meat thermometer and with the guide of duck cooking temperature chart. Using this chart, the food handler can be sure which internal cooking temperature to aim for.
Here are a few main benefits of using a duck cooking temperature chart in your kitchen:
Reference for accurate cooking. In a restaurant that serves duck dishes, customers expect highly of how you cook this protein. In addition to crispy duck skin and rendered fat, duck breast meat is commonly served as medium-rare to preserve its juices and the tenderness of the meat. To come up with this level of doneness, precise cooking techniques must be applied. To guide you through cooking duck dishes, use a duck cooking temperature chart.
Maintain food safety. The information on a duck cooking temperature chart is from established scientific food safety reports. The safe temperature value and natural cooking time were standardized to target the most heat-resistant pathogen in the meat. Despite being known to be popularly served as medium-rare, duck still has the potential to cause foodborne disease from Salmonella, although lower chances than chicken. Food handlers can use the duck cooking temperature chart as a reference and a digital thermometer to accurately guide them in cooking this protein.
Food safety training. While it is not a requirement to memorize all cooking temperatures for all types of meat, a duck cooking temperature chart can serve as a training tool for employees. This visual tool can be used to familiarize them with proper food safety practices and the importance of properly cooking food.
Consumer awareness. Duck is not a very common raw material such as chicken. So, when you have it, you have to cook it correctly. To help consumers cook duck at home, they can also use this duck cooking temperature chart as a reference. In addition, we also encourage consumers who intend to cook medium-rare duck to be aware of the risks that eating undercooked meat can bring.
How to create a duck temperature chart?
In making a duck temperature chart on your own, you have to apply a few key characteristics to ensure its effectiveness. The information you put on this visual tool will be your food handler's defense against malpractice in the food industry and protection against foodborne illness issues.
If you plan on making your own duck cooking temperature chart, keep these elements in mind:
Accurate. Duck meat can go from juicy to dry real quick. A slight oversight of the internal temperature or cooking period can cause this to happen and will ruin the whole eating experience for consumers. As such, the information you put into your duck cooking temperature chart must not have a very wide range of target temperatures. Narrow down the recommended internal temperatures to an accurate range.
Based on facts. In addition to being accurate, the information you include on your duck cooking chart must be based on established information. This type of data can be collected from peer-reviewed scientific articles that are also used by food agencies as standards for food safety. For more accessible information, you can consult with your local food safety agency website for food safety standards.
Clear. As we have mentioned, most food agencies advise cooking duck at 165°F to ensure food safety. Since duck carries less potential to cause food safety issues, it is mostly offered as medium-rare. Your duck cooking chart must be clear enough to show at which internal temperature should it be cooked for a particular level of doneness.
Updated. As food safety experts continuously find ways to improve the cooking and food safety experience for consumers, new standards are released every once in a while. Make sure to only use the most updated information when making your own duck cooking temperature chart. Consult with recent publications or update your information from your local food authority.
A duck cooking chart holds important information. As such, care must be practiced when making one from scratch. All information must be validated to help keep food safe. To get an accurate duck cooking temperature chart, you download our free chart here at FoodDocs! This duck temperature chart is validated and always updated by our team of food safety experts. In addition, it's free and can be downloaded for your whole team. Pair your duck cooking chart with a consumer advisory and use our other cooking chart templates and posters from our HACCP plan template hub.
FoodDocs and ensuring food safety
In addition to an instant-read thermometer, a duck cooking temperature chart would help ensure that your restaurant only produces quality and safe foods. Serving undercooked or raw meat can significantly affect your food business and can even lead to lawsuits. Monitoring all of your cooking operations is part of your food safety management system (FSMS). In addition as a food business owner, you also have to oversee other operations such as sales and marketing.
To be able to manage everything even with minimal involvement, your restaurant systems must be self-sufficient and intuitive. This is what our digital Food Safety Management System offers. Our software program allows your food safety team to come up with a comprehensive digital FSMS in just 15 minutes. With our digital solution, all you have to do is answer a few basic questions about the nature of your operations and our system will do the rest. In just a few moments, you will have a complete digital FSMS which will significantly help you maintain compliance with the major food safety laws and regulations.
Still not convinced? Here are some of the core features of our digital FSMS software:
The automatically generated digital FSMS we provide is tailored specifically for your operations. Our system generates appropriate digital monitoring forms for your basic operations. These forms can also be set to be auto-filled to save your employee's time.
Get instant and smart notifications whenever food safety standards are breached using our mobile application. This notification system was designed to alert food handlers and allow them to address problems swiftly.
Use this notification feature to remind your team of tasks and deadlines such as a due audit or food safety inspection.
You also get a real-time dashboard where you can review your overall daily operations. Identify which are need more attention so you could focus on them.
Store and organize all documents in loud storage. You can also access information and share them with your local authority for faster transactions.
A switch to our digital FSMS is also a big contribution to becoming a more sustainable business. The traditional method for FSMS requires several paper monitoring forms, whereas a digital FSMS can keep everything compiled without taking up any physical space. Complete your registration process and get a digital FSMS in just 15 minutes.
Allos us at FoodDocs help you maintain compliance throughout your operations. Ensure that your establishment is serving safe and quality dishes with our help. Register now and test our system with a free, 14-day trial.
Easy app for monitoring to have an instant overview
Implement your

Food Safety System

in 15 minutes

Easy app for monitoring

to have an instant overview
Ready-to-use

HACCP Plan

in 1 hour