PIZZA HOT HOLDING LOG TEMPLATE
Feel free to use our Hot Holding Temperature and Time Control Log for Pizza.
Just enter your email and download the template.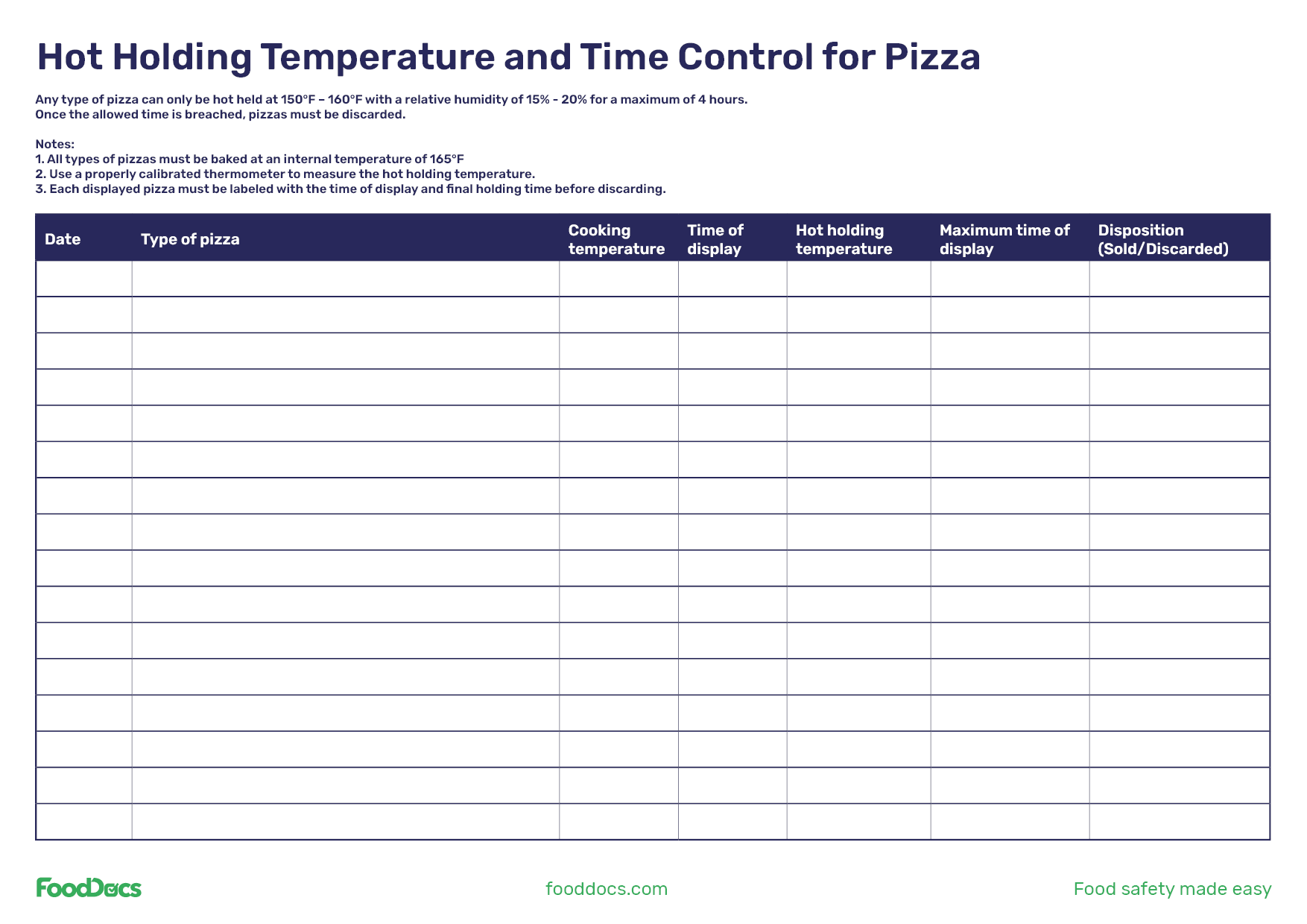 What is the minimum hot holding temperature requirement for pizza?
The complex composition of food makes them a great source of energy for pathogens and therefore has a limited shelf life. When these bacteria increase at optimum temperature and consume the nutrients of perishable food, they can cause harmful effects on consumers. Food such as pizzas has several ingredients that make up its totality. To control or prevent the growth of bacteria and keep food safe, the surrounding environment, such as ideal temperature and humidity settings around foods and their internal composition, may be altered. A great way to control the unwanted growth of bacteria is through hot holding at food safety temperatures. For some products, the minimum holding temperature may vary. So, what is the minimum hot holding temperature requirement for pizza?
Some of the most basic food safety practices are based on finding the conditions, such as any safe temperature range that will limit the growth of pathogens and prevent serving hazardous foods. Operations involving temperature are some of the most effective control measures in controlling food safety. When these food safety regulations are consistently observed, food handlers may prevent or at least minimize the estimated 600 million occurrences of foodborne illnesses worldwide every year. It is part of every food handler's responsibility to become aware of the most critical food safety laws and the reason behind their operations.
Find out how to properly store hot food, such as one of the most famous food products using the ideal range of temperatures for hot holding.
What is a hot holding temperature log for pizza?
The hot holding temperature log for pizza is a tool that food handlers can use to monitor the minimum temperature conditions in keeping pizza warm and safe for the consumers. This type of food is known to be diverse in terms of composition.
A pizza can be made with literally any type of food as a topping. It can be perishable items such as whole-cooked meat, ground meat, leafy greens, fruits, dairy products such as fresh mozzarella cheese, and different pizza sauces. These perishable products can cause foodborne illnesses to consumers. These meat-based foods and plant foods can quickly spoil at the wrong storage temperature and humidity parameters.
The nature of a pizza makes it prone to spoilage and has a very high risk of causing foodborne illnesses. Some factors that can contribute to the spoilage of a pizza include improper cooking process, inadequate cooking time, and inappropriate storage temperatures. Assuming a pizza is cooked perfectly to its recommended internal temperature, food storage persists in terms of food safety and quality.
A hot holding temperature log for pizza helps food handlers track the storage conditions of pizza. It contains columns for accurate recording of details such as:
Type of pizza
Cooking temperature
Time of display
Hot holding temperature
Maximum time of display
Disposition (Sold/Discarded)
Although the crispy crust of a pizza is stable because of the reduced moisture from baking, the additional ingredients on top of the dough make it a target of bacterial contamination. Maintaining the perfect temperature conditions for pizza storage will prevent cold meals and potentially hazardous foods. When pizzas are stored in the temperature risk zone, safety and quality become at stake.
Why should you monitor the hot holding time and temperature for pizza?
Foods must always remain outside the temperature danger zone, which is 40°F to 140°F. This warm temperature range is the optimal temperature for bacterial growth. For foods such as pizza which are enjoyed hot, an elevated temperature is required for display in a warming drawer. The common component in pizzas, the pizza dough, makes the pie crust react diversely to temperature changes.
At the temperature danger zone, the toppings are at risk of food spoilage, but the bread can harden due to retrogradation. On the other hand, the minimum temperature requirement for hot holding, which is 135°F, can cause the pizza dough that is made from bread flour to become limp or soft, whereas it can severely dry out at extreme heat. This is why pizzas are recommended to be hot-held at a higher temperature range.
In addition to food safety, the quality of foods must be considered when designing the hot holding temperature. A hot holding temperature log includes information on the proper food safety temperature, which is 150°F – 160°F with specified relative humidity conditions of 15% to 20%. Under these conditions, pizza's optimum serving quality and food safety such as a crispy crust, will be preserved. This does not only ensure safety but satisfaction of customers as well.
Constant monitoring on a regular basis will allow food handlers to assess whether a pizza is still safe to eat or if the quality is still as advertised. Additionally, timely monitoring can enable food handlers to apply corrective actions to address concerns such as an abrupt change in hot holding temperatures and others. This operation can be achieved by using a properly calibrated thermometer and log sheets for accurate readings.
Who needs a hot holding temperature log for pizza?
Pizza is commonly served in restaurants specializing in this food product. Additionally, some restaurants also offer it in slices and food trucks. A hot holding temperature for pizza applies to vendors selling commercial or homemade pizzas. It can help food businesses track the storage conditions of their food products for quality and food safety purposes. This tool is a specific document for holding pizzas and can be used for similarly-natured products.
What are the benefits of a hot holding temperature log for pizza?
This food safety tool can become an invaluable part of your food safety management system (FSMS). It can help guide your food handlers in making decisions that will benefit the customers and protect your food business.
Specifically, a hot holding temperature log offers benefits such as:
Food safety maintenance. The main benefit of this tool is to provide a way for food handlers to track the safety of a food item such as a pizza and ensure the proper temperature for storage. The log was designed to record all important information that affects food safety and quality. When the hot holding temperature for pizza is consistently maintained, your team can be sure that high standards for food safety are present and that customers are safe from foodborne illnesses.
Food safety training. Acquainting food employees on hot holding temperatures is part of their food safety training. It can help them understand the significance of controlling critical temperature threshold to minimize the growth of pathogens as well as how to properly execute this operation. Using a hot holding log for pizza can also help guide food handlers on which parameter is crucial for pizza quality and safety.
Cost-saving. When factors for the safety of serving pizza are controlled through proper monitoring, the likelihood of food safety issues as well as the amount of food waste becomes significantly lower. This can help your food business dodge potentially damaging conflicts such as lawsuits that can negatively affect business profits. Additionally, when a high standard for safety and quality is applied, consumers are more likely to choose your establishment and increase your sales.
Preservation of product serving quality. In addition to food safety, upholding the recommended hot holding temperature for pizzas also ensures that the product is served as how it is intended to be. The established hot holding temperature for pizzas in FWE / food warming equipment was designed to maintain the chewy dough with a golden brown and crisp crust without being soggy or too hard.
This hot holding log is only one of the many food safety tools that can be used to protect customers from foodborne illnesses. At FoodDocs, we have created an extensive collection of templates, charts, posters, monitoring forms, and advisories for every food business. The best part of this is that they are all free! We have built this extensive list of food safety documents based on the most important tools needed by food businesses and made them accessible to everyone. Visit our HACCP plan template hub now.
How can you help your team to monitor hot holding?
For food businesses that serve pizzas and high-risk foods such as time and temperature control for safety or TCS food, control of storage conditions is everything. Prolonging the shelf life of different types of foods as well as their serving quality can affect consumer satisfaction in addition to safety. As such, monitoring the compliance of these factors including the correct temperature in your establishment is important. The best way to do this is to have the right tools to do the task.
Using your regular and traditional food safety management system, your food employees need to put in the extra effort in monitoring every food safety operation. Not to mention that you still have to micromanage and oversee everything yourself as the food business owner. This takes almost all of your time just to verify what is happening and assess your food safety operations.
What if there was an excellent solution to automate every monitoring task and increase your efficiency without exerting extra effort? At FoodDocs, our digital Food Safety Management System offers this exact benefit. With our digital system, you can get a comprehensive digital FSMS in just an average of 15 minutes! Even without the technical expertise when it comes to a digital platform, anyone can get on board with our system easily. All it takes is for you to describe your operations by answering a few basic questions we have prepared and our system will automatically generate your digital FSMS.
Our system offers the following features for every food business:
Automatically generated digital monitoring forms. These forms come with an auto-fill feature which prefills the monitoring forms and saves your employees' time. The information logged into the forms is based on your previous data entries.
Smart notification system. Pair your monitoring tasks with our notification system. Using our mobile app, our system can send your employees intuitive notifications to remind them of any task that is due. With this feature, no food safety operation will be forgotten.
Real-time food safety dashboard. This feature gives you a quick overview of your operations and can help you evaluate each area for management. Save at least 20% of your time from supervising every operation so you can dedicate your attention to improving your services.
Cloud storage for all of your digital documents. Never worry about space for your monitoring forms as we provide you with a dedicated digital space where you can store and access every document easily.
The digital FSMS that our system automatically generates for you is receptive to changes and improvements. It can easily be customized to accommodate unique or specialized operations in your food business. This feature also allows it to be adaptable to innovations or revisions in your system. Our digital FSMS is as versatile as it gets when it comes to food safety compliance.
At FoodDocs, we understand how hard food safety compliance can be. Despite this, it does not have to be the case at all times. With the help of our tech experts and food safety professionals, our digital FSMS product was born. This system was built to make compliance more efficient and an effortless task. We have taken it as our duty to automate the most repetitive tasks in every food business so you can focus more on improving your operations.
How to use our hot holding features at FoodDocs?
Using our mobile application, you can easily keep track of every perishable food under hot holding. Follow these easy steps to ensure food safety:
Step 1: Select a product or easily find it with the QR scanner;
Step 2: Insert the hot holding temperature or use our automated temperature pre-filling solution. If the temperature is incorrect, the app will ask you to insert the corrective action
Step 3: Track the hot holding duration with the expiration timer. FoodDocs app will automatically send a notification when the food should be removed from the hot hold.
Specific to our hot holding system, we feature a way for your team to continuously keep track of your product's status. Use our mobile application to scan QR codes attached to food products in your food business and easily update food product status with a few clicks.
Are you still skeptical about our services? No need to worry as you can experience everything yourself for free! With our free, 14-day trial, you can try all of our mentioned features and see whether it fits your operations or not. Start maintaining and improving your food safety compliance status with us and join our list of more than 20,000 food businesses enjoying compliance effortlessly.
Easy app for monitoring to have an instant overview
Implement your

Food Safety System

in 15 minutes

Easy app for monitoring

to have an instant overview
Ready-to-use

HACCP Plan

in 1 hour