RESTAURANT EQUIPMENT LIST
Use our free tool to create a restaurant equipment list.
Just replace the words on the form when needed and download.
Restaurant equipment list
Food business owners focus a large part of their investments on buying food equipment.

A restaurant equipment list helps food business owners focus on which equipment should be prioritized.

Buying restaurant equipment heavily depends on the available space and floor plan or a restaurant.
If you are planning to open up a restaurant, chances are, you already have a lot of different plans in your head. A business plan, HACCP plan, forecasts, market predictions, advertising plans, and much more. We are quite sure that you already have a vision of what you will be serving and how will you do these things. On a side note, have you thought of what will you use to prepare them? You need to round up your needed equipment using a restaurant equipment list.
Depending on the nature of your food business, you will need specific equipment for preparing, cooking, baking, cleaning, and even delivery. A huge chunk of your investment will probably go into buying food equipment. In making a restaurant equipment list, you have to consider all your everyday operations to anticipate the necessary equipment. Being able to predict which equipment you will be needing or adding in the future can seal a smooth transition towards opening your restaurant.
In this article, we will show you the importance of making a list and give you an idea of some of the most common equipment and utensils you might need. Additionally, learn about the most efficient way to manage and maintain your equipment list.
What is a restaurant equipment list?
This document is part of your business plan and contains all of your needed restaurant equipment for cooking, storage, delivery, and cleaning for your food business. A restaurant equipment list significantly varies depending on the nature of a food business. An example of this would be having a 5-layer type of oven if you mainly deal with pastries and bread, whereas you might not need this if you operate a restaurant offering a lesser volume of food. An industrial oven would be the best fit for a commercial kitchen where food handlers cook foods that are sent to other stores in very large volumes. On the other hand, a restaurant kitchen would only probably need a regular-sized combination oven depending on their menu.
A restaurant equipment list allows you to manage expectations and plan your layout, especially for your kitchen area. Having the correct equipment for your professional kitchen and service area ensures that your investments are well assigned and that you will be able to execute operations smoothly. An equipment list can become part of your HACCP plan.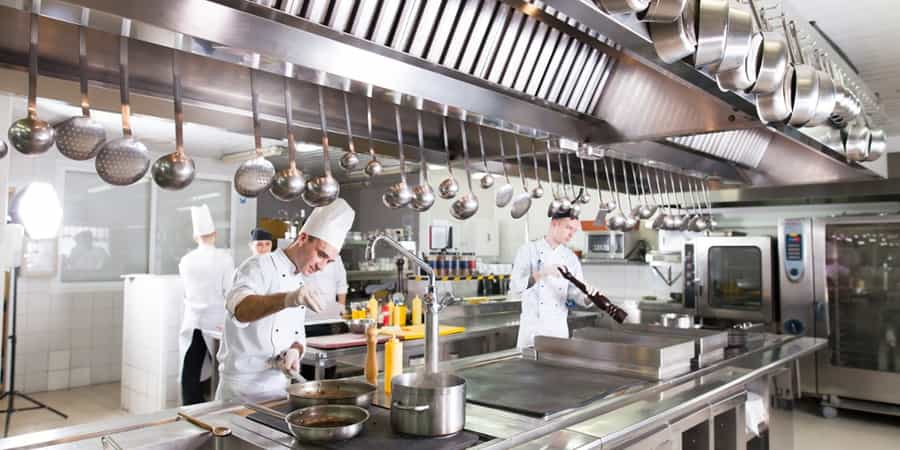 Importance of having a list of equipment used in restaurant
Your restaurant equipment and utensils are vital for your operation. Your everyday activities heavily depend on them, and therefore their presence impacts your food business significantly. As such, you have to plan which ones to prioritize getting. A restaurant equipment list will help you keep track of which ones to invest in or which ones can be sourced as a used item.
A list of the equipment you will be using for your restaurant offers more benefits than what meets the eye.
Here is a list of other advantages when you have one:
You won't buy unnecessary equipment
You can make a restaurant kitchen equipment list by just recording which ones you think would work for your business. Do this step regardless of the price, quality, necessity, or even size. After listing all of the kitchen equipment you can think of, review your list and trim it down. Using an equipment list allows you to evaluate which ones would you need and save you the money you might use at unnecessary investments.
You won't buy the wrong size
A part of making a list of your restaurant kitchen supplies and equipment is picking out their model and sizes. A list would help you evaluate your restaurant kitchen whether will your chosen equipment fit or not. It will almost be like a puzzle game at some point.
Allows you to identify priority equipment
When we say a lot of your capital will go into purchasing equipment, we mean A LOT. That means you have to think carefully about which ones to buy first. For a restaurant, stoves and big, stainless steel preparation tables would be most practical to buy first. There would be no need to buy a big smoking chamber if you would not specialize in smoked barbecue dishes. When making a list, you can evaluate your choices and decide to buy the most important first.
Deciding on a multipurpose equipment
There will be moments when you will decide that you need to buy a lot of equipment but there is just no way of fitting them into your kitchen. At some point, you may have to decide whether to buy multipurpose equipment or cut back on some of your other choices. Would it be more beneficial to buy small-sized combination ovens with a stove on top or buy them as separate equipment? Making a list will prompt you to start searching for the right equipment for your kitchen.
Deciding restaurant equipment leasing
Not every restaurant owner has the excess capital to purchase brand-new equipment right away. In such a case, making a list of your needed equipment for the restaurant can help you identify which ones you can lease before buying one for your own. Leasing helps you assess whether a piece of cooking equipment will be profitable in the long run and will it be able to return your investments as expected.
Making a restaurant kitchen equipment list improves your focus and helps you in identifying which equipment would be best to invest in. This helps you reduce unnecessary food costs and makes sure that all of your equipment would fit in your kitchen. A list of restaurant kitchen supplies and equipment is a great management tool for your food business.
Important things to consider before buying equipment for restaurant
Some restaurant equipment doesn't come cheap. Even utensils such as knives can come at a hefty price depending on their quality. As such, planning before investing your capital on any equipment is rational. A lot will be riding on the functionality of each piece of equipment you will buy, so take your time and review any option you have.
To help you decide how to strategize on canvassing and actually purchasing your kitchen equipment, here is a list of steps you can follow:
1. Analyze your operations
Of course, the equipment you will be buying MUST be usable in your daily operations. There is no point in buying an ice cream maker if you do not have or are not planning on offering ice cream. Some of the most common must-have materials that are generic in every kitchen include stove, refrigerator, countertop, preparation tables, knives, pans, food processors, and mixers. Strategize by buying only the ones that you will be using immediately. Use a commercial restaurant equipment list!
2. Consult with your chef or main operations guy
The majority of the preparation and actual cooking will involve your main guy, the chef. Unless you, yourself, are the chef, it would be best to have a consultation and brainstorming with your kitchen staff and the chef. You can come into an agreement with which equipment to bring in, or which can come later on. Individuals with much experience in the food industry tend to know about trade secrets or efficiencies with models. Your chef can offer valuable insight on which brands and models can be considered as high-quality equipment that can produce the highest quality products.
3. Consider cost-efficiency
Before purchasing any equipment, consider factors such as their functions and energy cost. Companies have already launched a wide variety of multi-purpose equipment that can save you energy, space, and time. Such equipment can come at a lesser price and can help you fit everything in a small space. Additionally, consider choosing equipment with a more efficient energy consumption especially those that will be running all day.
4. Measurement and layout of your kitchen area
This factor will not be a problem if you have a pretty big type of restaurant kitchen. For some startup businesses, this may be a deal-breaker. Some food business owner bases their layout on the kitchen equipment they will be bringing in, which is a good idea. Despite this, if you already bought a space then you will have to dial down a bit on any big equipment. When purchasing equipment, make sure to . Do not rush the process as this will become troublesome if you ignore it.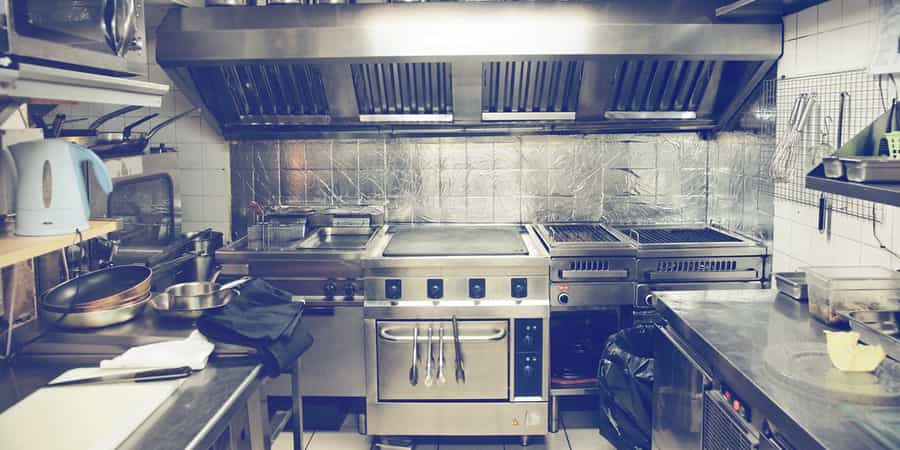 5. Compliance with food safety regulations
Food safety laws regarding the safety of your equipment are all present. Your purchased equipment must be sound for calibration and must have no problems that will affect the produced foods. Additionally, your tools need safety equipment features that will protect the users from any accidents during use. An example would be having a bowl cover over a food processor with rotating blades. Other regulations and health department guidelines related to equipment include their ease of cleaning and inertness to unwanted reactions from your operations.
6. The flow of activities in your kitchen
In a layout for a busy kitchen, you always consider the flow of your operations. Most planners create an assembly line where a processed product would not have to go back to the preparation table to prevent cross-contamination in busy restaurant kitchens. This factor may affect the size and dimension of your equipment needs. Plan your flow before purchasing your equipment.
7. Consider cleaning and sanitizing
Some innovations have already incorporated CIP or clean-in-place features for their products. This type of feature allows the equipment to clean itself without the need of disassembling it. Of course, these features come at a price. Some equipment may not have this feature, but some may come with easy-to-clean qualities that will make it easier for you to disinfect hard-to-reach areas such as the inside of gaskets or corners and fittings.
8. Choose a good supplier
The quality of the equipment you will purchase must be non-negotiable. Your equipment will significantly affect the quality and safety of your products and with substandard equipment, your operations may be at risk. As such, find yourself a reputable distributor of food service equipment that can also teach you which equipment would be best for your food business with competitive prices. Do a thorough background check and interview your restaurant supplier before dealing with any.
9. Buying new or used restaurant kitchen supplies
While on the topic of quality, some equipment is made to last for years and some brands are known for their durability despite its length of service. If you are planning on buying used restaurant equipment, consider the brand and mileage of the item. Additionally, think long-term. If the equipment looks like it will give up in a couple of months, you might be better off checking out loans or rental equipment than investing in equipment that's barely functioning. Seek the opinion of an expert when it comes to choosing your equipment for restaurant operations.
Space, equipment size, and flow of operations are some of the main considerations when deciding which equipment to buy. These factors are all parts of your HACCP food safety plan and will inevitably affect your operations. As such, why not get a program that integrates your floor plan with your food safety management system? Through an inclusive digital HACCP plan, you can plan your floor layout and equipment choice while considering the potential hazards in your operation. These are exactly the kind of features we offer at FoodDocs.
Restaurant cooking equipment checklist
You can't serve raw foods to your customers unless you only offer sushi. Cooking your meals not only improves their qualities but also brings our new flavors and makes them safe for consumption. Cooking foods involve the use of different forms of heat to reach a safe temperature for different foods which can be achieved by using various types of equipment. Your commercial cooking equipment can either be powered by gas or electricity. Your choice will depend on the efficiency of the actual cooking process and the outcome you want.
Here are some of the most common types of restaurant equipment for cooking that you might need:
Gas range/ Electric range. The outcome of using an electric or a gas range often differs as well as the speed of heat transfer. Additionally, consider the availability of your source of energy, gas or electricity, when choosing your commercial ranges. Both types have their pros and cons. A gas range can work even when there is a power outage but are harder to clean, generates more heat in the surroundings, and has a higher risk of fire. On the other hand, an electric range is more energy-efficient, environmentally friendly, and has no risk of gas leaks. Although, you may need to consider your electricity bill with an electric range. Additionally, electric ranges transfer heat faster and need a bit of mastery for use.

Fryer. If you offer foods such as fried pocket pies, tenders, or french fries, a deep fryer would come in handy. These fryers offer more even cooking and can be more efficient by cooking in batches.

Microwave. This food warming equipment is convenient for reheating sauces, fast thawing, dissolving solutes, and reheating pre-cooked items.

Bain-marie. Although less common than the rest of the equipment in this list, this tool is used for holding foods and sauces at an elevated temperature for hours to keep food warm. It is a double boiler filled with hot water. Alternatively, you can purchase a steam table to keep hot foods in metal containers warm. Food holding and warming equipment are essential for cafeterias and catering services as part of your buffet equipment.

Oven. If your business involves the use of heat for cooking, you may want to invest in a good, commercial oven. Ovens are pieces of restaurant kitchen equipment that come in different forms, each with unique and versatile qualities. Ovens can perform a list of cooking methods and can be used to prepare a lot of dishes at once. When purchasing one, you can choose from a huge selection of ovens such as:

commercial ovens

combi ovens

pizza ovens

conveyor ovens

furnace

convection oven
The type of oven you will purchase will depend on the types of dishes you are planning to offer.
Grill. Although combination stoves are already available where you can grill meat on a flat, stainless countertop fryer or a flat griddle surface, nothing beats an outdoor grill that uses smoke from burning chips. If your food business specializes in grilled foods, you may want to invest in one. Varieties come as either electric grills or manual ones.

Steamer. This equipment is now available as a separate commercial appliance in the kitchen and can be operated using electricity. Traditional steamers are a set of perforated cauldrons heated over the stove. For restaurants offering dim sums, steamed vegetables, or any other steamed dishes, investing in an electric steamer is a good idea.

Sous vide. Although definitely not a piece of common kitchen appliance, a Sous vide is used for aging food items under a vacuum under precise temperature control. This equipment is a great tool for precision cooking and imparts a different characteristic to the dish.
*Extra
Ventilation hood systems. A commercial kitchen, mainly dealing with a high volume of cooking, generates an excessive amount of heat and smoke all day round. As a solution, the government agencies require proper ventilation to prevent suffocation from too much heat, condensation, and smoke.
Restaurant storage equipment checklist
In addition to cooking equipment, your kitchen will also need refrigerated and room temperature storage areas. Storage equipment will ensure that your foods will stay fresh longer and prevent unwanted spoilage. A bigger food storage solution is not necessarily the best idea, especially for small restaurants. What you want is a space or set of shelves that you can maximize well.
Storage cabinets. Shelves and cabinets can be built as part of your kitchen, installed on the walls for space-saving. Multilevel shelves maximize space and let you store more kitchen supplies. This design is also applicable for walk-in refrigerators or freezers. Cabinets can be used to store dry ingredients and food storage containers.

Commercial Refrigerator/ Freezer. This equipment is a must for any type of restaurant. Refrigeration equipment and freezers significantly prolong the shelf-life of your food materials by inhibiting the growth of microorganisms and slowing down enzyme activities.

Racks and shelves. Consider purchasing mobile storage racks or shelves with multiple levels that can be used to hold a variety of materials or foods awaiting service. This group also includes air-drying racks and sheet pan racks.

Dispenser. Whether it is for tissues, water, toothpicks, condiments, or other restaurant supplies, a dispenser makes them more accessible.
Restaurant food preparation equipment checklist
Where will you prepare your meat before pan-frying it? Every restaurant needs a preparation station that has enough space for multiple tasks. In addition, preparation sections tend to require more frequent cleaning as they are used for a variety of purposes. As such, you need to be sure that they can be easily cleaned.
Food prep counters. Waiting counters are your borders between the kitchen and the service area. These counters can also hold prepared food awaiting service. Choose from a wide selection of table counters one that can be easily sanitized and are not prone to chipping and stains.

Steel prep tables. Preparation tables need to be spacious, sturdy, and inert to food reactions. Some of your preparation tables will be used to hold heavy equipment, whereas others will be used for preparing raw materials. Stainless steel tables work best for restaurants and can even be used for tempering chocolate. Pick a scratch-resistant one to prevent creating deep grooves or even an anti-microbial and stainless steel table in one! There will be a lot of slicing, dicing, and pounding food ingredients on your table.

Electric slicer/ Manual slicer. Commonly used by restaurants that deal with a huge chunk of meat every day, slicers take out the burden of creating large cuts of meat from your chef. This equipment can come in handy if you have to process large amounts of ingredients in a day.

Food processor. This equipment significantly cuts the time for preparation by slicing food materials in bulk. Some types of food processors can be used to combine different raw materials. Its functionality depends on the speed and type of blades you are using. Some combination processors can do a lot of other tasks which can save you from buying other equipment.

Blender. If your restaurant offers blended drinks, a blender would come in handy for crushing ice and flavor materials. A blender can be used as a substitute for a food processor in some cases.

Coffee maker/ Espresso machine. Coffee is an all-time favorite and is seen in almost all types of restaurants. Whether it is a Moka pot, a drip machine, a french press, or an espresso machine, investing in a coffee maker is ideal for a restaurant.

Commercial ice machine. An ice maker would be a convenient piece of equipment for mobile vendors and a catering business that would have limited access to ice in inconvenient places for serving a cold glass of water or other iced beverages.
Common kitchen utensils checklist
When we talk about restaurant kitchen supplies, you should also include utensils. These kitchen tools are used to carry out cooking and preparation in your kitchen.
Mixing bowls. Most often used by restaurants with baked goods and pastry products, mixing bowls are actually essential pieces of equipment in every restaurant. Separate bowls can be used for batter making, mixing salad, and a whole variety of operations. Invest in different sizes with superb quality.

Commercial mixer. For food businesses dealing with baked goods, investing in a sturdy countertop mixer is required. It must at least have a capable batch bowl processor to handle thousands of products to be baked in a day such as a floor mixer. For smaller batches, an immersion blender or hand mixer would suffice.

Chef knives. If you ask your chef for a list of equipment to be purchased, a quality knife would be at the top of the list. Knives in a variety of sizes and types are used to slice ingredients faster for preparation for your prep staff.

Bakery equipment. For restaurants that have a bakery section, you will want to invest in baking pans, baking pan covers, baking sheets, and commercial baking equipment. This category also includes bakery displays and bakery disposables such as liners, cups, aluminum tins, and others.

Cooking pans. Pans are essential tools for sauteing, braising, frying, other operations that need shallow cooking equipment. These commercial cookware products come in a variety of forms.

Cooking pots. Similar to how essential pans are, cooking pots are a requirement for making stews, soups, and other dishes with a large amount of water.

Measuring cups and spoons. For dishes that require precise measurements of ingredients such as a souffle where any wrong measurement will ruin the dish, you need to invest in measuring cups and spoons. Additionally, utensils such as portion control spoons can be used to service precise amounts of food.

Cutleries. Excluding knives in this context, you will need a lot of main and spare cutleries such as service spoons, cooking spoons, forks, and other silverware to keep a restaurant running.

Tongs, spatulas, and turners. For ease of handling foods, this set of equipment is essential when cooking. Choose types that have handles that are inert to overheating.

Food thermometer. Although some commercial equipment has built-in thermometers, a hand-held food thermometer can be used for validating readings especially when accurate temperatures are crucial.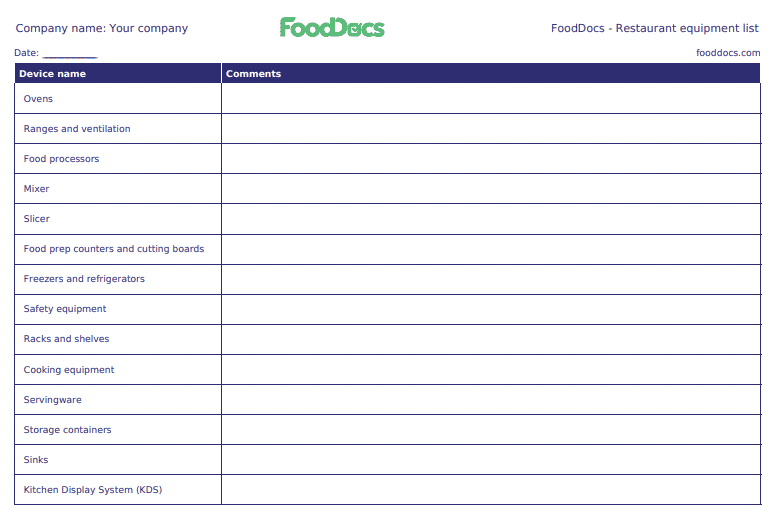 Restaurant equipment cleaning tools & supplies checklist
Keeping your restaurant clean is a requirement if you want to continue serving your customers. Food safety laws and regulations regarding proper cleaning and substances used for sanitizing are always emphasized during orientations and even inspections.
Commercial sinks. This equipment is a necessity for any food establishment. Invest in a multi-compartment sink where you can separate handwashing, dishwashing, and food washing activities. For mobile vendors such as food trucks or catering services, consider investing in portable sinks for your kitchen.

Food-safe sanitizers and cleaning agents. Invest in food-safe sanitizers used for the type of table and floors you are using. Additionally, purchase handwashing chemical agents for commercial use and stay away from harsh cleaning products.

Trash cans. This item involves small trash cans for indoor use and larger ones that will be used to collect food waste for a whole day. Invest in sets so you could practice segregation of trash.

Mops, mop buckets, and rags. These utility tools are essential for cleaning tables, floors, windows, and walls.

Toiletries. Bathroom tools must be part of your restaurant supply and must include tissues, scrubbers, towels, soaps, separated urinals, and other amenities.

Commercial dishwasher. If you are operating a fast-paced restaurant, purchasing a commercial dishwashing machine can be a good investment for quick service without having to invest in more plates.
Why is it important to plan your kitchen area?
Your kitchen is the heart of your restaurant operations. Maximizing the layout of your kitchen means maximizing the potential of your restaurant. Despite this, a well-planned kitchen does not mean that every corner is filled with equipment. Planning your kitchen layout means there is enough space for your staff to move while all the necessary equipment is in place. This also shows if your kitchen layout minimizes the risk of contamination as a result of its flow.
Aesthetics aside, the layout of your kitchen will determine the efficiency of your preparation stages. This process also ensures that your kitchen is not accident-prone and follows standards set by food safety agencies. A professional kitchen with a masterful design promotes food safety for both kitchen staff and consumers. Additionally, making a floor plan must also include the anticipation of new additional products and therefore new equipment. Building your kitchen from scratch can be a daunting task. Luckily, there are systems such as FoodDocs that can help you with this problem. Our system allows you to create your floor plan in addition to a variety of free templates for checklists such as restaurant cleaning checklist and pest control checklist. Check out all of our free templates at our HACCP plan template hub.
Digital solutions to your restaurant equipment list
The layout of your kitchen is every bit as important as your equipment list. Both factors work together to build an efficient workflow for your restaurant business. In fact, one of the aims of a good HACCP plan includes a workflow that minimizes food safety risks in the kitchen. As such, careful planning is required to accomplish these tasks. Many food safety consulting companies can help you with your kitchen floor plan, but this process will require extra investment on top of your equipment expenses.
What if we told you that there is a way for you to get an automatically generated equipment list fit for your food business, a comprehensive HACCP plan, and software where you can build your floor plan? All of these things are in FoodDocs! Our built-in HACCP plan builder software lets you create a complete plan in just 1 hour based on your business activity. As a bonus, we also offer free templates for the most in-demand and essential checklists and posters in our HACCP plan template hub.
After answering a few basic questions about your food business, our system will automatically generate all the necessary documents needed for food safety compliance.
Here are some other benefits when you sign up with us:
After signing in, our HACCP plan builder set up an equipment list according to your business. This list is customizable so you can add any equipment specific to your food business.

We base all suggested information on the location of your business for specific food safety law compliance.

You can use our built-in tool to create your floor plan and layout for your facility design.

Our HACCP plan builder identifies all food safety hazards related to your food business. Additionally, we also list the standard critical limits for each food safety hazard and corresponding corrective actions in case of standards breach. We literally create a complete HACCP plan fit for your business.

Our system cuts all the meetings and revisions you would need when making a HACCP plan as the plan we generate for you is already compliant with local and international food safety laws.

The HACCP plan we create for you can be customized to fit your business better. You can also simply download your whole plan and print it as a hard copy should an inspector require it.

Our HACCP plan software also creates monitoring forms for your daily operations.
At FoodDocs, we understand how important your equipment, layout, and compliance with food safety regulations are. We aim to make HACCP compliance accessible for all types of food businesses to maintain safe food service industries. Making a HACCP plan has never been this easy and we could help you make a plan that is a perfect fit for your food business in just 1 hour. That is 500x faster than hiring a food safety consultant to make your HACCP plan.
Get a comprehensive HACCP plan and become compliant with local and international food safety laws by signing up with us. Get everything done with our free, 14-day free trial and remain updated and compliant by availing of our plans.
Easy app for monitoring to have an instant overview
Implement your

Food Safety System

in 15 minutes

Easy app for monitoring

to have an instant overview
Ready-to-use

HACCP Plan

in 1 hour