FREEZER TEMPERATURE CHART
Feel free to use our free Freezer Temperature Chart.
Just enter your email and download the template.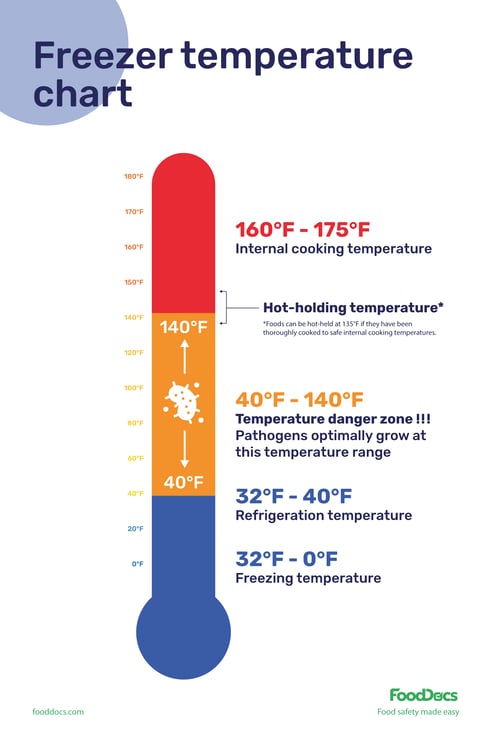 Freezer temperature chart
When you buy batches of food items and fresh ingredients such as raw meat from the supermarket for your restaurant operations, the first thing you think of doing is to put them in shallow containers, and then the freezer. Unlike repacked foods, raw meats and other fresh produce or perishable foods can spoil in a matter of hours outside of the ideal refrigerator temperature or ambient temperature. In such a case, temperature matters. Keeping your perishable items at a very cold temperature in an airtight container and freezer shelves can significantly extend their shelf life and save you another trip to the market. Despite this, how do you know if the temperature of your freezer is low enough? Use a freezer temperature chart and your appliance thermometer!
Freezing and refrigeration have different functions and were designed for different target products. Their main objective is to slow down the growth of microorganisms and extend the shelf life of foods. These operations help reduce the amount of food waste generated every year. At least one-third of the world's food supply either gets lost or spoiled. Of this amount of food waste, restaurant establishments are one of the biggest sources.
Learn how to properly store your raw foods at the correct temperature and find the best way to consistently monitor your storage temperatures from this article.
What is the Freezer temperature chart?
You can use a freezer temperature chart as a reference guide for the correct storage temp for your raw foods in the freezer. Additionally, this temperature chart contains temperature ranges for refrigeration and hot holding; as well as the temperature danger zone which you need to avoid at all costs. Keeping food cold at a very low temperature help extend their shelf life. At freezing temperatures of 0° F, all biological activities such as the growth of bacteria and other foodborne pathogens are stopped when compared to warmer temps. This temperature can be easily achieved with artificial temperature regulation using adjustable temperature settings from modern refrigerators.
Very low refrigerator temperature not only stops bacterial growth and their spoilage ability but may also injure them. Disruptive ice crystals that form on frozen food injure pathogens and may slow down their growth in thawed foods. This lowers the chances of causing any foodborne illness from the overgrowth of pathogens. That being said, your team needs to consistently record freezer temperature using a freezer thermometer to ensure that your raw materials are consistently at a safe temperature.
In addition to the topic of consistency, temperature fluctuations accounting for temperature spikes can cause problems as well. The significantly low freezer temps can cause problems such as freezer burn and damage to the tissues of the refrigerated food. Alternatively, an abrupt decrease in the fridge temperature can give pathogens an opportunity to recover and grow again. This is why regular monitoring of the proper temperatures for food storage is important. Using a freezer temp chart, food handlers can always be guided with their consistent temperature control and prevent any occurrence of food spoilage.
Who needs a Freezer temperature chart?
Since a refrigerator unit with a freezer compartment and good air flow is a must for any food establishment, a freezer temperature chart is almost a necessity for all. In addition, since this chart also includes information on the temperature danger zone for foods as well as hot holding temperatures, this chart can be considered a vital tool for your food safety management system. Virtually any food establishment, including a restaurant, deli store, grocery store, food truck, cafeteria, and others may benefit from using a freezer temperature chart.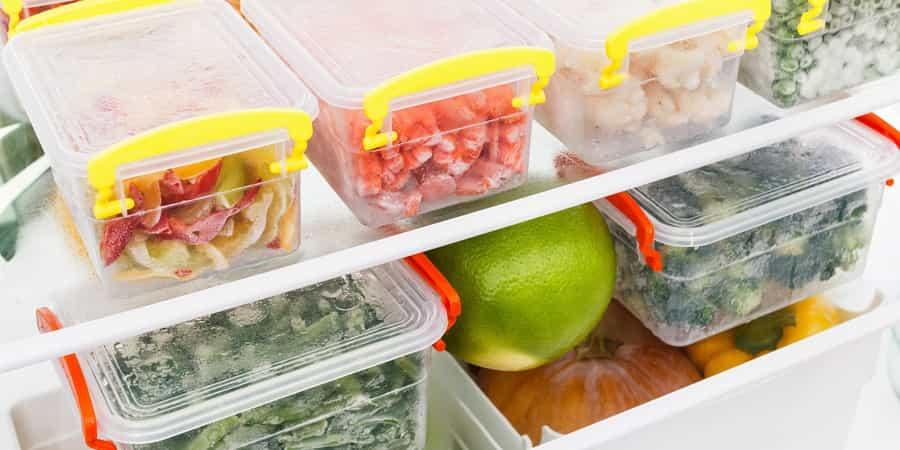 What are the benefits of a Freezer temperature chart?
Keeping food safe, fresh, and wholesome for extended periods can save your food establishment a lot of costs. Aside from the transportation fees and additional costs from a supplier, being able to store your perishable food on refrigerator shelves with built-in digital thermometers makes everything more convenient. In addition, having a properly working freezer and a freezer temperature or cold storage chart can help you avoid food spoilage.
A freezer temperature chart can help you in more ways than one. Here is a list:
Reminder. During your team's monitoring operations, knowing the proper temperature for a freezer can help you achieve the optimal storage environment. Using a freezer temperature chart, your food service workers would always have a reference guide and reminder on what is the adequate temperature for frozen foods. You can use this chart to tell whether the freezer is working correctly or not, and then apply any corrective actions on time. A freezer temperature chart can help your team serve only fresh food and safe dishes all the time.
Food safety training. In addition to being a reminder, a freezer temperature chart is a useful reference tool for the simple rules of food safety training for your team. You can use this document to orient them with the ideal temperature to prevent the growth of spoilage bacteria and other pathogens, and thereby any foodborne illness. It can be used as a supporting document to educate the team about the dangers of foodborne pathogenic bacteria and how fast can bacteria grow in optimum conditions.
Cost-saving. When proper food storage is always maintained, you can rest easy so that the shelf-life of your foods is always optimized until their use. This saves you a lot of monetary resources as you can use the ingredients you bought for their intended purpose without having to dispose of any spoiled raw materials. Using a freezer temperature chart, you can always ensure that your food handlers know the proper temperatures for freezer storage.
How to create a Freezer temperature chart?
As a reference guide, a freezer temperature chart must always be factual and easy to understand. These characteristics make it easy to follow and would serve its purpose of protecting your food business from food safety complaints. In choosing or making your own freezer temperature chart, you have to consider essential factors such as the following:
Based on legitimate information. This is perhaps the most important factor. This chart relies on the information on the ideal freezer temperature ranges for keeping foods fresh and wholesome. As such, the information you see or put on the chart must be based on peer-reviewed articles or information from food agencies. Make sure that the data you use is correct and will serve the chart's purpose.
Accurate. Often, references can indicate ranges for safe temperatures. Use an exact temperature range for your freezer temperature chart. Some pathogens can thrive at a very specific optimal temperature. As such, you have to ensure that the temperature information that you put includes the required temperature for the target pathogen you are trying to avoid.
Updated. Food safety agencies and related associations continuously perform research to discover more efficient ways to keep customers safe from pathogens. Included in their objectives are the best temperatures to store your food ingredients and products at. When making a freezer temperature chart, always check if the information you have is updated and still applicable to the current regulations. This factor can help you save time and cost as you achieve efficiency in operations.
Clear. To make an effective freezer temperature chart, all values, images, and descriptions must be clearly presented. Confusing values on this type of chart can cause problems such as setting the freezer temps high, which will not allow freezing. This could put your food ingredients at risk of spoiling and cause foodborne illnesses to consumers. Make sure that the values can be seen from afar and are distinctly presented.
All of these factors were the key ingredients when we formulated our freezer temperature chart at FoodDocs. This chart is just one of the many important food safety documents that you can find in our Food Safety Posters Hub. Additionally, you can find all sorts of other templates for checklists, posters, advisories, and other important food safety documents at our HACCP plan template hub. You can even find a cooking food temperature chart from our list to find out the correct internal temperature for cooking any type of meat. Check out our fridge layout poster for your refrigerator organization task. What is great is that they are all free and you can download and print them for your whole team.
Monitoring your freezer temperature with digital FSMS
Keeping foods, especially raw ones, in the correct food safety temperature storage ensures that you will have enough safe ingredients to use. Regular monitoring of your actual temperature using refrigerator thermometers and recording their readings must be done every day. Such repetitive food handling practices can take so much of your team's time that they won't have any more for your other business operations. Since this operation is a vital part of keeping your food business free of foodborne illnesses, you cannot let any temperature reading miss.
At FoodDocs, we have devised a product that is perfect for reminding your whole team of the most important food safety tasks and ensuring that every temperature reading, and other tasks, are done on time. Our digital Food Safety Management System (FSMS) can do all of these for you. The best part is, that you do not have to spend much time building your digital FSMS with us. All you need to do is answer a few questions related to your food business and our system will do the rest. Using artificial intelligence and a machine learning program, our system will automatically generate a digital FSMS that is a perfect fit for your everyday operations.
Here is a list of digital FSMS features for your team:
Digital monitoring forms are built based on your food safety operations. These forms can be set with an auto-fill feature as your temperature documentation tool. Our system will automatically log information on your digital forms based on previous data entries. All that is left for your team to do is t verify the information.
A smart notification system that will remind your team of food safety tasks on time. Using our dedicated mobile application, our system will send assigned food handlers an intuitive notification regarding a task that needs to be done.
A real-time dashboard that can help you save 20% of your time from managing all food safety tasks. Using this feature, you can get a quick overview of your whole operation across your food business locations. Use this feature to identify sections that need improvement and more attention.
Cloud storage is where you can keep, organize, and access all digital documents with ease. You can save from using too much physical space in your area and dedicate that space to new kitchen equipment.
Using our system, you significantly increase the efficiency of your whole operations while ensuring that no food safety task is left undone. We can help you maintain food safety compliance in just a matter of 15 minutes. Switching to a digital platform has never been this easy and hassle-free. You do not need to be tech-savvy to get a hold of a digital FSMS.
Keep your foods always fresh and never let your kitchen get any spoiled food when you keep all food safety tasks done and checked with our digital FSMS. Let our system help you check all regulatory requirements without breaking a sweat. Feel free to try our services using our free, 14-day trial and experience the efficiency that our system brings.
Easy app for monitoring to have an instant overview
Implement your

Food Safety System

in 15 minutes

Easy app for monitoring

to have an instant overview
Ready-to-use

HACCP Plan

in 1 hour