OPENING A RESTAURANT CHECKLIST
Use our free tool to create an opening a restaurant checklist.
Just replace the words on the form when needed and download.
Opening a restaurant checklist
At some point in a food lover's life, you may have dreamt of getting your restaurant. Who wouldn't want that? If cooking and serving delicious food are some of your passion, then you could most definitely start your restaurant. Despite this, all aspiring food business owners must know that the National Restaurant Association has estimated that the restaurant industry has a 30% failure rate in the US alone. As such, it is important that you have to be prepared before going into the battlefield. Make sure you have everything ready before opening your restaurant. Use opening a restaurant checklist for this task.
Analysts have reported that at least 60% of restaurant ventures do not proceed past their first year, whereas 80% fail in five. These statistics are true and must be heeded well. The restaurant business is a high-stakes industry and must be studied well. You have to learn all the key things that need to be ready before, during, and after opening your restaurant. Food safety, although major, is just one of your concerns.
Learn what operations need to be fulfilled for a clearer idea in opening a restaurant and get to know how to get the most important opening a restaurant checklist.
Steps to opening a restaurant
Opening a restaurant requires a lot of back and forth planning. You have to carefully consider every step that you will be taking. As with any other task, having a clear and holistic view of what you are dealing with can significantly help you evaluate the task at hand. Opening a restaurant means looking at it from the point of view of a restaurant manager, food safety manager, businessman, accountant, and city planner. Every little detail must be set to increase your chances of surviving the industry.
We have taken the step of compiling all of the most important tasks that you need to do when opening a restaurant:
Step 1. Create a concept
The concept of your restaurant says a lot about how you want your business to be perceived by the customers. There are a wide variety of types of restaurants available in the market. Some of these include:
Fast food/ Quick-service restaurants
Cafe
Casual dining
Fine-dining
Ghost restaurant
Food truck
Choosing the concept of your restaurant is the least gruesome task and is a fun part of the process. There are hundreds of concepts to choose from. What you want is to properly portray your style of cooking, the ambiance you want to express, and the idea that you want to be known for.
Do you prefer the outdoors and see different places while offering fast yet artisanal foods? Go and open up a food truck. If you prefer sit-down dining with a relaxing ambiance, formal furniture, and top-notch dishes, then opt for a fine-dining restaurant.
Think of the roots of why you want to open up your dream restaurant. In choosing your restaurant concept, you also have to consider the following aspects:
Target customer
Market share
Specialty dishes
Location
Competition
Current trends
Some of these aspects will be discussed further. Sometimes in the process of choosing a restaurant concept or restaurant idea, you may have to consider current trends and trends that can last. This will let you have more chances of staying in the game.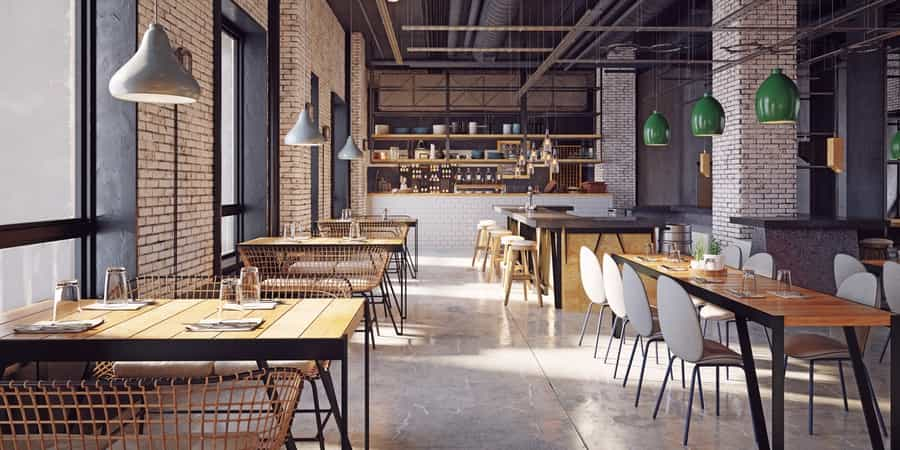 Step 2. Scout for competition and perform market research
Performing market research is an essential step and must be included in a restaurant opening checklist. This restaurant operation includes considering your competition, the state of the market you will be entering, niche products, and potential gaps that you can fill with your restaurant. Market research can immediately prove to you if your concept will be a miss or a success.
This step can additionally tell you whether your products will be received well by potential customers from your target market or not. It can also potentially tell you how competitors are faring in your chosen market. Market research can also pinpoint the location where your target consumers are mostly concentrated.
Market research involves gathering information from the customers themselves. This can be done by on-site research, social media scouting, or through the results of other market research. The results of your research can help you make better decisions.
Step 3. Choose a strategic location
The location of your business can determine how well you will do. Your accessibility to the target consumers will play a significant factor in creating a successful restaurant. If your location is too hard to get to, even your target consumers will try to locate an alternative restaurant. As such, Your location must play well to your advantage.
If your restaurant is modern-themed, you can choose to set up a business in a more industrialized location. On the other hand, if you plan on putting up a cafe, you would want a quiet and peaceful location. Your chosen location adds value to the services you offer. Customers pick their restaurants based on the food items, services, and ambiance of the location.
Your chosen location can also affect the labor cost. The cost of living in the area of your chosen location can determine the prices you will have to pay for goods and manpower.
In operating dark kitchens, your location will significantly affect your operations on a daily basis. Since the height of the global pandemic in 2020, the demand for food deliveries and dark kitchens has significantly risen. For a kitchen that does not have a brick-and-mortar presence and mainly focuses on the professional preparation of food for delivery, dark kitchens must be strategically placed. These restaurants must be strategically close to delivery sites and target consumers to prevent food-related issues during deliveries.
Step 4. Create a restaurant business plan
Any pioneering business requires to have a strong business plan. Your business plan is the map and profile of your restaurant. It contains all of the general and specific plans you have and how you plan on achieving them. A business plan should be a comprehensive document containing all of your strategies.
A business plan contains the following components:
The goals and objectives of your restaurant
Restaurant mission statement
Company profile and restaurant idea
Ownership structure
Manpower-related information
Restaurant marketing plan and advertising strategies
Operations
Food safety plans
Restaurant menu
Target potential investors
Financial analysis
Your business plan must be professionally made and well put to impress investors or the bank and show them how serious you are with your visions.
Step 5. Secure restaurant capital
It goes without saying that putting up a restaurant requires a lot of money. This reason is why other aspiring restaurant owners prefer to launch a mobile food restaurant before starting a full-blown restaurant. Despite this, even a pop-up restaurant will require capital.
Not everyone is blessed with enough money to start a business. Often you would have to find investors (more if this in the next number) or achieve partnership. Additionally, you can apply for loans such as:
Equipment loan
Small business administration loan
Merchant cash loan
Business crowdfunding
There are many other kinds of loans and every type will require you to have a solid business plan. Loaning institutions would need proof that you are worth investing in and if you will be able to pay back what they lend you in time.
Step 6. Gather investors
Contrary to loans, seeking investors means finding a partner to fund your restaurant venture. Investors provide a portion of the capital you will be needed in return for owning some of the profit shares of your restaurant. Investors can be anyone you know who is willing to trust your restaurant or experts in the business who see potential in your plans.
Some types of investors may include:
Relatives - these investors can be anyone in your family who is willing to share your costs in building your restaurant. Most of the money they share either comes from trust funds or savings.
Angel investors - wealthy individuals who invest in businesses even with high risks. Most angel investors are experts who have plans on participating in building your restaurant.
Venture capital firms - this type of private investors bring in other advantages such as connections, business and food supplier recommendations, and others.
In selecting an investor, you have to be sure that your ideas and objectives align. Agreements must be formed with everything on the table and with full disclosures. In addition, losing investors is not as hard as finding them. Some investors, depending on your agreement, can choose to pull out their investments if they think that the business is not going well. As such, you have to be able to consistently deliver in your operations.
Step 7. Restaurant licenses and permits
Licenses and permits are requirements to allow your business to operate in the restaurant industry. These documents are handed out to qualified businesses that have satisfied several inspections and other standards.
Here are some of the most important food service licenses when opening a food business:
Registration for a business name
License to operate/ Business license
Foodservice license
Employer Identification Number
Food handler's permit
Health permit
Liquor license
Sales tax permit
Licenses vary in level based on food safety regulations. They can be federal, state, or local level permits. Regardless of this fact, licenses are required and must be complied with before you can operate. Coordinate with food business agencies to guide you regarding these permits.
Step 8. Develop a solid menu
For some, the concept comes first before a menu, whereas for others, it's the other way around. The type of food you will be serving can depend on the type of restaurant you have. For food trucks, you want a short menu consisting of foods that can be prepared fast without compromising taste.
Building a menu does not only mean writing words on paper. Your restaurant menus will determine a lot of things such as the ingredients you will need, your food suppliers, the equipment you will use, the price of your services, food costs, and even the restaurant space and kitchen layout you need.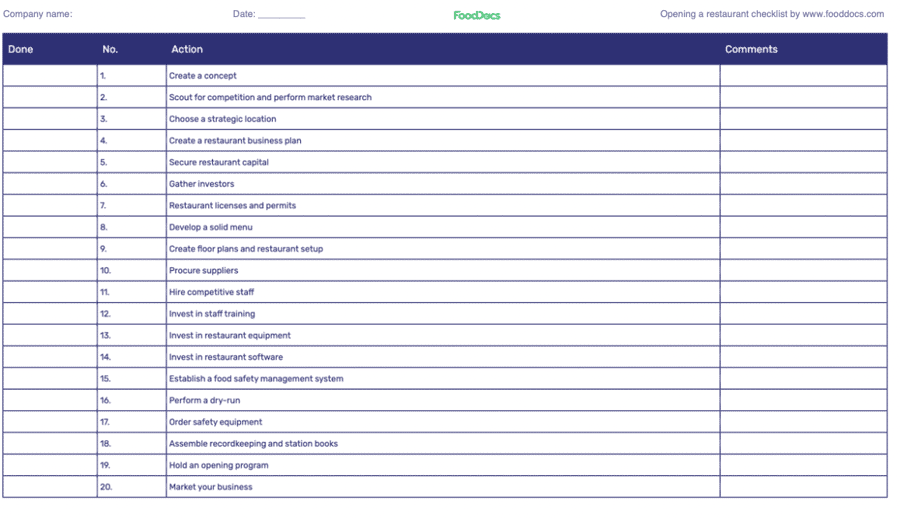 Step 9. Create floor plans and restaurant setup
As soon as you have your menu, you will need a good floor plan. This plan includes the placement of tables in your restaurant, the location of your kitchen, bathrooms, service area, counter, and food supply storage area. The layout of your floor plan can be based on your budget, planned activities, operations, and your desired flow of food, employees, and customers. Consider making a floor plan that does not promote food safety hazards as well as one that attracts accidents.
Step 10. Procure suppliers
Your suppliers will provide the ingredients you will be using. This means that the quality of their raw materials will highly determine your food quality. In choosing any food supplier make sure that you pick reputable ones with good track records. You can find these suppliers from recommendations or reviews.
Trusted suppliers also abide by significant food safety laws. Screen your potential suppliers well by requiring a copy of their permits and licenses. Additionally, building a relationship with your suppliers can bring your business benefits in the long run.
When choosing suppliers, make sure to pick at least two or prepare alternative suppliers. Some ingredients can be very limited and will sometimes require alternative sources.
Step 11. Hire competitive staff
Your restaurant staff will be your frontline defense in the service. You will need servers, cooks, chefs, food safety managers, cleaners, and bookkeepers. Competitive employees are a form of investment. Bad customer service and performance from your chosen employees can cost you additional expenses or trouble in the future.
For critical jobs such as bookkeeping and cooking, screen employees based on their experiences. Conduct a targeted hiring campaign to attract the most desirable employees. Alternatively, if you know anyone who can perform an exemplary job on the tasks you have, it would be better to hire them. You must trust your employees.
Step 12. Invest in staff training
Your task in employee management does not stop after hiring them. You are also responsible for providing them with the necessary training that they need such as for executing proper food safety practices. Training programs can be done before your grand opening to ensure that your employees are well-equipped.
Restaurant training programs are conducted by qualified professionals and impart a large part of knowledge to your staff. Choose which employee to train and you can hold periodic refreshers to share the knowledge with others and regularly update their knowledge.
In the case of a seasonal team, use proper training programs. Food handlers with very little knowledge of food safety operations have the potential to cause a foodborne scandal. An efficient and fast way to train seasonal employees is to use food safety restaurant training posters.
Step 13. Invest in restaurant equipment
A huge chunk of your capital will go into your equipment. On some occasions, it is not necessary to buy new equipment. If you know sources of second-hand or slightly used equipment, these would do at first. This way, you can save up or divert your money to buy other equipment. Just make sure that the kitchen equipment is perfectly working.
You can also opt to lease equipment if you are not 100% sure if you want it. Some companies allow equipment leasing for the long term. Additionally, you can also choose to buy multifunctional equipment which can do more than just one kitchen operation. Although these types of equipment can cost a bit more, they can be great investments. Consider the other factors such as the space of your kitchen, the operations you need for your dishes, and the number of people who will operate it before purchasing any equipment. Use a restaurant equipment checklist to identify which ones you already have and those that need to be prioritized.
Step 14. Invest in restaurant software
One of the steps to opening a restaurant can be investing in restaurant software. With the globalization of the food industry and advancements in technology, several restaurant software has already penetrated the market. These programs do not necessarily need to be expensive, some offer affordable packages fit for a small food establishment. Restaurant software is an online platform that can intuitively help automate your daily operations.
Some restaurant software can take over your accounting tasks, inventory management, reservation scheduling, POS system, and even create comprehensive food safety management systems for you. These platforms aim to make particular operations easier and reduce the probability of errors as a result of human limitations. They also help create a more efficient workflow.

Step 15. Establish a food safety management system
Before you can even open your restaurant, most food safety agencies and the health department would require you to undergo a food safety audit. During this process, the safety of your facility, equipment, and daily practices will be evaluated by a health inspector. To ensure that you will pass this type of audit, make sure to implement a comprehensive food safety management system that helps you monitor all food safety-related practices. Your approach to food safety shows your concern to your customers.
The lack of proper food safety management can lead to unwanted scenarios such as the occurrence of foodborne illnesses. This then can lead to profit loss or lawsuits from affected consumers. Prevent these situations from happening by implementing a working food safety management system.
Step 16. Perform a dry-run
A dry-run does not have to mean a soft opening. This step guide can become your orientation process for all your employees before your opening day. Take this opportunity to polish any tasks that need to be revisited or operations that need more attention.
Bring up the topic of how to use important food safety or restaurant opening checklists to make your workflow more efficient. Check out some of the most important checklists for a restaurant here.
Step 17. Order safety equipment
This step is for the safety of your employees and your customers. Invest in equipment such as safety gear, kitchen uniforms, wet floor signs, and padding for slippery floors. Additionally, choose to install surveillance cameras and smoke detectors for any unforeseen circumstances.
Step 18. Assemble recordkeeping and station books
Everything that happens in your restaurants such as cashflows, number of customers, purchases, and food safety monitoring must be neatly filed. These documents serve as proof and reference for any future cases which may need clarifications. Additionally, this operation would be the best way to track the growth of your restaurant.
Step 19. Hold an opening program
Once you're all set with the abovementioned items, choose whether to do a grand opening or a soft opening. Your opening program will finally introduce your business to the world. Beforehand, you can spread the word as a marketing strategy to gather first-time customers.
During a soft opening, you can gather food critiques or food bloggers to evaluate your food and operations. If everything goes well, your brand can skyrocket instantly. Alternatively, a soft opening can also be your test run where you can note what goes wrong or which areas need more attention. After a soft opening, you can launch a grand one where your team will be more equipped and more dishes can be introduced.
Step 20. Market your business
Marketing can come before and after opening your restaurant. This operation is part of your marketing tactics to introduce your business to the community around you. Marketing can be performed through traditional ways such as prints and flyers, or through more advanced ways such as social media to gain a solid customer base.
Other marketing ways can be performed as targeted marketing such as through email advertisements. Paid advertisements can also become a great way to improve your visibility in the community. Find effective marketing ways to boost your customer interest and prove to them that your products are worth it.
In addition to opening a restaurant checklist, other important everyday operations such as monitoring cooking temperature, cleaning, and sanitation must also be monitored. Makes sure to get the most important checklists from our HACCP plan template hub at FoodDocs.
How much money should you save to open a restaurant?
We have mentioned this before, opening up a restaurant is not a cheap task. Depending on the nature of your chosen concept, your startup cost may vary. Of course, starting a food truck would cost less than opening a dine-in restaurant. Despite this, either food business will cost you much.
A report by Restaurant Owner which gathered information from startup businesses emphasized that the cost of opening a restaurant can range from $175,500 to $750,500. In another report, the average restaurant startup cost was estimated to be around $275,000 and $425,000. These startup prices can either inflate or deflate depending on several factors such as your location, concept, and equipment.
Digital solutions fasten up and save money on opening a restaurant
Opening a restaurant at this time may mean that you have to consider embracing current restaurant trends. In this sense, we mean considering the use of more technologically advanced systems such as POS and food safety management systems. These systems make work efficiencies better and more accurate. Using traditional methods may set you back a bit on your opening operations.
The steps to opening a restaurant can vary depending on your approach. Using an opening a restaurant checklist will most definitely help you prepare for what you are about to face. This checklist can help you tick out the most important tasks and remind you which ones must be prioritized. Take things one step at a time to ensure that everything is in place. Do you really need to buy new equipment or new restaurant space? Consider alternatives such as leasing. Aside from proper management, you would need a lot of cash to start a restaurant. Yes, the best restaurants also need money but don't forget that your time is the most valuable thing. In opening a restaurant, the more time you get to save on one task, the more you can divert to the next.
Your tasks do not end when you open up a restaurant. In fact, that is just the beginning. One of your biggest concerns will involve food safety. Keeping this aspect controlled can determine whether you will stay for long in the food industry or not. Your approach to food safety is one of the most important aspects of your operations.
As we have mentioned, your food business must have a comprehensive food safety plan. At FoodDocs, our task is to make food safety compliance accessible to all food businesses. Imagine if you can get a comprehensive HACCP plan in just 1 hour. You would get an important document that needs several months to finish before a full-length movie even ends. The time you can save on making your HACCP plan means you get more time to prepare for other things. In just a matter of an hour, you can tick off tasks that require you to make a food safety plan and even comply with the license and permit requirements.
To get these tasks done fast, use our built-in HACCP plan builder. This software automatically builds a comprehensive HACCP plan in just 1 hour! This digital HACCP plan is automatically generated by our system based on your answers to our basic questions about your food operations. This plan covers all of the most important areas of the HACCP system from hazard identification to setting up a documentation process for your team.
Let our software system at FoodDocs help you get compliant and maintain compliance throughout your operations in the food industry. Try our free, 14-day trial and start your journey with us.
Easy app for monitoring to have an instant overview
Implement your

Food Safety System

in 15 minutes

Easy app for monitoring

to have an instant overview
Ready-to-use

HACCP Plan

in 1 hour