SANITATION STANDARD OPERATING PROCEDURES (SSOP) - FREE TEMPLATE
Use our free tool to create the SSOP.
Just replace the words on the form when needed and download.
So, go and use them for yourself.
Company Name:

Your company
Department:

____________________
Date:

____________________
CLEANING AND SANITIZING
Standard Operation Procedure (SSOP)
Employee's responsibility:
Manager's responsibilities:
The cleanup process must be completed in accordance with the following procedures:
Ensure that an appropriate chemical test kit is available and routinely used
to ensure that accurate concentration of the sanitizing solutions are being used.
Frequency of cleaning equipment, food contact surfaces, and utensils:
Non-food-contact surfaces of equipment shall be cleaned at a frequency necessary to prevent the accumulation of soil residues.
Sanitation Standard Operating Procedures (SSOP)
Operating a food business means you also have to be well-versed when it comes to knowing the correct sanitation procedures and employee hygiene practices. Cleanliness of your facilities is a prerequisite to keeping a food business running and preventing any foodborne illness from occurring as a result of consuming your products. As such, every food handler must be properly guided and trained on how to conduct effective cleaning and sanitizing procedures. Written procedures guided by food safety regulations in cleaning such as the Sanitation Standard Operating Procedures or SSOP are a vital tool for this task.
Building a food establishment must always be guided by established principles of sanitation as well as food safety regulations. These principles include the proper design of facilities, and the flow of traffic, including the materials used for making food contact surfaces. Scientific reports have shown that the diligent and correct application of cleaning and operational sanitation procedures is a cost-effective way of reducing the risk of contamination from pathogens.
In this article, learn about one of the most important prerequisite programs that set out guidance for creating a clean working condition for food processing.
What is SSOP?
SSOP or Sanitation Standard Operating Procedures are written documents regarding the correct steps, areas, and monitoring procedures related to keeping a clean environment to prevent product contamination. The documents included in this program are detailed procedures for cleaning and sanitizing a food facility. The SSOP contains the basic sanitary principles for a food working environment.
Similar to other SOPs, an SSOP is a set of imperative rules that are vital to keeping a food business free from food safety hazards. They include operations that must be done before, during, and after food preparation to maintain a clean condition for processing. These operations are specific with what, how, and when to do them. An SSOP must also clearly state the responsible food handlers for conducting an operation as well as corresponding corrective actions in case of a standard breach.
All operations under an SSOP must be properly monitored to ensure that they are properly conducted. Misapplication of sanitation controls may encourage food safety hazards such as cross-contamination or even cross-contact. An SSOP may include operations that involve the following:
Cleaning equipment
Daily monitoring and sanitation inspection
Pre-operational cleaning
Midshift cleaning procedures
Post-operational processing shift cleaning
Operating CIP cleaning
Control of employee health conditions
Who needs SSOP?
Regardless of whether a food establishment is required to make a HACCP plan or not, an SSOP is a vital prerequisite program. Since every food establishment must operate under sanitary conditions, having an SSOP is mandatory. Whether your food business is a restaurant, food truck, cafeteria, cafe, or food processing plant, you will have to establish SSOP. Most food safety inspections conducted by a local health department would inquire about this document together with proof that it is being followed.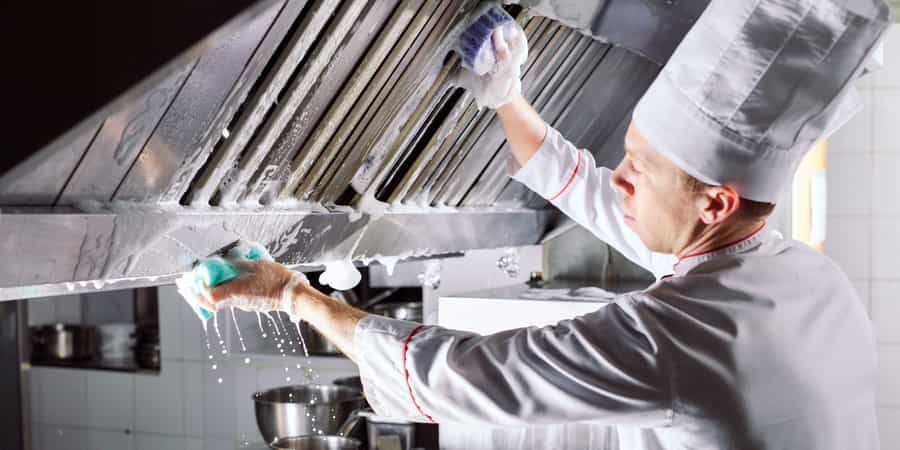 What are the benefits of the SSOP?
The main objective of an SSOP document is to prepare your food facility for every processing day operations and to maintain a high level of sanitary conditions throughout. It helps create a system in your team in preparation for stricter food safety programs such as a HACCP plan. Specifically, an SSOP can offer a lot of different benefits such as the following:
Reminder. The instructions in an SSOP must be very detailed. This factor is to help food employees remember all of the many different steps in performing the correct cleaning process for particular equipment, food contact surface, or even the entire facility. An SSOP can be used as a guide for food employees to ensure that the sanitation operation is correctly performed and prevent employee accidents.
Organized operation. Some food sanitation operations must be done in a certain manner. An example would be when an employee is washing a piece of equipment. Most equipment such as a meat slicer, after use, may still have debris from the processed raw product. These food particles will render an operational sanitation procedure ineffective and can lead to the contamination of meat products. As such, the equipment may need to be carefully dismantled, washed down with hot water for cleaning, and then sanitized. Doing this whole operation in the wrong sequence may only worsen the food safety hazard and risk contaminating foods. An SSOP can become an accurate guide for food handlers to become more organized.
Encourage accountability. An SSOP must always be accompanied by appropriate monitoring forms such as a cleaning checklist. These forms will serve as proof that the established SSOP is being applied. They can also be used as a reference whenever standards are breached. Every monitoring form tied with an SSOP will require the assigned employees to sign their names to ensure that someone did the task. By doing this, you can easily identify who to ask regarding a sanitation operation for verification purposes.
Food safety assurance. When the working environment is consistently maintained, customers can rest easy that the foods they get are safe and wholesome. An SSOP can help reduce the risk of cross-contamination in cooked products which can spread foodborne pathogens and can result in a foodborne illness outbreak. When food handlers abide by your established SSOP, you can be sure that all of your operations will have lesser risk from food safety hazards. File your SSOP together with other monitoring records to ensure that all the important operations are duly performed.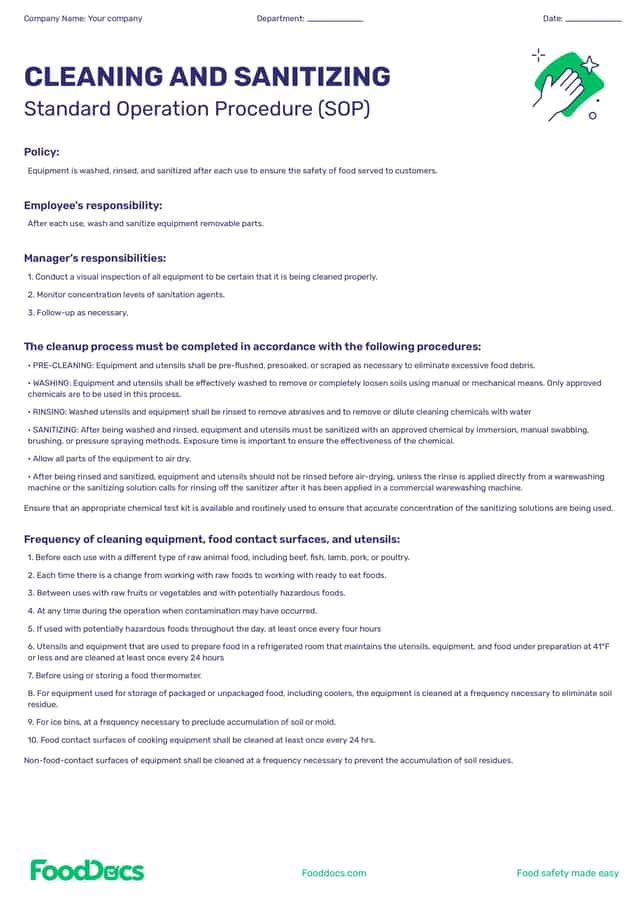 How to create an SSOP?
An SSOP requires many hours of preparation and a dedicated team to create a detailed document. Not to mention that an SSOP may require several sets of procedures for different contact surfaces, equipment, and food facility area.
Here are the most important components of an SSOP that you must always include:
Company policy. At the beginning of an SSOP, the general rule on following the SSOP must be stated. This line does not have to be elaborate. What matters is that it lays out the information that the SSOP must be always followed without fail. This section may also include a description of cleaning process of the SSOP.
Employee's responsibility. The main responsibility of an employee is to carry out every cleaning and sanitation procedure at the required time and frequency of execution. Every employee must also be aware of how to properly handle food equipment and clean contact surfaces as well as how to operate automatic or manual cleaning machines.
Manager's responsibility. In creating an SSOP, both the managers and their employees must carry out their responsibilities to ensure the success of every operation. Managers are responsible for overseeing and verifying that all procedures under an SSOP are being properly performed and monitored.

Particularly, a manager's responsibilities include the following:

Conduct a visual inspection of all equipment to be certain that it is being cleaned properly.

Monitor concentration levels of sanitation agents.

Follow up the operations as necessary.

Detailed cleaning process.

An SSOP must contain a complete flow of the cleaning and sanitation process. A detailed cleaning process minimizes the risk of inadequate cleaning and confusion among food handlers.






A basic SSOP must have all of the following components:

Pre-operational cleaning of facilities

Washing using clean water

Rinsing

Sanitizing

Drying when necessary

Precautionary measures especially on the use of cleaning chemicals should be included in the SSOP. Proper concentration of cleaning solution to be used as well as precise directions on how to apply them must be included.

Cleaning frequency. This section of an SSOP is very important. The effectiveness of cleaning and sanitation heavily depends on how frequently your team applies all the related processes. Food contamination may build up and may become harder to remove when you allow equipment to run continuously without cleaning.



Here are some directions on when to apply cleaning for most equipment and food contact surfaces:
Before each use with a different type of raw animal food, including beef, fish, lamb, pork, or poultry.

Each time there is a change from working with raw foods to working with ready-to-eat foods.

Between uses with raw fruits or vegetables and with potentially hazardous foods.

At any time during the operation when contamination may have occurred.

If used with potentially hazardous foods throughout the day, at least once every four hours

Utensils and equipment that are used to prepare food in a refrigerated room that maintains the utensils, equipment, and food under preparation at 41°F or less and are cleaned at least once every 24 hours

Before using or storing a food thermometer.

For equipment used for storage of packaged or unpackaged food, including coolers, the equipment is cleaned at a frequency necessary to eliminate soil residue.

For ice bins, at a frequency necessary to preclude accumulation of soil or mold.

Food contact surfaces of cooking equipment shall be cleaned at least once every 24 hrs and every change in processing shift.
What is the easiest way to create SSOPs?
Making an SSOP for all applicable areas in your food establishment can take so much of your time. As such, you may need a versatile template that can accommodate changes and is flexible enough for all of your cleaning operations. Use our free SSOP template at FoodDocs. You can customize it according to your desired SSOP content and design and then download it for filing and distribution among your team members.
Additionally, you can get all other important documents related to the SSOP such as our restaurant cleaning checklist and more. Head over to our HACCP plan template hub for more checklists, templates, posters, and examples of monitoring records for cleaning and other food safety operations. If what you need is a complete HACCP plan, FoodDocs is the solution for you.
Read more about our built-in HACCP plan builder in the next section.
Get your SSOPs and HACCP done in 1 hour
A clean and sanitized working environment and proper employee hygiene practices are prerequisites to producing safe and wholesome food. Establishing an SSOP is a vital step before the HACCP plan-making procedure. This prerequisite program sets out the correct cleaning process of a food establishment to ensure that the occurrence of food safety hazards is minimized. Establishing an SSOP can be very time-consuming. It must be meticulously prepared to ensure that your detailed HACCP plan is efficient and working.
Your work does not even stop even after establishing an SSOP. After this process, you would still need to spend several hours with your team to create a HACCP plan. Luckily, at FoodDocs, our services go beyond just providing you with an SSOP template. With our built-in HACCP plan builder software, you can cut several months of preparation time for your HACCP plan. In just 1 hour, our system can help you create all the most important documents for your HACCP plan.
We have reduced the process of making a comprehensive HACCP plan to just requiring you to answer a few basic questions regarding your operations. Using artificial intelligence, our system will automatically generate the HACCP plan tailored specifically to your operations.
What will you get with our built-in HACCP plan builder?
Basic flow diagram of your operations.

Properly identified and analyzed food safety hazards.

Established critical control points and appropriate monitoring procedures.

Accurate critical limits.

Corrective actions for all CCPs.

Established verification procedure.

Record-keeping procedures for all documents.
Our product offers a much cheaper solution when compared to hiring a food safety consultant without compromising on quality. Our system creates a very detailed and thorough plan for you! When you use our built-in HACCP plan builder, you get to save 15x the amount of what you pay for a consultant and you can get your plan 500x faster.
Additionally, our system accommodates any changes by allowing you to customize particular areas of your HACC plan.
Get your HACCP plan in just 1 hour now! Use our free, 14-day trial to generate your plan. Sign up and purchase our plans to download and share your HACCP plan with your team and food safety inspector.
Easy app for monitoring to have an instant overview
Implement your

Food Safety System

in 15 minutes

Easy app for monitoring

to have an instant overview
Ready-to-use

HACCP Plan

in 1 hour