Feel free to use our free Receiving Log.
Just enter your email and download the template.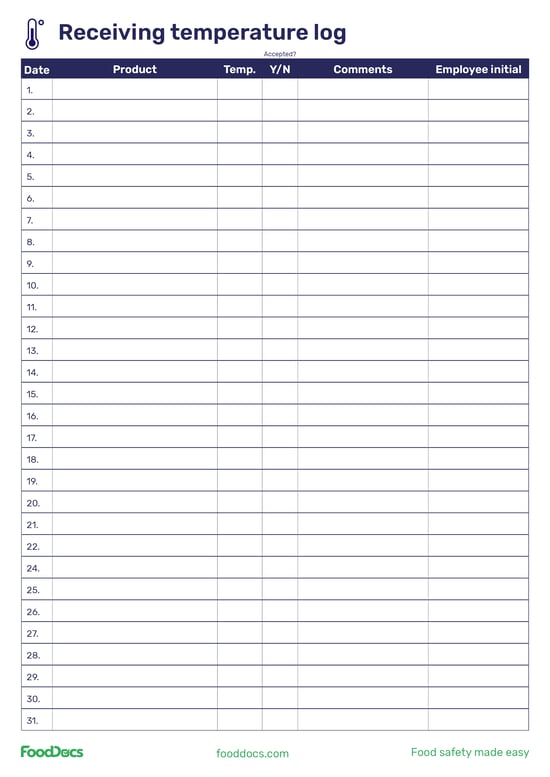 Receiving log as an essential task in your food business
Receiving food shipment is an essential operation for a restaurant. Your chosen suppliers send resources or finished products to be used in your establishment. It is your team's job to ensure that the shipped goods are correct, of good quality, and safe for consumption. A receiving log is essential for this task.
At receiving point, your team must thoroughly inspect the quality and safety of incoming shipments or delivered products to uphold high standards. Suppliers must be required to provide all necessary information about the product and any testing procedures performed to ensure safety.
Let us help you go through the important things you need to record when receiving food shipments.
What is a receiving log?
A receiving log is a simple food safety document used by food handlers or a warehouse worker to monitor essential information on foods delivered to your food establishment.
When receiving foods, you must inspect and ensure that the delivered foods are correct in terms of the following:
Item details (e.g., Shipment claim of quantity of food and product label)
Quality of food and packaging (e.,g no signs of contaminants during shipping)
Storage temperature and other shipping conditions during delivery
No signs of thawing and tampering with incoming product labeling
Complete documents for shipment
A receiving log encourages accountability among food handlers, makes the team responsible, and ensures that the received foods are always safe to be used. It can also serve in creating accurate inventory control.
Why do you need a receiving log?
Food businesses use a receiving log to document important information when receiving food shipments. Log deliveries serve as proof that the supplier is continuously upholding high food safety and quality standards as agreed upon.
A food receiving log is used to record information on delivery conditions such as the holding temperature of the shipping carrier during the warehouse receiving process. The recommended temperature is 40°F (5°C) or below, especially for the time and temperature control for safety foods (TCS foods) or perishable items, whereas frozen hazardous products must be delivered at a frozen storage temperature of 0°F (-18°C) or below.
These suggested temperatures and conditions ensure that the growth of bacteria and other unwanted pathogens is controlled. This operation helps prevent the spread of any foodborne illness among consumers.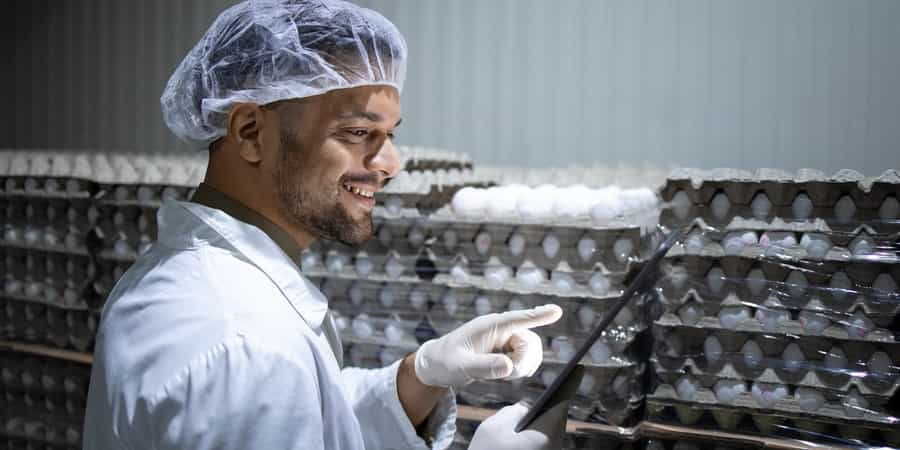 Who needs a receiving log?
Receiving food from local and international shipments is a part of running a food business. This means that any food establishment will receive food products and raw materials at some point. Deliveries may come from overseas or local producers. This applies to restaurants, cafeterias, food trucks, and even more so to the retail supply chain. As such, a receiving and shipping log is an invaluable part of the food safety operations of any food business.
How often do you need to monitor your food shipments?
Monitoring shipment of incoming materials is a regular task and is often part of warehouse systems and regular inventory. For some, package delivery of a wide variety of foods is performed on a daily basis. Every delivery must be promptly checked before being received.
This operation allows food handlers the chance to apply corrective actions such as rejecting the shipment in case of non-compliance to agreed food safety standards. When promptly done, you can make additional purchases to make up for the rejected products.
What will happen if you don't monitor receiving log?
When food shipments are not properly monitored, food handlers will not have any way to review whether the raw materials and ready-to-eat foods supplied to your business are safe for consumption. This problem puts both your business and your customers at risk. A receiving and shipping log must be regularly used and monitored by food handlers and food safety managers.
What is the easiest way to monitor food shipments?
To help food handlers monitor shipping and receiving every time, use our Receiving Temperature Log Sheet. This type of log format was built specifically for monitoring accurate deliveries the state of foods delivered to your food facility. This receiving and shipping log form is in column format with the following content requirements:
Date and time of delivery
Product
Record temperature of shipment
Acceptance decision
Staff signature
Additional comments and delivery notes in case of rejection
Food handlers must be acquainted with how to use this log sheet and oriented on when to reject shipments. This practice will help your food company uphold food safety compliance by recording any presence of defective items. It can also help facilitate communication with suppliers in case of non-compliance observed by a person in charge.
In addition to a Receiving Temperature Log template, we also offer other food safety documents such as a fridge layout chart which you can use as a guidance document for organizing received goods from suppliers. Access our HACCP plan template hub for more free tools, comprehensive checklists, posters, and featured templates.
How can you help your team in filling receiving log properly?
Receiving newly-delivered materials in your establishment is the first point where food safety is practiced by your employees on your ingredients. Determining whether the shipment is correct, safe, and of high quality will greatly affect your services and consumer perception. Using a notebook to log all information will not make for good and accurate documentation of deviations. Use our free receiving log printable template which is premade based on the most important information required during shipping such as the condition of deliveries.
Why don't we take it up a few more notches? Instead of using our Receiving temperature log sheet as a paper-based monitoring form, why not use our digital Food Safety Management System? With this digital solution, you can digitize your monitoring daily tasks and make receiving inspections and quality checks more efficient.
When you opt for our digital solution, you can help your employees with receiving monitoring with the following benefits:
Our digital solution includes a mobile device app that contains a digital version of our receiving monitoring log. What is even greater with this app is that it is equipped with detailed instructions on how to fill the receiving log and important guidelines for performing the item inspection such as how to reject defective shipments. This feature is very helpful part of employee training requirements and guide them every day.
Our monitoring forms are also equipped with an auto-fill digital solution to help food handlers maintain accuracy in recorded information. All that is left to do is to verify the logged information on the forms.

Remind and alert all involved food handlers regarding upcoming food deliveries with our smart notification system. This feature sends alerts regarding important food safety tasks.
In addition to offering digital solutions for food handlers, our digital FSMS also features benefits for operations managers:
Our whole digital FSMS setup only takes an average of 15 minutes to automatically generate the system for you. This is the best and fastest way to switch to a digital food system.
Manage all your food safety operations including your food receiving shipments with our real-time analytics dashboard. With this digital solution, you can save at least 20% of your time and focus on other business operations. You can easily identify areas that need more attention and apply immediate corrective actions.
Our digital solution comes with cloud-based recordkeeping storage where you can store all of your digital food safety documents securely.
We're quite sure that you have never seen such a powerful digital solution. We can help you maintain food safety compliance at all times and protect your consumers from food safety issues.
Our digital solution is powered by artificial intelligence and a machine learning program. It can only get better as you use it more. You can even customize your digital FSMS yourself to apply improvements such as additional fields or new monitoring forms.
Join our list of more than 20,000 food establishments that are enjoying food safety compliance with our digital solution. Experience our services and get the benefits from our digital solution for free using our 14-day trial.
Easy app for monitoring to have an instant overview
Implement your

Food Safety System

in 15 minutes

Easy app for monitoring

to have an instant overview
Ready-to-use

HACCP Plan

in 1 hour