VENISON COOKING TEMPERATURE CHART
Feel free to use our free Venison Cooking Temperature Chart.
Just enter your email and download the template.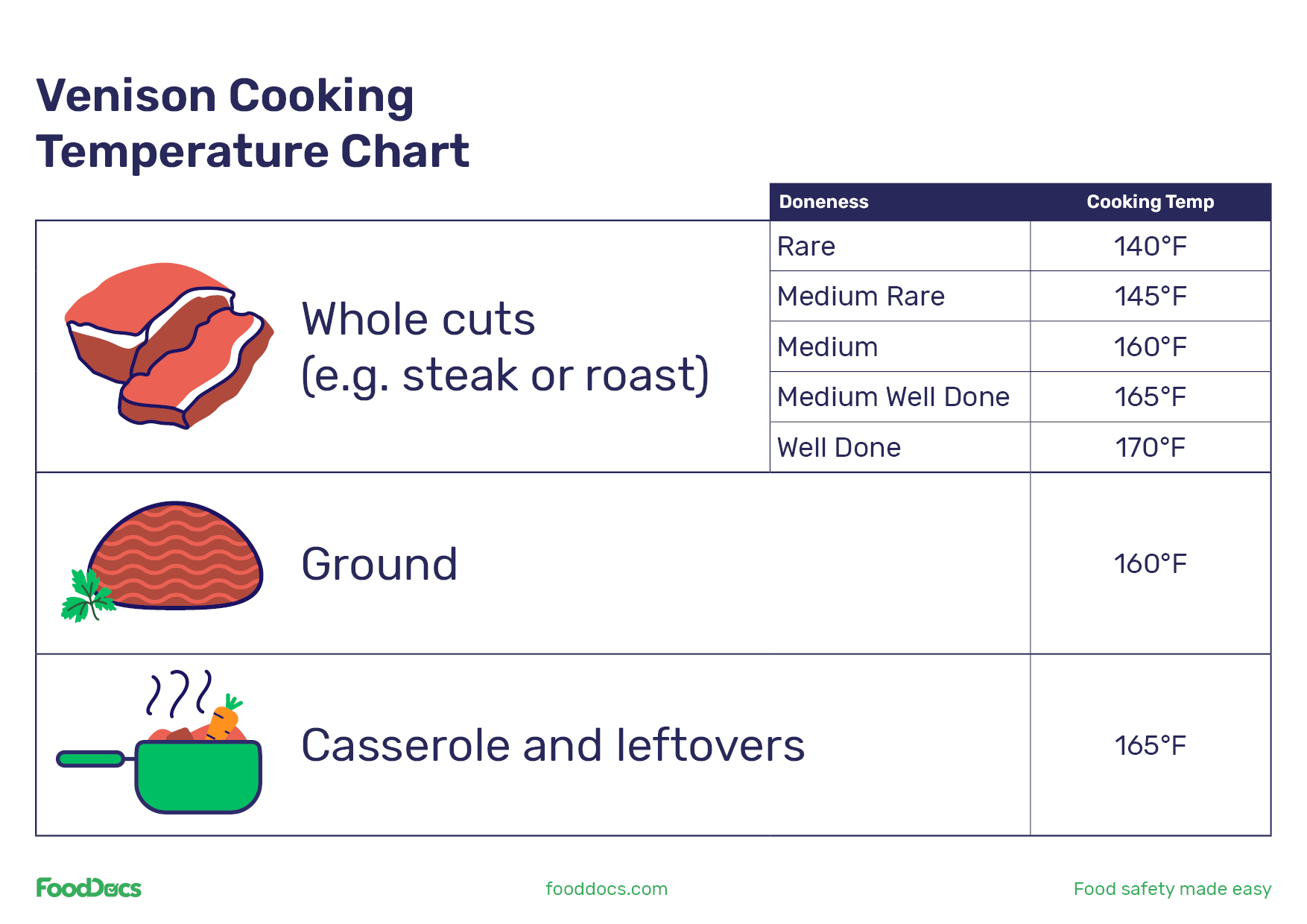 Venison cooking temperature chart
Venison or the meat from animals with antlers is a very lean type of meat. This means that it can easily get overcooked. This meat is considered as furred game together with others such as rabbit, boar, and hare meat. Cooking venison when you are very used to cooking beef and pork can be very tricky. Since it has less fat and connective tissue and motor muscles, venison meat can become tough in just a few seconds past the recommended cooking time and temperature. Use a venison cooking temperature chart as your guide in cooking this type of meat.
In addition to a digital thermometer, using a venison temperature chart can definitely ensure that you cook venison correctly. Aside from having deep colors, the flavor of venison is known for its distinct and unusual earthy taste. Cooked correctly, you will get a unique eating experience. On the other hand, if you miss the right spot in cooking venison, you risk the chances of getting a gamey flavor rather than earthy and rich.
In this article, learn at what temperature different cuts of venison should be cooked and how to get a venison cooking temperature chart.
What is a venison cooking temperature chart?
A venison cooking temperature chart is a reference tool for properly cooking different cuts of meat to the right internal temperature. As a lean meat, venison requires to be cooked precisely to the proper temperature. Overcooking venison on direct heat can result in tough meat, or worse, burnt. This meat is not too often offered in many restaurants. If you do offer it in your establishment, you want to always nail cooking it perfectly.
Since venison has the tendency to be tough even if correctly cooked to well done, venison steaks are usually served as medium-rare. This means that the meat needs to have a seared exterior, firm yet springy doneness, and pink color in the center with slight red. To achieve this and full flavors in venison, you are required to use a meat thermometer and may need the assistance of a venison cooking temperature chart to guide you. Particularly for medium-rare doneness, venison needs to achieve an internal temperature of 145°F before removing from the heat, whereas ground venison must be cooked at 160°F. Additionally, a casserole dish made from venison including leftover meats must be reheated to 165°F .
Who needs a venison temperature chart?
A venison temperature chart can be used by food establishments such as restaurants using venison recipes. Venison, or meat from any antlered animal, is not a slice of very common meat that is served in cafeterias, deli shops, or even grocery stores. Sometimes, you would even need to specially request from a butcher shop to get some venison for you. Often, venison is even seasonal in some areas especially if they are from the wild. Despite this, any food establishment can benefit from a venison cooking temperature chart.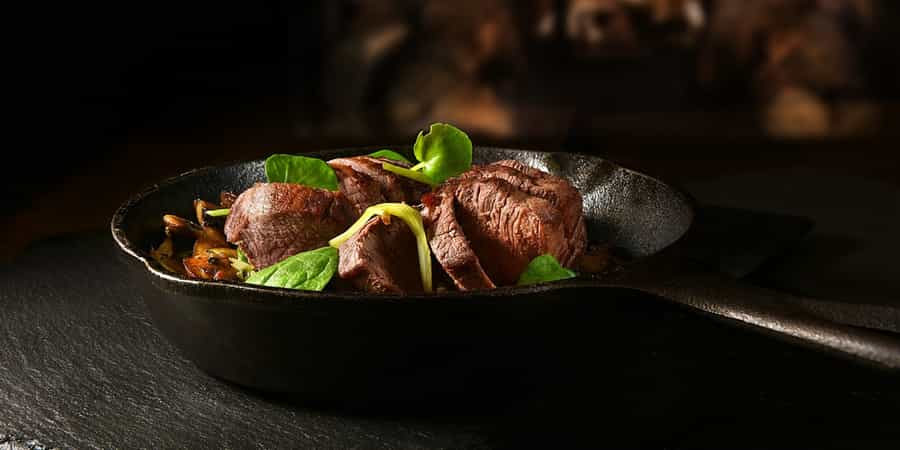 What are the benefits of a venison cooking temperature chart?
Although venison is rarely associated with any foodborne illness, the risk of getting ill from eating undercooked venison is still present. This type of meat is commonly enjoyed as medium-rare venison roast or steak but can be served as well-done especially for people with weak immune systems. Cooking it medium rare ensures that the juice and flavor of venison are whole. To ensure that you get the right level of doneness as per the customer's request, use a digital food thermometer and a venison cooking temperature chart.
Here are some other benefits you can get from using this cooking chart:
Reminder and guide. A venison cooking temperature chart contains the major and most commonly requested cuts and the required internal temperature to cook them. This chart can be used in fast-paced food establishments where you can't pause and search through your records for the correct internal temperature of venison. Additionally, there is no need to memorize all cooking temperatures for venison in addition to the other meat cooking temperatures. It can act as a ready-to-use guide for all food employees in your restaurant.

Ensure food safety. Although uncommon, deer meat or venison has also been reported to have caused foodborne illnesses in the past. Raw meat from deers has been linked to gastrointestinal illness from E.coli 0157 in some areas of the United States. Despite this, studies have proven that adequate and proper food hygiene can prevent these food safety concerns from occurring. A venison cooking temperature chart can be used to ensure that food handlers know the target temperature to cook the meat correctly.

Food safety training. Since there is no need to memorize all cooking temperatures for every type of meat, including venison, food handlers can always use a venison temperature chart. It can serve as training material for your employees in acquainting themselves with proper food safety practices such as cooking.

Additional information for consumers. Although the venison temperature chart is mostly used by food establishments, it can also serve as a guide for consumers. Some butcher shops can load on venison, and to teach consumers how to cook them in their kitchens, this chart can be of help.
Because venison is most enjoyed as slightly undercooked or medium-rare, there is always a risk of foodborne illness. In serving this level of doneness, make sure to provide a consumer advisory for your consumers. This is especially important for consumers who are considered as part of the high-risk group. Use this venison cooking chart along with other cooking temperature charts to guide you in accurately cooking other types of meat.
How to create a venison cooking temperature chart?
Cooking venison correctly is more than just a quality perk. It can save your food business from foodborne illnesses from serving unsafe food. To ensure that your chart hits the right objectives, it has to have the following key attributes:
Accurate. The information you must put in your venison cooking temperature chart must accurately dictate the temperature ranges for a certain level of cooking doneness. By ensuring that the information you put is true and reliable, you can minimize the risk of foodborne illnesses from occurring as a result of consuming your products.

Updated. In addition to being accurate, your information must also be updated. Use reliable information such as food agency-issued data or results from scientific studies to ensure that your information came from the latest versions. Revisions to these parameters are usually done to improve the efficiency of cooking while still ensuring that the food is safe to consume.

Clear. Since this chart is expected to be used in a very busy kitchen, make sure that all information is readable and will not cause any confusion. Make sure that there is enough space in between information and that everything is aligned well. If you choose to add images, make sure that they are clear and vivid for easy identification.
The information given by food agencies is from scientific studies that have proven the effectiveness of particular parameters. As such, your venison cooking temperature chart must only be filled with factual information. Putting in unreliable data for internal cooking temperature significantly increases the risk of food poisoning.
What is the easiest way to get a venison temperature chart?
Making a venison cooking temperature chart does not have to be done by a professional. Although, that would be a great idea. All it has to be is accurate, clear, and updated. For you to achieve the maximum benefits of using this type of chart, you can use a ready-made venison cooking temperature chart. At FoodDocs, we have taken all the most important cooking temperature charts and made free, downloadable versions for you! No need to make cooking temperature charts from scratch. You can download this venison temperature chart and print it for your whole team. Additionally, we also offer other free checklist templates, posters, charts, and a consumer advisory which you can access from our free HACCP plan template hub.
Digital FSMS for all monitoring procedures
Cooking any type of meat must always be precise. As a food business owner or food safety manager, you have to ensure that your employees know the importance of doing this in addition to all other food safety practices. All of these tasks must be regularly done to prevent the risk of spreading foodborne diseases and to provide great customer service. With an effective food safety management system (FSMS) these food safety practices can be covered and addressed. With a traditional FSMS, you will need particular food safety monitoring forms for each task and manually review everything. Some downsides to this process are that employees have the tendency to miss some tasks and you'll be flooded by monitoring forms in no time.
To address these issues and ensure food safety is maintained every day, use our digital Food Safety Management System. At FoodDocs, we can provide you with a comprehensive digital FSMS where all monitoring forms and other important documents are completely digital. You do not have to manually create them in our platform as our system automatically generates all documents after you answer a few basic questions about your food business. The whole process would only take you an average of 15 minutes!
Here are some highlights when you signup with us at FoodDocs for our digital FSMS:
The digital monitoring forms that we automatically generate for you are based on the nature of your food business and your everyday operations. You can also easily customize all forms to add operations and information specific to your food business.
These monitoring forms can be set to be auto-filled based on your previous data entries. This feature allows your food employees to focus on their tasks and would only require them to verify the entered data.
Ensure that no food safety monitoring task is forgotten with automatic notification features. Using our mobile application, our system can send all your food employees notifications whenever a food safety task is due. Additionally, you can also use this feature to remind your team of any set audits, training, or certification deadlines.
Review your whole daily operation progress using our real-time dashboard. This feature automatically generates a report based on your daily operations. You can use it to identify if any task is non-compliant and which areas need improvement.
Store and organize all your important documents online as well. Our system provides cloud storage for all your files where you can easily access them with just a few clicks. Contribute to sustainability by leaving the traditional paper methods and switching to our digital FSMS.
Switching to digital FSMS does not require you to become an expert with digital stuff. Our process would only take an average of 15 minutes to finish and everything will be automatically set for you. All you would have to do is verify the information and customize some sections to further fit your operations. Making a comprehensive food safety management system has never been this easy.
You can try our services and see immediate results right away by availing of our free 14-day trial. Start saving 20% of your time managing your food safety operations and focus more on managing your business. With our system, you get the expertise of food safety experts for a much cheaper price and faster results.
Easy app for monitoring to have an instant overview
Implement your

Food Safety System

in 15 minutes

Easy app for monitoring

to have an instant overview
Ready-to-use

HACCP Plan

in 1 hour