Use our free tool to calculate food cost.
Just replace the words on the form when needed and download.
Company name:
Date:
_________

Product Description
• Food product is made by flour, water, salt and yeast
• All powders are mixed, and all liquids are added
• Add text here
• Add text here
• Add text here
• Add text here
Ingredient statement
Ingredient include, flour, wheat starch, salt, vegetable fat, chicory, fibers, yeast
Nutritional information
Servings
17.6 oz
Calories
240 calories
Total Fat
0.4 oz
Saturated Fat
0.1 oz
Trans fat
0.3 oz
Cholesterol
0 oz
Sodium
4.2 grains
Carbohydrates
1.4 oz
Dietary Sugar
0.07 oz
Sugars
1.1 oz
Size
XXX
Protein
XXX
Vitamin A
XXX
Vitamin C
XXX
Vitamin D
XXX
Calcium
XXX
Iron
XXX
Potassium
XXX
Regulatory Claims
Claim
Status
Claim
Status
Soy Free
Yes
Peanut Free
Yes
Dairy Free
Yes
GMO Free
Yes
Size
Yes
Gluten Free
Yes
Natural Flavors
Yes
Natural Colors
Yes
Certified Organic
Yes
Physical Specifications
Viscosity
XXX
Color
White
Chemical Specifications
pH
5
Fat Content
XXXX
Shelf life
Suggestive Storage
12 weeks
Refrigerated
Allergens
Package Content
Eggs, milk or milk derivatives, nuts
Packed under nitrogen atmospheres
Microbiological Specification
Yeast
<10cfu/g
Mold
<10cfu/g
Add text here
Add text here
Version No.
Issue Date
12345
Jan 1, 2022
Food cost calculator
In addition to food safety, the success of your food business would also depend on how well you manage your accounts. One significant aspect of running a food business is presenting your prices and the cost of food to the customers while gaining maximum profits. As a business manager, you need to understand whether your revenue from customer purchases covers the expenses of buying food supplies. One way to monitor this progress is to determine your food cost percentage. While there are manual ways to do this, you can also use a food cost calculator.
Running a profitable restaurant is more than just using the best ingredients and investing in top-notch food safety systems. You also need to consider the cost of the ingredients you are using and if customers are willing to patronize your market pricing, considering that the industry has very competitive market standards. Regular and continuous evaluation of your standing in terms of food cost percentage can help you gauge if your business is doing well or if changes need to be applied.
Learn how to compute your food cost easily and take complete hold of your cost and revenues in this article.
What does food cost mean?
Food cost refers to the ratio of the total cost of ingredients used to make a product and the generated revenue from selling that product. Successful restaurant owners use food costs as a metric to determine the performance of a dish and the amount of profit they make from a product.
Food cost is often expressed in percentages. Computing your food cost percentage can help you determine if your products on a menu are justly priced and can cover the expenses. This operation can also help you make data-driven strategies and informed decisions to curate your menu.
In general, food cost standards depend on the type of restaurant you are running. Ranges of food cost percentages can run from 20% to 40%. While this given range is quite broad, several businesses in the restaurant industry aim for an ideal food cost percentage of 28% to 35%. This range is also considered the industry average food restaurant cost and is a competitive cost range for businesses.
How to calculate food cost?
To calculate the food cost per dish, all you need to do is add the cost per ingredient that makes up a whole dish.

For example, if you are serving a simple spaghetti marinara in your restaurant and you want to compute its food cost per serving, follow these steps.
Step 1: List down all ingredients of the dish.
Step 2: Indicate the price incurred for each ingredient per serving.
Step 3: Add all prices per ingredient.
Example:
Olive oil

Garlic

Onion

Oregano

Basil

Whole, peeled tomatoes (diced)

Salt

Semolina pasta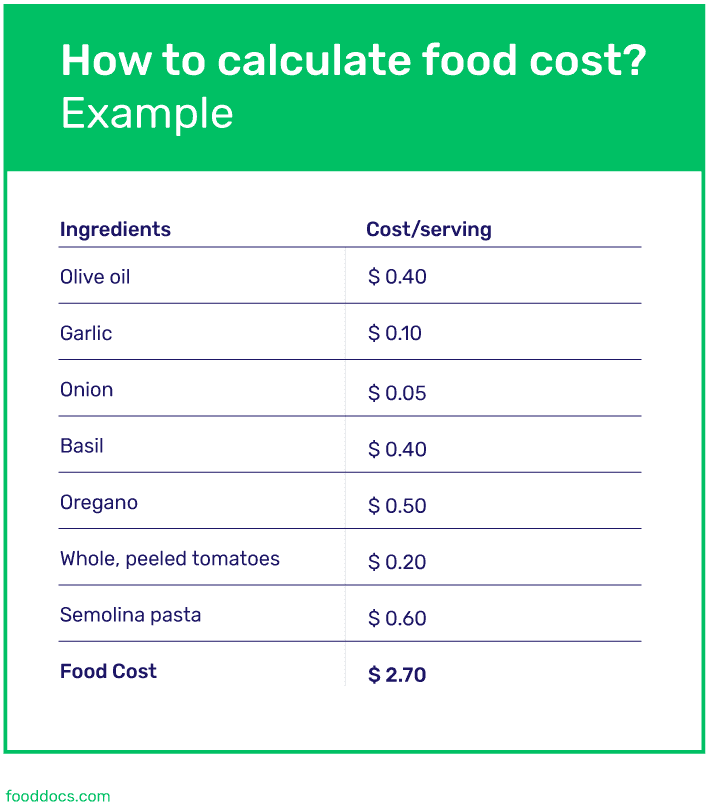 In this computation, olive oil theoretically costs $4 per liter, and you only use 100ml. For each serving of spaghetti marinara, you only use $0.4. The same computation is used for the other ingredients.
Why do you need to know your food cost?
Food cost information is an essential indicator of restaurant profitability. Analysis of your food cost can help you determine if your product prices are too high and need adjustment as well as which products can generate the most profit. This information can also tell you how to price dishes in your establishment, as the selling price can significantly affect customers' perceptions.
Constant review of your food cost can tell you which product prices need to be reviewed in case of ingredient price increase or inflation brought by external factors. Having hold of such information can prompt your team to strategize accordingly. Food cost information can also help you compare your performance to a market benchmark. It can give you enough data to determine if your mark-up margin is still acceptable or not.
If food cost percentages are too high and adjustments need to be done, your team may consider solutions such as opting for minimum menu price, reducing portion sizes, finding alternative or cheaper vendor items, or substituting the whole product altogether. Without the food cost information, you may not be able to determine the performance of a product and miss out on the competitive market range.
Who needs to know the food cost?
Understanding food cost is a task for business owners, especially owners of food service establishments such as food producers, restaurants, food trucks, and cafeterias. Food costs involve outlining the cost for each ingredient. As such, this process is more suitable for businesses that use multiple ingredients with more complex computations.
Food businesses can also use food cost information to create strategies for a more competitive advantage over competitors prices. Especially for a business like a restaurant, identifying your actual food cost percentage for cost per meal can help you strategize which popular items to upsell to boost profits.
How to calculate food cost percentage?
In calculating food cost percentage, you need to have a complete set of information from your food inventory usage for the food cost formula:
Opening and closing Inventory costs for the beginning and end of the week.

Addition purchases and daily expenses within the week

Total sales of products from the menu
The calculation for food cost percentage does not include prime costs or the expenses for labor and nonprogram food costs such as operating expenses. Sometimes, using software systems can readily give you all sets of information from a time period in a very organized manner to compute restaurant costs.
Use this food cost percentage formula:
Beginning food inventory cost = $12,000.00

Ending food inventory cost = $16,000.00

Purchases in the middle of the week = $7,000.00

Total sales from menu items = $10,000
Using the formula below, you can compute the food cost percentage.
= [($12,000 + $7,000) - $16,000] / $10,000
= [$19,000 - $16,000] / $10,000
= [$3,000] / $10,000
= 0.30 or 30%
You can compare actual and theoretical food costs to determine other factors contributing to expenses. Here is an example of how to calculate your food percentage cost:
The higher the food cost percentage is, the less profit margin is estimated to be gained to cover the expenses. On the other hand, lower food cost percentages would translate to a higher potential to make more profit.
Although this interpretation is true, the acceptable food cost percentage for different types of businesses can vary significantly. It's only normal for fine dining establishments to incur higher food cost percentages. Restaurants such as fast foods and family dining setups can expect lower percentages.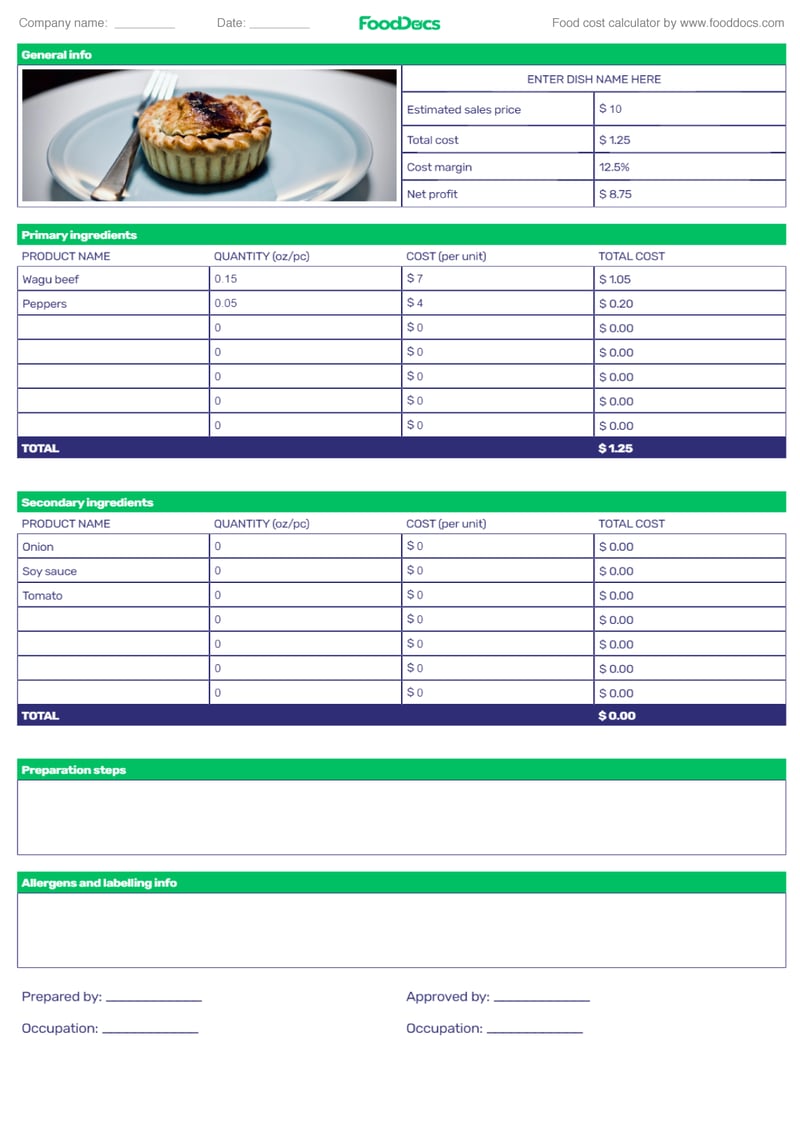 What can you do when food cost is too high?
Once you have your general food cost calculations, you need to put the information into use. If your food cost percentage data is already in good standing, you will still need strategies to maintain this level. If you have a high food cost percentage, your team may need to reconsider a few things to optimize any operation and cost for a restaurant business.
Consider applying the following correct food cost controls:
Menu engineering. Updating restaurant menu item prices may be the most obvious solution to reducing food costs. Inflation in ingredient costs can significantly increase the total cost per dish. Although you want to satisfy the target market with a hefty portion of menu items and top-quality ingredients, that would not be very economical to sustain if the restaurant food costs are high. If the food cost is too high, you can consider increasing your menu prices per portion cost or reducing portion size to maintain the actual price.

Updating your menu items while maintaining competitive prices can include removing food items that cost too much from using expensive ingredients and replacing them with seasonal items and cheaper ingredients. With such a strategy, you can focus your monetary resources on buying ingredients that are in season, which may cost less.

Alternative suppliers. Prices offered by vendors may significantly vary based on several factors such as season, demand, and special cases such as a pandemic. When you have a regular view of your food cost percentages, you can make sound decisions, such as opting for alternative vendors with cheaper vendor items that have lower costs per dish while maintaining food quality.

Waste management. Food waste from food preparation or blunders during service can add up quickly and amount to a significant cost in your operations. Reducing waste and optimizing the use of your resources can help you maximize your expenses.

Food safety training for employees can help ensure that all operations are done most efficiently. Additionally, conduct operations that can optimize or repurpose your excess ingredients to reduce food costs.

Automation of process. Although automation is a significant cost in your food business, it can make your operations faster and more efficient. With the fast and real-time generation of information and updates, you can apply immediate responses to increasing actual food costs. You can use a food safety management software that gives you real-time updates on your food safety operations, such as our software in FoodDocs.

Invest in food management tools. With management tools, your team can ensure that there will be no unplanned cash outflow from addressing problems such as food safety issues. Management tools can be used to continuously monitor kitchen procedures and other operations and control any potential problems that may incur additional expenses in your business.
For example, when food handlers do not know how to manage proper storage and spoil ingredients before using them, this cost is directly reduced from your profit. A way to maximize your resources is to ensure that all ingredients are stored all the time properly. Use food management tools such as food safety software or inventory management tools to achieve this objective.
Food costs do not include labor costs or overhead costs, but these expenses contribute to your operations' total and actual costs. These expenses can easily pile up and affect your profits and high food costs over time. As such, food cost controls on inventory are essential to prevent the unwanted increase in the target food cost percentage.
How to calculate your prices the easiest way?
Regularly computing your food cost percentage can be quite complex, especially if you are new to this process. The effectiveness of generating a cost of food report lies in the accuracy of the percentage you compute. Your actual decisions will be based on whether the values are high or low.
Use our free Food Cost Calculator tool to ensure that your menu cost computations are correct and get the results fast. This recipe cost calculator was made to help restaurant and production businesses keep track of their current food cost percentage and reduce any potential errors from your computation when using the food cost formula.
All you need to do is input the necessary information, such as the ingredients, cost per item purchased, and menu prices, and our system will compute the cost percentage for you. This free tool is part of our effort to help food businesses maintain food safety and more efficient operations. You can find more free tools and food safety documents from our HACCP plan template hub.
What if we tell you that there is a more proactive way to keep track of your food cost with more benefits, such as controlling food safety?
In addition to controlling food safety effortlessly, our digital solution can help you manage your food cost percentage from all of your recipes. With our digital solution, you can get software that can help you manage your food safety compliance and your food cost percentages simultaneously.
When you use FoodDocs digital solution, you can get the following benefits:
Manage easily all of your recipes and food cost percentage using our digital solution. You can input all of your dishes and ingredients along with the actual cost, and our system can automatically compute the percentage for you. With this solution, you can keep a database of your accurate recipe costs and easily edit them in case of changes, such as when you get cheaper vendor items.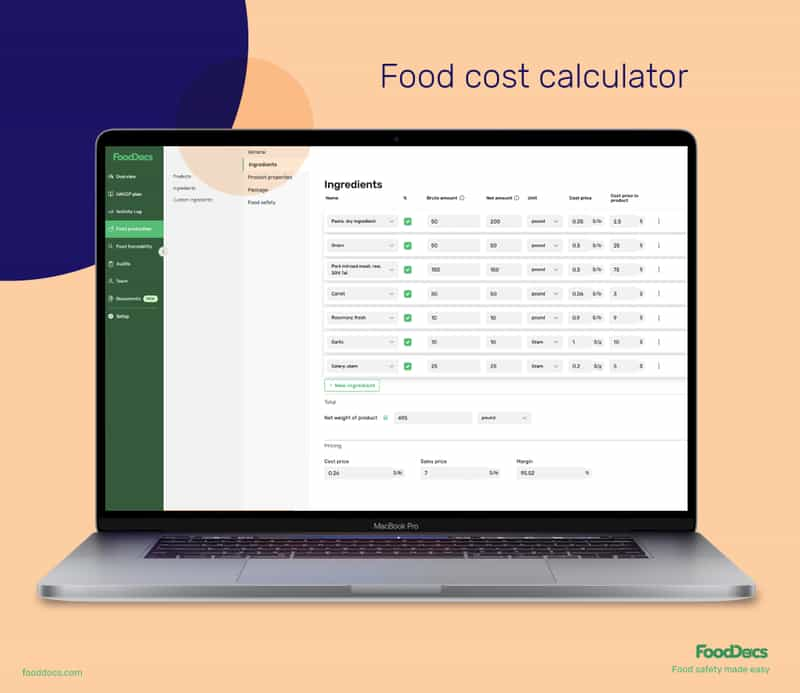 Food cost calculator in FoodDocs
In addition to managing your food cost, our digital solution also help you manage your other food production-related documents like technological cards, food product specifications. With this solution, you can optimize all ingredients and help reduce food daily costs from your operations.
Our system can help you ensure that all food safety tasks are done on time with our smart notification system. This feature alerts food employees to remind them of any food safety task that needs to be done on time. With our notification system, you can be sure that all of your ingredients will stay safe, and there will be no unexpected additional costs and monthly expenses.

Our system can automatically generate digital monitoring logs with detailed instructions to help you train your team in optimizing food safety operations. Employees can be properly guided using these instructions, and you can ensure that all food safety tasks are done accurately at all times.
Our digital solution can go beyond managing food safety operations and helping you optimize your food costs.
When you use our digital Food Safety Management System, you can free up time to focus on other aspects of your food business with the following benefits:
Switching to our digital platform would only require 15 minutes of your time. With the help of artificial intelligence and a machine-learning program, our digital solution can automatically generate important food safety documents for you.

Optimize your managing operations and reduce your time using our real-time dashboard. This feature can give you an overview of your operations and can help you identify areas that need immediate improvements, saving you at least 20% of your time. With such a feature, you can apply corrective actions and prevent expenses from further inflating.

Declutter your cabinets and store all your documents in digital cloud storage provided by our digital FSMS.
Switching to our digital platform offers more than just food safety. Our digital solution can be your first step into becoming sustainable by ditching the printouts and paper costs from your monitoring logs and other documents. Plus, you can optimize all your operations using our digital FSMS as it provides information on to perform operations and help you ensure that your food safety conditions are always in check.
A part of making your operations and products profitable is ensuring that you always maintain compliance with food safety. At FoodDocs, helping businesses maintain compliance with food safety is our main objective. With our help, compliance and the combination of quality and price can be effortless, and you can ensure customer satisfaction.
Start your food safety compliance journey now with our free 14-day trial.
Easy app for monitoring to have an instant overview
Implement your

Food Safety System

in 15 minutes

Easy app for monitoring

to have an instant overview
Ready-to-use

HACCP Plan

in 1 hour