BAR OPENING AND CLOSING CHECKLIST
Use our free tool to create a bar opening and closing checklist.
Just replace the words on the form when needed and download.
Company name:

Your company

_
Bar opening and closing checklist
As a bar manager, having a popular establishment such as a bar entails several duties and responsibilities related to food safety. As a bar owner, these tasks are essential in keeping your bar operations hygienic and free from hazards. Service bars are often packed with consumers whether just to enjoy the drinks or dine in for the meals. Keeping up with the demands of any patron and food safety tasks may be hard to manage. Often, after a day's work, the bar is stormed with dirty dishes and other tasks during bar closing hours. Getting all the closing tasks done helps the opening shift focus on preparation for new operations. This point is where a bar opening checklist and task checklist for closing the bar come into play.
With separate checklists, your whole team will be able to remember all the food safety tasks they need to fulfill before the bar premise closing hours and maintain bar establishment standards. As a food business owner, you can help your team avoid an additional 1-hour extension of closing hours and let everyone enjoy after-work time. This tool also helps the opening shift easily prepare all the facilities and equipment while keeping restrictions in mind for the day.
Find out how to make a food safety checklist for opening and the closing bar and what is the easiest way to get one.
What are bar opening and closing checklists?
A food safety checklist for opening and closing the bar is a management tool composed of daily tasks that are performed before starting and ending the day. It can be a vital tool for your bar business plan. This bar tool is mainly used to ensure that no tasks for cleaning, sanitation, inventory management, and back-end operations are left undone. Similarly, a checklist can be used to remember all the tasks needed to prepare the bar for a new day of operation. It serves as a reminder for all bar cleaning staff and other employees on what to do before opening and closing the service bar.
This tool consists of a list of tasks and reminders that are essential to be performed daily. Included in the checklist is a column for reminding who is the person in charge of a task. A bar opening and closing checklist also promote accountability for your employees when it comes to fulfilling food safety tasks and preventing an extension of closing hours. A checklist for closing the bar also ensures a smooth shift for the next day and allows the opening shift to focus on preoperational bar opening tasks. Ensure that all to-go cocktails and your best-selling cocktail are always available for more premise sales using a checklist.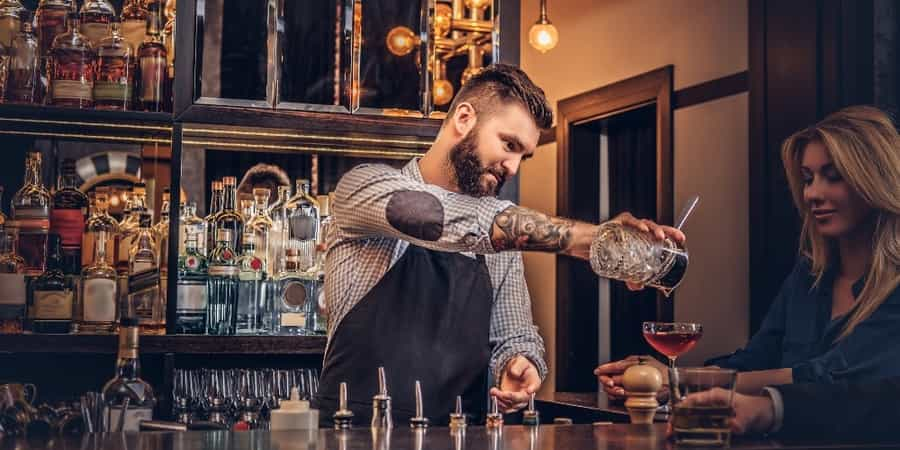 Who needs bar opening and closing checklists?
A checklist for closing the bar as well as a bar opening checklist can be very useful for all your employees. A bar typically employs staff including bartenders, bar porters, hosts, servers, kitchen staff, cleaning staff, and a bar manager. Each employee has his or her own duties and responsibilities. These responsibilities also include tasks that contribute to food safety and closing the bar. As such, their contribution to a checklist for when the operations for the day are about to end is invaluable.
Any type of bar would have its own opening and closing tasks. Therefore, a checklist that contains all important tasks and any control variable in a bar to remember would be very useful. A separate or a central, comprehensive checklist can be provided for everyone to check before closing the bar. All checklists must be reviewed and validated by the bar manager to ensure that everything is in order for licensed premises.
Why do you need opening and closing checklists?
A bar or a drinking establishment's daily operations usually involves a facility filled with customers in the morning and more in the evening. Oftentimes, all kitchen staffs are too busy with their respective tasks, which is the same case for service employees. Despite being too busy, food safety must still be upheld, especially for licensed premise closing practices. During this time, you'll get the chance to clean up all the places around the bar and sanitize all food preparation areas within maximum closing hours.
With busy day-to-day operations, some bar businesses use maximum closing hours at a very late time despite opening really early. This may make it hard for other employees to remember which tasks need to be done before opening and closing the bar.
Below are some of the advantages that you get from a checklist for opening and closing the bar:
Helps your closing shift employees remember necessary tasks and restrictions in closing hours. Using a food safety checklist, you can list all of the most necessary closing tasks and can serve as an efficient employee schedule for cleaning.

Checklists increase accountability and create a more collaborative team. Checklists are also used to audit which person is in charge of a specific task. This also helps you track who to ask about unfinished or unclear tasks.

Helps prepare the facilities for a smooth operation for the opening shift and create a better atmosphere among staff. Cleaning before closing the bar minimizes the spread of hazards and makes it easier for the opening shift to sanitize the area and improve the speed of service. Additionally, a checklist helps for an earlier bar closing. Employee morale is higher when they get more time to spend on their personal activities when you follow the actual closing time.

Helps licensed establishments comply with bar industry standards, control food hazards mandated by food safety agencies, and contribute to customer service. These management tools can also be used to improve the state of the bar prior to health inspections.

Checklists increase efficiency within your team. They will be able to execute the task in order and without delays for an earlier bar closing. Checklists can be part of your employee training and staff training manual for drinking establishments.

Because bars often close late, faster closing operations can help reduce night-time assaults in city periphery. The relationship between closing hours on assault rate and rise in violence has already been proven by a study. When times of premises selling is always followed or done ahead of time, employees can go home earlier. In some larger cities, there is a statewide closing time that serves as a control for assaults. A checklist can help fulfill restrictions in closing hours.

Helps save up on costs and increase profits of on-premise alcohol sales. Measures such as ensuring that the lights off significantly increase expenses in the long run. A checklist can help increase cost savings by reminding your staff about these tasks. Similarly, maintaining a high level of food safety can protect your bar from complaints from bar patrons.
Bar opening and closing checklists
The tasks for opening and closing a drinking establishment may vary greatly but are equally important. All of the involved tasks complement each checklist and are all performed to maintain food safety. Both checklists are composed of tasks that ensure safe operations for your employees and the consumers. These checklists also serve as proof of your bar establishment standards to improve the speed of service and your approach to food safety.
Here are some differences between the two types of checklists:
Opening the bar
A bar opening checklist for any bar opening type of service for a new day of bar operations contains standard operating procedures for readying the whole area. These pre-operational measures involve checking whether the closing shift performed all necessary clean-up tasks. Some other bar operation procedures incorporated for opening a bar include the following:
Defrosting some of the frozen ingredients
Providing new and clean towels
Check for alcoholic beverage stock
Restocking on ice and alcohol bottles on freezers and refrigerators
Confirming bar inventory from closing shift and restocking as needed
Preparing glasses in groups
Preparing wine coolers and wine bottles
Refill bar caddies with straws, napkins, beer openers, and toothpicks
Refill condiments and cooling machines
Setting the temperature of chillers to the standard measurement
Preparing trash bins
Clear outdoor patio and other table service area
Prepare cash registers
Closing the bar
On the other hand, bar closing time involves more bar cleaning tasks, sanitizing, maintenance, and reviewing the day's operation on a regular basis. Bar closing procedures would also include closing practices that assess what happened during the operations as well as the financial costs and safety aspects of the business. This information can then be used to improve food safety and increase premise sales in the future.
Here are some of the most common kinds of services included in a bar checklist closing duties:
Wipe all surfaces clean and sanitize afterward
Mop the floor and clean the window
Erase writings on the drink menu board
Put dirty linens and towels into the linen bucket
Clean to-go containers and floor mats
Return bar menu in place
Refill disposables (e.g. tissues, toothpicks, etc.)
Clean faucets and beer taps with water and sanitizing solution
Melt ice build-up in cooler machines with hot water
Emptying all trash cans and throwing spoiled ingredients
Flush draft beer and alcohol drains
Sanitize drink machines, keg lines, and keg coolers
Close the register and count earnings
Close inventory check (e.g. stock levels for alcoholic beverages and keg levels, remaining liquor bottles, and backstock of liquor).
Lock cash drawers properly
Checking registered and accounting premise sales
Check and fill out your bar cleaning checklist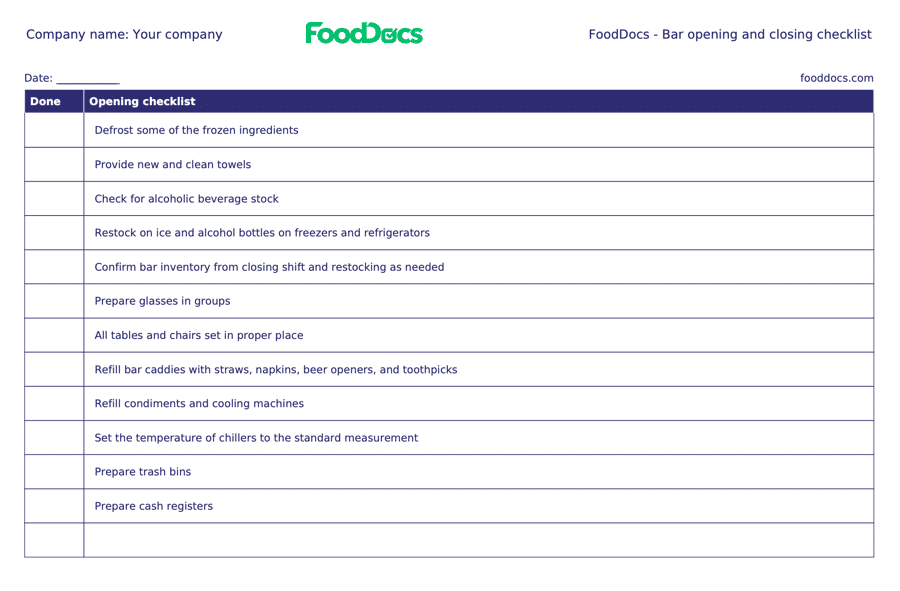 Tips in making a checklist for opening and closing the bar
A lot of focus goes into making a checklist. The whole operations team must be involved in making one to ensure that the checklist is complete and that the main closing tasks are accounted for. In making bar and restaurant closing checklists, follow these tips for a more effective bar closing checklist:
Involve all bar employees. As we have said, your employees know all the nuances when it comes to your daily operations. They have valuable information to contribute when making a bar closing checklist. In addition, involving your employees in the process promotes inclusivity and becoming a collaborative bar team. Make sure that all employees including the management team participate in the process.
Observe your operations. Before writing a bar closing checklist, perform a food safety audit and careful oversight of your closing operations so that you would be able to see first-hand which tasks need to be included. This tip also ensures that the checklist you come up with is comprehensive and can effectively control food safety.
Create a complete checklist. Aside from the tasks, your checklist must also have the other key components such as columns for the person in charge, a check box, time, and date. Similarly, you also need to include a signatory section which needs to be signed by the duty managers as validation that all closing tasks are completed.
Being organized is key. You can arrange the list of tasks you put in the checklist based on priority. This way can help your employees check which ones are more urgent. In addition, properly labeled checklists must always be filed properly. These files can serve as proof of validation for audits or in case of consumer complaints.
These tips will ensure that the checklist for closing the bar that you come up with is comprehensive and complete. Despite this, there is an easier way to get a hold of a bar closing checklist template for your bar business.
Digital checklist template for your bar operations
From what we have just described, a lot of thinking processes, observations, and revisions go into making a comprehensive food safety checklist for opening and closing the bar. In a way, you also incorporate other bar closing and opening into the checklist aside from food safety concerns. A good checklist would have all the necessary control variable information and tasks that you need for it to fulfill its functions for licensed establishments to increase premise sales. With complete checklists, police-reported assaults in city periphery can be similarly reduced. What if we told you that there is an even greater and more efficient way to create a checklist for closing the bar?
At FoodDocs, we have made it one of our objectives to provide useful and flexible templates for our customers. Check our free, downloadable food business checklists in our HACCP plan food safety template hub. Customize these templates to fit your bar business and list down all your necessary closing tasks.
These checklists are just the tip of the iceberg! Going digital with our FSMS application offers far greater advantages than making your system the traditional way.
Here are some of those advantages:
Our FSMS is based on the first-hand experience and expertise of food safety professionals.
Switching to a digital FSMS would only take you 15 minutes! After answering a few of our basic questions, we will generate all the necessary monitoring forms, checklists, and other important documents and procedures based on your food business.
Never miss any checklist task as our mobile application can become your partner for remembering all of them. Our application features a notification system that alerts you of any closing task that is due.
Finish your checklist faster. Our system allows your bar staff to save time on filling up your monitoring forms by generating information based on previous logs. After this, you just need to verify the results. Our system is also compatible with some of the major food sensor equipment and can help you monitor food safety tasks with more accuracy.
We provide other checklists and food safety templates that we gather are most essential for running a food business.
Save up to 20% of your time on supervising and focus more on other tasks in your food business.
At FoodDocs, we want you to get the best and most efficient Food Safety Management System there is in the food industry. Our services guarantee you that switching to digital FSMS can significantly help your food business attain food safety compliance at all times.
Get more of our free templates by providing us with your email address or signing up with our FSMS program! Stay in the loop with our new features as we send you updates via email. Start your food safety management system with us and avail yourself of our free 14-day trial.
Easy app for monitoring to have an instant overview
Implement your

Food Safety System

in 15 minutes

Easy app for monitoring

to have an instant overview
Ready-to-use

HACCP Plan

in 1 hour