TEMPERATURE DANGER ZONE CHART
Feel free to use our free Temperature Danger Zone Chart.
Just enter your email and download the template.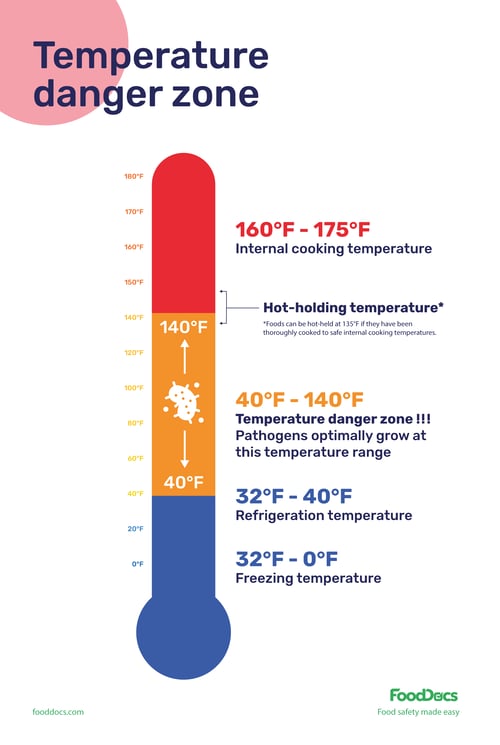 Temperature danger zone chart
Have you ever wondered why people always advised against keeping your food for long at room temperature? How about why food goes bad fast when it's hot outside? At a particular temperature range, a lot of foods can spoil fast from the effects of dangerous bacteria and other pathogens. This occurrence can cause a wide-reaching foodborne illness outbreak. Spoilage is not always detectable through the senses. Sometimes, spoiled food can be odorless but this does not mean that the pathogens in it have not yet exceeded the allowable limit or that they have not yet produced any toxins. To avoid causing such problems, food manufacturers and handlers must be acquainted with how to use the temperature danger zone chart and how to properly store hot or cold food.
At the temperature danger zone, foods spoil faster because of the rapid multiplication of foodborne pathogens. When they do, the foods become unsafe for consumption. In a restaurant setup, producing safe food and keeping them wholesome for a long time is an important task to protect the consumers and prevent profit loss from spoiled foods. This can be achieved by knowing the proper food holding temperature conditions that are ideal to keep the food safe.
In this article, learn how to read and use the temperature danger zone chart for food safety purposes.
What is a temperature danger zone chart?
A temperature danger zone chart is a visual representation of the temperature range at which pathogens grow best. Between 40°F and 140°F, bacteria and other pathogens such as molds optimally grow given that the other conditions are also favorable. This is a favorable environment for bacteria. Using a food thermometer and a temperature danger zone chart, food handlers can keep products away from this range.
Depending on the initial microbial load, food dishes are only advised to be kept at room temperature for a maximum of 2 hours. Other foods such as ready-to-eat foods can stay at room temperature for at least 4 hours. Beyond this, the risk of causing foodborne illnesses, especially to the vulnerable group, significantly increases as the presence of pathogenic bacteria may have reached dangerous levels.
A temperature danger zone chart also shows the significant food safety temperature range where the growth of foodborne pathogens is slowed down. On the one hand, above the food temperature danger zone scale, any hot food can be hot-held over medium heat at a minimum temperature of 135°F+ using proper warming devices. On the other hand, foods such as raw meat, leftover food, and finished products can be stored at refrigerated temperatures of 32°F - 40°F to slow down the growth of bacteria. These temperature ranges for hot holding and cold holding food are used in different sections of the food industry to prolong the shelf-life of foods.
Who needs a temperature danger zone chart?
Anyone dealing with foods would find a temperature danger zone chart useful. It can become a vital part of your food safety program. Whether your food business is a restaurant, a food truck, deli stand, retail shop, or a grocery store, knowing at what temperature would your products spoil fastest is a critical food safety practice. In fact, home cooks can also benefit from understanding the danger zone temperatures using this chart. It can be used to protect your family from food poisoning. In fact, reports have attributed that 12% to 64% of foodborne illnesses are attributed to home incidences.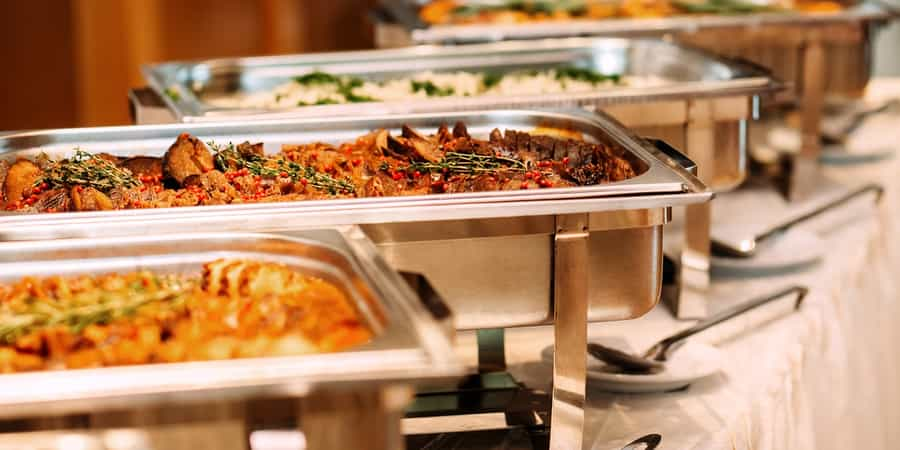 What are the benefits of a temperature danger zone chart?
A temperature danger zone chart is a very important tool that can help food processors prevent food spoilage. Food safety temperatures play a great role in keeping food safe for consumption, both in the cooking process and storage. In setups such as a catering service or a cafeteria, foods need to be held at a moderately high temperature as the guests line up to get their food. At times, foods need to be stored for later consumption in food containers. In this case, refrigerating it using commercial fridges with kitchen thermometers to keep the food cold will preserve its safety and prevent the potential of food contamination.
Here are a few more benefits when you use a food temperature danger zone chart:
Food safety training. Whether a food service employee or a home cook, it's always important to know the proper food storage temperature to keep perishable foods, whether raw or finished products safe for consumption. A temperature danger zone chart can become an integral food safety training material to orient food handlers with the danger of this temperature range. It can also help food handlers which proper storage temperature conditions would be most appropriate for the type of foods they are going to prepare.
Reminder. A temperature danger zone chart can help food handlers remember at what temperature would foods spoil fastest. Additionally, this chart can become a reminder for food handlers to regularly check on the storage temperature of foods. It is recommended that if foods are meant to be held at an elevated or low temperature for a prolonged period, the temperature must be regularly monitored every 2 hours. This ensures that the temperature is still out of the temperature danger zone for foods and will allow food employees enough time to apply any corrective action when needed.
Cost-saving. Food spoilage can lead to several profit-draining instances. Food spoilage renders any food item unsafe for consumption, and therefore must be disposed of immediately. This action automatically is lost profit. In addition, if spoiled foods from your kitchen cause a foodborne illness to occur, your food business is liable to face complaints. This is also a form of bad publicity for your brand image and can affect profits.
A temperature danger zone chart is just one of the many informative tools for food safety. Other charts include a cooking temperature log and charts, food allergy chart, fridge layout chart, and even a consumer advisory. All of these important charts, checklists, and food safety posters are available at FoodDocs! Visit our HACCP plan template hub and download the tools that you need the most for free. You can print and use them in your kitchen for a better food service every day.
How to create a temperature danger zone chart?
A temperature danger zone chart is not a very complicated tool. In fact, the simple it is, the easier for everyone to understand. Clarity is an important factor when it comes to making a temperature danger zone chart. In addition, the information you put must be accurate, factual, and always updated. These factors must always be perceived in your chart if you choose to make one yourself:
Accurate information. The information that you will put on your temperature danger zone chart will be the basis for keeping foods safe. The proper temperature ranges indicated in this chart show the safe temperature range where food safety risk is very high. Inaccurate temperatures can lead to common food safety mistakes where food handlers will believe that it is safe to keep foods at that temperature. This will only encourage bacterial growth and increase the risk of causing food poisoning. Additionally, a temperature danger zone chart also includes general information such as the recommended safe cooking temperature as well as freezing temperatures for some types of food. Accuracy must be practiced when making a temperature danger zone chart for it to become effective.

Based on facts. This chart aims to protect customers and food handlers alike from foodborne illnesses. If the information in the chart is not verified and factual, its purpose is defeated. Verified information on the temperature danger zone has undergone experiments and appropriate validation procedures to confirm that they indeed stop or slow down the growth of harmful bacteria. Use only information from peer-reviewed articles and government-issued information as the basis for your temperature danger zone chart.

Updated. Although the current information on the temperature danger zone from the most prominent food safety agencies is well-established, this information is also subject to improvement. Research and reports are constantly being conducted to understand the behavior of pathogens more. With the more new results, the information on temperature danger zone may vary. Always check whether the available information you have is updated and current.
While it's easy to make a temperature danger zone chart, you can always download our ready-made one. Our chart has been validated by ample research and is ensured to be updated and based only on facts. Additionally, our charts are FoodDocs are regularly updated to bring you only the most significant and effective information to keep customers safe.
To help you understand more about the use of a temperature danger zone chart, here are some of the most frequently asked questions about this topic:
What temperature range is the danger zone?
The temperature danger zone is between 40°F and 140°F .
What is the danger temperature for food?
The danger temperature in food refers to the temperature range at which food is most at risk of getting spoiled because of the pathogen growth.
What is the temperature danger zone for 4 hours?
After cooking, cool foods to 70°F within the first 2 hours and continuously decrease the temperature to 40°F in the next 4 hours. These parameters can help prevent food handlers from producing hazardous foods. If cooling down takes more time, this can be a chance for bacteria to grow to a harmful level and produce dangerous food products.
Digital solution to monitoring temperature requirements
Avoiding food exposure from the temperature danger zone is an absolute food safety necessity for any food establishment. Maintaining the safety of foods that you serve depends on how you properly store foods and raw materials. As important it is to know about the temperature danger zone, it is equally important to monitor the correct temperature for storage. This operation needs to be done at least every 2 hours to ensure that the food you will be serving is still safe or that the raw materials are still good to be used.
Remembering to do these monitoring tasks can sometimes be hard especially when you have so many other things to monitor. For food safety managers, managing the food business on top of ensuring that foods are not within the temperature danger zone can be a hassle. Despite this, with a smart system such as our digital Food Safety Management System (FSMS) at FoodDocs, these problems can be easily solved.
Our digital FSMS aims to automate monitoring tasks to keep food safety always controlled. By answering a few simple steps about your food business, you can get a digital FSMS specifically built for your operations in just 15 minutes. With this digital FSMS, you will get the following benefits:
Digital monitoring forms for your food safety procedures can be set to be automatically filled. This feature intuitively inserts readings based on your previously logged information. Save your employee's time as they would only have to verify the information filled into the forms.
Never miss a temperature reading or any other food safety task using our system's smart notification feature. Using our mobile application, our system will send you alerts to remind your employees of food safety tasks that need to be done.
Save at least 20% of your time from managing your food safety operations onsite by using our real-time dashboard. This feature shows the progress of your everyday food safety operations. You can easily identify which operations need more attention and those that may become sources of non-compliance.
Save and organize all of your digital documents in one place using the dedicated cloud storage that you will get with our digital FSMS.
With our digital FSMS, you can rest easy that all food safety tasks are done on time and in the most efficient way possible. With addressing concerns such as the temperature danger zone, timely food safety operations can be a key to preventing their negative effects. Using our digital FSMS, these tasks will always be covered and well-addressed.
Join our list of more than 15,000 satisfied customers that are enjoying food safety compliance thanks to FoodDocs. Get to know how our system works and start your food safety compliance using our free, 14-day trial.
Easy app for monitoring to have an instant overview
Implement your

Food Safety System

in 15 minutes

Easy app for monitoring

to have an instant overview
Ready-to-use

HACCP Plan

in 1 hour