RESTAURANT CHECKLIST HUB - FREE TOOLS
Use our restaurant checklists to create an opening and closing checklist, pest control checklist, restaurant opening checklist, and much more.


Restaurant checklists
A lot of activities happen behind the scenes just to achieve your restaurant's goal of providing customer satisfaction. From ensuring food safety measures, safe experience, and the quality of service you provide, everything can affect the perception of customers toward your food business. As such, the best way to do that is to successfully execute all essential tasks without ever forgetting anything. The best way to do this objective is to have a set of restaurant checklists.
Restaurant checklists serve multiple purposes and can significantly help ensure safety compliance and success in your operations. Help your restaurant employees cope up with how fast all activities need to be in the food service set up by using a restaurant checklist.
In this article, learn what benefits could a restaurant checklist give you as well as which ones would you need.
What are restaurant checklists?
A restaurant daily checklist is a multi-purpose tool that is mainly used to remind food business employees of important daily duties. Restaurant checklists can be used as a part of your food safety plan which will list activities for opening or closing tasks, cleaning, inspecting restaurant premises, food preparation processes, personal hygiene practices, and even administrative tasks. Traditional restaurant checklists are printed materials that are usually compiled in a clipboard and placed in visible areas accessible to all employees involved in the entire restaurant checklist.
Nowadays, digital checklists such as those in the FoodDocs template hub are available even for daily restaurant checks. These restaurant checklists can be easily customized, accessed, and used through your laptop or cellphone. Restaurant checklists must be versatile as new tasks come in as soon as you introduce any new daily restaurant operation. This reason is why digital restaurant checklist templates that can easily be edited for future use are very useful.
Different restaurant checklists:
Restaurant closing checklist
Restaurant inspection checklist
Bar opening checklist
Health and safety inspection checklist
Food safety checklists
Kitchen operations checklist
Who needs a restaurant checklist?
Restaurant checklists can be used by anyone in your restaurant business that is involved in specific tasks such as business management and cleaning tasks. Particularly, this tool is used by food business owners, the management team, and food safety experts or supervisors to help them delegate key tasks that need to be done every day. In addition, a specific daily restaurant checklist can be used by employees to remember who is assigned to the task. With all the multiple tasks that your restaurant employees need to do in a day, some tasks have the risk of being forgotten. This scenario may lead to food safety issues or affect customer experience.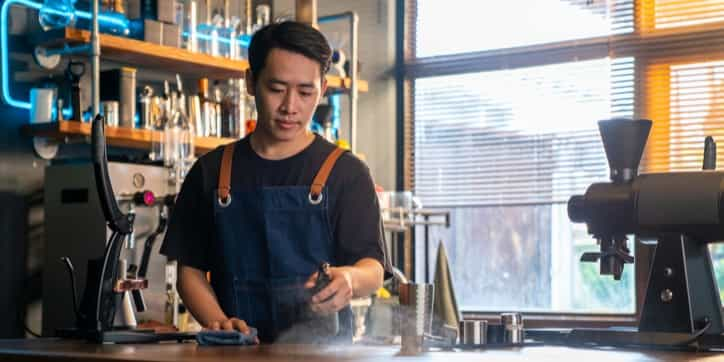 How can you benefit from a restaurant checklist?
Restaurant checklists differ in objectives. Depending on your target activities, you can customize your daily restaurant checklist. The main reason for using a checklist is for your team to remember all important details for daily tasks. Despite this, a restaurant daily checklist can be more than just a reminder and offer benefits to your business.
Here are some general advantages that you can get when using a restaurant checklist:
Serves as a reminder. In the fast-paced restaurant industry, many tasks can be forgotten. Using a checklist, your team gets to be reminded of which tasks need to be done and when are they due, thereby reducing human error.
Improves team focus. By using a restaurant checklist, distracting factors are negated and allow your restaurant employees to focus on the tasks that need to be done. Checklists contain which tasks are important and which ones can be done after the daily checklist is completed.
Saves time. With the important tasks listed in a restaurant checklist in order, this makes completing tasks faster. The organization of tasks in your checklist must be methodical for more efficient execution.
Consistent service. Restaurant checklists also serve as a way to standardize tasks. Repeatedly doing the listed activities trains your employees to do tasks with ease and how they are supposed to be executed. This trains your employees on how to do the tasks without delays while keeping customers safe and preventing bad customer service.
Improve employee productivity. Aside from a faster flow of getting tasks done, ticking off checklist items as accomplished tasks from a daily restaurant management checklist can become a positive reinforcement for your employees. Human nature dictates people to feel satisfied when they accomplish tasks.
Employee accountability record. With a restaurant checklist, a restaurant manager can keep track of which tasks are being completed on time and the performance of the person in charge of the task. Additionally, a checklist ensures that someone is assigned to complete a task, or at least that someone should do it.
Smoother transitions. A restaurant checklist can also be used for orienting other employees with different shifts. The next shift gets to see a glimpse of what has been executed in the previous shift. In addition, checklists can be used to introduce daily restaurant operations to new employees and incoming servers.
Improves operational management. As a food business owner, you would benefit if tasks get done more easily, faster, and with precision. A daily restaurant management checklist will help you with these tasks. It would also help you delegate activities and implement an operational management system that can be done without your supervision.
Cost-saving and profit earning. When all tasks such as food safety and hygiene activities are always completed, you become more confident that violations in restaurants related to food safety regulations are far from occurring. This also ensures that unnecessary costs are avoided. Consistently delivering quality services with the use of a restaurant checklist also improves your food business brand by promoting good food quality and dining experience for customers.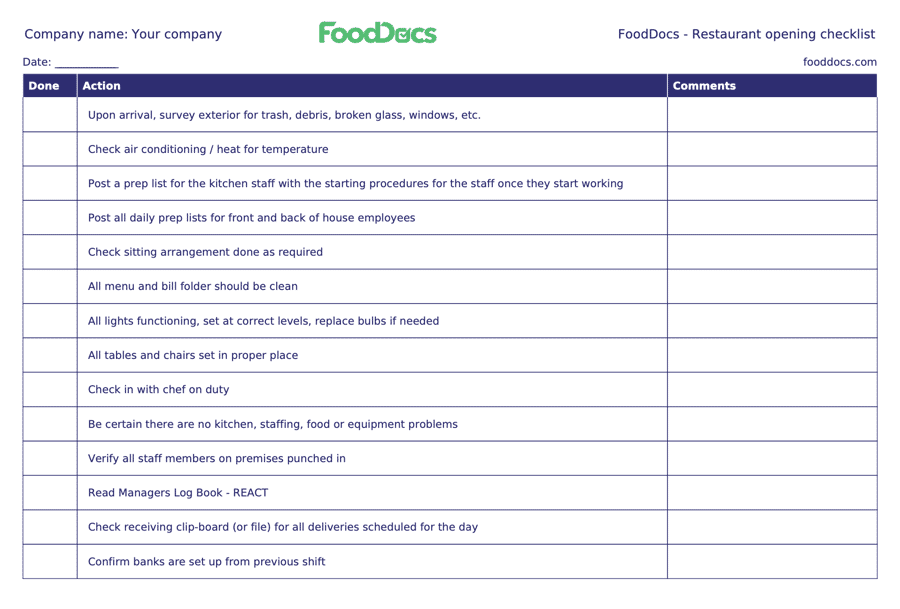 How to create a restaurant checklist?
Several factors can affect which tasks would you need to put on a checklist. Some factors may include the type of checklist you have, your operations, the number of employees, and your available equipment and facilities. These factors must be considered to create a comprehensive and useful checklist.
Here are some pointers when making restaurant checklists:
Gather information from your employees. Restaurant staff, especially those who have been in the food industry for a while, know a lot of important tasks that can go easily unnoticed. Brainstorm tasks with employees for a specific checklist to ensure that you cover the important tasks of your operation. This tip also promotes the participation of employees and gives them a sense of being part of the team.
Include areas where you are experiencing difficulties. Some areas of your operations require more focus than others. In addition, tasks that are considered critical tasks need constant attention to ensure food safety. Make sure to include these areas for close monitoring and to make sure that they are well-accomplished.
Focus on urgent and important tasks. When making a checklist, organizing the daily tasks you list will help you create a more efficient workflow for your everyday operations. Prioritize urgent tasks at the top of your list. These tasks may include those that are related to safety or are time-constrained such as maintaining temperature.
Observe your business operations. Some restaurant businesses may have specific tasks designed for their operations. To know which ones need to be added to your checklist, perform a personal audit yourself and observe your operations from the actual restaurant space. Use your inspection details to build a comprehensive checklist.
Keep your checklist open to improvements and revisions. Aside from being comprehensive, an editable checklist makes up for a great tool. New operations may need to have a new set of related tasks which may need to be added to the restaurant checklist. Checklists that can be easily edited are the way to go.
To integrate all of these helpful hints into a single checklist, use our restaurant checklists forms at FoodDocs. Our templates are just the tip of the iceberg when it comes to switching from your traditional paper process and food safety management system to the digital era.
What is the easiest way to make restaurant checklists?
Using your traditional pen and paper checklist will require a lot of effort. Not to mention that paper checklists are less sustainable especially when you have to draft several versions. Why not opt for digital restaurant operation checklists from FoodDocs? This digital checklist solution is customizable for sector-specific protocols and tasks. In addition, choosing digital solutions shows your positive approach towards sustainability and the environment.
You can download and print the checklists you have generated by using FoodDocs templates and these can be distributed to all your employees or your staff in charge. Get more restaurant checklist templates and updates from our free food safety template hub.
Digital solution for restaurant checklists
At FoodDocs, we have devised the most innovative way to keep all your tasks in check in the most efficient way possible - minus the pen and paper processes. When you choose to use our Food Safety Management System services built by food safety experts, you get more than just a list of checklist templates. Once you avail of our FSMS software services, you also get a management and monitoring tool that will help you remain compliant with all food safety standards and regulations.
Still not convinced? Here are some benefits digital system can provide you with:
After answering a series of short questions about your company details, our system automatically generates a food safety management system that is specifically effective for your establishment. This system includes a set of automatically generated,

digital monitoring forms and checklists. These forms and checklists can be easily edited to add information fit specifically for your food business.

Our mobile-compatible Food Safety Management System app notifies your team of any task that needs to be done, ensuring that you will not miss any task for the day. This feature works as well for audit reminders or any deadlines for your food business.
We feature an auto-fill system for your monitoring forms and checklists. The information we use will be based on the previous data you have entered. The only job remaining is to verify the information.
Review your progress through our real-time dashboard that reflects your daily operations. You can identify which area is your team lacking and revise your restaurant checklists accordingly.
Keep everything organized in dedicated cloud storage for your food business. Access everything with a few clicks and present your digital record of FSMS documents to a health inspector for an audit.
Going digital may seem daunting for some, but FoodDocs has simplified the process for all restaurant owners. All of these benefits can be achieved in an average of only 15 minutes! You can go digital while waiting in line at the grocery store or while sitting idly. That's how easy going digital with our system is.
Be part of the first customers who will get to receive updates about our new checklists and other templates by signing up now. You will get to enjoy our services with our 14-day free trial and get a good feel of how our system works. Continue your digital FSMS and let us help you make the most out of your food safety system.
Check also these popular templates
Easy app for monitoring to have an instant overview
Implement your

Food Safety System

in 15 minutes

Easy app for monitoring

to have an instant overview
Ready-to-use

HACCP Plan

in 1 hour