HACCP TEMPLATE HUB - FREE TOOLS
Use more than 100 free resources of food safety checklists, posters, forms, and much more.
So, go and use them for yourself.
HACCP plan template hub - examples of completed templates
A detailed HACCP plan can be one of the most cumbersome and time-consuming tasks.

A HACCP plan is finished product and process - specific which makes it hard to create a single HACCP template for small businesses.

Our HACCP plan template hub contains most of the important documents and forms needed for a food safety management system.
Being in a food and nutrition service business, composing a HACCP plan can be one of the most difficult tasks you'll have. For instance, some people quit their business idea after understanding what needs to be done. Usually, just a glance at your local authority's website will tell you that you need help to set up a proper HACCP plan for the assurance of food safety. At this point, a HACCP plan template would come in handy and will ensure your HACCP success.
We at FoodDocs have created a HACCP plan free template hub that contains more than 70 important documents that are most needed for your HACCP plan. We are adding new templates weekly, so feel free to use them! Improve your plan by clicking on the words and printing them out for your convenience. Our HACCP plan example pdf templates apply to any part of the food chain and are the most useful when setting up your HACCP plan. Download the template that you need the most.
HACCP plan templates on this page are here to help you. As a food business owner, you are not expected to be a specialist in all the necessary fields, especially in food safety. We know from our previous knowledge that composing your HACCP plan can be challenging because it needs a lot of background knowledge on food safety. We have put all our expert knowledge into our automated HACCP builder and brought out these templates to make the HACCP creation easier for you. Feel free to download the template and let us know if we have missed anything. Don't hesitate to try the HACCP builder 14-day free trial.
Composing your HACCP plan doesn't need to be hard work
When composing your HACCP plan with the help of governmental instructions, it can turn into a real struggle. Governmental sites are usually long, complicated, and prepared by public officials who haven't worked a day in a food business. So these end up as lengthy, endless documents that are unclear for ordinary people.
As a result, food business owners spend weeks, and even months creating their HACCP plan. It's not an issue when you have plenty of time and your business is in your own home where you don't have any extra costs. Although it's a different story for a food company that is a proper business, like a production company, a bakery, a cafe, or a restaurant. You need to pay the rent from the first day you move in, and that's when the time becomes critical. Spending 4-5 weeks creating your compliance documents will cost you a lot.
At this point, food owners start to turn to HACCP consultants or HACCP builder software. The advantage of HACCP builder software is that business owners can create their HACCP plan in 1 hour and on their own, even during lunch.
Why do I need a HACCP plan template?
A HACCP plan aims to help you control any potential biological, physical, and chemical hazards that can contaminate your food products and create unsafe food for your consumers. This document is a description of all food safety concerns and practices in your establishment. Every food facility, especially foodservice operations and production companies, requires its own HACCP plan. These plans can be very specific for each finished product or food production process that they need separate HACCP plans. So, you may end up making several HACCP plans.
The presence of the HACCP plan and its compliance with the law is audited by the health department at least once a year in the food chain. Here, it's important to keep in mind that the HACCP plan is not meant for your regulatory agency but for your own sake and for your customers. It is there to keep your food on a safe level. All actions that are included in your HACCP plan, i.e. food hazard identification, preventive measures, control measures, and record-keeping and documentation procedures are for the safety of the finished product.
A HACCP template for small businesses or manufacturing plants guides you and your team with the significant information that you need to provide in your HACCP food safety plan. It can become an effective training for building a comprehensive food safety management system. With a template, there is no need to blindly put information that will not add to the value of your plan. We provide you with that HACCP plan template that is fit for your food business.
It's not a pleasant thought, but imagine if something happens with any of your customers. The financial loss can be something that you as a business owner won't survive. It's always better to set up a strong HACCP system at the beginning of your business, with applicable regulations that are easy to follow. If your company employees understand why they have to comply with certain rules, they will be more willing to do so. As a result, the food is always safe to eat for your customers.
Who needs to take care of the HACCP food safety?
A HACCP team is an essential part of a food business that is responsible for composing and updating your food safety management system and takes control of food safety. The members of a HACCP team should have a strong sense of ownership and commitment to food safety because it is one of the most important things in the food industry businesses.
Your team should be well aware of all food handling practices related to your food processing plants. These practices must also include any potential food safety hazard and environmental contamination to preventing the loss of control and relevant continuous monitoring procedures. All members must also have good and accurate record-keeping skills to serve as tracking documents in case of deviations from processing method regulatory standards for future comprehensive verification reports.
Also, note that the food industry has one of the highest levels of employee mobility in terms of food operation. This means that the HACCP team has to consider the fact that food employees, who are responsible for food safety on a daily basis, have to be constantly trained. This task can be a real challenge if your team consists of tens or even hundreds of people. In this case, assign a person, who is responsible for training them and trying to find a solution or a tool how to help them.
Your HACCP team members can change at any time. It is important that you keep your company's HACCP plan up-to-date, make a copy of it, and even better if you have a digital food safety management together with a HACCP plan in place. Keeping a digital food safety plan optimizes the organization of your HACCP safety plan as well as your daily activity documentation. You never have to worry about any missing or misplaced documents when food safety auditors arrive.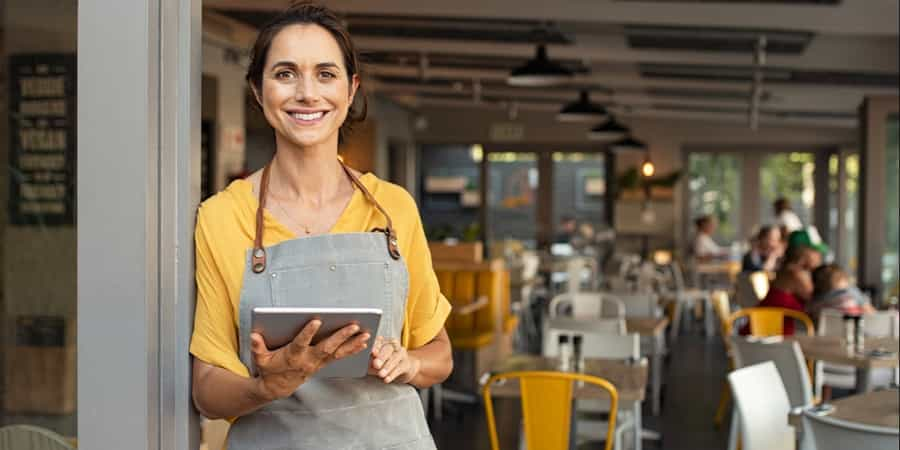 Why is there no complete HACCP plan example for all food businesses?
A HACCP plan is a detailed description of your company and its processes. It helps business operators of food facilities identify the critical points for food safety. It also contains appropriate steps to ensure that these points are adequately controlled.
As food businesses are different, it's really hard to find completely similar food entities and create a food safety plan template for all. Food businesses and retail food stores are unique in terms of the production process, the category of food for consumption that they order and use, the food they produce, the production volumes they have, the customers they serve, and much more. It's also impossible to create a HACCP plan template based on business activity because the nature of operations can be very different such as for producing companies, shops, and cafes. Some food companies have their own specialized processes and will require custom plans.
All of these mentioned conditions and specialized processes affect the content of your HACCP plan and criteria for food safety. Potential hazards and their analysis that you need to consider as an unacceptable health risks will vary depending on these factors.
To ensure the safety of your food products and prevent loss of control, use one of our HACCP plan templates to establish correct control measures, procedures for monitoring, and documentation procedures, plans, and schedules.
Some examples of how the nature of your business affects your HACCP plan are as follows:
If you're serving your safe product in a buffet, you need to ensure that hot food is not sitting out for more than 2 hours. Monitoring the time and food temperature as part of shelf life during this period is an important part of critical control point (CCP) monitoring. When you're serving your dishes a la carte, this risk doesn't apply to you because your food products will not be held for 2 hours.

If you're cooking food, you need to measure the internal temperature of the food item during the cooking process and register the results on temperature monitoring charts. Cooking to minimum temperature, adequate time, and using the correct conditions for cooking will ensure that any harmful bacteria and other enteric pathogens are killed. When the temperature is not high enough during thermal processing, the additional cooking step time must be added to provide wholesome food. As soon as you're dealing with products only at room temperature and you're not cooking them, this requirement doesn't apply to you because the risk is not present.

When your business is ordering frozen and chilled food products, you need to check the products upon delivery whether they're at the right temperature. Signs of improper transportation conditions tell you not to receive products that are not kept on an acceptable temperature level. Keeping a cold chain is critical and a well-known applicable food safety requirement to prevent any potential hazard of foodborne illness and to provide safe food products. If your food manufacturing business is ordering food at room temperature, this requirement doesn't apply to you, and you have one daily monitoring less to worry about. Your concern shifts towards maintaining the quality of your finished product in clean conditions.
Here are some real-life examples from food business owners:
In some baked goods businesses, the whole bread-making process is applied, starting from the dough preparation up to serving or delivery. On the other hand, other bakeries just resell pastries they have bought in the morning.


Such differences can also be seen in cafes and canteens. In some canteens, everything is done on-site, whereas other canteens only serve ready-made meals they have bought. If we compare the food safety risks in these two units, you'd understand that they're very different.
HACCP plan template is easy to modify
A HACCP manual is regularly updated on a continuous basis. As the food industry progresses every day, your HACCP plan needs to do so as well. Right after finishing your first HACCP plan, you will be scheduled for a food safety inspection from your health department sooner or later. We know that food inspections can be very nerve-wracking, but don't worry, the purpose of an inspection is to protect you and your customers to produce only safe food for your customers.
One thing is for sure, your HACCP food safety system plan won't be perfectly suitable for your inspector right off the bat. Statistics show that only 5% of the first inspections pass the first time. So, it's totally fine when your inspector says that you need to change anything in your initial plan. The best part of using a digital HACCP plan is that you can change your HACCP plan right away as soon as you have your inspector's feedback.
Or even better, your inspectors can add their comments straight to your HACCP plan. Our digital solution allows collaborative efforts between food safety inspectors and food business owners or plant managers for a more seamless process.
Our digital HACCP software also has several benefits in lieu of a paper-based process. Having a paper-based HACCP plan makes any kind of improvement very cumbersome and time-consuming. Why? Because for ordinary people, it's hard to understand which part of the HACCP plan will be affected by this improvement. Searching for these changes will require you to skim through all the pages when compared with an automatic search using a digital HACCP plan.
In addition to a HACCP audit, there are other instances that will require you to update your HACCP plan. It means that whenever you decide to change any of your production processes, menu, devices, or rooms, you need to change your HACCP plan too. Any change might affect the food safety risk level of your process.
For example, when adding food transportation to the new production process, additional food safety hazards will occur. Bacteria and viruses may start to multiply when transported at the wrong temperatures and for too long.
Another example is when adding frozen meat as a new raw material, cross - contamination between raw and ready-to-eat food may occur. This occurrence may cause the spread and multiplication of pathogens and must be controlled to prevent causing any severe illness. Similarly, temperature rise during the defrosting process may affect the quality of the product.
For each of these new food safety risks, you need to create a hazard analysis to decide whether it's one of the critical control points or not. In addition, you need to identify how to prevent these hazards and how to eliminate them with monitoring procedures when they occur.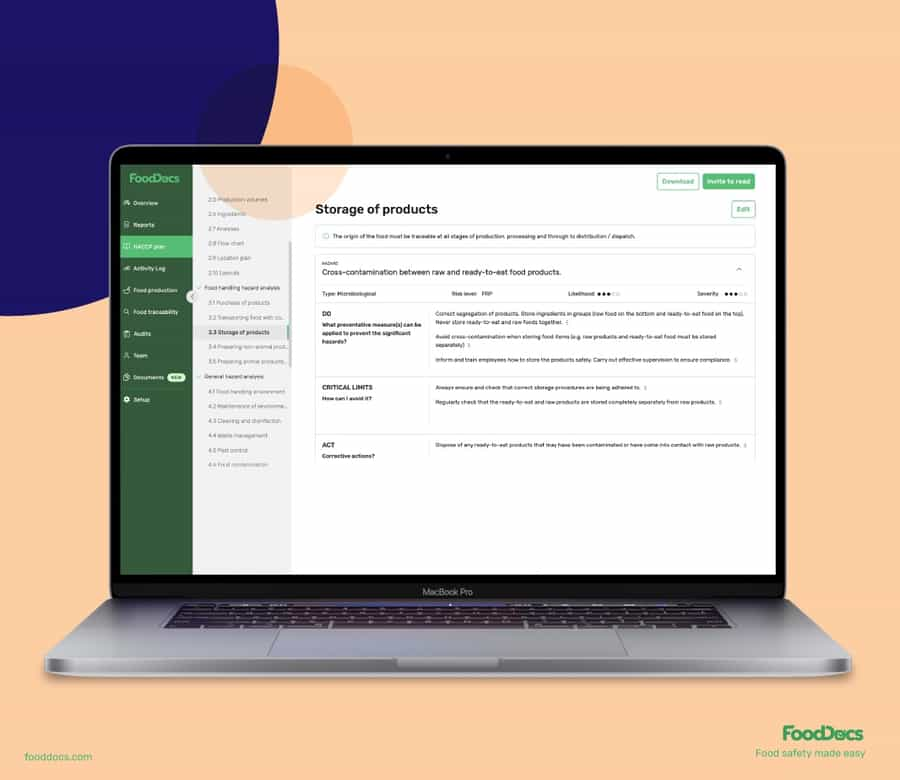 Digital HACCP plan in FoodDocs
When do you need to update your HACCP plan?
Want to add food transportation to your production processes.
Changes in raw material production and sourcing.
Addition of a new ingredient in food products.
Decide to start operating on a smaller surface.
New product storage facility.
Decided to rearrange your menu.
Decided to start offering catering in customers' offices.
Decided to start using new raw ingredients and packaging materials, ones you haven't used before.
Decided to offer new products.
Modification of an existing process.
Differences in equipment design.
All these examples require improvements to your HACCP plan as soon as you apply them. Some of them are so serious that you even need to start a new monitoring procedure. Don't hesitate to use helping tools to focus on what you really want and need to do - managing your domestic food business while serving safe food products.
One one the biggest benefits of a digital HACCP plan is that it's easily customizable at any time, by yourself, with only a few clicks. Just click on the words you want to change, make any necessary modifications, and download your completed HACCP plan template for monitoring. If an audit is near and something needs to be revised, just change it on our homepage, download it, and print it again. As simple as that.
Are all those HACCP plan samples mandatory in my HACCP plan?
This selection of HACCP plan templates was composed through the collective interest of our customers and what they find the most interesting and useful. Among those, you can find samples that are generally needed by any kind of food business and those that are needed for quite a specific customer profile.
What are the mandatory parts of HACCP?
The mandatory parts of a HACCP plan are dependent on the 7 major principles of HACCP and the necessary preliminary tasks and prerequisite programs. Common prerequisite programs help analyze what basic potential hazards in food safety do you see in your food business, how can you avoid them, what monitoring technique is appropriate, and what corrective action procedures are needed to adhere to an acceptable level. The main principle of these programs is to build a solid foundation and maintain the basic conditions required for a food business.
A HACCP plan covers the basic principles of sanitary and environmental conditions. The included programs involve learning about potential hazards (including biological, chemical, or physical hazards) and hazard identification, preventive measures, as well as setting critical limits and control actions.
Here are some of the mandatory parts and programs involved in HACCP sample food safety plans:
Food supply program

Food handling environment and conditions of storage

Maintenance of environment and equipment

Sanitary design principles

Control measures for cleaning and disinfection

Waste management

Effective pest control programs

Traffic flow diagram template or food processing facility layout

Contamination of food

Laboratory analyses, analytical testing, for water control

Allergens and informing the intended consumers

Personnel hygiene, employee health, and employee training records

Selection of suppliers and raw materials

Temperature and shelf-life control

End-product testing

Customers' complaints and sample recall program

HACCP team

Product description template

Describe the food operation and its distribution

A complete description of intended use and consumers of the food

Develop a block-type flow diagram that describes all the processes you have in your company.

Accurate identification of hazards and their analyses

Critical control points (CCP)

Critical limits and critical limit deviation to keep results on an acceptable level

Continuous monitoring procedures for critical control points. Stress out the importance of accurate records

Corrective actions in your food operation (including corrective action records)

Verification of monitoring records

Documentation, record-keeping, and future verification.
More about hazard analysis
After completing your HACCP flow chart, the subsequent step is to go through all stages of potential hazard analysis for all production processes in your company and to determine corrective actions to prevent these hazards. For some, it can be considered the hardest part of the HACCP plan, so take your time.
First, evaluate each manufacturing process you have in your flow chart. Is there any health hazard that potentially occurs and how to keep it within the prescribed limit? These potential hazards can be:
Physical hazards - slivers of glass, human hair, nails, jewelry, dirt, toothpicks, etc. Physical hazards are usually a result of poor food safety procedures.
Biological hazards - include microorganisms such as bacteria, viruses, yeasts, molds, and parasites that are considered pathogens (disease-causing).
Chemical hazard - food contact materials, cleaning supplies, pest control substances, biocides, and food additives.
Evaluating every food safety hazard helps to determine which food production process needs more critical control measures and stringent observations in the food chain as a part of your food safety management. This step is necessary to determine the acceptable limit and appropriate control measures for the hazard. It also helps in assigning corrective actions to each hazard while keeping in mind that these food hazards can be simultaneously present. That is, biological hazards are usually present where physical hazards are.
What is the easiest way to create a HACCP plan?
If you're looking for a HACCP example template for small businesses, check the Governmental institution's pages because they've created several instructions to help to create HACCP food safety plans. Some even have HACCP plan examples and descriptions of manufacturing practices on their homepages, but both are usually long and complicated.
It's also commonly hard to find the right one, because of the large number of different instructions. It can be challenging to pick which one out of those hundreds of instructions applies precisely to your business.
HACCP consultants are usually the next option for food business owners. Yes, it needs quite a large amount of money, but at least you'll have time to deal with other needed things. HACCP consultants are professionals, they do such tasks every day and are really good at communicating with a health inspector.
Unfortunately, food business owners delegate the responsibility of applying their HACCP plan as well to food safety consultants. After hiring a HACCP consultant, business owners automatically think that the safety of food products is something that HACCP consultants will cover and be responsible for after guiding you with the plan. Some business owners remove themselves from this task.
As a result, food safety rules are not followed because someone else took initiative at the beginning, and food service people had no involvement. All these are the reason why digital food safety program templates and HACCP plan builders are becoming more and more popular in the food industry. Unlike HACCP consultants, the software is capable of considering all of the hundreds and thousands of conditions and legislation requirements to prevent the loss of control and to become smarter over time. Major regulations keep changing and even for governmental authorities, it's sometimes hard to stay on track.
Machine learning gathers users' data about food safety hazards, risk levels, corrective action procedures, monitoring processes, and also results. It makes analyses and gives suggestions accordingly to users. As a result, food life gets easier for food companies when creating and managing their HACCP plan. Smart software creates a HACCP plan automatically, including hazard analysis, procedures for monitoring, and prerequisite programs. It also assigns critical control points, the levels of food safety hazards, and even composes a flow chart.
The most amazing part of the HACP builder is its speed in finishing the task. Our software is able to speed up the process not only ten times but hundreds of times for composing your HACCP plan within minutes. As a result, a business owner can focus on other important topics that need his attention - opening up or managing his business.
Guide for your digital HACCP plan
How is it possible that software creates a document that is so complicated and specific? A HACCP builder works with the help of machine learning, which means it gets smarter every day. By answering 8 simple questions, the AI compiles all food safety documents you need to submit to your regulatory agencies. This even includes all stages of hazard analysis, risk analysis of potential hazards, monitoring records (temperature monitoring charts, record moisture level), food safety audit records, etc. So, it's like an interview with a series of questions, such as:
What is your business type?
What raw materials are used?
What kind of food do you sell?
How big is the volume, etc?
These are exactly the same questions that a HACCP consultant will ask when you meet one. After approximately fifteen minutes of the interview, the program knows all the details of your company (keep in mind that you don't need to write anything, all answers are selections, which makes the process fast and easy). All this knowledge helps the software complete a HACCP safety action plan, including risk assessment tools, that is suitable for your company with all the specifics. If the outcome of the builder is not as specific as you need, you can always improve your HACCP according to your wishes. All of these can be achieved without even using any HACCP plan example or the help of a food safety consultant.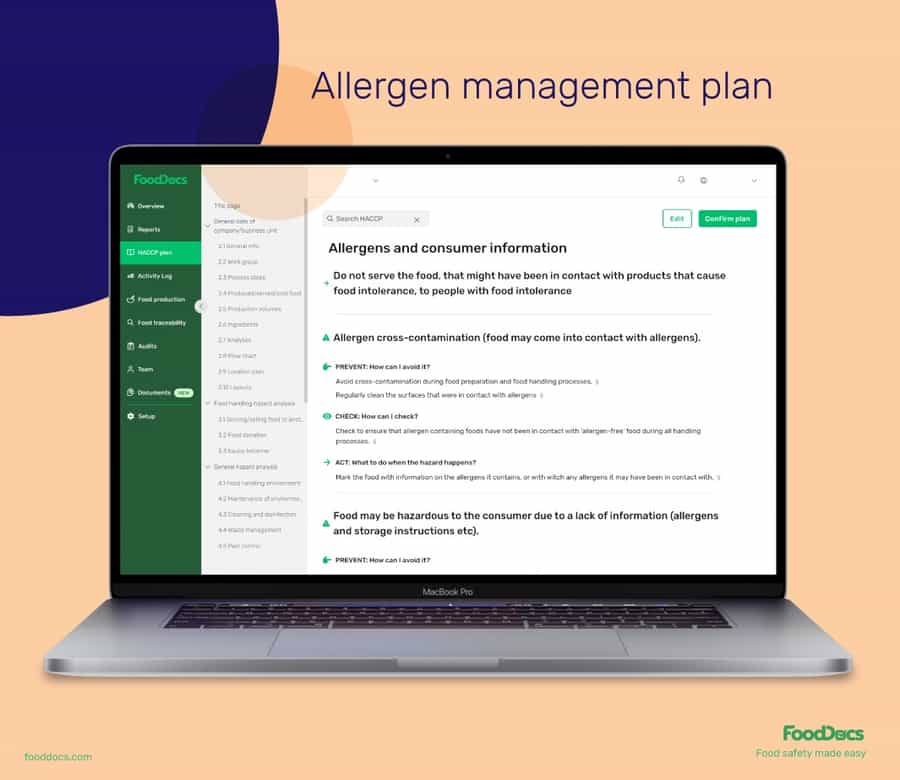 Digital solution from FoodDocs
There are many different areas that need to be addressed when making a HACCP plan. From sanitation to packaging, your team would need to devise programs for each aspect of food safety. With a long list of these safety documents, it will take you several months to finish.
Luckily, our team at FoodDocs has produced a digital solution to automatically generate the most important parts of your HACCP plan and more food safety features for compliance. In addition to a complete and comprehensive HACCP plan, our digital solution also generates the following for your convenience:
Flow chart - composing a block-type flow diagram is considered one of the most complicated parts of the HACCP plan. Forgetting to include steps from your food service operations to your process flow diagram can cause vulnerabilities to your HACCP plan. It helps your team determine at which point are food hazards most likely to occur and if there are testing procedures to detect them. It is an invaluable tool for hazard identification. Using the right tool, it's easy to create, even if you intend to create each commodity flow diagram. HACCP plan builder automatically creates complete flow diagrams for your business.
Waste management - keeping waste under control is also a topic that always needs to be covered in food premises. In every operating food business, there will always be a waste. This topic covers everything related to by-products or food waste and how food safety and quality assurance are ensured in their disposal procedure. A waste management plan is essential in keeping environmental health and sustainability and aligning it with food safety requirements. Waste management monitoring procedures are tightly connected with the cleaning schedule.
Reduced Oxygen Packaging checklist - This can include production processes like the cook-chill method, controlled atmosphere packaging, vacuum packaging, or the sous-vide method. This checklist also includes monitoring activity that ensures that the packaging material is not air-permeable.
In addition to the mentioned HACCP plan features, we also feature a digital Food Safety Management System that can take care of your monitoring procedures every day. The digital monitoring forms that our system generates for you are equipped with an auto-fill solution to save your employees' time from manually filling all logs.
Here are a few samples of our automatically generated forms and free tools:
Temperature control monitoring sheet (temperature logs) is most often included in every food establishment for preventing any foodborne illness. This document emphasizes the importance of CCP monitoring parameters even if they are not considered controllable processing steps or critical control points.
Development of food safety plan templates for some risk-based preventive controls for human food resources is only needed in case of specific conditions or process steps, like:
Using a cooking temperature chart cooking log when monitoring the internal raw meat temperature is considered a critical point for cooking operation.
Use a consumer advisory only when you serve undercooked beef, etc. Consumer advisory is needed to protect customers who are especially vulnerable to foodborne diseases, for example, the elderly, pregnant women, toddlers, and people with compromised immune systems from severe health effects.
Sample cleaning checklist- this easy-to-follow guidance document is a must in every food business. What can be more important than plant food safety practices related to keeping your food business clean? It's for providing safe foods for intended consumers and also to keep your business attractive to customers. A cleaning schedule template helps you monitor all steps about sanitary conditions, what needs to be cleaned, how often, and which sanitizing tools to use.
How to store my HACCP plan documents?
A HACCP plan together with all the documentation needs to be ready for the inspection at any time to prove the safety of food products. As it includes loads of paperwork, keep an eye on all of them and try not to lose them.
Here are some suggestions on where to keep all your food safety-related documents:
HACCP plan. As the HACCP plan itself is usually the longest part, put it somewhere you could easily find it when you'll have an inspection or keep it digital with a HACCP plan builder. Using a digital HACCP plan builder, it's always accessible wherever you are and impossible to lose it.

Monitoring records, logs and checklists should be always kept as close as possible to the activity or a device it's used for. For example, keep temperature log monitoring sheets on the fridge's door, delivery check records near your delivery entrance, food allergy charts in your employees' pockets, etc. When archiving monitoring sheets, keep in mind to store them as long as it's determined according to your HACCP plan, usually 1-2 years. With digital HACCP, everything is always stored and easily found in one commonplace.

Different schedules, plans, and posters should be always close to the working zone it applies. Check if they're always in good condition so your team can see and use them. Keep the waste management plan, cleaning schedule, and pest management form close to your HACCP plan.

Inspection acts should be kept together with your HACCP plan. Be ready to show your last inspection act to your inspector.

Different contracts with service providers like waste management, pest management, cleaning, etc. are also important parts and should be archived so they are easily found.
With this much documentation to keep an eye on and to find easily, you'll need a lot of space and keen memory to remember and organize all of them. That's why digital HACCP is the best choice. Everything is easily filed, stored, and found when needed.
Not sure where to start with your HACCP food safety documents? Don't have enough time? Our platform at FoodDocs can direct you through the HACCP process and get your HACCP plan documents done in no time so you can focus on what you really need to – managing your business without having the loss of control and always providing safe food products. Try our free 14-days trial.
Check also these popular templates
Easy app for monitoring to have an instant overview
Implement your

Food Safety System

in 15 minutes

Easy app for monitoring

to have an instant overview
Ready-to-use

HACCP Plan

in 1 hour