HACCP plan
The HACCP process - all you need to know
The HACCP process is a systematic tool that aims to prevent or control the occurrence of food safety issues throughout ...
---
The HACCP process is a systematic tool that aims to prevent or control the occurrence of food safety issues throughout your manufacturing operations.
The HACCP process involves identification and analysis of hazards, establishing critical control points and critical limits, monitoring these steps, conducting corrective actions and verification procedures, as well as documenting the whole process.
A comprehensive and effective HACCP process protects your consumers and boosts your brand continuously by promoting food safety.
To remain active in the food industry and serve your food product to your patrons, your food business must be able to execute good food safety practices. The key to achieving the stated goal is to have a good food safety management system in place to protect your consumer's interests and produce safe food. Perhaps one of the most effective and internationally recognized standards in food safety systems is the HACCP process. The HACCP system focuses on preventing food safety hazards from occurring and minimizing the risk they can cause.
Practically for all food processing plants and other food businesses, going through the HACCP process is highly recommended and sometimes mandatory, depending on your industry type and location. In addition, it also helps build your brand image and gives your customers confidence in your health and safety procedures. A good HACCP process would have adequate control measures and verification methods to protect your business from distributing any unsafe food. Whether or not HACCP is a part of regulatory requirements relies on the type of food business you are running and your location.
Certification of having a HACCP plan in place may not be regarded as mandatory, but the system's placement in your manufacturing process is essential. Learn how the HACCP process can help your food business maintain food safety in this article.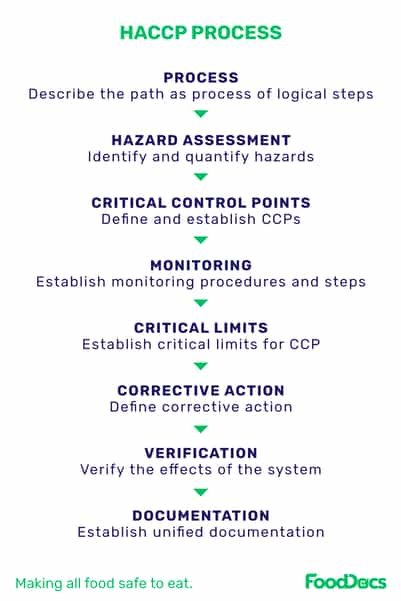 An overview of the HACCP Process
The HACCP process can seem daunting, but it is vital that you implement HACCP food safety management procedures in order to maintain food safety. HACCP procedures are preventive in nature and aim to address operations that are most likely to have food safety hazards. Your HACCP procedures will vary depending on your operations as well as your finished products. Similarly, legal requirements from your local food regulatory agencies may also depend on your food processing operations.
Before beginning with your actual HACCP process making using the
7 Principles of HACCP
, you must fulfill a set of prerequisite steps to become prepared. As a general guide to prepare you in making your HACCP process, below are the different stages of preparing for your HACCP process with some additional tips and ideas to
help you produce wholesome food
.
Here is a review of the set of the preparation process for your HACCP plan making.


Select and train your HACCP team
Depending on the size of your food business, you will need to select a set of people for your HACCP team. Your team must be composed of members from different fields of your operations. Representatives from essential in-line operations such as the production sector, engineering, quality assurance, and others must be included in your plan. You will need to train each team member on the systems and processes in place and ensure that they have the expertise and knowledge on hazard identification and their control. Your team will be responsible for identifying critical operations, accurate evaluation of potential hazards, and the review of your whole system.


Describe your products and processes
A detailed description of your products and processes will guide your team in which steps are most prone to hazards and the corresponding potential food safety risks associated with them. This should begin with the raw materials you use up until your finished products for the consumption of your consumers. Hazard evaluation will be based on these ingredients and processes.
The food item formulation as well as its intended use contributes to the assessment of whether vulnerable groups must be accounted in the HACCP-making process. Your product may be considered as a part of the high-risk foods group. Groups that may be compromised from such products include the elderly, infants, pregnant women, immunocompromised, and allergic groups of consumers.
Create a HACCP process flow chart
Your HACCP process flow chart, also known as your HACCP process flow diagram, is a visual representation of your process method of preparation. This chart is a simple block-type flow diagram that should represent each step in your particular process. There is no need to make one that at the level of an engineering drawing
Under a flow chart of your processes, your team will note and decide which operations could be considered critical control points. The best way to make your HACCP process flow chart is to get yourself a digital solution. At FoodDocs, we can help you create your basic HACCP flow diagram which you can customize to fit any of your manufacturing processes.
What's the next step in the HACCP process after verifying your flow chart? It's now time to apply the 7 HACCP principles and build your comprehensive HACCP food safety management system.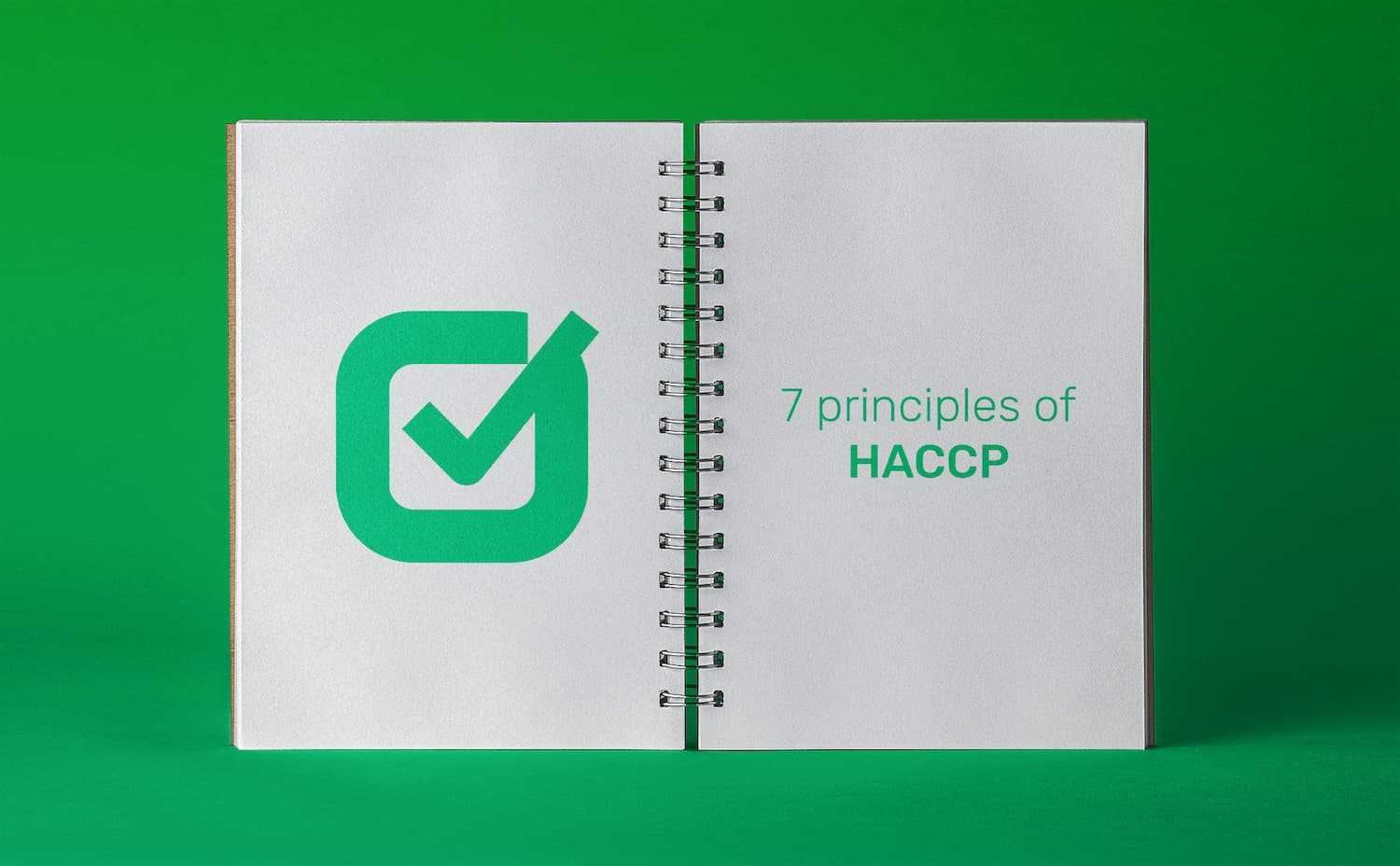 The HACCP process was established based on 7 principles that aim to identify hazards and ensure control of food safety in the food industry. Your HACCP process will encompass all operations in the food chain from raw material production, testing, and receiving to the distribution of your products.
As mentioned, your HACCP food safety system will be on a
process and product-specific basis.
That is, you may need to create more than one HACCP plan.
Your HACCP process to maintain food safety for the
production of a juice product will surely be different from that of a HACCP process for canned goods.
All the stages of Hazard Analysis Critical Control point processes were designed for application in m
anufacturing, distribution, procurement, as well as for farming raw materials.
Critical operations are commonly directed towards a wide variety of hazards which include
physical, biological, and chemical hazards
. To better understand how the HACCP process works, here are the 7 HACCP principles.
HACCP Principle #1. Hazard identification and analysis
Conduct hazard evaluation and analysis of biological, chemical, or physical hazards. During a hazardous analysis, you should identify which potential hazards could affect your process and at which stage are they are likely to occur in your foodservice operations. Accurate identification of hazards is a prerequisite for establishing any control measure needed for mitigation of risks and preventing unsafe food from being distributed.
After hazard analysis, critical control points are any step in your food operation that was designed to control or eliminate a hazard. Some of the most common CCPS include chilling of your foods, analytical testing of your ingredients for levels of chemicals, processing method for your raw materials to the correct internal temperature, during the thermal process, and etc. These CCPs are important and are your main defense against food safety issues.
HACCP Principle #3. Establishing critical limits
Critical limits are the maximum and minimum values of any biological, chemical, or physical parameter of your operations for food safety. These limits are established with the scientific basis of what is safe for human consumption. Breaching their safe levels means having a very high risk of causing any foodborne illness making food unsafe for consumption. Some of the parameters which need to have critical levels may include, acidity levels, food temperature, chemical level, moisture level, presence of microorganisms, a visual appearance that may suggest spoilage, and inclusion of additives. Breach of these critical limits requires immediate corrective actions to control the hazards.
HACCP Principle #4. Monitoring your CCPs
This step aims to ensure that you will test your foods to prove they are safe for transportation, preparation, and sale, and that all critical limits are within the food industry regulatory standards. A specified sequence of observations for monitoring your CCPs should be established. You should specify how, where, and when your procedures for monitoring should take place. The most common initial plan for monitoring is to conduct visual observations and measure the parameter. For example, one common HACCP monitoring activity is checking and recording temperature logs, in which case you would mark down how you will use a food thermometer to perform this check. To make CCP monitoring procedures easier, have a flexible monitoring records template which you can customize to fit any of your food operations anytime. The great thing is FoodDocs has got you covered with all the necessary templates at our template hub for your whole HACCP process.
HACCP Principle #5 Establishing corrective actions
Corrective actions are a set of activities that are put in place to address any breach in critical limits. The aim of corrective actions is to either minimize the potential risk of a hazard or try to completely eliminate it when the primary operation has issues. Corrective actions involve the identification of the cause of standard deviation to decide which steps must be done when loss of control occurs and reduce the parameters to an acceptable level again. In addition, monitoring techniques of corrective actions are necessary for the next step in the HACCP process.
HACCP Principle #6 Verification procedures
Comprehensive verification procedures for a HACCP process aim to ensure that the corresponding corrective actions have been applied and the loss of control has been properly addressed. For example, establishing reviews at different stages of your manufacturing process to ensure your HACCP food safety plan is being followed. One aspect of verification is that it will also serve as the primary proof that your HACCP process is working efficiently.
HACCP Principle #7 Record-keeping and Documentation procedures
Keeping technical documentation of your HACCP planning, monitoring, and results are essential. This technical documentation is required for auditing and plant observation purposes and is usually used to assess if your HACCP process needs to be updated. Record-keeping procedures are an essential part of the control measure system and can be used as proof of your commitment to food safety.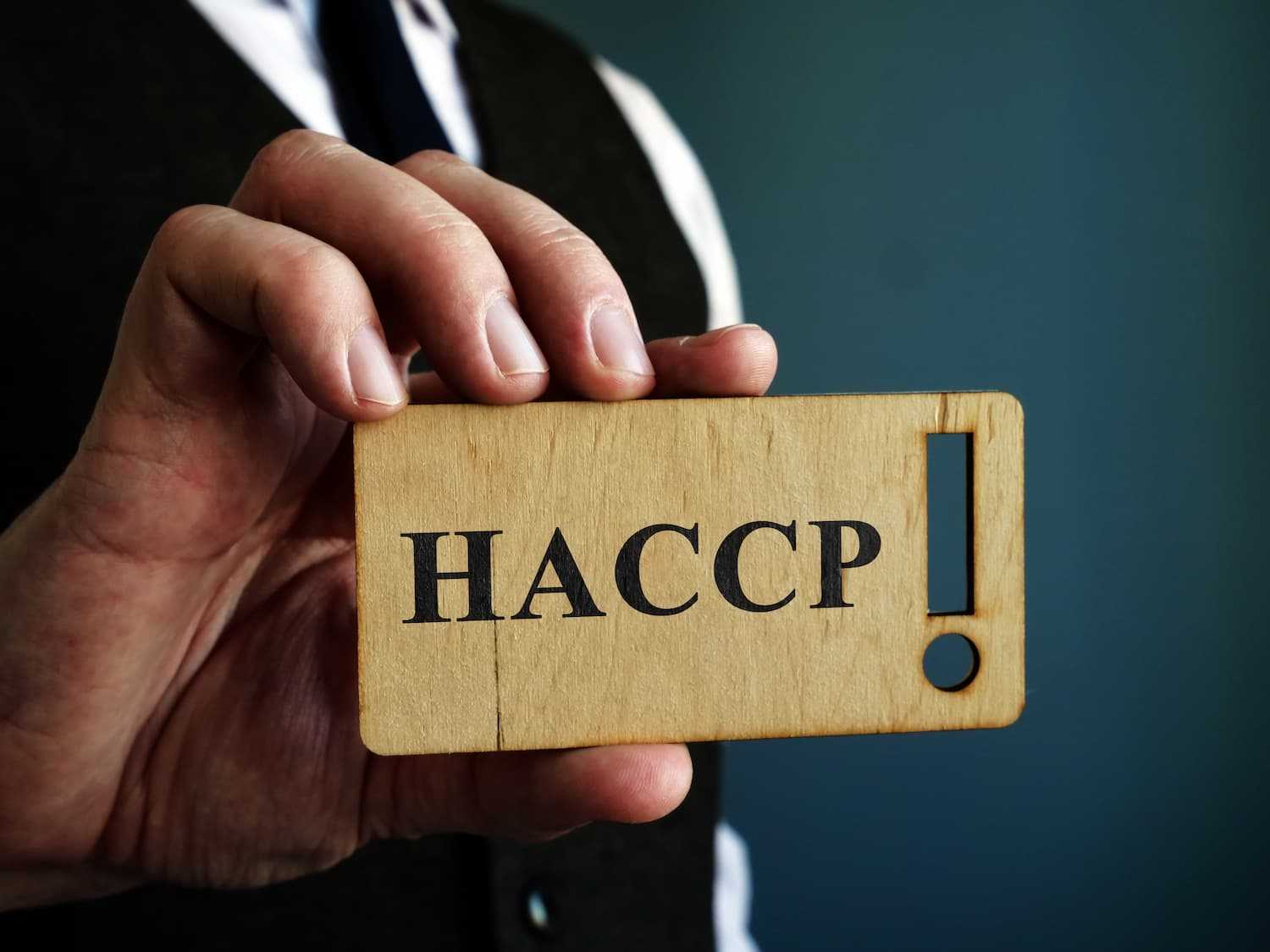 How else can you prepare to implement your HACCP process?
To ensure the success of your HACCP process plan, there are a number of preparations that you could do with your team to build a solid foundation for your system. These preparations can even be done prior to building your HACCP food safety plan to further understand why is there a need to emphasize the assurance of food safety and how can the HACCP food safety program address this.


Prerequisite programs
These programs are a set of conditions and standard operating procedures concerned with the hygienic practices of your operations as well as the level of sanitary conditions of your facilities. Prerequisite programs such as the Good Manufacturing Practices (GMP) are the basic principles of a HACCP plan. In addition, these programs are also concerned with the correct sanitary design principles of your operation facilities. Compliance with these programs makes the HACCP process even easier. These programs can range from proper handwashing practices to pest control and regular monitoring of sanitation.


Training
Additional information and increased awareness of food safety issues can help you to create your HACCP process. To achieve this, you can enroll your HCCP team in seminars and training. These programs can be an essential foundation of the HACCP-making process. They commonly contain information on the fundamentals of the HACCP process including what are hazards, their common causes, and what are the most effective steps to control them. In addition, training and seminars must orient your company employees with their specific tasks and the importance of their roles in the HACCP process.
An option for making a HACCP food safety plan is hiring food safety consultants and specialists but can work out particularly costly which includes initial review fees. There are a huge amount of training resources available on the internet for you to use. Depending on the training you need, you may find something for free or a reasonable price that covers all of the information you need. The most important premise of these training courses is to know the fundamentals of the HACCP process.
Remember to shop around when looking for HACCP training online, as you may be able to find some specific to your industry type. Certifications may also act as employee training records which may be requested by health inspectors during audits.


Use a digital solution
If your team lacks the time and has very little information on how to make your HACCP process work, try out digital solutions such as FoodDocs. We give you an easy-to-use HACCP planning option, especially if you are starting a food establishment and are unsure of how to set up your HACCP process. By answering a few basic questions, we use our built-in software to create your HACCP plan in one hour, saving you time, money and helping you to create your HACCP plan and set up your entire HACCP process smoothly. Beyond that, you can use the FoodDocs app to create monitoring sheets and record any audits you perform there, as well as schedule your team training and set up notifications for any necessary tasks.
A digital solution can be a great help when you are not used to the processes required especially in monitoring. Our mobile app reminds you of your everyday tasks and can alert you if the observed values of your CCPs are beyond the critical limits. Get HACCP compliant in just 1 hour!

Which special process requires a HACCP plan?
Different types of food preservation methods require a specific HACCP process. Basically, any process that functions as a method to significantly control a health hazard will require a HACCP plan. Loosely speaking, almost all processes will eventually require you to implement a HACCP plan to keep public health safety and prevent any foodborne illness from occurring.
Under the regulations implemented by the US Food and Drug Administration and the USDA, the following food manufacturing operations are required to have a HACCP plan or at least a food safety plan:


Beverage processing
Seafood and related products
Meat and poultry processing
Vegetable farming and storage

Under these industries, the following process operations and types of food preservation may need to be assessed under the lens of a HACCP process and its team:
Pasteurization of beverages including juices (high acid), milk (low acid), and other related beverages. This process ensures that the multiplication of pathogens commonly involved in foodborne illnesses such as E. coli, Salmonella, and Coxiella burnetii is hindered prior to packaging and distribution.
Curing meats. To control the growth of pathogens in low acid foods, some meats are cured with salts. This creates safe food products by drawing our moisture and restricting water activity to remove the microorganism's source of nourishments.
Addition of additives for food preservation methods. This aspect considered both artificial and natural additives such as sodium benzoate for juices and vinegar for pickled foods, respectively. Additives work as a preservative by targeting the pathogens themselves or limiting the basic conditions for their growth.
Other thermal processing such as canning and cooking food. Some products, especially those with low acid content or other favorable conditions for enteric pathogens need harsher thermal processes for extended shelf life. The cooking process will serve as one of your main preventive controls for producing hazardous foods.
Special process packaging. The aim of such methods is to inhibit the conditions favorable for the growth of pathogens such as in reduced oxygen packaging. The lack of oxygen stops pathogens from growing. Included in such steps is ensuring the integrity of your packaging materials.
Is the HACCP process mandatory for specific industry types?
This is extremely important to understand. As an internationally recognized system for preventing safety hazards, the mandate on implementing the HACCP process is dependent on your location. For example, if your company is based in the United States, the Food and Drug Administration (FDA) and the United States Department of Agriculture (USDA) require mandatory HACCP programs for both juice and meat types of food businesses. In addition, other industries such as seafood processing and canning companies similarly require a HACCP process.
On the other hand, the United Kingdom requires any food business to have a HACCP plan and is even rated for certification upon request. Regardless of whether the industry you are in requires a HACCP process system to be implemented or not, you are mandated to comply with minimum standards of having a food safety plan.
Wherever you are based, you should always consult your local regulatory authority in order to confirm whether you are required by law to implement a HACCP process.
Read more about whether HACCP is a voluntary process.
Is a Food Safety Plan similar to a HACCP plan?
It may be a bit confusing to say that a HACCP plan is not mandated by some government agencies but require you to have a food safety plan. So what are their differences? Both systems have several overlapping principles but are also different in some terms. A food safety plan or any food safety management system is a set of general documents containing a system for accurate identification of hazards and their control with parameters for any process step even for the ones that are not considered to be CCP.
On the other hand, the HACCP process is more concerned with critical control points and necessary preventive measures. A food safety plan also uses risk-based HACCP principles in developing its functions. Additionally, a food safety plan requires verification and continuous monitoring procedures for all processes and not just for CCPs. Where a HACCP plan does not include a recall plan in its documents, a food safety plan does.
How to get HACCP certified?
Gaining HACCP certification is an extremely effective way for you to prove to your customers that you take food safety seriously and that you care about their health. Once you have followed all of the steps in the HACCP process, and all of your documentation is in order, you can then apply to have your food business HACCP certified. This certification is legal proof of your commitment to food safety,
In order to get qualified, you will need to choose a registered, independent authority in auditing, and pay the fee to have them carry out the audit on your business. Although this can seem expensive, it is worth your while as HACCP certification can bring you more business, and will help to ensure you don't have any costly food hazard fines.
Learn all about HACCP certification through our article at FoodDocs.
Using FoodDocs during the HACCP process
FoodDocs is an excellent
digital solution
that can help you the whole way through the HACCP process. Using our Intelligent
HACCP plan builder
, FoodDocs can help you build a plan catered specifically to your needs in less than one hour. Our software
removes a huge amount of manual work
involved when creating your plan and every step of the way is guided by suggestions from food safety experts from our team.
Create
all the necessary documents
for your HACCP process and satisfy all the HACCP principles using our software. In addition, we can provide you with the most useful utilities such as an automatic
flow chart builder
and a number of the most important monitoring forms through our template hub for your comprehensive verification activities.
With notifications set up, FoodDocs keeps you on top of all of your necessary food safety tasks, as well as allows you to plan your team management to make sure all of your staff are up to date with all of their food safety training. You can also use FoodDocs to create digital audits, making sure that your food business is always compliant with your HACCP plan.
Learn more about the
features
FoodDocs offer, and how they can help you with your HACCP process.