RESTAURANT CLEANING CHECKLIST - FREE TEMPLATE
Use our free tool to create a cleaning checklist.
Just replace the words on the form when needed and download.

Company name:

Your company

_
| Daily | Mon | Tue | Wed | Thu | Fri | Sat | Sun | Notes |
| --- | --- | --- | --- | --- | --- | --- | --- | --- |
| Weekly | Mon | Tue | Wed | Thu | Fri | Sat | Sun | Notes |
| --- | --- | --- | --- | --- | --- | --- | --- | --- |
| Monthly | Mon | Tue | Wed | Thu | Fri | Sat | Sun | Notes |
| --- | --- | --- | --- | --- | --- | --- | --- | --- |
Restaurant cleaning checklist
Regularly cleaning your restaurant keeps food safety issues from occurring and promotes your business to consumer liking.
The majority of consumers tend to not come back if they observe bad hygiene and unclean facilities in a restaurant.
A restaurant cleaning checklist is a useful tool to remind your staff of all the essential cleaning activities needed to be done to avoid cross-contamination.
Keeping all food contact surfaces clean is an important job in the foodservice industry. On top of that, you also need to apply sanitation and disinfection practices. Food safety agencies and health inspection all over the world require all food businesses to conduct cleaning routines daily to control food safety. With such practices, foodborne illness-causing agents are minimized. These cleaning tasks range from removing food stains on the tables and walls to properly segregating all wastes. Keep all tasks organized and never miss one by having a restaurant cleaning checklist around.
All the cleaning tasks need a certain level of attention to achieve standard cleanliness. They also need to be performed regularly to become effective and proper cleaning products need to be used. Basic food hygiene is an important aspect of food handling and can significantly affect your operations to prevent any health crisis. It has been reported that at least 88% of customers become worried about the food they get when they see a dirty restaurant. Not to mention, the reputation of having an unclean facility easily travels social media and can affect your business in an instant.
Never miss keeping all facilities, areas, and cooking equipment of your restaurant clean regularly using our restaurant cleaning checklist.
What is a restaurant cleaning checklist?
A restaurant cleaning checklist is a helpful tool that contains a list of cleaning activities essential to control food safety. This checklist highlights all the cleaning protocols you need to routinely do as maintenance to your facilities to prevent food contamination. Because of the many other tasks needed in a restaurant such as the actual process of preparing the meals, serving them to the customers, and maintaining customer service, cleaning activities can sometimes be neglected.
A restaurant daily cleaning checklist highlights the importance of all activities indicated in it. It shows how food safety can be jeopardized if any task is forgotten or missed. Maintaining restaurant cleanliness in your facilities and the commercial kitchen equipment you use is perhaps one of the best customer services you can provide. A clean restaurant attracts consumers and shows them your commitment to serving hygienic products and services.
Use a restaurant cleaning checklist and also a restaurant kitchen cleaning schedule template to remind all your staff about which cleaning procedures need to be done today or if any weekly or monthly procedure is due.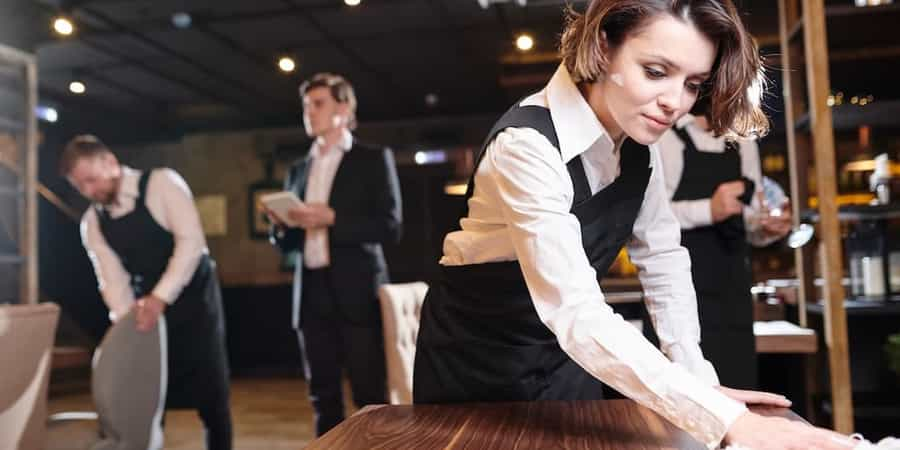 Who needs a restaurant cleaning checklist?
All types and sizes of restaurants may benefit from a restaurant cleaning checklist. Your food business will reap the benefits of such a checklist by maintaining food safety in your operations. For a small business, most cleaning tasks are done personally by the staff without the help of third-party cleaning services. A restaurant cleaning checklist will help the employees remember which tasks need to be fulfilled in each service schedule. On the other hand, although larger businesses may avail of cleaning services, tasks are more specific but will cover a wider range of activities. As such, they may benefit from a focused and specific restaurant cleaning checklist to enhance efficiency..
A restaurant cleaning checklist can be distributed to the different sections of your restaurant. The different parts of your restaurant may require similarly different tasks when it comes to cleaning. Your restrooms will require stronger cleaning materials, whereas your food preparation area will need mild to food-grade materials.
Some of the areas which need their cleaning checklist in your restaurant include:
Kitchen area (e.g. food contact surfaces, floors, and stove area)
Restrooms
Counter area
Walk-in refrigerators
Storage area
Service area
Receiving area
Each section within an area will require some specific cleaning tasks. A daily restaurant cleaning checklist will help your staff and supervisors alike which ones need to be done daily, monthly restaurant cleaning checklist will help your team monthly. Also, you can rename this checklist as a bar cleaning checklist. In addition to a clean environment for service, a comprehensive checklist can help maintain staff accountability. Your checklist can be customized to indicate which staff is responsible to conduct a specific task.
How can I help my team to keep all cleaning tasks in mind?
We agree that it's a real challenge to keep your kitchen clean all the time and remember all the specifics. This is even more evident when you have a large team, loads of work, and you want to give the best for your customers. It's hard work to keep it going, day-by-day. That's why it is important to take time to think of an efficient way on how to help your team without burdening them with additional duties.
As cleaning tasks vary depending on the frequency, the easiest way is to divide cleaning records by frequency. We have created a restaurant cleaning checklist template for you. This template features key cleaning tasks for a restaurant business that are categorized based on their frequency - daily, weekly, monthly, or even yearly cleaning tasks. You can also rearrange tasks and add a new category such as the location of the set of tasks. Feel free to replace the words on the form when needed. You can even easily download your checklists and print them out for your whole team.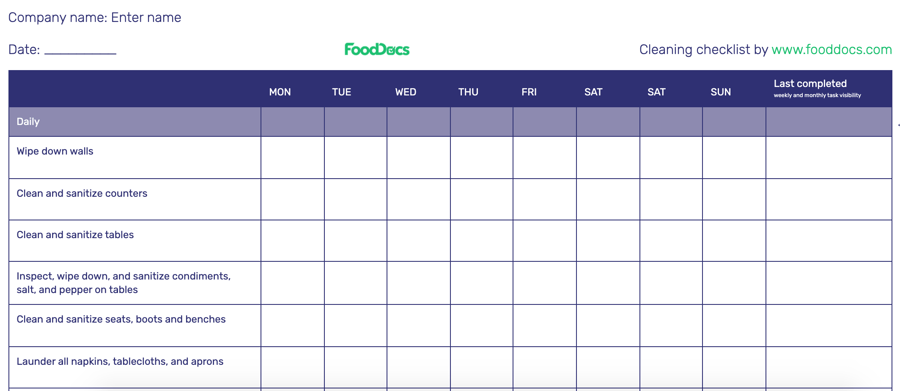 The most convenient way for your staff is a digital cleaning checklist app that has automatic notifications to remind them which task is due. At FoodDocs, we offer a digital cleaning checklist that you can use for your daily operations in addition to a free template. App notifications help to remember all food safety checklists on time, so your team can be sure that any cleaning tasks won't slip their mind. Avail our full Food Safety Management System to get all these cool features and more.
How do restaurant kitchen cleaning checklists help to keep my kitchen clean?
Regular cleaning can become overwhelming if you don't have a proper system with all relevant food safety checklists in place. Having cleaning records is useful because it helps you and your staff stay organized and keep on top of your HACCP food safety programs and guidelines.
Here are some benefits you can reap from a restaurant cleaning checklist:
Reminder. A restaurant cleaning schedule determines which jobs should be done, how often, and which supplies to use, whereas a cleaning checklist template puts the cleaning schedule into action - it's for your staff to keep in mind all the cleaning tasks and the details. Having a restaurant cleaning checklist works way better than using note pads as reminders.

Organizer. As the frequency of the tasks is different, a cleaning sanitation checklist helps you work in an orderly manner. An organized restaurant cleaning checklist can help your staff do their job efficiently. Some steps must be done before the others such as wiping kitchen walls from top to bottom to prevent the reoccurrence of dirt.

Staff accountability. Having a restaurant kitchen cleaning checklist can serve as a copy of which staff is assigned a task. This makes progress tracking easier for a supervisor.

Ensures food safety. By reminding all of your staff to practice correct cleaning practices, your team can control potential food safety hazards like cross - contamination that can contaminate your food operations. In return, consumers and health inspectors will recognize your efforts and commitment to food safety.

Efficient use of time. A checklist reminds you to do all tasks when they should be done. You will not cram cleaning all surface areas because you forget to do it a while ago before actual service. In addition, it also reminds your staff to do weekly tasks only when assigned. Some cleaning tasks bear no significance if you do them twice a week, which is a waste of productivity time.

Promotes proactivity. Having a restaurant cleaning checklist builds a culture of being proactive by reviewing the list for any due tasks. This aspect can be passed down to all employees and can even improve their way of living.

Improve management. Becoming more organized, you can focus more on managing your business while you review if the tasks have been done accordingly using a restaurant cleaning checklist. You do not have to ask each assigned staff whether the task was done or not.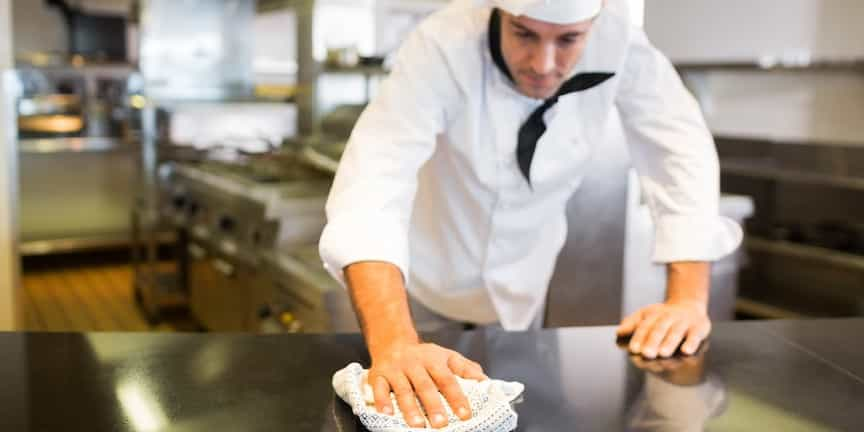 How can I save time on filling commercial kitchen cleaning checklist?
Managing all cleaning tasks on time is a challenge, but it is possible. Cleaning activities themselves take a lot of time and effort, especially if they have to be done every single day. In addition, requiring your staff to remember all the tasks and fill a checklist can become an extra burden for them in addition to the service work they provide. Finding a way to improve efficiency and help your employees get done with the cleaning tasks and filling a checklist can improve working environments. Luckily, innovation has managed to come to help in this matter as well.
Some app software providers have even included automated prefilling features in their software. It means that the user can even skip the food safety checklist filling part and only confirm whether all kitchen sanitation checklists are filled correctly or not. With such technology, your staff saves tons of time on filling records. At the same time, notifications help them to remind the tasks on time.
How to compose an employee restaurant cleaning checklist?
Every type of restaurant will eventually end up with a unique restaurant cleaning checklist. A restaurant that serves seafood may need a different cleaning routine to satisfy HACCP standards when compared to a restaurant specializing in pastries. Differences in the frequency of specific cleaning tasks are also expected for each type of restaurant. As such, a good restaurant cleaning checklist must be versatile and comprehensive.
Here are some components that a comprehensive restaurant cleaning checklist should have:
TASKS. This component tells you which tasks are needed to be done for your restaurant operations. Each section of your entire restaurant will also require different cleaning tasks, therefore, must include specific information.
General cleaning tasks:
Wipe down walls and entrance doors from food stains

Remove all unclean dishes from the bussing area

Clean hood filters

Clean coffee makers



Clean chairs and decorative wall hangings

Clean windows

Sweep and wipe floors

Empty trash bins / trash cans

Change or clean floor mats

Monitoring pest traps
Restaurant kitchen cleaning tasks:
Drain pans

Clean condiment racks

Clean food prep stations, food prep surfaces, and clean kitchen floor

Clean prep area surfaces, including stainless steel surfaces

Sanitize cooking table

Remove grease buildup on walls

Clean stove area

Clean grease traps

Clean oven

Clean refrigerator coils

Clean washing machine and washing stations

Take the trash bags out
Restaurant service area cleaning processes:
Replenishing paper towel dispensers

Clean coffee machine and espresso machine


Collect dirty towels


Clean and wipe all chairs, table tops and glass doors



Remove any spilled food residue on the floor

Sanitize tables and pepper shakers

Clean vent hoods

Emptying trash cans

Dust ceiling fans

Take the trash bags out
Storage area:
Remove all ingredients that are past their expiration dates

Arrange similar ingredients with newer stocks at the back, and the older ones in front: First-In, First-Out (FIFO)

FREQUENCY. Your restaurant cleaning schedule checklist must have a categorization of which cleaning tasks need to be done daily, weekly, or monthly. Not all tasks need to be done daily. This routine can become very inefficient and a waste of effort and cleaning materials. Categorize high-risk tasks such as sanitizing the preparation table and changing fryer oil as daily tasks since these cleaning activities are required to control food safety. Most critical control points in a HACCP food safety plan can be categorized as daily tasks. Weekly tasks can include dusting off light fixtures, sanitizing doors, removing clogs from the grease traps of the deep fryer, and replenishing big condiment containers. Additionally, there are tasks that only require to be done once a month which usually involve deep cleaning. Such tasks may include knocking off cobwebs, changing hood filters replacing light fixtures, sanitizing the walls, defrosting freezers, and cleaning refrigerator coils. These are just some examples. As we have mentioned, each restaurant will most likely require some specialized cleaning tasks with varying frequencies.

REMARKS. In addition, your restaurant cleaning checklist can have an additional column for remarks which need to be noted. These remarks can be any unusual event that happened during the execution of the task or any important reminder that needs to be relayed to a supervisor or the next shift. Some remarks can include replenishing any cleaning solution, broken fixtures that need to be replaced immediately, observing expired raw materials, and reporting a sighting of rodent dropping to alert pest control. Alternatively, this extra column can serve as a section for your supervisor to sign, acknowledging that the tasks have been reviewed accordingly.
If you're not sure where to start with your food safety checklists or you don't have enough time, FoodDocs HACCP builder gets your cleaning records automatically done in no time so you can focus on what you need to – managing your business. FoodDocs automatically sets up a monitoring cleaning checklist that you can share with all your team members. Get notified of all the accomplished cleaning tasks on your checklist in real-time including the ones that have been missed. Our application can remind you if there is a task that needs to be done.
Check also our HACCP plan template hub where you can find all the most popular food safety checklists and templates for free.
Digital checklists and time savings
Restaurant cleaning checklists need to be filled every day and will eventually pile up. You need to keep these documents as recordkeeping requirements for a HACCP food safety plan. These documents will then be stored for at least two years and then disposed of unless they contain important maintenance information. To promote sustainability and transition to operating without any paper wastes, switch to digital checklists.
At FoodDocs, we can help you record all your cleaning activities digitally. Our HACCP plan builder features a digital monitoring form for you that can act as your cleaning checklist for your everyday cleaning activities. You can get notifications using our mobile application which then automatically synchronizes accomplished tasks to your account. For all your data entries, a report is automatically generated that features your productivity and efficiency. Our HACCP plan software can alert you when a task is due. It also notes which staff did the task, as well as the time and date of accomplishment.
Setup your whole cleaning routine with our HACCP plan software and get all your documents in secure, single cloud storage to promote sustainability. These checklists and reports can then be used as proof for any health inspector or auditor in the future. Maintain cleanliness and control food safety using our services.
At FoodDocs, we also offer an array of different checklists and schedule templates for all kinds of monitoring activities in your business. To get more essential features for your food safety management system, try our free 14-day free trial and start organizing your daily or monthly tasks with us. In addition to cleaning checklists, our system can do all of the most important documents of your HACCP plan as you sign-up with us. Answer a few basic questions about the nature of your food business and get a complete HACCP plan in just one hour.
Our HACCP plan software was made by food safety experts who have served in the foodservice industry for a long time. Rest assured, the information and documents you will get are made by food safety experts. Get a HACCP plan that satisfies all the food safety legislation of your location with us at FoodDocs.