HACCP plan
Seafood HACCP - All you need to know
All seafood processors are required to have an established HACCP plan. The 21 CFR 123 or seafood HACCP regulation ...
---
All seafood processors are required to have an established HACCP plan.
The 21 CFR 123 or seafood HACCP regulation applies to both domestic and international food businesses dealing with seafood processing in the US.
FoodDocs digital HACCP plan builder helps satisfy all seafood regulations to create a compliant digital HACCP plan.
Any business within the food supply chain must have a Hazard Analysis Critical Control Point (HACCP) plan built around the 7 principles of HACCP to run their business. If not a HACCP plan, food businesses are required to implement a risk-based preventive control strategies program. Soon after meat and poultry food businesses have been mandated to implement a HACCP plan in 1990, the seafood industry followed. On December 18, 1995, the Food and Drug Administration published the 21 CFR 123 for the safe processing and distribution of fish and fishery products.
The seafood industry plays a significant role in the economy of the US alone. The market size of the seafood industry in 2021 has been estimated to have reached the value of 253 billion US dollars. This includes the import and export of seafood and seafood products across the world. The size of this industry shows how significant implementing food safety can be.
As seafood is a part of the daily lives of the members of the community, food safety in handling and preparing seafood has become even more critical. The mandatory HACCP plan implementation is the US government's approach to ensure that food businesses inside and outside the country will only be processing products with high standards for food safety.
Learn the specifics of a HACCP for seafood production and distribution in this article.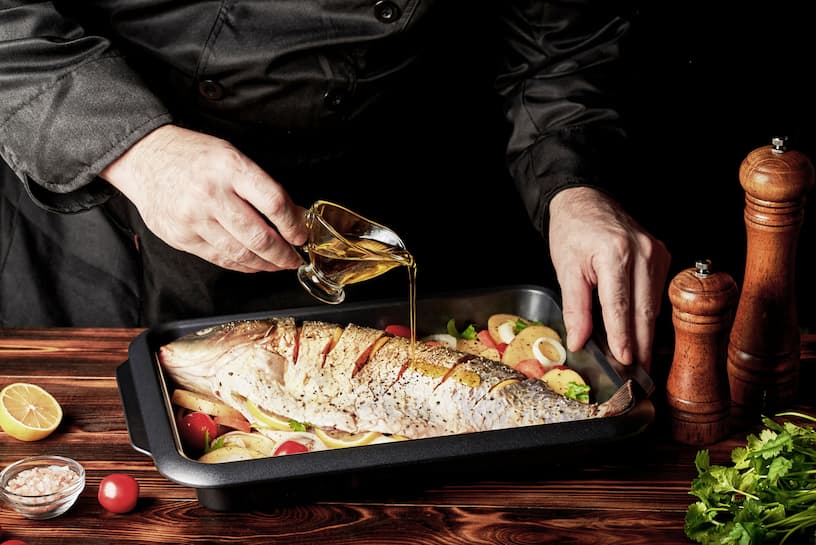 What is seafood HACCP?
The seafood HACCP is a systematic approach to guide food businesses dealing with seafood on how to minimize the risk of foodborne illnesses and increase consumer confidence. A seafood HACCP plan involves conducting a hazard analysis and implementing appropriate control and preventive measures throughout the production system of every seafood business.
As seafood poses such a high risk of foodborne illnesses, you must ensure that any seafood handled by your company is safe when being processed. The mandate for seafood businesses to implement a HACCP plan is under the Code of Federal Regulations, particularly the 21 CFR part 123. Under this food safety regulation, all seafood processors are required to comprehensively identify any potential hazards and food safety issues that can occur at any point of production.
With the influence of the Food Safety Modernization Act of 2011 (FSMA), this rule includes requiring importers of particular seafood products to follow the food safety rules in effect.

To identify whether your food processing business qualifies for a seafood HACCP plan, here are some examples of seafood products under the food safety regulation:
Fish (freshwater, saltwater, farmed, and wild)

Smoked fish

Shrimp, crab, and lobster (including imitation crabmeat)

Eel, squid, and octopus

Fish oil

Shellfish (mussels, clams, oysters, and scallops)

Canned tuna, crab, sardines, mackerel, anchovies, etc

Sea urchin

Fish sauce

Caviar

Turtle, frog, alligator, and shark

In addition, your team needs to have proper HACCP training if you are working in the seafood industry. This seafood HACCP training requirement must be conducted by a qualified individual and the program must be accredited by the current Seafood Alliance committee. The law also requires that seafood processors maintain updated and adequate records of food safety and hygiene practices training.
Why does seafood have its HACCP process?
Seafood HACCP regulation was introduced due to the specific threats to food health and safety posed by seafood as opposed to other food products. For example, one part of your HACCP plan and HACCP training will be testing the water that your seafood is coming from. If the water is too toxic, your seafood is no longer safe to be processed and sold.
Seafood is susceptible to a range of contaminants, and therefore seafood HACCP plan is a must for your team. The particular HACCP system established for the seafood industry aims to ensure that the foods that consumers get are safe and free from food safety hazards. The seafood industry employs different operations as with others. As such, a stringent HACCP plan designed to address the potential seafood safety hazards from this industry has been formulated.
What are the risks associated with seafood?
The main food safety risk associated with seafood is foodborne illnesses caused by microbial growth in seafood products or naturally occurring toxins. Any illness from seafood is usually related to improper harvesting, handling, storage, or preparation. This is one of the reasons that a specific HACCP plan and HACCP training must be implemented when working with seafood.

Particularly, the following seafood food safety hazards are considered when making a HACCP plan for a seafood company:
Biological contamination

Parasites
Pathogenic bacteria
Viruses

Natural toxins
Chemical contamination:

Pesticides
Drug residues
Unapproved food additives

Physical hazards

Seafood is a well-known source of many food safety hazards. Of these hazards, microbiological ones are most noted. These may include Bacillus cereus, Clostridium botulinum, and Norwalk Virus. Natural toxins such as excessive histamine levels, tetrodotoxin, and ciguatera toxin have also been reported to cause significant foodborne illnesses.
Another significant risk related to seafood is that many seafood products are consumed raw or partially cooked. These are the most likely to cause foodborne illnesses and must be stored, prepared, and sold in the safest way possible.
Are there exemptions from the seafood HACCP regulation?
There are some exemptions from the seafood HACCP regulation. Foodservice and retail establishments including fishing vessels and transporters that only prepare seafood for storage are not mandated to create their own HACCP plans. The receiving company that will use the seafood products provided by these institutions is subject to a thorough inspection. If you are unsure whether or not you must follow seafood HACCP regulation, contact your local regulatory authority for more information.

What regulations apply to seafood HACCP?
As mentioned, the whole Seafood HACCP Regulation is under the 21 CFR part 123. This food code contains all necessary components of a seafood HACCP plan. In addition to the actual HACCP regulations, fish producers and processors are also subject to adhering to 21 CFR part 117 or the Current Good Manufacturing Practice and Preventive Controls Regulations. This regulation determines if a seafood processing facility, processing techniques, handling practices, and controls adhere to the minimum sanitary conditions set by the FDA.

Under the 21 CFR 123 section 11, seafood processors are also encouraged to have minimum sanitation control procedures. This includes the following components:
Sanitation Standard Operating Procedures. This includes specific guidelines on how the fish processor will achieve sanitary conditions through handling practices.
Sanitation procedure monitoring. This involves a set of procedures to monitor daily sanitation operations including the frequency of practice and standard values. Sanitation monitoring must include the following operations related to seafood processing:

Ice and water safety and food contact surfaces
Prevention of cross-contamination
Food hygiene practices
Protection from adulteration
Proper labeling
Control of employee health
Pest management

Sanitary control procedures records

In addition, this regulation also provides training requirements. These training requirements involve minimum standards for manufacturing, packing, and holding seafood products. The required training must involve education and on-site training necessary for the mentioned operations.

Components of a seafood HACCP plan
A seafood HACCP plan is built similar to any other HACCP system. It is based on the 7 major HACCP principles and applies all preliminary steps. Under the seafood HACCP regulation, the FDA requires every seafood processor to come up with a HACCP plan specific to the following provisions:


All locations where seafood products are processed by the manufacturer; and
Each type of seafood product the processor has.

Under the second provision, types of seafood and the processing methods can be grouped into classifications if similar HACCP operations can be applied to them.

A seafood HACCP plan must contain the following components:
Accurately identified hazards and proper analysis.
List of critical control points (CCPs) for each identified food safety hazard which includes:

CCP for food safety hazards within the processing plant environment;
CCP for food safety hazards outside the processing plant environment including hazards during harvest;

Critical limits that must be met for each CCP.
Steps, frequency, and other directives for monitoring procedures for each CCP;
A corrective action plan in case of deviation in the critical limits of each CCP;
Verification procedures for corrective actions; and
A recordkeeping and documentation system for all monitoring and verification procedures.

Under the verification requirements, the seafood HACCP plan must include an overall verification system of the whole plan as well as a reassessment. This step aims to ensure that all food safety hazards are properly identified and analyzed. The verification and reassessment procedures must be conducted by a qualified food safety expert with substantial knowledge of the seafood industry.
In terms of recordkeeping, a seafood HACCP plan must maintain records on the soundness of the monitoring system, equipment adequacy, in-house evaluations, import documents, and other significant paperwork.
Additional requirements for seafood importers
Previous reports have established that the US is one of the biggest importers of seafood products. As such, the need to establish food safety laws and regulations on the importation of seafood and seafood products is significant for the country. Following the FSMA, all importers are required to provide proof that they are implementing the same level of stringency when it comes to their food safety practices.

The 21 CFR 123 provides regulations and requirements for seafood processors aiming to achieve Importer Verification. Under this regulation, every importer of seafood and related products must fulfill either of the following:
1. Every importer must obtain the products from a country with an active memorandum of understanding with the FDA. This document ensures that the foreign source of the seafood products has complied with an equivalent level of safety inspection system as the US.
2. Every importer must have a written verification process for minimizing the food safety hazards and ensuring that their products uphold the same level of quality as those in the US. This procedure must include the following components:
Complete product description form and company details.
Verification procedures for HACCP and sanitation monitoring.
Proof of testing on seafood products (Certificate of analysis).

In addition to these requirements, an importer is allowed to hire a third-party consulting firm to affirm their competency in terms of importing. Certificates and other records must be properly presented in the English language as proof of satisfactory completion of requirements similar to inspection conditions as with the requirements of the domestic country.
What type of training is needed for seafood HACCP?
The FDA has joined and aligned its requirements with the Seafood HACCP Alliance and has formulated a set of training programs and food safety education efforts to fulfill the requirements of 21 CFR 123. In an attempt to create a uniform system, the FDA included in its preamble that it will not recognize any other program structures that do not adhere to that of the Seafood HACCP Alliance. For every seafood processing facility, at least one HACCP-trained individual must be present.
On-site training built by the Seafood HACCP Alliance lasts for 3 days. This training program offers two options.
Basic Seafood HACCP training course. A training program that is taught in-person over 2 and a half to 3 days for a total of 16 hours. This course is facilitated by an accredited Seafood HACCP Alliance instructor and is based on their schedule. It covers all the basic principles of HACCP plan-making and implementation as well as proper and current seafood safety controls.
Basic Seafood HACCP - Segments. This training course is subdivided into on-site and online programs. This course provides the same information and training manual as with the first option but includes on-demand training from the Seafood HACCP Alliance instruction.
In addition to these courses, the Seafood HACCP Alliance has recently released an online HACCP training course for seafood processing firms. This program was developed in 2020 to serve as an alternative way for food handlers to gain access to proper training. An online HACCP training is usually self-paced and is accompanied by examinations that gauge the competence of trainees.
Read more about the difference between a HACCP certification course and a HACCP training course.

What to expect during a seafood HACCP inspection?
During a seafood HACCP inspection, the FDA inspectors usually focus on the sanitation conditions and food handling practices of a seafood processor and their employees. It has been emphasized in the past as well that end-product testing for microbiological soundness is conducted by the FDA inspectors. In recent years, the focus of the FDA has shifted towards the food business' implemented controls in preventing food safety hazards.
During a HACCP inspection, the FDA food inspector is expected to review your whole seafood HACCP plan and perform on-site inspections. The on-site inspections at fish processing plants are performed to evaluate the effectiveness of the HACCP implementation process and to verify its efficiency. Records and documents will also be reviewed to verify monitoring procedures and any corrective action record.
Although the implementation of the seafood HACCP program is primarily organized by the FDA, local food safety agencies can perform inspections. Collaboration between the national and local food authorities is common to minimize the number of times for an inspection and increase their efficiency.
To help you get through the main topics of the seafood HACCP plan, here are some of the most common inquiries that people ask:
What is HACCP in the seafood industry?
HACCP system is a systematic concept in the food industry that aims to accurately identify and analyze food safety hazards and set up preventive controls to eliminate them or prevent them from occurring. The seafood industry mandates all seafood processors to have a HACCP plan and properly implement it throughout their operations.
Who is required to have a seafood HACCP plan?
All processors and distributors of fish and other seafood products are required to implement a HACCP system in their operations.
Why is HACCP necessary in the seafood industry?
The HACCP system is a preventive program that aims to control, if not eliminate, food safety hazards in the food industry. Its implementation ensures that the seafood and seafood products circulating in the country are safe to consume.
When did FDA mandate HACCP rules for all seafood?
The mandate for all seafood processors to have an appropriate HACCP plan was published as a final rule on December 18, 1995, under the 21 CFR 123, otherwise known as "Procedures for the Safe and Sanitary Processing and Importing of Fish and Fishery Products".
Is seafood exempt from FSMA?
Some parts of the seafood industry are excluded from the FSMA rules. For example, seafood importers are not required to adhere to the Foreign Supplier Verification Programs for importers of food for humans and animals rule given if the importing foreign supplier complies with the FSMA rule.
Is seafood regulated by the FDA?
Yes. The FDA is the responsible government agency that oversees the safety of the nation's seafood resources domestically and those imported into the country.
Does FDA inspect seafood?
Yes, it does. The FDA imposes a mandatory inspection system for all seafood processors including retail food stores for domestic and international businesses.
FoodDocs and HACCP plan
If you are new to the food industry, writing a HACCP plan is one of the most challenging tasks before you open your food business. Making a HACCP plan is a compliance prerequisite for you to operate especially if you are in the seafood business. Operations that are specific to a fish processing plant make it even trickier than a regular HACCP plan. Provisions based on a food business dealing with seafood and seafood products are identified by the FDA and must be fulfilled.
Accurate identification of food safety hazards in seafood processing is the main key in making an effective HACCP plan. In addition to attending training courses, you can also hire a food safety specialist to help you make your seafood HACCP plan. But what if we told you that there is a faster way for you to create an accurate and comprehensive HACCP plan in just 1 hour?
At FoodDocs, our built-in HACCP plan builder was made to help food business owners create a HACCP plan. The whole process only tasks an average of 1 hour and only involves answering a few basic questions about your food operations. With artificial intelligence, our system automatically generates a complete HACCP plan fit exactly for your everyday operations.
With our built-in HACCP plan builder software, you can get the following documents:
Basic flow diagram chart of your seafood processing operation.
Accurately identified hazards and proper risk analysis.
Established and well-defined critical control points with corresponding critical limits based on your operations.
A corrective action plan in case of deviation from critical limits.
Monitoring procedures and forms.
Verification procedures for your HACCP plan and everyday operations.
Recordkeeping and documentation process.
Using our built-in digital HACCP plan builder, you can satisfy all HACCP plan requirements for a seafood processor. Our system recognizes the most important food laws and regulations and can help you attain compliance within 1 hour. Get the food safety expertise of specialists who have worked in the industry for years with our built-in software. Make your HACCP plan-making process 500x faster than the traditional method.
The digital HACCP plan that we generate for you is ready for implementation. In case you need to add information such as operations that are unique for your food business, you can customize all digital documents that we provide for you. You can also download and print your digital HACCP plan to comply with the traditional requirements of your local food agency. At FoodDocs, we aim to make HACCP compliance attainable for all food businesses.
Ensure that your operations are up to par with the most significant food safety laws with our HACCP plan builder software. Try our free, 14-day trial and get compliant in just 1 hour.