HACCP plan
How to get a HACCP plan in 1 hour?
Whether you are serving or selling food in a cafe, bakery, ghost kitchen, hotel, shop, supermarket, or are running your ...
---
Whether you are serving or selling food in a cafe, bakery, ghost kitchen, hotel, shop, supermarket, or are running your business from home - you need to make sure your food is safe to eat. But what is the best way to guarantee that?
As a food handler, you need a HACCP plan for two reasons. Firstly, because a HACCP plan is legally required, also by the FSA (Food Safety Authority). And secondly, to keep your business growing.
With safety being the number one keyword for every single human in 2021, you can keep your business flourishing by guaranteeing the highest level of food safety to all your customers. And that's where HACCP plans and food management systems come into play.


What is HACCP and why is it necessary?
A HACCP plan is a comprehensive and important document that is sometimes considered intimidating or boring. But with the help of software such as FoodDocs, this is not the case! Creating your HACCP plan has become easier and more accessible than ever before.
HACCP stands for Hazard Analysis and Critical Control Point. It is an internationally recognized system that aims to reduce the risk of safety hazards in food. A HACCP plan is a document that describes all the food-related activities, processes, and the associated dangers. And tells you how to deal with them in a way that is compatible with your business peculiarities. Recording how you process your food is essential to ensure the safety of your customers, and creating a HACCP plan helps your team to document all of your food safety procedures.
It may seem like a lot of effort, but your HACCP plan actually serves a very active, everyday purpose – to have people coming back to your establishment. By following a HACCP plan, or becoming HACCP certified, you build trust in your brand, and this, in turn, makes it more likely for you to have return visitors. You also need to have a HACCP plan before starting your food business and have your HACCP plan periodically reviewed if there are changes in the production processes.

Keeping your customers safe
A joint WHO/FAO expert committee on food safety has asserted that illness due to contaminated food is probably the most widespread health problem in the modern world.
Did you know that an astounding 48 million people are estimated to be affected by foodborne illness every year in the USA? Out of these people, 128,000 get hospitalized and around 3,000 people die. All these cases are caused by the inability to control food hazards during some specific point in the food manufacturing, processing, or handling process.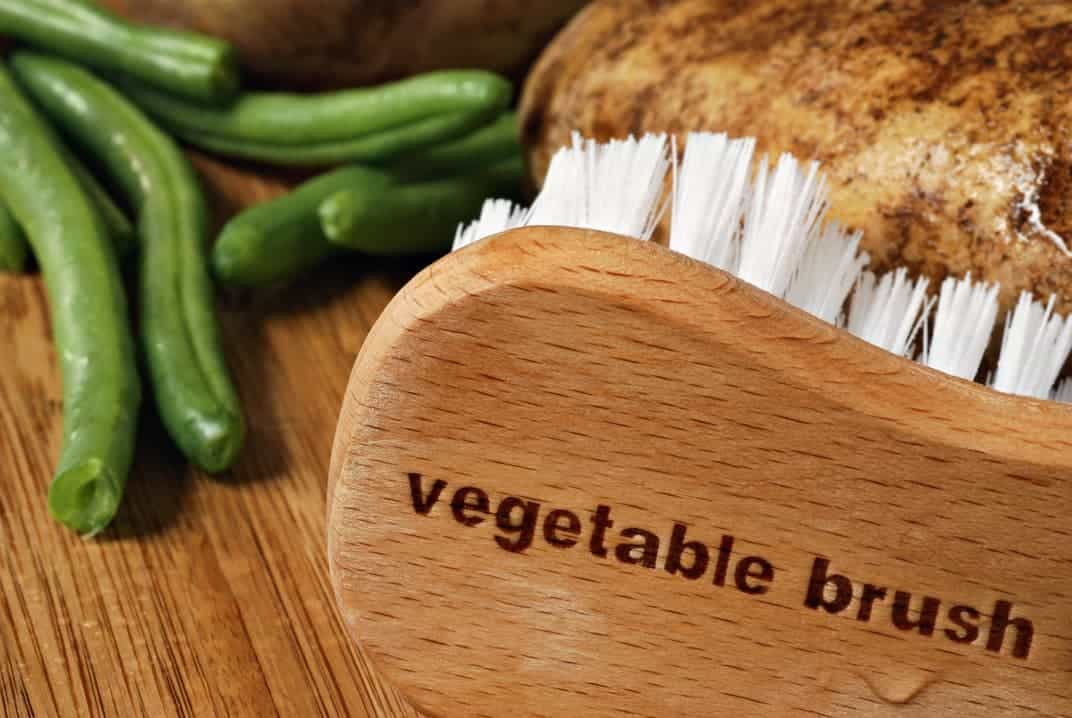 As a food handler, you need to be able to evaluate every food safety hazard on a daily basis, to ensure that the food you serve is safe for the consumers. Following a HACCP plan is the simplest and safest way to avoid unnecessary issues or even tragedies.

What does a HACCP plan include?
A HACCP plan is based on the seven HACCP principles that ensure your food is kept safe throughout its life cycle, from raw material production and handling to manufacturing, distribution, and consumption. If you are just starting out trying to create a HACCP plan, you can check out FoodDocs' free HACCP plan templates to help you on your way!
• Principle 1: Conduct a hazard analysis
Here you will identify where your hazards come from and how big is the risk of each of them. If your company does not have the in-depth knowledge, you need to turn to outside help to get your hazard analysis done.
• Principle 2: Determine critical control points
In this stage, you will identify critical control points (CCPs). These are the points in your process where you can control the hazard to minimize, eliminate or reduce its effect to an acceptable level. You can use CCPs to monitor any single parameter, like a fridge temperature or a correct ingredient label.
• Principle 3: Establish critical limits
Now it is time to determine critical limits for each CCP. A critical limit's purpose is to determine whether a potential hazard (physical, chemical, or biological) remains within the acceptable value. If your set critical limits are exceeded, corrective action needs to be taken. For example, you should include critical limits in your HACCP plan documenting the maximum or minimum temperature, time, pH, or water activity for all of your foods. Corrective actions will be defined at a later stage of your HACCP plan.
• Principle 4: Establish monitoring procedures
t is not enough to know what needs to be measured but also when to measure it. Your CCPs need constant monitoring. This way, when they go over the set limits, you can react quickly. Your monitoring sheets will always be inspected by an auditor, so you must keep them up to date.
• Principle 5: Establish corrective actions
When your monitoring procedures are in place, you next have to establish corrective actions. Corrective actions are the actions you need to take if your CCPs go over a critical limit. Some examples of corrective actions are determining when you should throw out spoiled food, when you should turn away a bad delivery, or at what stage it is still safe for you to transfer perishable food to a refrigerator.
• Principle 6: Establish verification procedures
This is the stage where you make sure that your HACCP plan stays effective and helps to prevent potential hazards. You will establish necessary procedures to guarantee that every corrective action works the way it was intended, that the thermometers are measuring correctly, etc.
• Principle 7: Establish record-keeping and documentation procedures
And as a final step, you will determine which documents and records to keep. Some of these documents are required by the law, depending on your business.


How do HACCP principles help my business?
It makes your product safe
Since a HACCP plan is designed to control all likely biological, chemical and physical food-safety hazards, it starts with an overview of your business's location and of the rooms where food handling takes place.
No one wishes for pathogenic bacteria to spread from raw food to other food and to surfaces. This is why identifying all possible food safety hazards is placed at the beginning of your HACCP plan: ensuring you're working in a hygienic environment is the first step to preventing product contamination.
You know what to do when something goes wrong
Your HACCP plan outlines exactly when, and what corrective actions must take place when issues arise. This includes acquiring, preserving, and cooking raw materials, to delivering them to the consumer. All critical control points for your business will be fixed in your HACCP, so you can be sure that control can be applied to prevent, eliminate, or reduce the hazard to an acceptable level.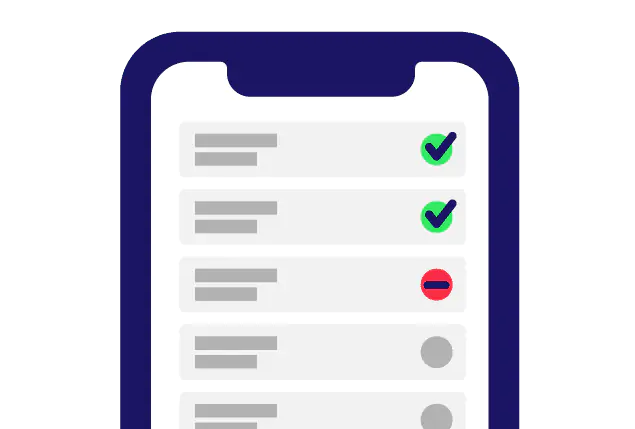 Whether you are selling vegetables in your garden or are an established retail chain, the technological schemes and production process descriptions help you thoroughly analyze the potential threats and take actions to address them.
These preconditions can be anything, like what cautions are taken to avoid employee hair or jewelry getting into food? What cautions are taken to prevent food from deteriorating due to incorrect temperature or broken packaging? What happens to the food when refrigerators stop working or there is a power outage?
It helps everything run smoothly
Implementing a HACCP plan helps to guarantee that your products are always top-quality. As a food handler, following the seven principles of HACCP gives you clear food safety guidelines to regularly carry out pest controls, laboratory analyses, and get ready for audits.
As you know, it is also compulsory to write down the temperatures of all your refrigerators and the preparation times of ready-to-eat foods, in other words, to fill out the monitoring sheets. All that and much more are covered in your HACCP plan. No more worrying about the health inspector knocking on your door!


How long does HACCP take?
To create a HACCP plan, you usually need to hire a food safety supervisor or a consultant who provides you with all the required documents. Food safety supervisors will also charge a considerable amount of money. And take time. It can take up to 4 weeks to get the HACCP done while you don't have much control over the process.
It all takes time because getting your HACCP from a food safety consultant can't be done in one go. It takes a month on average to compile a comprehensive HACCP plan.
Here are some of the things you need to do during that process:
book an on-site meeting,
go through an interview,
create risk assessments for potential hazards,
make a decision tree,
create a plan of premises,
create a plan of equipment,
create plans for water, sewerage, etc.


Is getting a HACCP plan difficult?
When you need to conduct a hazard analysis, one of the hardest challenges a food company faces is the lack of in-depth knowledge when it comes to assessing the components in your processing chain.
Big companies tend to put together a team of experts for creating their HACCP plans while in small businesses it usually becomes a one-person job. Without previous HACCP planning experience, you often need to use external experts who cost hundreds of euros or dollars.
Although the application of HACCP has been proven effective in protection against food-related illnesses and mishaps, food handlers find their HACCP plans difficult to make and difficult to implement.


FoodDocs: 1-hour to your HACCP plan
HACCP has been described as the most viable means for preventing food-borne diseases yet devised. With a digital FoodDocs system, you can create your HACCP plan in 1 hour - by yourself, at any time that suits you. And what is even better?
The platform works as a central knowledge base for your entire staff. Everything happens in one place, from learning about each critical control point to filling in your daily, weekly, and monthly monitoring sheets.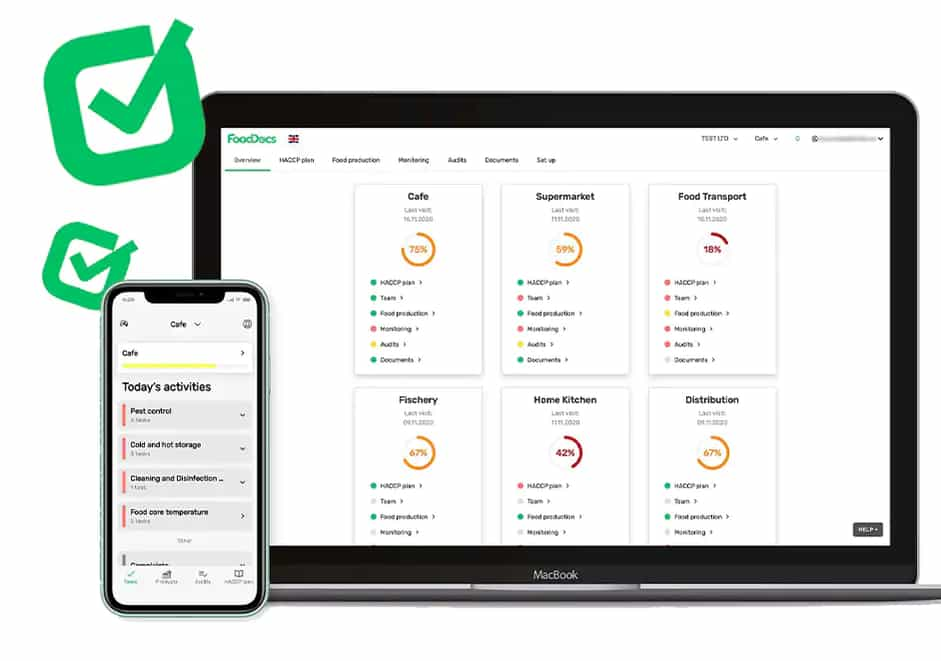 FoodDocs is a new and innovative food safety solution helping you to:
cut down on costs,
switch to digital monitoring & save time on paperwork,
ensure traceability,
monitor food-related safety processes in real-time,
manage your team from one place,
maintain efficient food safety systems as you go along.
FoodDocs even supports you after all compliance documentation is completed.


How does the 1-hour magic work?
FoodDocs uses machine learning to make food safe to eat for everyone. By answering simple questions, our AI compiles the food safety documents you need to submit to your local authority. What kind of questions? Straightforward questions, like:
what is your business type,
what raw materials are used,
what kind of food you sell,
how big is the volume,
what duties do you have in your business?
As a virtual food safety specialist and a management system, FoodDocs even compiles the most complicated documents, like flow charts, hazards assessment, monitoring sheets, etc.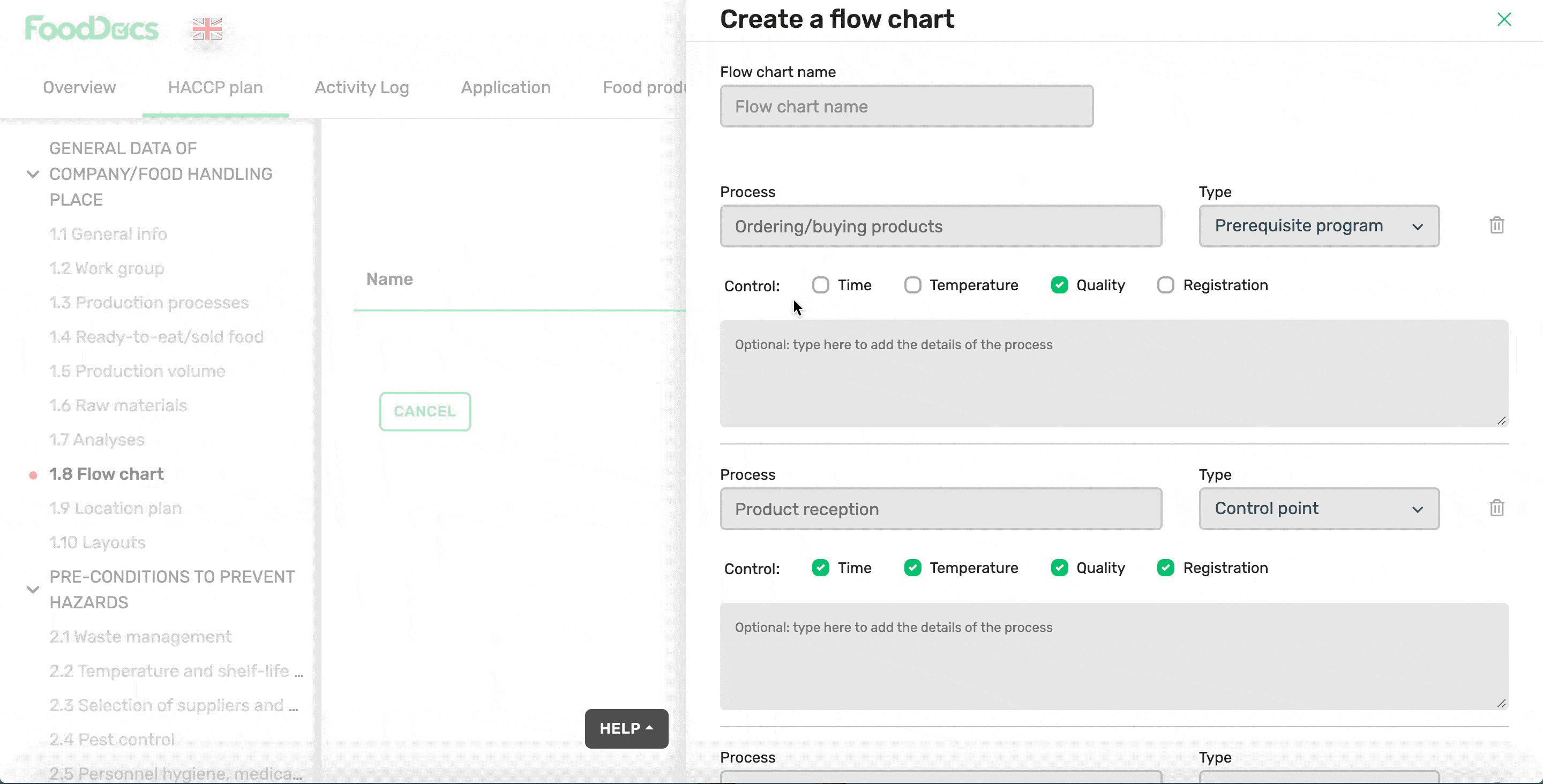 The platform has a built-in solution for creating different plans - waste, premises, water, and sewerage plans. You can create them easily with our built-in tool, just by dragging all the needed points and arrows onto the plan. There is no need to use special designer tools or interior design programs.
It is a unique and amazing solution that makes FoodDocs 500 x faster than a traditional paper-based HACCP plan.
Digital HACCP as a way to a great reputation
The existence of your HACCP plan and its compliance with the actual situation is controlled by governmental inspectors (food safety supervisors and food safety consultants) at least once a year in every food handling business.
Companies often find the daily management of paper HACCP plans complicated and inconvenient. Since the HACCP plan is usually over 100 pages long, it is hard to know and remember everything. This, in turn, poses a constant food safety threat since all food safety hazards can't be prevented, eliminated, or reduced.
With FoodDocs, you don't need to print out your HACCP plan at all. You can keep it digitally, since it is faster, cheaper, and accepted by the authorities just like the paper version is. It is also easier to show the digital HACCP plan to your staff.
Available data
Depending on the range of your activity, the volume of your HACCP plan can vary. This is why paper HACCP plans can sometimes look scary – they are big, heavy, and dusty items.
No one likes spending hours and hours compiling bureaucratic papers, so getting a digital HACCP plan eliminates the need to enter data that is technically already there and makes your data immediately available for processing and evaluation.
More space
Since you need to keep your HACCP records for up of up to five years (for audits), opting for a digital HACCP also gets rid of the need to have extra storage space available in your cafe, restaurant, ghost kitchen, or your retail food establishment.
Safe and reliable
Additionally, it goes without saying that paper HACCP plans are more susceptible to accidental manipulation, misplacement, or any purposeful fraudulent activity, making food safety issues more difficult to detect and for defective products to reach consumers in an easier way.
Keeping things on paper can help to ruin your establishment's reputation by accident. A digital HACCP helps to make sure everything gets logged properly and that you can always rely on your HACCP data.
Make food safety benefits work for your business
A HACCP plan is much more than a document for inspectors and supervisors.
FoodDocs is a business tool that helps you stand out from your competitors by building a brand or an establishment known for its safe food and trustworthy approach.
Using FoodDocs helps you make sure that you are compliant with all food safety laws. And it also helps to protect you against possible legal actions caused by highly sub-standard food experiences.
By giving every team member a chance to instantly address food hygiene non-conformance, FoodDocs lets you:
reduce hazards from raw material,
reduce chemical and physical hazards,
maintain high food hygiene standards,
suggest corrective actions if something goes wrong,
streamline processes and communication,
guarantee traceability of all data collected.
In other words, FoodDocs is a tool that helps you focus on your main area of business whether it is providing food experiences to diners or making sure children get nutritious lunches on a daily basis in school.
As a handy and user-friendly tool, FoodDocs makes everyone in your team accountable, and through it, provides a better experience for the customers of your business.
As a bonus, you will also spend less time educating your staff because you can add all relevant instructions and videos to the task, making briefing new staff members quick and effortless.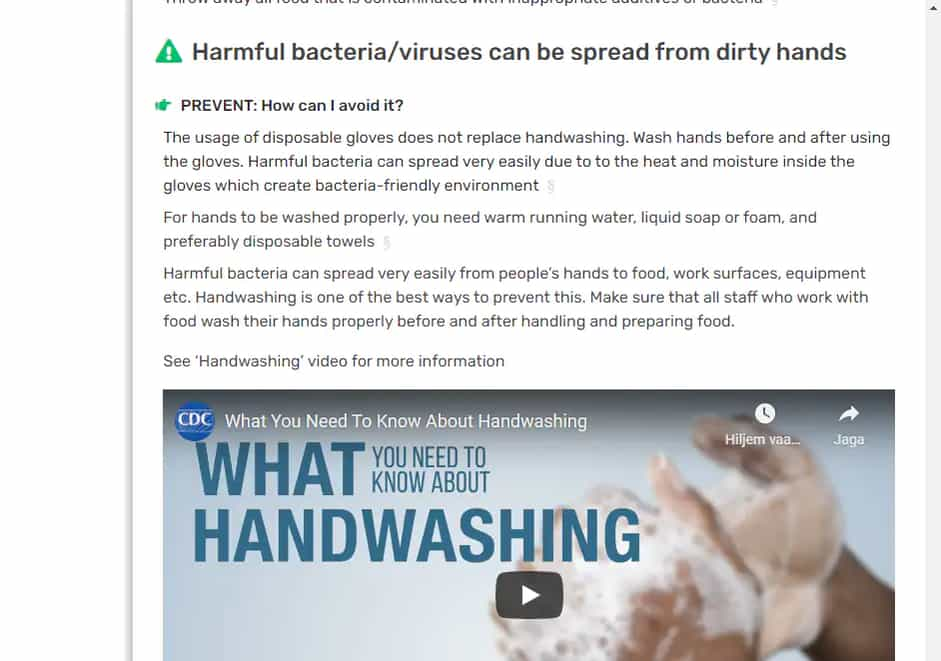 Your smart assistant in the kitchen
FoodDocs was created to give everyone a chance to eat safe food. And to help food business owners regain their time. Every establishment that serves or sells food can benefit from the features FoodDocs has to offer:
Quick and personal. As a digital food safety platform, FoodDocs allows you to compile a HACCP plan in an hour instead of undertaking a month-long paper management marathon through corrective action and hazard analysis landscapes.
The program creates a HACCP plan according to the business activities and your current requirements based on 8 questions. It is as simple as that.
Notifications. FoodDocs thinks for you. The system reminds you of obligations and deadlines that you might otherwise forget. It can ask you to monitor food core temperatures, take food analyses, order pest controls, organize hygiene training, renew staff's health certificates, remind you of approaching audits, all in real-time.
Reduced risk of food contamination. As a digital system, FoodDocs gives you the necessary flexibility to effectively monitor hygiene practices which helps to reduce the risk of food contamination.
With FoodDocs you can be sure all your food safety documents are compiled according to the law and that all the necessary requirements are always fulfilled. And the best thing? Getting your HACCP done in one hour means that your business will be ready to take off as soon as you are.