Food safety
How can an operation prevent cross-contamination in a self-service area?
Self-service establishments reduce the hassle of waiting in lines and give customers direct access and contact with the ...
---
Self-service establishments reduce the hassle of waiting in lines and give customers direct access and contact with the displayed food.
The food handler regulates and facilitates how customers act in a self-service establishment.
Customers must be given adequate instructions on what to do and what not to do in a self-service area.
A self-service type of restaurant or supermarket has an added level of cross-contamination risk. In a dish-out service restaurant, only the food handlers would have direct contact with equipment and the food. For restaurants using a buffet style, or in cafeterias, customers get to serve themselves the food that they want. This is also the case for retail self-service establishments such as deli shops, bakeries, supermarkets, and self-service kiosks.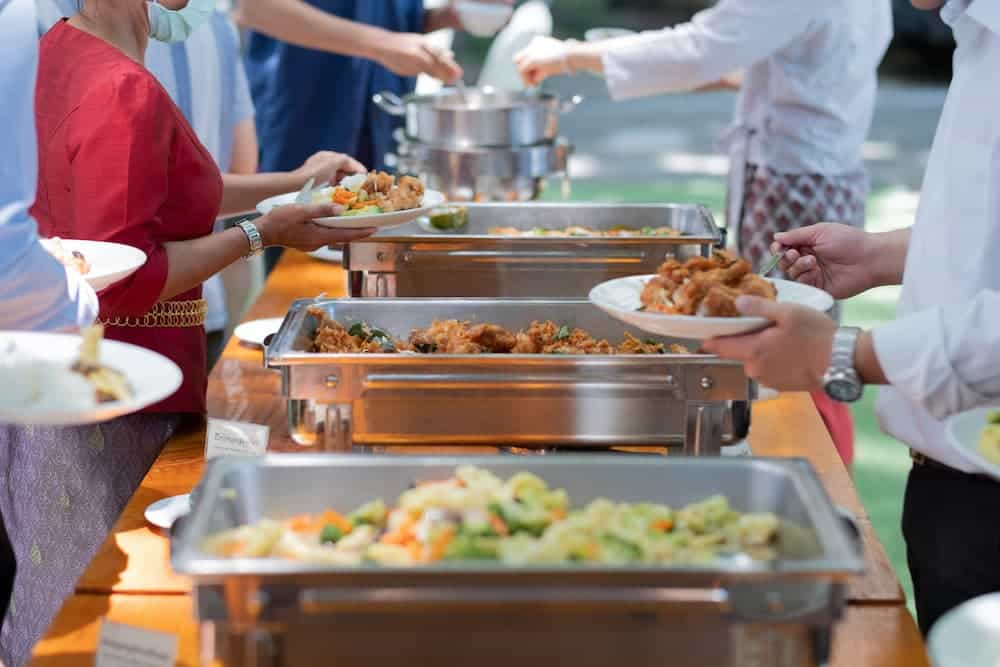 In the process, they can potentially contaminate the whole batch of food. The orientation of food handlers when it comes to food safety must be aligned with the operations in a self-service area. Food handlers must also be properly aware of how can an operation prevent cross-contamination in a self-service area.
Buffet-style service or retail self-service establishments follow slightly different guidelines for food safety and some additional safety rules for a contamination-free process. This type of food service works differently as customers are given more access to cooked food and consumer self-service operations.
Buffets commonly have a wide range of foods being served; from cold food items in salad bars to hot held stews and soups. As such, they must also be guided in addition to training food handlers in preventing cross-contamination. Both customers and food handlers share roles in keeping food safe, but it is the food handler's responsibility to guide customers.
Learn which operations are very important to maintain food safety in a self-service area from this article.
Why do we need to prevent cross-contamination?
Cross-contamination is one of the leading concerns when it comes to food safety in the food industry. Several foodborne illnesses are transmitted through cross-contamination and food allergies through cross-contact. Both events can spread food safety hazards and put the safety of consumers at risk. As this occurs, your food business may also be at risk of losing credibility and sales.
Food handlers are the most common spreaders of foodborne illnesses, especially without practicing food safety precautions. Cross-contamination can occur as a result of inadequate handwashing, using the same utensils for different products, or even with a slight touch from one food to another.
Food handlers are required to be oriented and trained on how to prevent cross-contamination and cross-contact from happening. In addition, they must also be trained in how to guide customers on how to prevent from spreading of foodborne diseases. Use appropriate tools to train food handlers in food safety, you can also try our food safety quiz.
The convenience that a self-service restaurant offers has been highly appreciated over the years. This type of service reduces waiting time and long lines which can somehow be offputting for some customers. Retail self-service establishments also give customers more choices when selecting their foods.
Despite the many convenience benefits, customers can become the spreader of foodborne illness in self-service areas, making buffet food safety a significant matter. When they use the same utensils in getting a new set of food, they create an additional food safety hazard and increase the risk of spoiling the whole batch of food which can then affect other customers. Cross-contamination can occur even with very small mistakes and it can put the lives of consumers at risk.
How can cross-contamination happen in a self-service area?
As explained, a self-service area gives customers more access to food as they choose from a displayed selection. This opportunity is also an added risk to the displayed food. As not all customers have adequate food safety knowledge, the chances of contaminating the food on display and affecting other customers are very likely. As such, it is the responsibility of the food safety team to protect public health.
During food service, the displayed food products can become contaminated as a result of the following actions and situations:
Food handlers and customers did not wash their hands before contact with food.
Customers chat while in line and in front of the food.
Unclean self-service areas.
Customers use the same dirty plates to get more food.
Customers use one utensil to get food from the food container.
Customers sneeze without covering their mouths.
Food handlers do not follow the proper procedures for adding new batches of food to the containers.
The lack of sneeze guards.
Touching the food and putting it back again in the container.
Unsupervised children in line.
Uncleaned food spills and leftover food on the food preparation table.
Displaying allergen-free dishes and those that have allergens together.
To help minimize these occurrences and only serve safe food, equipment such as protective gears and a barrier between customers and food must be installed in addition to properly guiding the customers.
Bacteria from customers can easily contaminate the dishes. Food handlers must be assertive when it comes to guiding customers and they must impose strict regulations. Foodborne illness outbreaks are very likely to happen in a self-service setup if the served food is not protected well.

How can operation prevent cross-contamination in self-service areas?
Proper orientation is key in preventing contamination of food in a self-service area. As a trained food handler, you cannot expect the customers to have the same level of knowledge in food safety as you do. That is why you need to provide them with the necessary information in avoiding cross-contamination. This objective can be achieved by providing enough materials for all customers and food handlers.
Here are a few important operations that can help minimize contamination in a self-service area:
Practice personal hygiene. This practice is a standard for any food handler and is always a part of every sanitation standard operating procedure (SSOP) of a food establishment. A food service employee working in a food establishment must present themselves in a clean manner, tied hair, clean nails, clean their uniform, wearing of facemasks or mouth guards, and regularly washed hands. Personal hygiene is part of every food handler's responsibility in a food establishment.


Use visual aids to guide customers. To help customers understand their responsibility in keeping themselves and their fellow customers safe in a retail self-service restaurant, you can provide posters, advisories, and other visual aids that are detailed enough for laymen. Always place these visual aids in an accessible location for easy recognition. At FoodDocs, we have compiled some of the most important food safety documents in our HACCP plan template hub. The best part is that they are all free.


Assign a food handler to the self-service table. To reinforce visual aids and facilitate the customer flow, your team must choose a dependable food handler who will monitor the self-service area. This food handler will be responsible to spot customers not following food safety protocols, and unsafe practices, and maintaining the quality of service. The assigned food handler must be knowledgeable about all of the necessary food safety practices for a self-service business. Instructions may include not allowing customers to eat while in line, ensuring that the utensils do not necessarily touch the food when not in use, administering using only clean dishes, replenishing display dishes, and facilitating children in line.


Provide a complete set of suitable utensils. To minimize the chances of food cross-contamination and cross-contact, separate utensils for each type of food must be provided. Similarly, there must be enough clean plates, cutleries, and serving utensils as the same dishes or dirty utensils cannot be used twice for serving. You must also provide a serving spoon holder to minimize the health risk of the spoon touching any unnecessary contact with food and food contact surfaces such as dirty dishes. This also applies to beverage stations that require clean beverage dispensers and fresh sets of glasses. Harmful bacteria can be easily transferred through unclean utensils.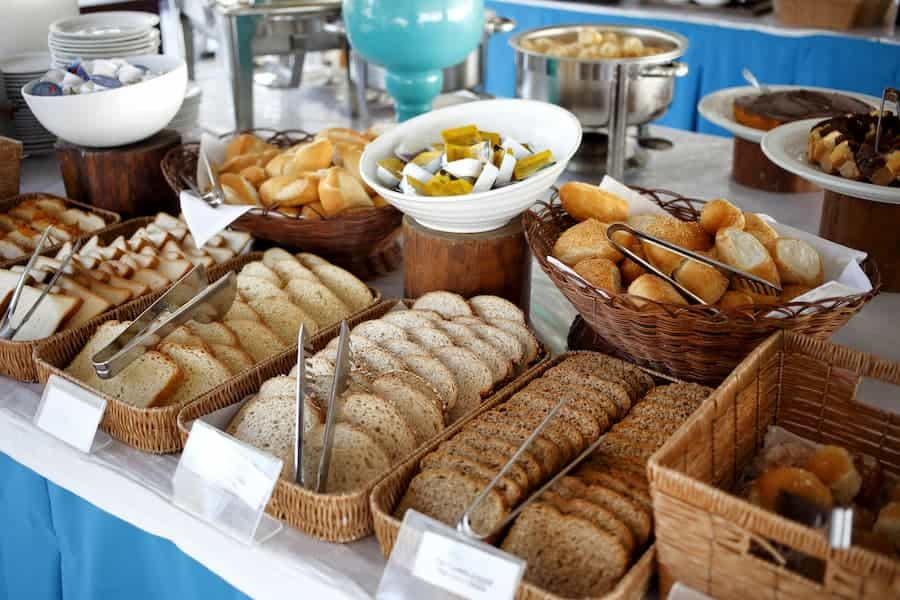 Install sneeze guards. Sneeze guards are a necessity for self-service restaurants. It prevents unfacilitated customers from contaminating foods. It allows customers to inspect and choose the food they like without having any direct contact with the food item. Customers must not be allowed to reach over the sneeze guards as this defeats the purpose of having a barrier.


If you touch it, you need to take it. Because the safety of all customers is at stake in a self-service setting, customers are not allowed to inspect the ready-to-eat food by touching it even with a utensil and then return it to the food storage containers. The general rule is that once you touch it or put it on your plate, you cannot put it back on the original containers. This also applies to retail self-service establishments such as walk-in bakeshops. Customers are given tongs or utensils provided for each product to prevent touching the food items. Once a customer picks the product, putting it back in the original container is highly discouraged. The food service workers must be vigilant with this type of food contamination as it is very common for undecided customers.

Maintain holding temperatures. Especially for high-risk foods such as leafy greens and meat dishes, proper maintenance of the holding temperature of food trays can minimize food safety risks in a retail food establishment. The correct temperature of the ready-to-eat foods was established to control the growth of dangerous bacteria and protect food from different sources of contamination. Employees must monitor every separate equipment for hot food holding.
All of these guidelines are important in preventing the transfer of contaminants to food and protecting customers from food poisoning. The mentioned guidelines are mostly applicable and designed for self-service restaurants. In retail self-service establishments, some practices may be a bit different.
For example, in a self-service supermarket area such as the grocery section, touching the vegetables or fruits is less sensitive than when touching prepared foods in a self-service restaurant. The similarities between the guidelines for retail and self-service restaurants is mostly seen in deli sections or raw meat isles. Sneeze guards and tongs are provided to minimize customer contact with the food.
In retail self-service sections of food establishments, food handlers are also assigned to minimize any risk of potential contamination. The assigned food handler must also monitor the storage conditions of displayed foods and ensure that they are out of the temperature danger zone. To ensure that these tasks are followed, you can use our digital solution at FoodDocs.
With our digital Food Safety Management System, monitoring can become more efficient. Our digital solution is equipped with a smart notification system that sends alerts to food employees whenever a task is due. Our system can also help food handlers intuitively record information with the help of artificial intelligence and machine learning program.
How can cross-contamination be prevented in a food service operation?
To prevent cross-contamination, you should be aware of how to properly perform food handling practices. The main preventive control against cross-contamination is having an adequate amount of knowledge on how they occur and their significance in the food industry.
Digital solution to cross-contamination
A self-service restaurant may require fewer food servers, but the level of food safety standards is similarly high as to other food service types. This means that the monitoring procedures required for self-service restaurants may be different but not less. You would need a food safety management that is versatile enough to work for a self-service establishment. At FoodDocs, we offer the best digital solution to this requirement.
Our digital solution is powered by artificial intelligence and a machine learning program. With just a few minutes, you can get smart monitoring forms that are equipped with an auto-fill feature to improve accuracy and save time. Some of the important monitoring forms that our system can automatically generate for you include the following:
Cold holding/ Hot holding temperature log. Use this automatically generated temperature log for monitoring the storage temperature of foods on display. Our system can automatically insert information based on previously logged data which will only have to be verified by your employee. This log is most useful in self-service types of restaurants.


Cooking temperature log. This monitoring form can be used to ensure that all served foods were cooked to the recommended internal temperatures, especially for raw meats and raw chicken.


Complete restaurant cleaning checklist. Any food establishment needs a set routine to maintain cleanliness in restaurants. A self-service area may need a few specific added steps for maintenance. Our system can easily be customized to accommodate any particular cleaning procedures for any food service operation in your business.


Equipment maintenance log. With our digital solution, you can also get an equipment maintenance log which you can use to monitor the status of your machines. This log can also be used to automatically coordinate concerns with the maintenance department for any faulty equipment.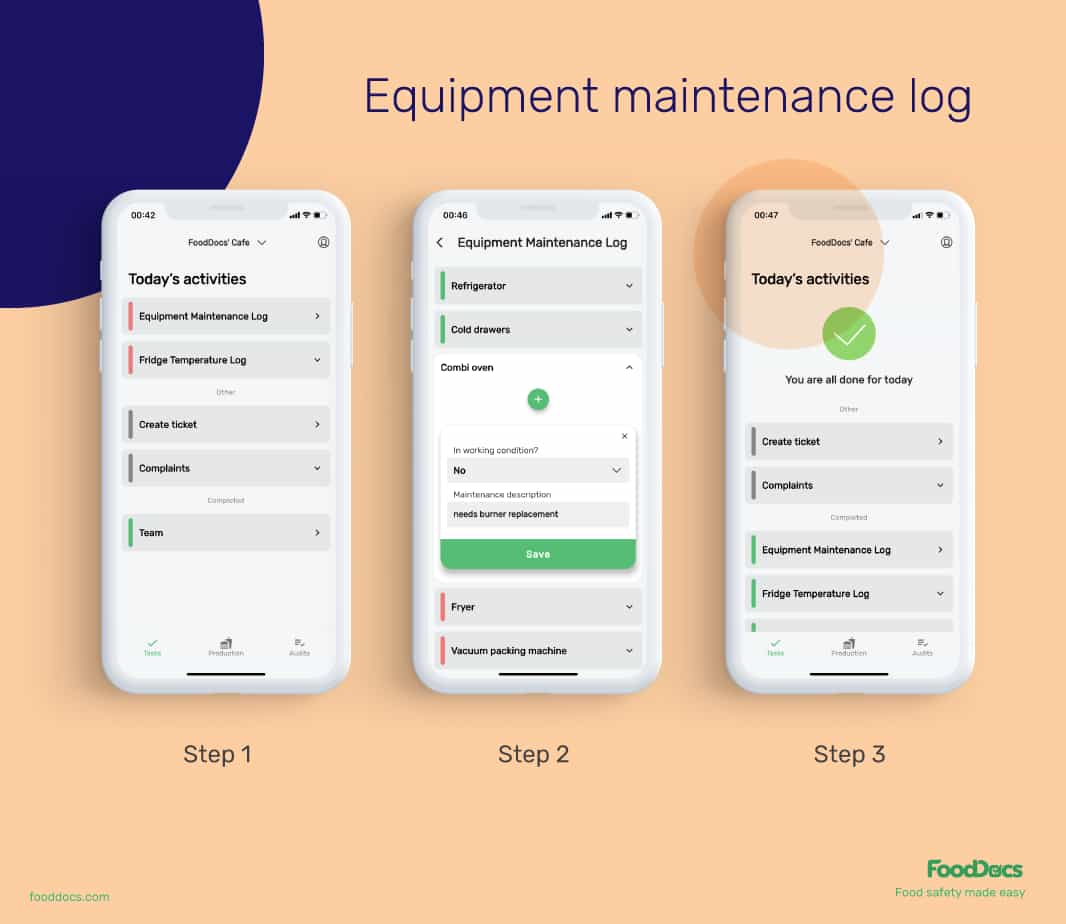 Equipment maintenance log from FoodDocs
Water testing log. You can use our system to create your own monitoring forms that can be attached with analysis reports from third-party testing laboratories.
Pest control audit. Our system can also accommodate an outsourced pest control audit checklist from your third-party partners. Additionally, you can also make your own pest control edits through our system which can be attached to each section of your food business.
In addition to automatically generated monitoring forms and customizable checklists, our system also features a smart notification system that can help remind food handlers of important tasks. Using a notification system, our digital solution can send alerts regarding the shelf life of a displayed product, when to measure the holding temperature, or if a displayed food needs to be disposed of.
With our smart notification feature, you can rest easy so that all important food service tasks in a self-service restaurant will be fulfilled. The best part about our digital Food Safety Management System is that you only need 15 minutes to accomplish a few questions, and our system will take care of the rest. The monitoring forms will be automatically generated based on the information you have provided to our system.
When you sign up for our digital solution, you also get a real-time digital dashboard that will show you an overview of your food safety operations. Use this to save 20% of your time from supervising your employees and easily detect areas that need improvement. Lastly, you also get cloud storage dedicated to your team, where you can save all your digital documents.
You can effortlessly maintain compliance when you choose to use our digital solution. You can experience all of our system features for free when you subscribe and avail of our 14-day trial. Experience how we can help you maintain compliance every day.