Food safety
Natasha's law guidance & checklist
Approximately 20% of the UK population is diagnosed with one or more food allergies.
---
Approximately 20% of the UK population is diagnosed with one or more food allergies.
Natasha's Law applies to food manufacturers of pre-packaged food for direct sale.
The law requires to indicate the allergens in the ingredients list on the label.
Natasha's Law prevents severe allergic reactions that come from the lack of information on the food package

.
The United Kingdom established a significant amendment to the UK food legislation on October 21, 2021, due to an unfortunate event concerning food labels. The amendment is more popularly known as Natasha's Law, which was named after a customer who suffered from a severe allergic reaction after consuming a particular food product she bought from Heathrow Airport. On a fateful day in June 2016, the world was shocked by the incident that caused a customer's death due to the lack of proper food labelling, which led to a severe food allergy reaction.
Food allergy reaction is a significant concern in the UK. In fact, at least 20% of its entire population is affected by allergies. Approximately 1-10% of UK children and adults report hypersensitivity to food.
The food industry plays a big part in protecting consumers by providing the necessary information to prevent unwanted food allergy-related cases. Natasha's Law emphasises this objective by clearly laying out guidelines for food allergen labelling.
Learn more about the food labelling law amendment, how it affects your food business and the most efficient digital solution to manage food allergens in your company through this article.
If you do not have time to read the entire article, jump to the last paragraph to learn how to comply with Natasha's Law using FoodDocs Food Safety Management System.
Checkout the list of topics that are discussed here:
What is Natasha's Law?
Natasha's Law is a food safety regulation amendment to The Food Information Regulations. The law specifically highlights labelling requirements for Prepacked for Direct Sale (PPDS) products, emphasising present food allergens among the complete list of ingredients.
Previous versions of The Food Information Regulations before Natasha's Law had no clear directions requiring food producers to identify any potentially allergenic ingredients in their ingredients list. Producers were only tasked to inform customers of potential risks of allergens and post signs that they are welcome to ask any allergen-related inquiries to the staff.
Upon establishing the law, last October 1, 2021, food producers of PPDS are now required to declare food allergens in their packaging thereafter clearly. The labelling must indicate if the product contains any of the 14 major food allergens or any of their derivatives. Natasha's Law applies to food businesses in England, Scotland, Northern Ireland and Wales.
The food safety law was a significant response from the government when Natasha Ednan-Laperouse, a 15-year-old consumer, died of a severe allergic reaction to repacked baguette she bought. The product she bought had no warning or indication on the packaging label that the product had sesame seeds, which Natasha was allergic to.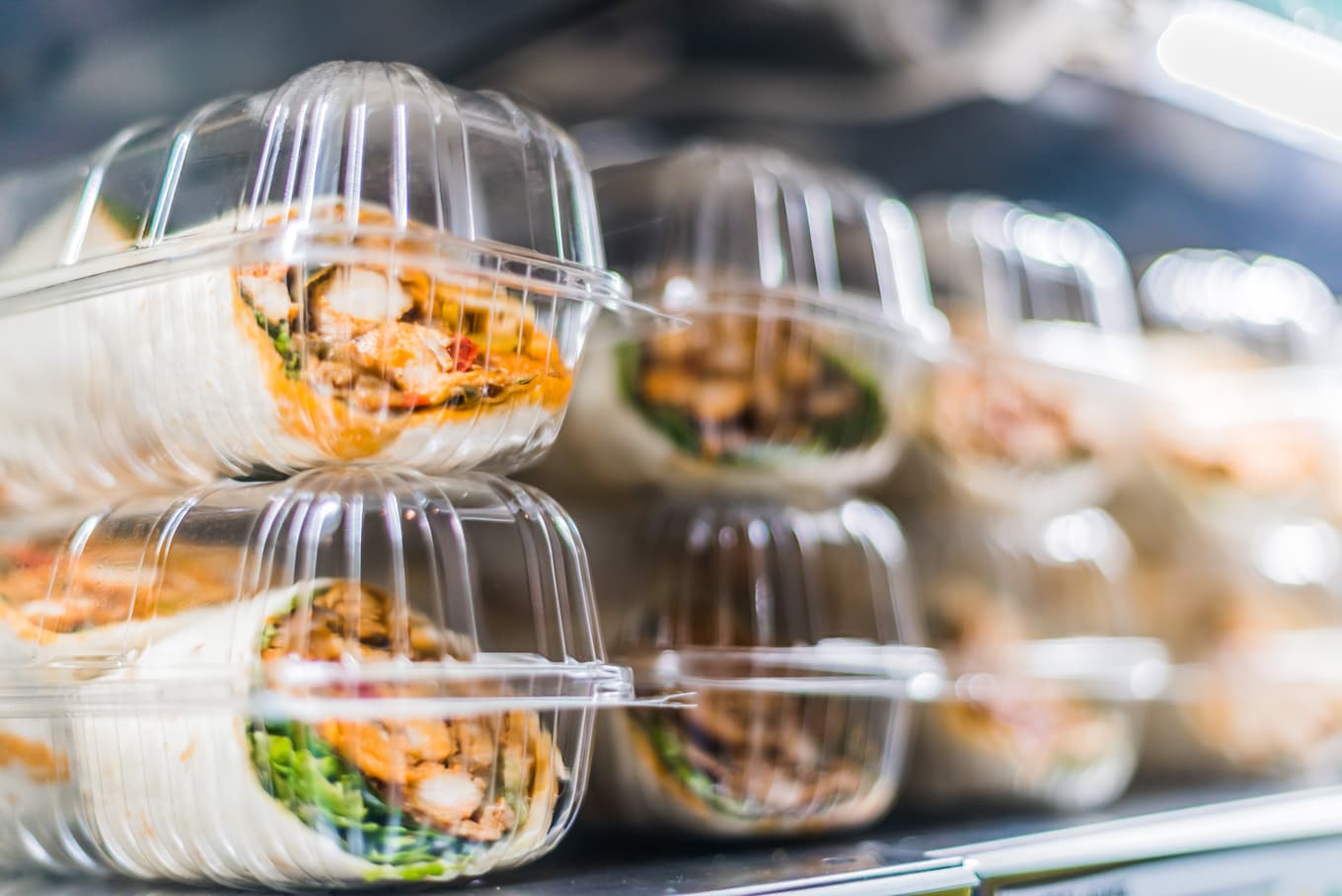 A brief history of Natasha's Law
The law, now more popularly termed Natasha's Law, was laid out in parliament following the death of the law's namesake, Natasha Ednan-Laperouse. The 15-year-old consumer died on July 1, 2016, from a severe allergic reactioncaused by consuming a pre-packed baguette she bought at Heathrow Airport on her way to a vacation with her parents.
The consumer died of a severe case of an anaphylactic reaction, which was triggered by her allergy to sesame seeds. Natasha unknowingly bought the baguette from a store in the airport and consumed the product on-flight. The subject food product lacked any precaution on potential ingredients that may be allergenic to consumers.
An inquest was then launched in the same year to investigate the incident, which concluded after 2 years. The inquest revealed major concerns about how the food manufacturer handles food allergens and loopholes in the current allergen labelling law. Some concerns stated in the Coroner's report involved food safety concerns, such as:
Adequate labelling of major

food

allergens
The lack of a coordinated system in monitoring and tracking customer

allergic reactions

despite large-scale operations.
To avoid future similar and related cases, the motion to amend the current Food Information Regulation and include the mandatory labelling of food allergens for PPDS was started. In 2019, the motion was accepted in parliament and was soon known as Natasha's Law. Food businesses that produced PPDS were given two years to implement the law, which is now in effect since October 2021. The Food Standards Agency monitored and ensured that food businessescomplied with the regulation over the implementation period.
Why is it called Natasha's Law?
Natasha's Law was named after the consumer Natasha Ednan-Laperouse, following her death after unknowingly consuming a product containing sesame.
What does Natasha's Law require from food businesses?
Natasha's Law requirements mandate food businesses within the UK to transparently indicate all ingredients and related allergens that may be present in a food product. Starting in October 2021, food producers within the same facility must clearly identify present food allergens in their respective labels.
If the food product contains any or a derivative of the major allergens recognised in the UK, they are subject to this law.
These food allergens include:
Cereals containing gluten
Lupin
Sesame
Milk
Molluscs
Eggs
Soybeans
Peanuts
Mustard
Sulphur dioxide
Celery
Crustacean
Fish
Tree nuts
The mentioned food allergens account for the majority of the food allergy cases reported in the UK yearly.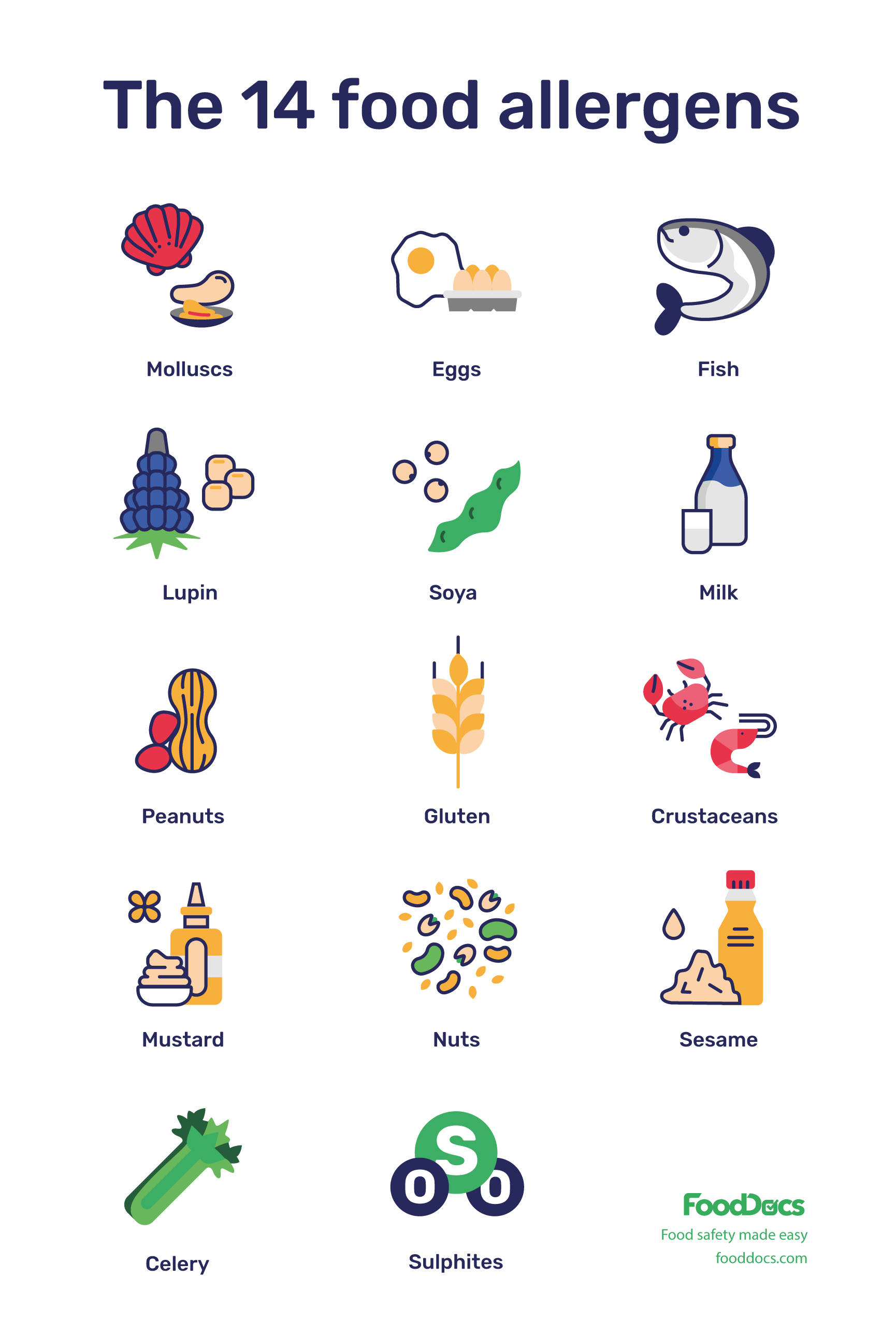 Food allergen poster from FoodDocs
What is PPDS food?
PPDS food is the shortened term for pre-packaged food for direct sale. This food category includes any food product produced and packed within the same food facility and sold to consumers in the same packaging.
PPDS foods are individual products packed in a container and cannot be changed or altered unless the packaging is opened.
Common examples of PPDS food include:
Pre-packed pizzas, chicken, and salads
Pasta pots
Fast food packed and displayed before being ordered by a customer
Packed bakery products
Processed meat packed by butcher
Samples of cookies given to consumers
Natasha's law identifies PPDS foods as the main target product that must be properly labelled to avoid unfortunate events such as accidental consumption of food allergens.
Why is Natasha's Law important?
Natasha's Law aims to protect allergic consumers from accidentally consuming food articles that may put their lives in danger. Most consumers rely on food labelling to identify whether a product may or may not have a potential food allergen. Especially nowadays, when food substitutes are very common for health and economic purposes, labelling has become even more important. The law helps people with allergies and other consumer groups make a more informed choice.
The likelihood of a customer with a food allergy walking into your food business is higher than you think. Especially for a country with an estimated 2 million people diagnosed with food hypersensitivities, the chances of serving them food with an allergen are very high. Not to mention that this estimation does not account for undiagnosed cases, which can be very troublesome for both parties.
Natasha's Law was made to ensure that no other customer would fall to the same fate as Natasha Ednan-Laperouse. Food safety is the main objective of the law, and it also helps food businesses to serve customers better.
Food handlers are required to be acquainted with and properly trained in handling food allergens in any food business. Awareness of food allergies and their consequences is the first step to protecting consumers from unnecessary food allergy incidents. It is also the first step to understanding how easy it is for cross-contact to occur in a food establishment and cause problems.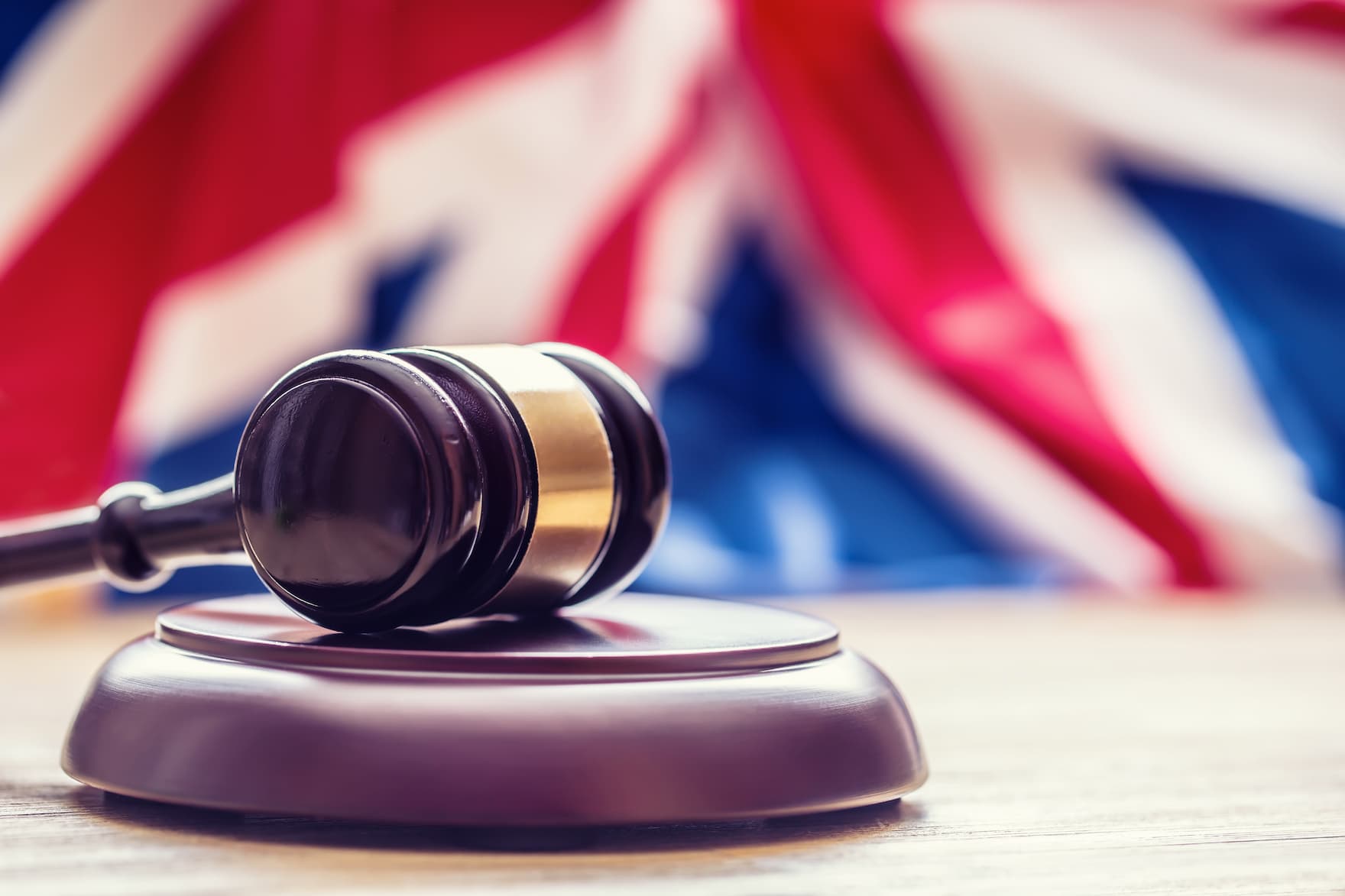 Which industries does Natasha's Law apply to?
Natasha's Law applies to a very specific type of food product termed PPDS. The law must be followed by food businesses in England, Wales, Northern Ireland, and Scotland. As already said, it emphasises transparency in food labelling to protect consumers from allergic reactions and the food business from food safety issues.
Do you want to know if Natasha's Law applies to your food business? Here is a quick overview of how the law applies to different sectors of the food industry:
Natasha's Law does not directly apply to restaurant services. Although foods in a restaurant are prepared and served in the same facility, the dishes are not repacked, which is a prerequisite for the labelling requirement. The law will only apply to restaurants if they offer grab-and-go meals.
Despite this, restaurants are not exempt from providing allergen information regarding their food product. Allergen information must be available in writing or through providing the information verbally by the staff. For example, allergen information can be provided through allergen food safety posters or by indicating them on the menu. The allergen legislation is required as part of the food safety hygiene rating inspections.
Cafes, including delis, are some of the main food businesses affected by Natasha's Law. Such businesses often produce food products, such as salads, sandwiches, and pastries, on-site, pack them, and display them for service.
The product packaging used to contain these food products must be properly labelled with a complete ingredient list, emphasising any food allergen present. Deli shops that offer prepackaged foods are subject to indicate this information as well, but not with made-to-order foods.
Cafes and delis can have hybrid types of operations, both grab-and-go and made-to-order. Such types of services are required to disclose and inform consumers of any allergen risks in their food products.
COMMERCIAL KITCHENS AND CATERING
Both catering operations and commercial kitchens deal with high volume production of foods. Despite this, their products are commonly served in batches with covered containers and are not prepackaged. Unless foods are prepackaged in singles, commercial kitchens and catering businesses are not obliged by Natasha's Law to print allergen information on their products.
While the above information is true, commercial kitchens and caterers are required to train their staff on the proper handling of food allergens and provide adequate information to their customers.
Food allergen labelling and communication of information are a must for all food businesses. The only variation that Natasha's Law brings to the system is that it requires PPDS food to mention allergens on the label. Since such products are commonly produced in bulk and once they are out of the establishment, the food businesses will not have any direct control over them. The food allergen label acts as cautionary information for consumers with food allergies.
Together with clear communication of food allergen information, food businesses must also have an established system to monitor and track food allergen inquiries and issues from their customers. The system includes useful tools such as an allergy matrix which can clearly map out and illustrate which dishes or products contain allergens. This aspect of food safety is part of the management system.
Use intuitive solutions to manage your allergens from FoodDocs' digital Food Safety Management System. Powered by artificial intelligence and a machine-learning program, our software solution can create monitoring logs and a tracking system to help you manage food allergens and help keep your team up-to-date with food regulations.
Does the law apply to takeaways?
Although takeaways are packed in standard containers from the food business, this type of operation still falls under the category of loose foods. As such, takeaways do not necessarily need to follow Natasha's Law but are still required to inform customers of food allergens in their foods.
According to EU Regulations No 1169/2011, allergen information must be made available by training the staff to inform consumers upon ordering for a distance-selling business. Websites and menus must be adequately labelled with a food allergy warning. It must also be available at the point of delivery, which can be achieved through pamphlets or writing allergen information on the packaging materials.
Natasha's Law exemptions
As previously explained, Natasha's Law only applies to food products that are produced and packed in the same facility before being sold to the consumer or PPDS foods.
This legal requirement means that the following food categories are exempt from Natasha's Law:
Foods packed only after being ordered; include distance-sold products from takeaways.
Foods commissioned from one food business and sold in another.
Although exempted from Natasha's Law, the food businesses producing these product categories are still required to inform their consumers of any potentially allergenic food ingredient in their food product along with their ingredients labelling.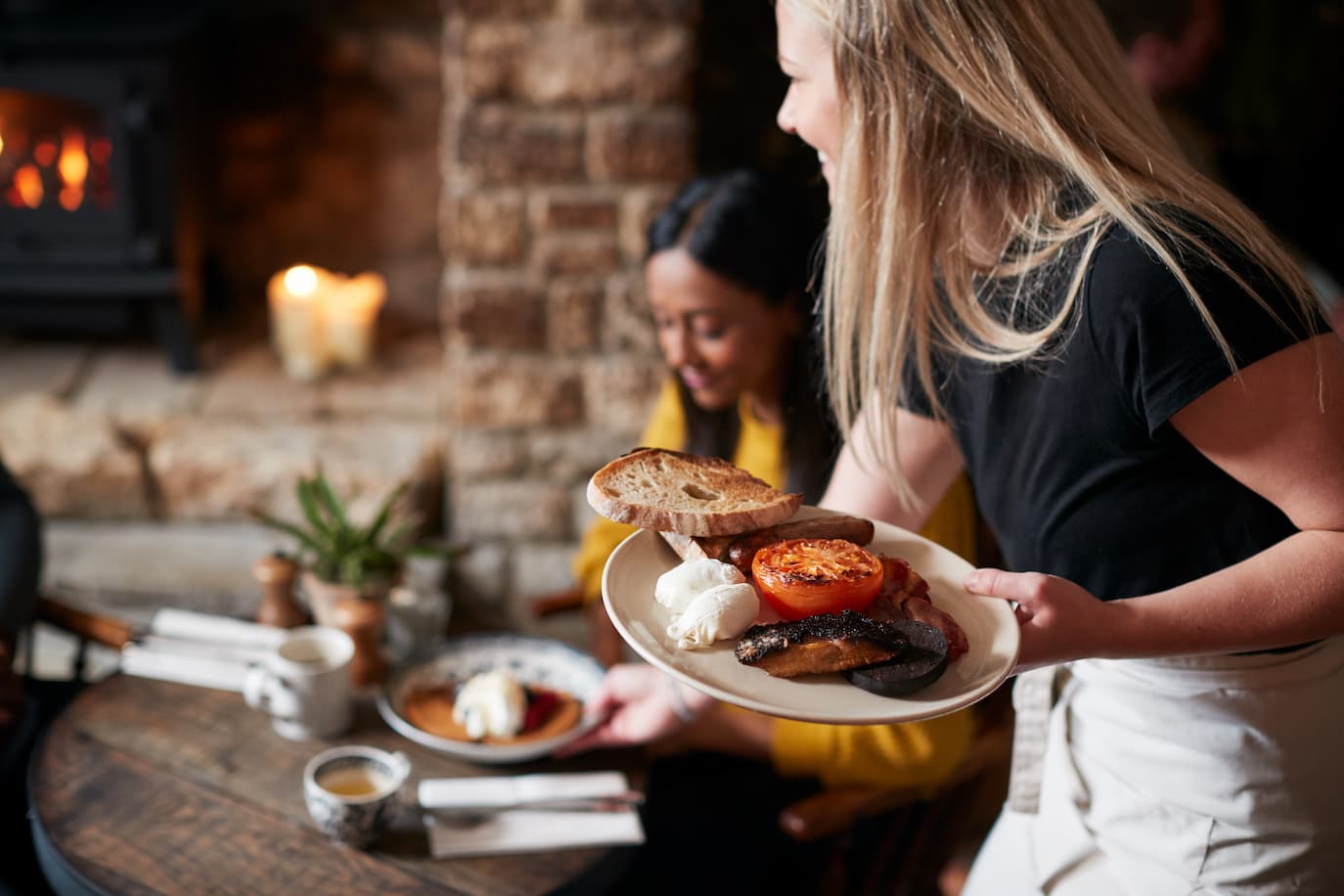 How can you comply with Natasha's Law requirements?
Compliance with Natasha's Law in the UK is a must. The law was made to protect people with food allergies and prevent another case as the tragic death of the teenager Natasha Ednan-Laperouse. It allows consumers to make more safe food choices.
Proper food labelling indicating the presence of allergens goes beyond protecting people with food allergies. It also protects food companies from loss of profit and facing legal suits from consumers. The law is a key element of food hygiene in a company.
To date, scientists and healthcare practitioners have not yet found a cure for food allergies. As such, manufacturers and sellers of food must comply with food and ingredient labelling laws to reduce the likelihood of avoidable deaths. This operation must become a regular part of every company's food safety management system to ensure consistent control.
To help you manage food allergens in your company and comply with Natasha's Law, follow this checklist:
Natasha's Law checklist
All employees must be familiar with the law. Your staff must be properly guided with the most significant food allergens and which ones are potentially present in your food products. They must also be trained on how to communicate these allergens and their corresponding risks to consumers to prevent any cases of allergic reactions.
This food safety training must also include proper ways to react to and address cases of food allergies in your establishment. Food handlers must also know the minimum food hygiene practices that can minimise cross-contact in your production area. Operations such as proper sanitation of food contact surfaces can go a long way and significantly reduce the chances of cross-contact.
Allergen labels are a must for PPDS foods. In compliance with the law, if your food business deals with any PPDS, you must produce new pre-printed labels that include a list of the present allergens. This process must be regularly done if you update the ingredients of your product.
Coordinate with all of your food suppliers. Some food producers heavily rely on bulk buying food ingredients, especially for big production volumes. Complex food ingredients, such as ready-made mixes, may not obviously present visual signs of containing food allergens. All suppliers must uphold the same level of compliance as you do to ensure
Establish an allergen control program. Food hygiene training, traceability system, and monitoring procedures of allergenic ingredients in your business are all part of your food safety management system. Having a management system in place can clearly show your team the areas that need more focus in adapting to changes in the regulations. In case of food allergy incidents, a food safety management system can help you trace all food products, which will be useful for issuing control measures.
Perform a trial run with your team. While food safety training is a must, you cannot wait for an actual incident to occur to determine if your team is fully equipped. Perform a trial run where you can gauge the level of aptitude of your team when it comes to dealing with allergens. You can also use food safety tools to determine how well your team understands the subject.
Check the FSA website regularly for updates. The battle for addressing food allergens is an ongoing challenge. Updates are regularly made during the transition period and establishment to ensure that food companies can comply and that consumers are protected. Coordinate with food safety inspectors or your local health department to know if updates on Natasha's Law are available for immediate implementation.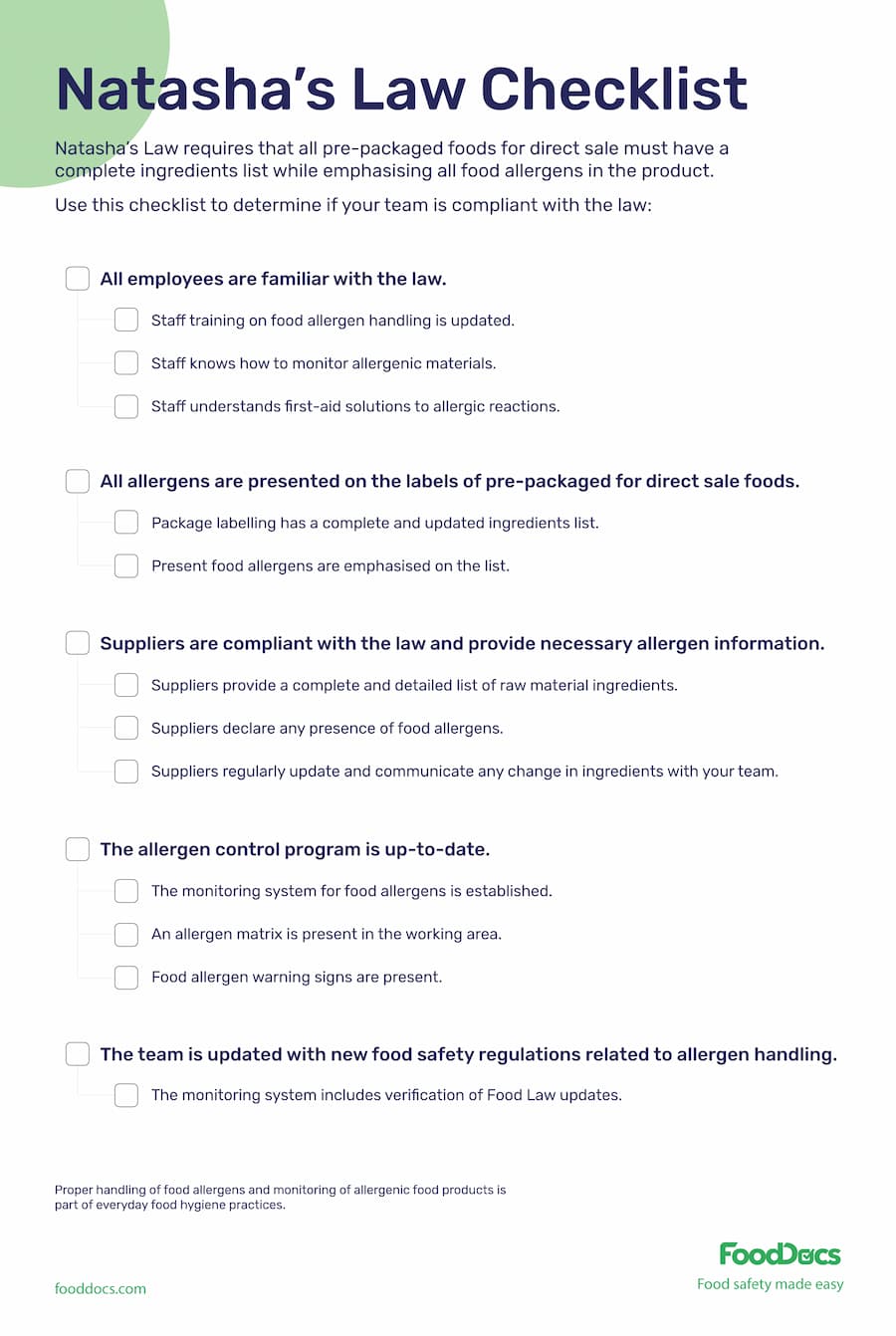 Recent innovations are now available and can help you manage allergen information. Digital solutions such as a digital food safety management system offer intuitive solutions to monitor food hygiene practices required to control allergens in your operations. They can also help you record supplier information, create a recipe database, and manage incidents related to your food products with less effort and more accuracy.
Check all of these tasks by using FoodDocs Food Safety Monitoring System. With the fast-paced changes occurring in the food industry every day and the unavoidable risks that come along, your team must be able to adapt quickly. The best solution to keep your premises ready is to use digital solutions.
Natasha's law compliance with FoodDocs
As long as you are in the food industry, the problem with food allergens will always be present. As such, your food business team must learn how to properly address them and protect both your consumers and your business from unfortunate cases of allergen reactions.
Natasha's Law is a regulation that addresses a life-and-death situation in which your food business plays a significant role. Compliance with the law is a top priority for manufacturers of PPDS foods. In addition, pre-existing food allergen laws must also be complied with by all food businesses.
Communication, monitoring, and tracking food allergen information are key elements in managing allergens in a food business. Digital solutions such as FoodDocs Food Safety Management System are proven efficient and intuitive methods to manage food allergens in food businesses.
Our digital solution can help your team ensure compliance with Natasha's Law and Food Labelling Legislation through the following features:
Create documented recipe cards and an allergen matrix through our digital solution. Allergenic ingredients in your individual recipe cards are emphasized through boldfaced formatting and enclosed in parentheses for easier identification.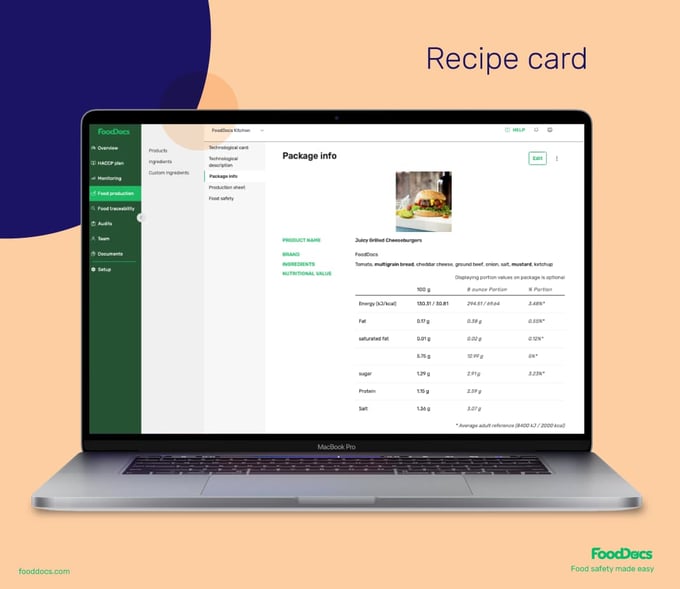 Digital Recipe Card from FoodDocs
Get a dynamic overview of the allergens in your food business operations.
Easy updates on food label information.
Get a traceability system that can help you track and manage the products in question through our mobile app.
Get automatically generated monitoring logs and checklists that include food hygiene practices for avoiding cross-contact and maintaining a high level of food safety standards.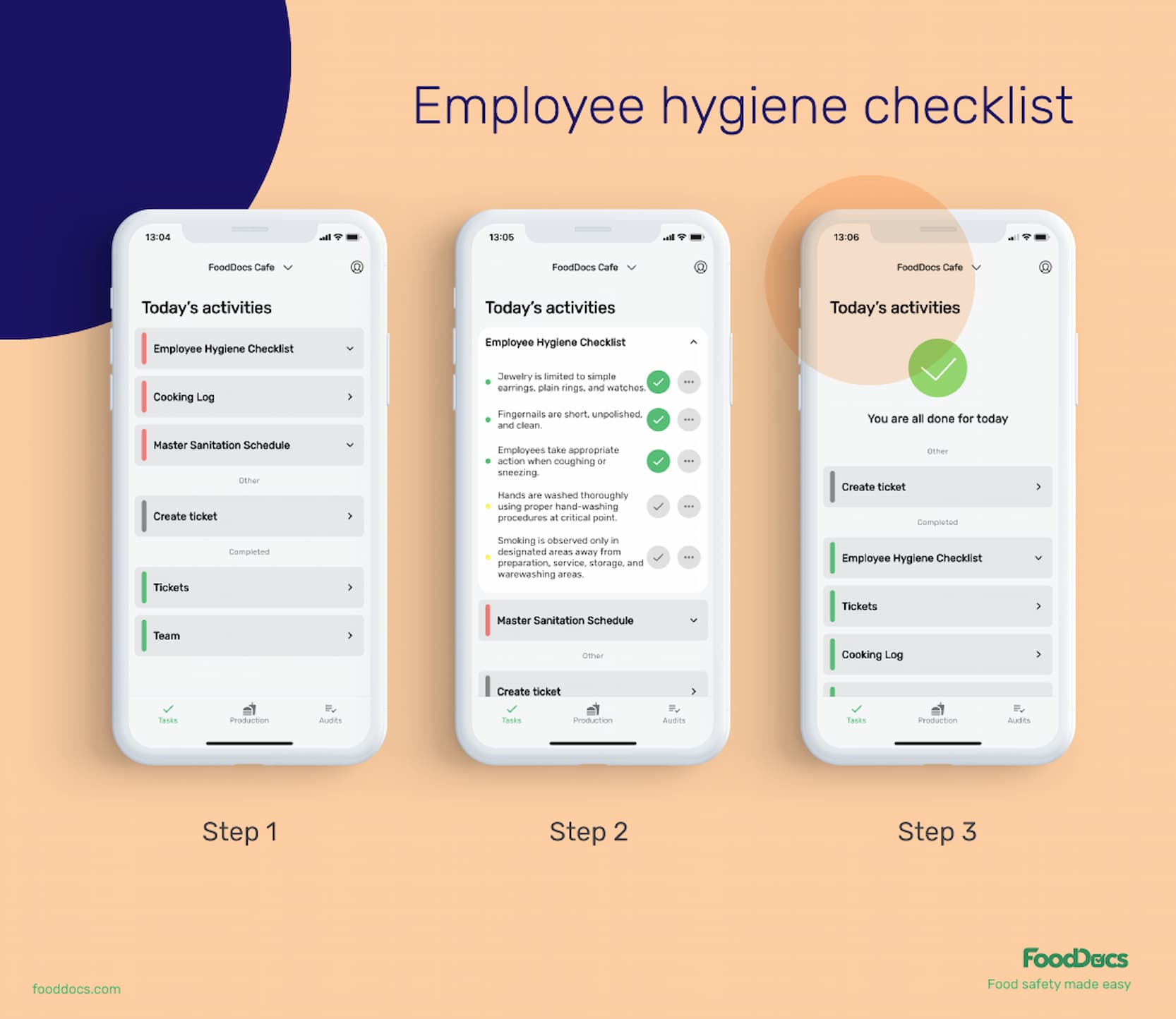 Employee Hygiene Checklist from FoodDocs
In addition, when you join FoodDocs and use our smart Food Safety Solutions, you will get efficient and intuitive tools to help you efficiently manage your operations:
Automatic set-up: setting up your own digital monitoring system only takes an average of 15 minutes.
A real-time dashboard that shows a quick overview of your everyday operations. Use this feature to identify areas that require more attention.
Food Safety in the cloud: Store and organise all digital information in the dedicated cloud storage provided to your food business.
Using our digital solution does not require you to know much about food hygiene and safety. This software was created to make compliance easier and more accessible. It intuitively adapts the generated monitoring system and management controls based on your location. With such a feature, you can save time from reading and researching food safety regulations applicable to your operations.
Start answering a few basic questions to describe your operations and the applicable food laws to our system now. Get a comprehensive digital Food Safety Management System in just 15 minutes.
Experience how our solutions can help you, and try our services for free!