FOOD TRACEABILITY TEMPLATE
Use our free tool to create a food traceability template.
Just replace the words on the form when needed and download. The first product is filled as a sample for you.
Company name:

Your company

_
| | Name/EAN | Amount | Best before / use by |
| --- | --- | --- | --- |
| PRODUCT: | Hamburger | 1 pound | 06/28 |
| Ingredients: | Lean ground beef | 1 ½ pounds | 06/31 |
| | Onion | ½ | 06/30 |
| | Hamburger bun | 1 pc | 06/29 |
| PRODUCT: | | | |
| Ingredients: | | | |
| | | | |
| | | | |
| | | | |
| | | | |
| PRODUCT: | | | |
| Ingredients: | | | |
| | | | |
| | | | |
| | | | |
| | | | |
Make the most of food traceability to improve supply chain visibility

Most of today's
food business owners are moving towards a more visible supply chain. This means that they are making information about operating conditions and ingredient sources more accessible to consumers and suppliers. A more visible supply chain
improves accountability
among food businesses and promotes
customer confidence
. The best way to achieve a visible supply chain is to have a comprehensive food traceability template.
In this article, we talk about how traceability in manufacturing is important and how you can improve your operations with our food traceability template and smart solutions.
Key points covered:
Food traceability in manufacturing refers to the system that monitors the movement of food in the supply chain.
Food traceability involves both ingredient and product tracking.
Food businesses, manufacturing, service, and retail, are required by law to have a comprehensive traceability system.
A traceability system in the manufacturing industry will help you collect the necessary information needed in case of a food recall.
An accessible traceability system can help minimize the potential risk of a foodborne illness outbreak by locating the affected products.
FoodDocs' Food Safety Management System

includes

a built-in Production Traceability System that can help you store product and ingredient information and intuitively track product movement.
Learn more about food traceability from this article and how you can get an intuitive digital Traceability and Food Safety System from our software.
Browse through the topics discussed in this blog post:
What is food traceability?
Food traceability
refers to the ability
to track the movement of your ingredients and food products throughout your production supply chain
.

It gives you a clear report of your product's movement in all stages of product reception, production, processing, and distribution. Food traceability involves the use of a wide range of technologies and systems that help identify the product's movement.
Food traceability systems can include a range of different technologies, such as barcoding, RFID (radio frequency identification), and blockchain, as well as various databases and software platforms for managing and analyzing data related to food production and distribution processes.
The main objective of a food or product traceability system is to ensure the safety and quality of the products by providing a system that captures the actual production scenario and provides information about an issue.
This can help to prevent foodborne diseases and contamination outbreaks and also help to identify and address any issues with food quality or authenticity.
Food traceability in manufacturing
Food traceability is critical in manufacturing. The system allows food producers to have the necessary information about their production process and immediately identify sources of food safety hazards in case of an issue.
In manufacturing, food traceability can be used for two main activities:
Ingredient traceability. This process allows food manufacturing companies to track the movement of ingredients as your business uses them, including all the stages of receipt. With food traceability, your team will effectively be able to monitor your inventory control in terms of shelf-life and availability.
An effective traceability system can help food businesses identify a batch of ingredients that may be the potential source of foodborne illness incidents and immediately apply corrective actions. In addition, the traceability system can help your team optimize ingredients before they go bad.
Traceability of products. On the other end of the spectrum, food traceability in the manufacturing process also captures information on the movement of finished products. Production traceability is an essential component of food manufacturing, as it enables manufacturers to track and monitor the movement of food items throughout the supply chain, from production to distribution and ultimately to the end consumer.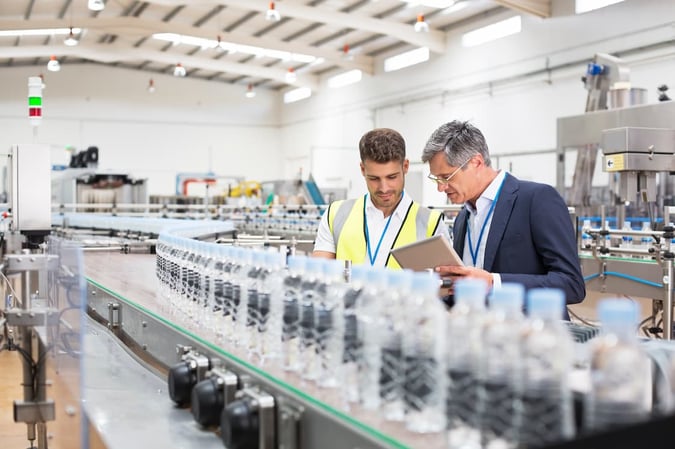 Traceability of food products ensures that the finished products meet the necessary quality and safety food regulations while also providing a mechanism to identify and respond quickly to any food safety events that may arise.
Accurate traceability helps
reduce the likelihood of contamination,
prevent food fraud, and
lower the risk of foodborne illnesses outbreaks in the food chain.
All this by recognizing hazards before the contaminated products reach your consumer. It also helps identify effective practices for safety control.
A proper food traceability system, together with a food recall system, allows you to quickly identify and isolate the source and lessen the impact before it can have serious consequences for your customers and your food brand. In the event of a product recall or food withdrawal, production traceability enables a targeted withdrawal of the foods and acts as guidance for industry agencies.
Use our Downloadable Product Recall Template to help deal with food safety recalls in your business.
Who should monitor food traceability?
Food traceability is the responsibility of all members of the food industry. This includes manufacturers, retailers, distributors, food services, suppliers, and raw material producers.
Traceability standards and the obligation to record your traceability information vary in different countries, food industry sectors, business processes, and raw materials. For example, in some countries, food traceability is a legal requirement for all food businesses' raw materials and the whole production chain. While in some countries, it applies only to products of animal origin, fish and sprouted seeds, and raw materials with the highest food safety risk.
Particularly in the US, a Food Traceability List is provided by government agencies as a reference for products and ingredients that must be properly documented for critical tracking events. Food products under this comprehensive list are most commonly associated with foodborne illness outbreaks. Food companies are mandated with additional recordkeeping requirements to protect public health.
In the UK, Regulation (EC) No. 178/2002 mandates all food and beverage businesses to have a comprehensive food traceability system. The food safety regulation aims to protect consumers from the risks of food contamination through proper food traceability procedures.
Why is food traceability challenging?
The biggest issue in food traceability is marking down products' and ingredient data, including names, amounts, and best-before dates. The high volume of products and different batches make the process of production traceability slow and time-consuming.
Also, archiving accurate records and product recalls are challenging activities for businesses using pen-and-paper methods. Finding the necessary data takes so much time that the damage is done before anyone can find the needed traceability sheet.
Luckily, there are modern ways to make traceability faster and easier for all food businesses. For example, FoodDocs.
How to use FoodDocs' food traceability template?
At FoodDocs, we provide free templates, charts, and posters to help food business owners manage their food safety tasks. Our Food Traceability Template is one of our most popular free tools. Food safety teams can use it to log information about your ingredients and finished products.
You can easily use and customize it at any time; just follow these steps:
Customize the template above by adding columns and rows according to the needs of your traceability system.
Download the template above by simply entering your email address and clicking "download."
Find the downloaded full-quality file from your downloads folder and print the template for use.
Compile all Food Traceability Templates with encoded information in one folder for easy access.
Explain to your team how the template works and which information is essential.
Print more templates as needed.
Use this customizable form for conducting comprehensive traceability procedures.
Be always up-to-date with our free food safety posters, templates, tools, and charts by regularly browsing our Template Hub. We will also send useful newsletters once a month to acquaint you with our new content and free tools.
Why do you need a food traceability template?
A food traceability template is a useful and standardized tool that outlines the key information needed in tracking the movement of food products along the supply chain. The product traceability template guides food handlers on which information is needed in case of a food recall or manufacturing issues.
An effective food traceability template includes information such as the following:
Product name
Ingredients list
Batch number
Production date/ Best-before date/ Expiration dates
Supplier information (e.g., contact details and manufacturing address)
Amount produced or used
Barcode labels (if present)
The importance of using a food traceability template can be summarized through the following benefits:
Food safety compliance. Using a Food Traceability Template allows food businesses to comply with food regulatory requirements related to tracking food ingredients and help in their continuous improvement. It also acts as a risk management tool for food safety hazards in your operations, which also contributes to protecting human health.
Promote transparency. Using a customizable template can help improve transparency and accountability throughout the entire supply chain by providing a clear and standardized traceability record of product movement.
Improve customer loyalty. This can help build trust and confidence among consumers and other stakeholders.
If you want a more intuitive solution for your food traceability documents, then you can use FoodDocs smart Food Safety Management System. Our smart software is equipped with a built-in Product Traceability System that lets you track the movement of your products and ingredients and intuitively reminds your team of ingredients that will spoil. This system automatically computes the product shelf-life according to the information you provide and can help you quickly access the essential traceability requirements to track a batch of products in case of a food safety issue.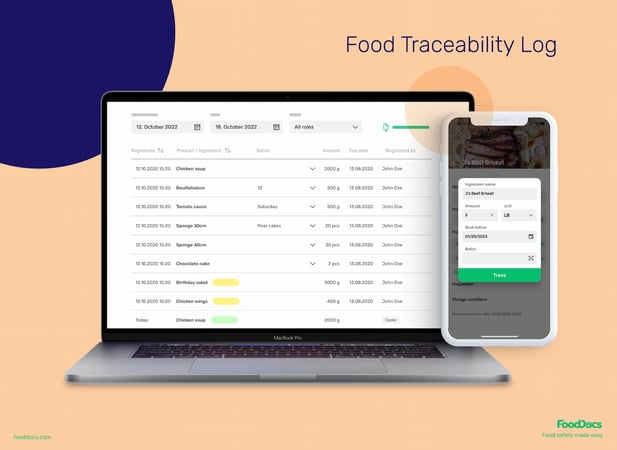 Food traceability feature in FoodDocs
Supply chain traceability systems work best for a food recall, and if you have an effective system that intuitively gathers the information you need, the process can become more efficient. Using our Production Traceability System, you can minimize potential losses from food recall issues and even optimize the use of your ingredients while reducing food waste.
What are the supply chain visibility benefits?
In the food industry, this system has become increasingly important, especially for consumers. In fact, the demand for transparency is a major challenge in the food safety industry.
More consumers want to understand food origins and know how the products they buy are produced. For food businesses to provide the information, they need effective traceability in food supply chain systems.
In addition to complying with consumer demands, supply chain visibility enables businesses to identify bottlenecks, inefficiencies, and areas of improvement within the supply chain. With real-time food supply chain data and insights, companies can optimize processes, reduce lead times, minimize entire inventory levels, and enhance overall operational efficiency. They can also use the information for conducting root-cause analysis in case of reports of defective products.
Supply chain visibility with the correct information can also attract investors and patrons from around your business. The system promotes accountability and ensures investors and customers that you take food product safety and sustainability very seriously. Modern manufacturers use supply chain visibility as a way to achieve consumer confidence.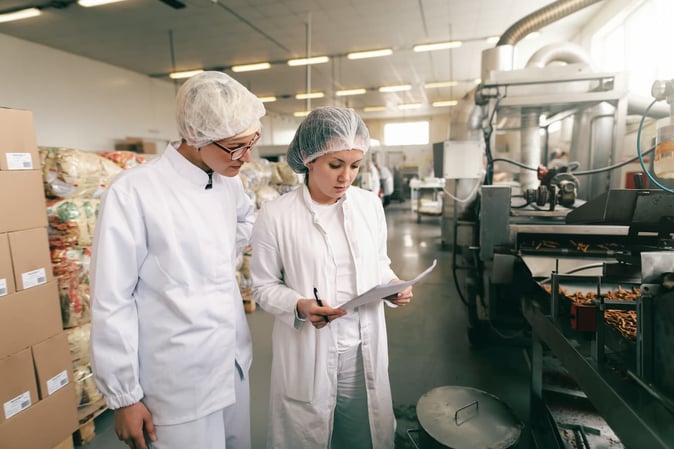 Modern food traceability solutions from FoodDocs
Whether your business is in the manufacturing industry, retail, or food service, keeping track of your ingredients, products, and processes is an important aspect of food safety and maintaining product quality control. As mentioned, complete traceability can only be effective if your system can capture the key data elements from your manufacturing process.
FoodDocs developed a comprehensive Production Traceability System that is built-in into our smart Food Safety Management System. With this modern tool, you will achieve not only consistent maintenance of food product safety compliance but also keep internal traceability controlled.
When you sign up for our smart software, you can get the following benefits:
You can get a built-in Product Traceability System. Using this feature, you can easily keep track of your products' shelf-life and optimize every ingredient. You can also use our Traceability System to log essential product information, such as production batch, date of manufacture, used ingredients, and other remarks.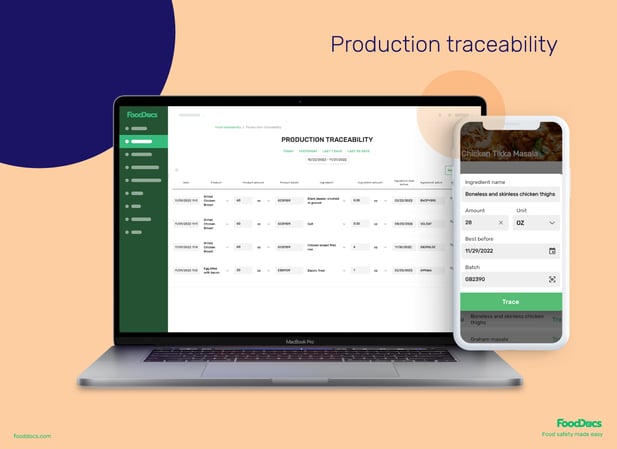 Production Traceability from FoodDocs software
With our Traceability System, you can easily access complete history information and present them to an auditor in case of food safety or quality issues for accurate tracking.
You can also get automatically generated monitoring logs that are also customizable and checklists that can help you record important traceability information. Use these digital logs and checks to record manufacturing process information. Some of the logs and checklist templates that you can get include the following: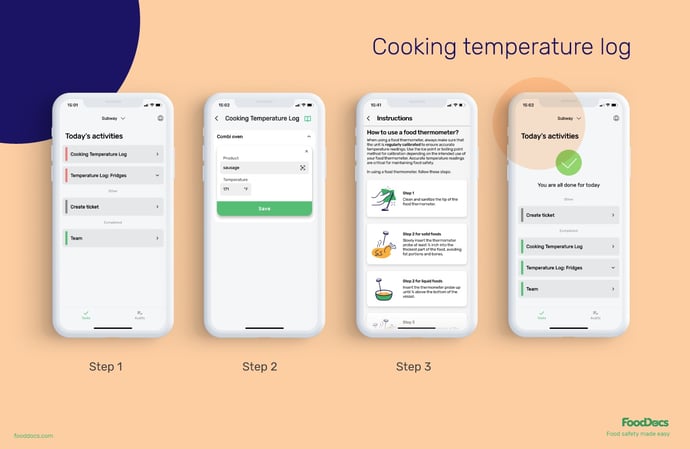 Cooking temperature log from FoodDocs software
Receiving chilled goods log
Fridge temperature log
Cleaning and sanitation checklist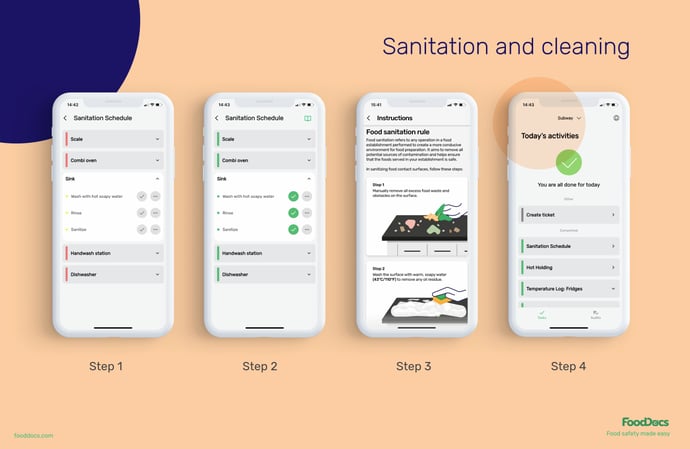 Sanitation and cleaning checklist in FoodDocs software
Employee hygiene checklist

Get a smart notification system when you use our mobile application. Our smart software can send intuitive alerts to assigned employees, ensuring that they will remember important food safety tasks.


In addition to features that will help your employees record important information, our system also provides management tools that will improve production efficiency.
Use our Live Production Management Solution that can help you plan your production schedules. Use this feature to compute production batches and required ingredients for more accurate scaling. This feature can also be used to keep track of your finished products for real-time visibility.
Save at least 20% of your time from managing your team using our real-time dashboard. This feature shows you a quick overview of your entire production process and gives you the information to identify areas that need more attention.
Archive and access your electronic records in one place with the cloud storage dedicated to your food business.
Our smart software was built for all types of food businesses. We aim to provide food safety compliance benefits for manufacturers, retailers, and food service stores. Switching to our digital solutions can help your business become more flexible and adaptable to the fast-paced food industry. With our system, you can easily customize your food safety checklists and logs to fit suggestions for improvement from government inspectors.
What makes our system unique is that you can get all of these benefits and more in just 15 minutes. Using artificial intelligence and a machine-learning program, our smart software can generate all essential tools to help you maintain food safety compliance.
Want to experience these benefits first-hand? Join our growing list of food businesses that have switched to our digital platform by using our free 14-day trial.
Check also these popular templates
Easy app for monitoring to have an instant overview
Implement your

Food Safety System

in 15 minutes

Easy app for monitoring

to have an instant overview
Ready-to-use

HACCP Plan

in 1 hour