FOOD ALLERGY WARNING TEMPLATE FOR FREE
Use our free tool to create a food allergy warning label.
Just replace the words on the form when needed and download.
So, go and use them for yourself.
FOOD ALLERGY WARNING
Please be advised that food prepared here may contain these ingredients:
milk, eggs, wheat, soybean, peanuts, tree nuts, fish, and shellfish
Food safety made easy

Food allergy warning - all you need to know
There are about 48 million people with allergies in the United States, 128,000 are hospitalized, and 3,000 die each year from foodborne diseases, according to recent data from the Centers for Disease Control and Prevention. It means that every 6th person you meet or who steps into your food business may be allergic to some extent. Food allergies appear when our body's immune response system starts to react to a certain food or food product. Reactions may be very mild, but can also be very serious, such as anaphylactoid reaction. That's why preventing them is crucially important in the food industry, and allergy warning signs are one of the easiest ways to do it. Read more about what a food allergy warning is, who needs it, why we need it at all, and find the template above.
Major food allergen
According to the Food Allergen Labeling and Consumer Protection Act of 2004 (FALCPA), eight foods are identified as major food allergens in the food supply: milk, eggs, fish, shellfish, tree nuts, peanuts, wheat, and soybean. Starting from the 1st January 2023, sesame will also be recognized as the 9th common allergen. It means that all food businesses need to inform their customers in any way about the food allergens their food may contain. It means labeling, on the menu, on the homepages, when entering the food business, when ordering food, when processing the food in food manufacturers - thorough the whole food supply. These eight major allergens are the cause of 90 percent of severe allergies and serious allergic reactions in the U.S. Allergy to peanuts is definitely the one major food allergen causing the most severe symptoms.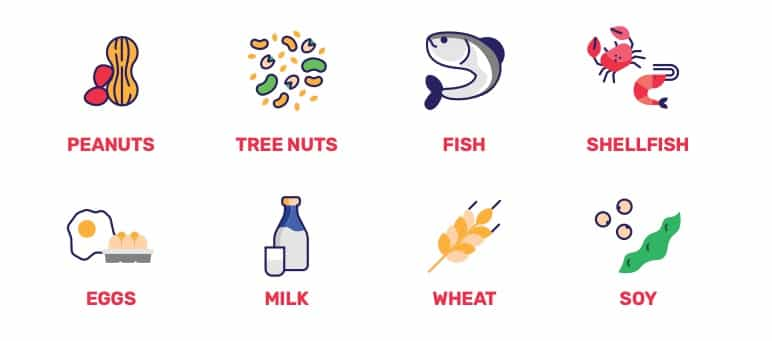 Who needs an allergy warning?
Allergy warning is meant for both your employees and customers. Because this topic is so important, it needs to be paid attention to from both sides to ensure 100% the safeness for the customers.
1. Your customers. When every 6th customer who steps into your business can be allergic to any of 8 major food allergen, your obligation as a food business owner is to inform these customers about any detailed food ingredient. If you don't, an allergic reaction may threaten their lives and you break the law. Each of your team members needs to be aware of the allergy information about each food product.
2. Your team
When you want to offer allergen-free food in your business, you need to ensure that the whole workplace where this food is processed is allergen-free. Sometimes, even the smallest piece of an allergen can have a severe effect on a person. This means that your food service staff needs to make sure that their hands, clothing, and work equipment do not contain any trace of the allergen. There must be a separate work area for preparing allergen-free food and tools in your kitchen. An allergy notice is also an important part of separating the allergen-free zone from another side of the food industry kitchen.
What else do I need in addition to the allergy warning?
In addition to the allergy warning, there are many more documents that can help your food business stay compliant with allergens and help your team. Major allergen posters, allergen statements, food allergy charts, food allergy forms, the list of ingredients on food products, and food labels are just some samples of the documents. All of this documentation is meant to train, inform, and help your food service staff. It might be a real challenge for them to keep in mind each major food allergen in addition to all other daily tasks they need to follow. Feel free to find them in our HACCP template hub, just change the wording when needed and download.
Allergy warning is an important part of your HACCP plan
Putting up a food allergy warning is not enough to ensure food safety in your kitchen or to inform your customers. Your HACCP plan also needs to include a thorough analysis of how to ensure food safety regarding food allergens.
Your HACCP plan needs to cover two of the most common food safety hazards like:
1. Cross - contamination - The food can be hazardous to the consumer as it has been in contact with a product that causes food intolerance
You can prevent it when using separate equipment and surfaces for the handling of food (e.g. gluten-, lactose-free) meant for intolerant persons or separate the production in time – thereby thoroughly cleaning the equipment and surfaces between the work processes.
You can check it by checking that the food meant for people with food intolerance does not have contact with food that contains intolerance causing allergies during every handling process and preventing cross - contamination.
2. Consumption and serving instruction, food labels - the food may be hazardous to the consumer due to a lack of information (allergens and storage instructions, false ingredient list, etc).
You can prevent it by informing the customer of the consumption instructions, where appropriate. Such as giving the customer enough information (verbally or in the written ingredients list).
You can check it with routine checks to ensure that all necessary information is provided.
How to get HACCP allergy documentation done in 1 hour
The easiest way to get all your HACCP allergy documentation done, is to sign up to FoodDocs and in 1 hour, all needed documents are done, food allergy warning included. It sounds impossible, but with the help of machine learning, the HACCP builder software is able to create all needed HACCP plan documentation according to the company's specifics, including thorough hazard analysis, decision trees, flow chart, location plans, etc. During a 14 day trial, you can check how it works. If you're afraid that the outcome is not compliant, or your local authority doesn't like it, don't worry, the whole content of the HACCP plan is editable at any time. Just log in and change what needs to be improved. 10 000s of customers from the US and UK are using this software to create and keep their HACCP documentation.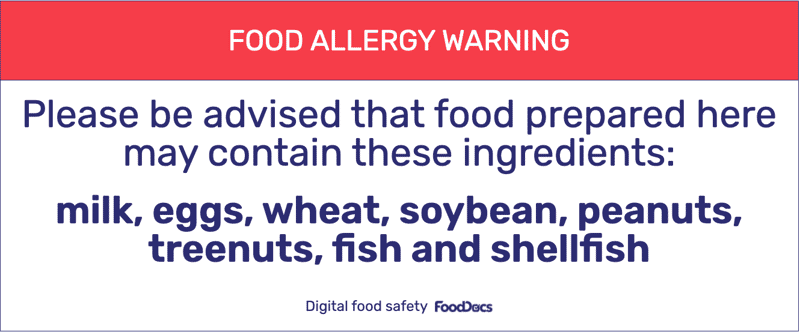 How should food allergic people act?
Surely, people with food allergies themselves should be worried the most about his allergy. It means, he always needs to ask about the allergens or to inform the customer service about the allergy. Also, they should know, how severe reaction or mild symptoms they may have and how to react when they experience any allergic reaction. Like this, it's always double-checked. Food allergic reaction typically appears within a few minutes to a few hours after a person has eaten the food, and symptoms of anaphylaxis are the most serious ones.
The most common allergy symptoms are:
Hives
Skin reactions
Tingling or itchy sensation in the mouth
Face, tongue, or lip swelling
Vomiting and/or diarrhea
Abdominal cramps
Coughing or wheezing
Dizziness and/or lightheadedness
Swelling of the throat and vocal cords
Difficulty breathing
Loss of consciousness
Allergic reaction is a serious health problem, don't underestimate it. If any of your customers experience any of these symptoms, doesn't matter how common symptoms are, they should stop eating immediately and evaluate their health condition. Some of these symptoms are not always because of the allergens in food, but still, it's important to pay attention.
Food allergy warning examples
Depending on the situation, you can use different forms of food allergy warnings. Some of them are meant for the customers, some of them for your team members.
Feel free to use them accordingly. Also, you can use our food allergy template above. Just replace the words and download it.
Some food allergy samples:
Please be advised that food here may contain these ingredients: milk, eggs, wheat, soybean, fish, tree nuts, and peanuts
If you have a food allergy or special dietary requirement, please inform a member of staff or ask for more information.
You're entering a nut-free zone. Do not bring nuts into this area
Food allergies? Please let us know.
This area is scent-free for the health and comfort of those with allergies
Please tell us if you have a food allergy
Food allergy. Do not heat any type of shellfish in the microwave
Nut-free zone. Please do not bring any products containing nuts (peanuts or tree nuts) into the area. Thank you for helping to keep our children safe.
This kitchen is gluten-free
Not sure where to start with your allergy documentation and all other HACCP documentation? Don't have enough time? FoodDocs platform can direct you through the whole HACCP process and get your food allergy documents done in no time, so you can focus on what you really need to – managing your business.