HEALTH INSPECTION CHECKLIST
Use our free tool to create a cleaning checklist.
Just replace the words on the form when needed and download.

Company name:

Your company

_
| Done | Food Storage and Dry Storage | Comments |
| --- | --- | --- |
| Done | Employee Hygiene | Comments |
| --- | --- | --- |
| Done | Food Handling | Comments |
| --- | --- | --- |
| Done | Freezer and Refrigerator Maintenance | Comments |
| --- | --- | --- |
| Done | Garbage Disposal | Comments |
| --- | --- | --- |
| Done | Pest Control | Comments |
| --- | --- | --- |
Health inspection checklist
As part of the common restaurant health code mandates of many food safety agencies and environmental health offices across the globe, health inspections on food businesses such as restaurants must be conducted. When these types of inspections are performed, most employee teams become too nervous to function and mess up the process. Health inspections are observed to evaluate the level of food safety of your business and correct any oversight. Although your local health inspector may look intimidating, these health inspections must not be feared! A great tool to prepare your team with such inspections is to have a trusted health inspection checklist.
Health inspections don't have to only occur periodically. In fact, tasks in a restaurant health inspection checklist must be done almost every day to ensure adherence to health requirements. As a food business owner or manager, you are responsible to initiate this task and prepare your in-house employees for a surprise health inspection. Not sure what goes into a health inspection checklist? In this article, we will show you the importance of a health inspection checklist, how can it help you prepare, and the easiest way to get one.
What is a health inspection checklist?
A health inspection checklist or health inspection form is a tool used to evaluate the safety of a food service facility setup, cleaning routine, operational practices, employee health status, and personal hygiene. It is used to reduce contamination risk factors and prevent food service establishments from releasing hazardous foods to any consumer or from committing common health code violations. A health inspection checklist encompasses many other fields when compared to other very specific checklists that address food safety concerns. As an example, a restaurant health inspection checklist may also include items concerned with employee training.
Some of the key areas corresponding tasks included in a health inspection checklist include:
Food storage parameters

Storage parameters for hot food and frozen food
Refrigerating perishable foods

Employee hygiene and health

Washing hygiene practices of food handlers
Proper action when coughing or sneezing

Food handling practices

Cooking thoroughly to the correct temperature
Ensuring clean food preparation process

Cleaning and sanitation

Mop sink, clean bathroom stalls, and cooking stations
Sanitizing food surfaces
Food prep tools must always be cleaned in between uses
Cleaning supplies are stored in a dedicated area

Waste management
Pest control

Proper rodent control methods
Removal of telltale signs of pest infestations (e.g. droppings and chewed wood)
A restaurant health inspection checklist can be routinely used in your food business to reduce the risk of contamination. All involved activities in a health inspection checklist for restaurants and other food establishments are designed to outline the level of food safety standards in a food business to protect community health.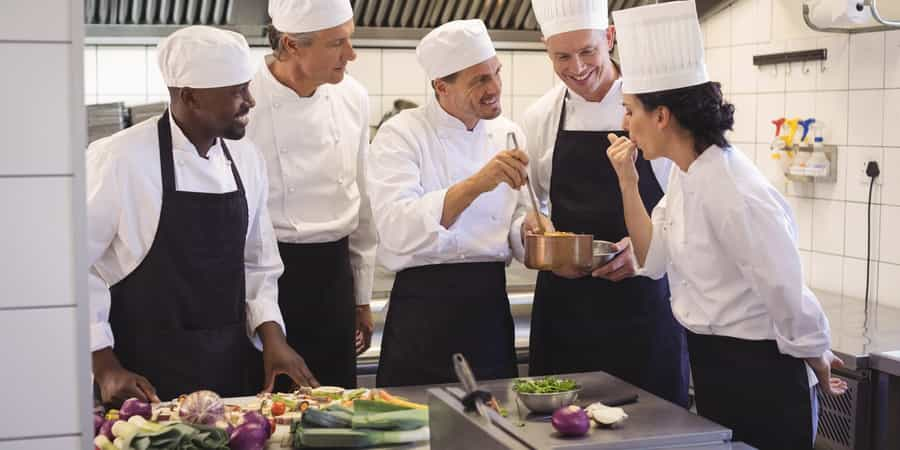 Who needs a health inspection checklist?
Health inspection checklists will benefit every team of food handlers in a food business in preparation for any inspection whether surprised or announced. Business owners or food safety managers can use this tool to evaluate and maintain food safety standards on a regular basis. Health inspection checklists can be used by all types of food businesses such as restaurants, pubs, food trucks, retail food stores, and food establishments with food service areas and a commercial kitchen such as child care facilities.
What are the benefits of a health inspection checklist?
A restaurant or any other food business would acquire an objective list of food safety standards and health indicators when using a healthy inspection checklist. This type of inspection checklist usually contains a definitive list of items standardized by the local health department to prevent poor health outcomes as a result of food contamination. They can be mainly be used to ensure that you are producing safe food items and that public health is protected from foodborne illnesses or any related injuries.
Specifically, a health inspection checklist offers several other benefits that include the following:
Improves focus. Because a health inspection covers multiple sections of your operations from food preparation to facilities design, a health inspection checklist can help you identify which ones need to be prioritized. Daily operational tasks often can be categorized as either urgent or those that need to be immediately done, or essential which must be observed within the day but do not have impending deadlines.
Serves as a reminder. Items in a health inspection checklist are important in keeping food safe. Failure to do some of the tasks listed in this checklist can cause unwanted results. Use health inspection checklists as a reminder and build a routine system to make the tasks listed part of your daily activities.
Preparedness. Health inspectors can conduct unannounced inspections. Being always prepared is the key to ace any inspection at any time of the day. A health inspection checklist makes sure that your food establishment will be ready for any surprise inspection by maintaining orderliness every day.
Accountability. Aside from making sure food safety tasks are done, a health inspection checklist promotes in-house staff accountability by allowing the food safety manager to track who or if an employee is assigned to perform a task. Promoting accountability similarly promotes doing the tasks even without any reinforcements or monitoring.
Improves management system. Health inspection checklists are supposed to be organized to improve the efficiency of performing tasks. With this checklist, a manager's job of delegating tasks to specific restaurant employees as well as reviewing if the tasks have been completed will become faster.
Cost-saving. A health inspection checklist's purpose works both ways. It protects public health as much as it protects your food business from any food safety issue such as lawsuits as a result of a foodborne illness. Health inspection checklists promote your business as well as an establishment that takes food codes and food safety guidelines seriously.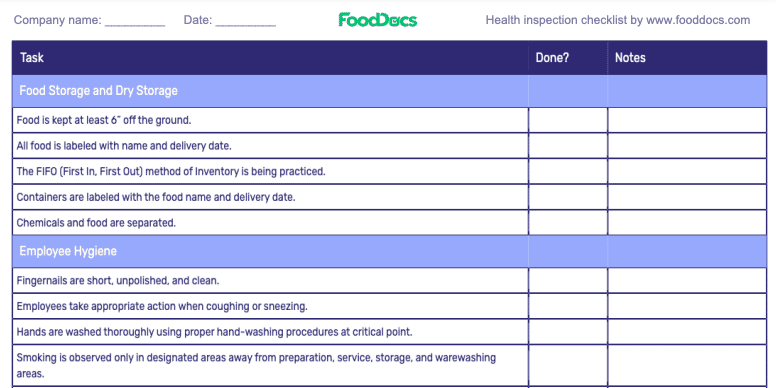 How to create a health inspection checklist?
In the earlier days, a health inspector usually arrives at the doorstep of your restaurant, clutching a clipboard with a checklist on it. These checklists contain the specific areas that you need to brush up on before an inspection occurs. As such, your checklist must be clear, comprehensive, and complete.
To guide you on how to make a complete health inspection checklist, here is a list of things you have to consider:
Take notes from your previous inspections. If your food business has been around for quite some time, then you surely must have experienced a health inspection. Draw information from the previous conclusion that the inspector has provided you with and include necessary tasks from it and add it to your checklist.
Organize items in your checklist. Categorize all items to check based on major classifications such as sanitation, food safety practices, and employee health and hygiene to name a few. This will help your in-house team tick off the tasks from the checklist more efficiently.
Highlight areas you are experiencing difficulties in. In some food businesses, there may be high-risk points and key safety issues in your production process that may need extra attention. You can highlight these points to give emphasis and allow employees to ensure that they are correctly accomplished.
Not all checklists are made the same. As we have mentioned, some food businesses will have tasks or points specific for them. An example would be the case of a food truck. A health inspection checklist for a food truck may include points such as properly checking the condition of the vehicle tires, breaks, and the like, whereas this does not apply to a restaurant. For this reason, you have to keep your checklist open for revisions.
What is the easiest way to get a health inspection checklist?
A health inspection checklist for restaurants and other foodservice establishments requires several points under several categories. What this tells you is that this type of checklist is long and comprehensive. Use our template for a health inspection checklist pdf that has prefilled tasks that you can customize to add more or revise. This template is completely free and customizable, allowing you to edit the form fields to tailor the checklist to your food business.
Our health inspection checklist pdf template can be downloaded and printed for your daily use. Check out more checklist templates such as our restaurant inspection checklist and updates from our template hub at FoodDocs.
Digital checklists to help your team
We understand the importance of acing an official health inspection and the possibility of getting poor health inspection results. It can make or break your food business. Our food safety experts at FoodDocs have devised a way to help you stay compliant with all the most important food safety regulations and tasks with our digital Food Safety Management and avoid health inspection violations. With this solution, you will no longer need paper forms to monitor all your food safety tasks. Switch to a more sustainable FSMS by allowing us to create a system specifically for your business.
In addition, our process would only take you an average of 15 minutes to come up with an FSMS tailored to the needs of your establishment. All you have to do is answer a few basic questions that revolve around the nature of your business. Afterwhich, our program will automatically generate a food safety management system with all the necessary monitoring tools for you!
When you join us at FoodDocs and avail of our FSMS services, you get more than just monitoring tools and digital checklists. Our system can also provide you with the following benefits:
Under our digital Food Safety Management System, we automatically generate digital checklists that are designed for your food business. These checklists are versatile and can be adapted to your operations by customizing them.
Our digital checklists are automatically prefilled for your convenience. All you have to do is to verify the generated information. The results we generate are based on your previous data entries.
We also feature a mobile-friendly app for employees that translates all monitoring and checklist forms generated from our dashboard to the palm of your hands. This application automatically sends you notifications for cases such as breaches from the safe range or even for upcoming deadlines on training and food safety certification. Use this feature to plan your health inspection activities and prepare your whole team.
On your FSMS homepage, we feature a real-time dashboard that gives you a report of the progress of your daily foodservice operations. This feature will help you focus on which sections of your food safety system is your operations lacking in.
As sustainability is one of our goals, our digital FSMS lets you cut on paper usage by translating all your monitoring procedures to a digital format. Everything is organized for you in cloud storage that allows you to easily access any urgently important file for reviewing or presentation.
Switching your food safety management system has never been this easy! As promised, it will only take you an average of 15 minutes to answer our questions and confirm your automatically generated FSMS. Make all your monitoring activities easier and more accessible with FoodDocs.
Embrace our digital food safety management system and get your free 14-day trial when you sign-up now.
Check also these popular templates
Easy app for monitoring to have an instant overview
Implement your

Food Safety System

in 15 minutes

Easy app for monitoring

to have an instant overview
Ready-to-use

HACCP Plan

in 1 hour