HACCP plan
CAPA process: What are the steps, examples, and CAPA records?
The CAPA process is a food business' defense mechanism against systematic issues and potential product complaints and ...
---
The CAPA process is a food business' defense mechanism against systematic issues and potential product complaints and recalls.
CAPA stands for corrective and preventive action process.
CAPA involves an in-depth collection of data and their analysis to come up with corrective or preventive action and prevent the recurrence of nonconformity.
CAPA involves two different solutions with very different approaches: corrective and preventive solutions.
Uncertainties in a food business can always lead to risks and hazards. Risks can always arise regardless of how robust your food safety management system may be. The majority of food safety systems are built around the premise of preventing these risks from occurring through systematic planning. The Corrective and Preventive Action or CAPA process is a widely known system used to analyze potential food safety issues and protect businesses in the food industry.
The CAPA process is a very general system that is also used in other industries. In the food industry, it is often used to address systemic issues that may involve the product or its production process. It can also be used to solve problems such as food complaints and recalls, aiding the efforts of involved food safety agencies.
In this article, learn more about the CAPA process, how it relates to HACCP, and a fast digital solution to get them done in just 1 hour.
What is the CAPA process?
The Corrective and Preventive Action Process, or CAPA, is a systematic tool used to collect and analyze information on potential problems and create appropriate corrective and preventive actions to prevent a recurrence. The main objectives of the CAPA process include the establishment of immediate corrective actions in case a problem occurs and a plan to determine the root cause of the problem while establishing ways to prevent it from happening again.
The CAPA process involves two different processes:
Corrective action processes. This operation involves reactive procedures that aim to address the current non-conformity at hand.
Preventive action process. This proactive operation includes a deeper analysis of the root cause of the problem and helps eliminate the potential for non-conformity to occur again.
In some food safety systems, such as the HACCP and Safe Quality Food (SQF) program, the CAPA process is mandatory. For HACCP, CAPA is part of the prerequisite programs and must follow a set of standard operating procedures.
The successful establishment of a CAPA process in a food business can help improve the approach to food safety, therefore limiting the chances of causing foodborne illnesses and losses in profit.

CAPA process steps
The CAPA process has many different interpretations, and the number of steps may vary depending on the complexity of the plan used by a company. Substeps can often be added to improve specificity.
The Food and Drug Administration has released a series of steps used as CAPA procedures. Several different interpretations of this guide have been used in different food safety systems.
According to the guidelines released by the FDA, the CAPA process involves the following steps:
Analysis of collected data. This step involves the evaluation of all records of internal audits, safety forms, quality records, complaints, recalls, and other sources of data that could identify potential sources of non-conformance.


Investigation of cause. Involves using root cause tools for non-conformities in relation to the product itself and the processes involved in making it. This step must be complete with a comprehensive characterization of the problem and justification of potential impact. Risk analysis tools may be used in investigating the cause of the discovered non-conformity.


Identification of appropriate action. Appropriate remedial actions mean choosing the correct solution to the problem, either corrective or preventive action activities. The parameters which will be used to arrive at whether the nonconformance will require corrective or preventive actions will come from the investigation process.


Verify and validate the effectiveness of chosen action. At this point, your team must check whether the chosen solution worked and did not form any subsequent nonconformances. In addition to proper implementation, rigid monitoring of the action's results must be properly documented for analysis.


Implement changes. Once the testing stage for the preventive controls has been verified and approved, the changes must then be implemented to standardize the succeeding operations where the nonconformance is non-existent.


Disseminate information. The information regarding the nonconformance that occurred, the conducted analysis, and the implemented changes must then be communicated to the involved/ affected operators and personnel.


Submit management review and documentation. Documentation is an important component of the CAPA process. It is your proof that the system is robust and working, and it will be your mode of sharing the information with your whole team.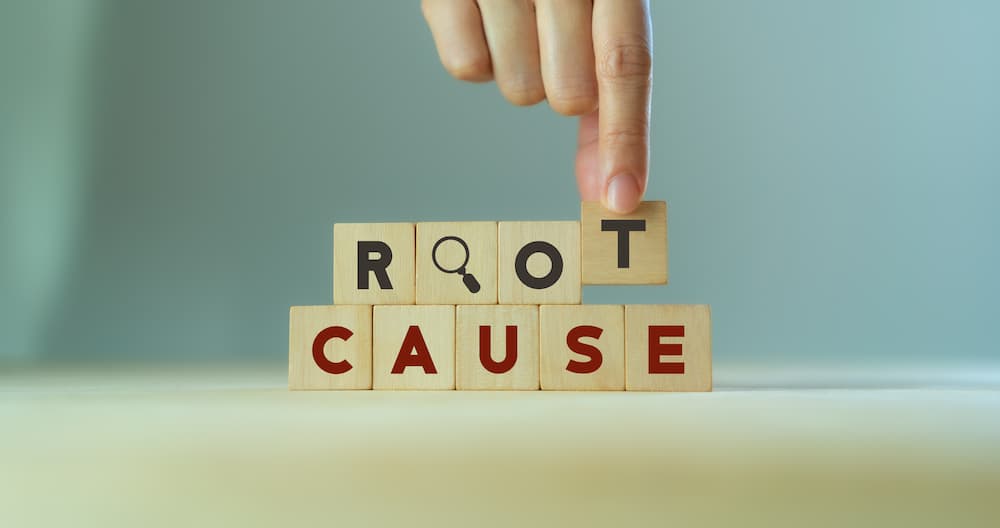 Food safety audits and inspections heavily rely on the documentation process of your CAPA. Every step will be verified and scrutinized by food safety agencies to ensure regulatory compliance and that any target nonconformance has been solved and controlled.
Below is a CAPA process flow chart that shows the sequence of activities involved in this operation: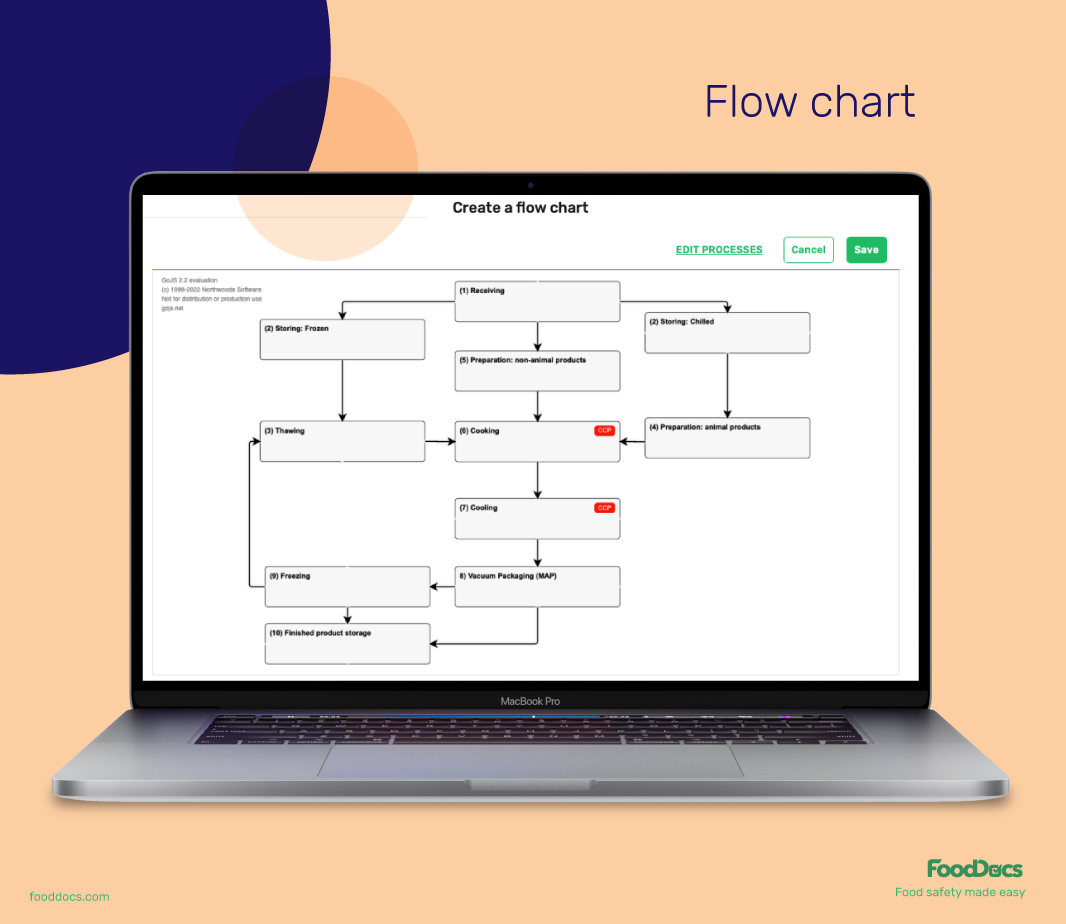 Building a CAPA process can take a lot of time and will need intense focus from your HACCP team. Luckily, we have the most efficient digital solution for you at FoodDocs. Using our built-in, customizable HACCP Plan template builder, you do get not only a comprehensive HACCP plan template but also a customizable basic corrective and preventive action plan for your food business.

What should I do when a food recall occurs?
When a food recall occurs, the operation must immediately coordinate with the concerned food safety agencies and create a wide notification approach for consumers. Normally, food safety agencies will handle the legal actions for food recalls.
While food safety agencies will be working on the food recall, your efforts must be focused on building a corrective and preventive action plan to prevent similar occurrences.4
Applying the CAPA procedures to customer complaints must start with identifying which product is in question. This step must include details on where and when the nonconformance was observed and the potential risk level of the problem.
Once the safety of the customer is ensured, your team must work on root cause determination for the nonconformance. After proper analysis, your team will determine the appropriate action plan.
The team must also be responsible for verifying if the proposed action plan is capable of addressing the non-conformance. Once proven effective and sustainable, all changes must be finalized, documented, and communicated with the different departments involved in the changes.

How to manage corrective and preventive actions with FoodDocs
Corrective and preventive actions are key programs in the food business for the maintenance of food safety. These systems can help food business address hazards that may have resulted from unforeseen deviations and potential nonconformities in equipment design, process, or the product itself. In fact, they are integral parts of the HACCP food safety plan.
Building corrective and preventive actions take so much time, let alone an entire HACCP plan. At FoodDocs, we have devised a digital solution that can help you get all of these done in just 1 hour. With our digital solution, you can get the following benefits:
A comprehensive list of prerequisite programs, including how to handle Customer complaints and food recall based on the CAPA process.


Using our built-in digital HACCP plan template builder, you can get a comprehensive HACCP plan template complete with corrective actions and other essential parts of a HACCP system:

Basic flow chart of your food operation
Identified and analyzed hazards
Established critical control points with appropriate critical limits
CCP monitoring procedures
Corrective action plans
Verification procedure
Recordkeeping and documentation
In addition to a completely customizable HACCP plan template, we also offer a digital food safety management system (FSMS) that can help you collect data and manage them for corrective actions.
When you use our digital solution, you can get the following benefits:
You can get automatically generated monitoring forms such as a food recall log that you can use to document data in case of food recalls. This monitoring form intuitively contains all of the necessary information for a successful recall and application of the CAPA process (e.g., root cause analysis and corrective action plan).


Every automatically generated food safety monitoring logs come with detailed instructions on how to perform the food safety task and monitor them accordingly. With this feature, you can ensure that all tasks are done correctly.


You can also get an automatic notification system that can help your team get smart alerts whenever a food safety task needs to be done.
In addition to features that help food employees improve the efficiency of food safety tasks, our digital Food Safety Managing System (FSMS) also features solutions that can help managers.
Get a real-time dashboard that features an overview of your food safety operations. This feature can help you save at least 20% of your time supervising your team. In addition, you can use it to identify areas that may need more attention for improvement.


Use the digital cloud space provided for you when you avail of our services. Store, organize, and access all files in this space easily.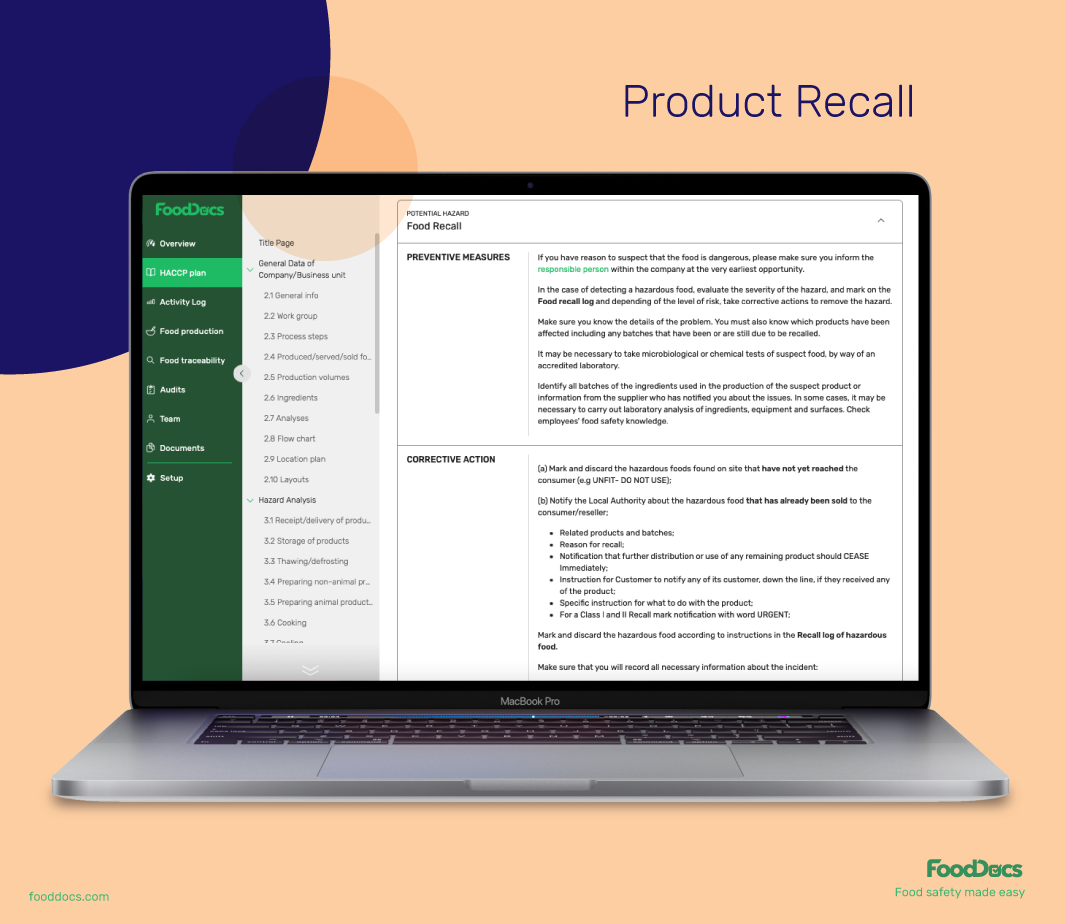 Switching to our digital platform only requires 15 minutes and involves answering simple questions about your operations. Using artificial intelligence and a machine-learning program, our system can automatically generate all of the most important food safety documents for you.
All forms for both of our digital solutions can be easily customized to fit your operations even better. You can achieve compliance using our built-in customizable HACCP plan template builder and consistently maintain it with our digital FSMS.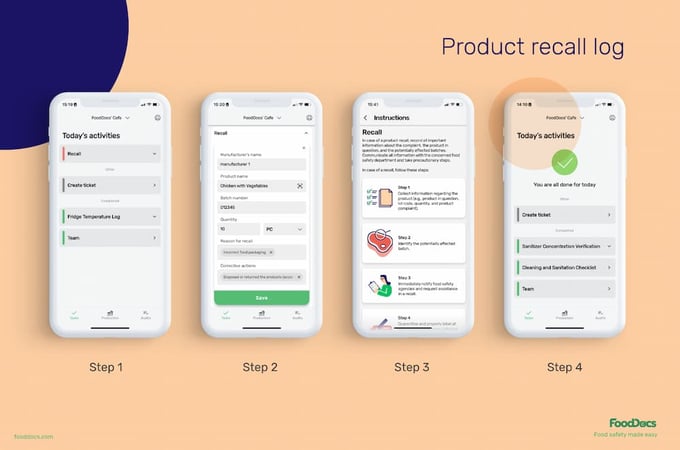 Experience the convenience and efficiency that our system brings by using our free 14-day trial today.