Use our free tool to create a food recall template.
Just enter your email and download the template.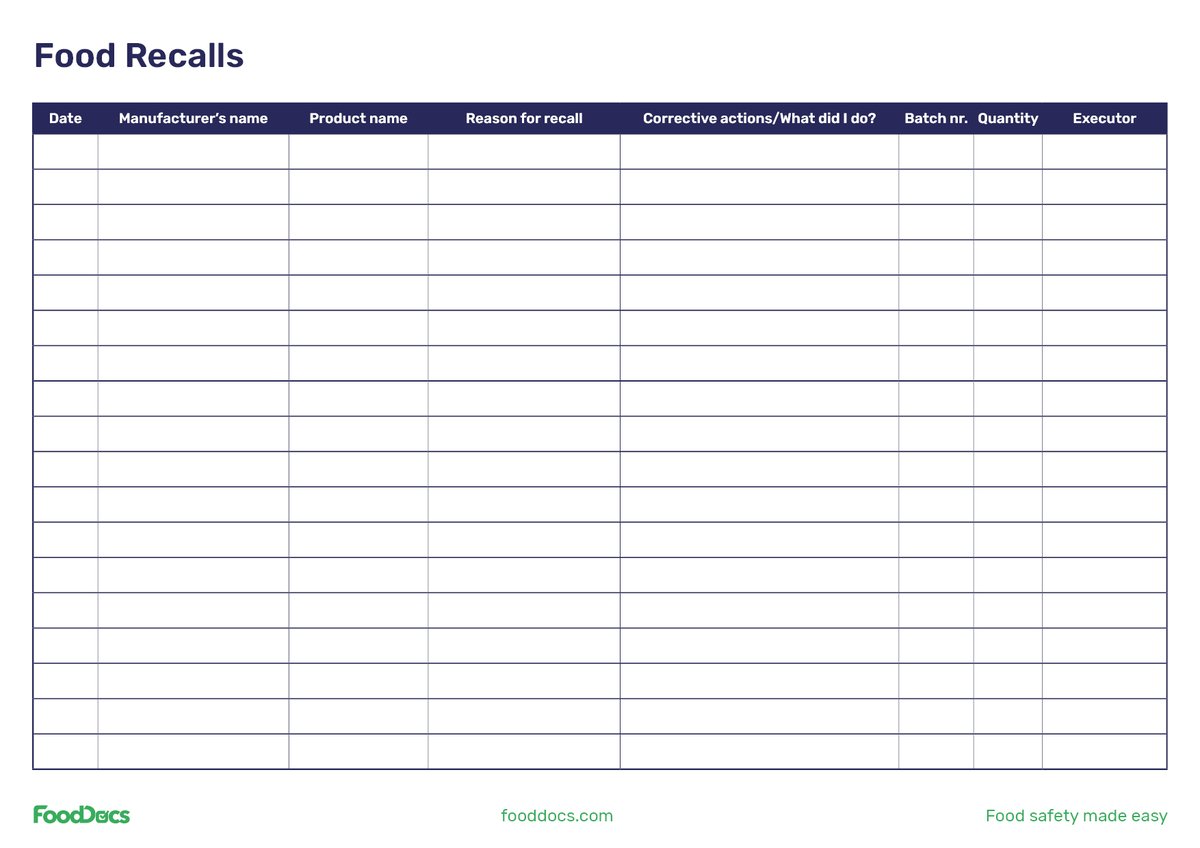 What is a food recall?
A food recall is when a food producer takes the product voluntarily off the market to protect the customers from harmful products that may harm them, whether with foodborne illness, injury, or even death. Food products are recalled with a product recall notice because there is reason to believe the products may be mislabelled, contaminated, faulted, or misbranded.
Food product recalls is very important part of your HACCP plan and can cause enormous trouble for food businesses, reaching millions of dollars and even causing bankruptcy. That's why it is important to build up a proper traceability system together with a food recall plan when you start your food business. This enables you to minimize the damage a product recall can cause, and how to keep customers safe.
What could be the reason for food recall?

Most of the causes for a food recall are found during the company's food safety inspections, HACCP audits, or product testing.
There could be several reasons, but here are the most common ones:
1. Incorrect food packaging. This includes products with the wrong packaging, like undeclared allergens, misleading claims, or incorrect ingredient labels.
2. Contamination from pathogens. Like salmonella, E. Coli, or Clostridium botulinum, etc.
3. Food contains physical contaminants. Like plastic, glass, or metal fragments
5 steps for when your food is being recalled:
STEP 1. Check whether you have purchased the food.
STEP 2. Check your fridges, cupboards, and stores to see whether you still have this food.
STEP 3. Read the food label. Check if the batch number, best before date, and product name match with the recalled product data. If yes, don't consume or use this product anymore!
STEP 4. Follow the manufacturer's instructions about corrective actions – dispose or return the product.
STEP 5. Fill in the necessary HACCP documentation, like the food product recall checklist above this article.
Keep in mind:
Don't ignore food recalls. They can cause serious trouble for you and your customers.Only products described in product recall notices are unsafe. All other products with different batch numbers are safe to buy, eat, and sell.

How to act when I need to make a recall?

Don't worry, a product recall is a way to keep your customers safe. You must have a detailed description in your food recall plan that is a part of your HACCP plan.
STEP 1: Identify the problem and the products that need to be recalled.
STEP 2. Separate all affected products and eliminate them from the production process. Use your traceability system for that.
STEP 3. Notify your local authority.
STEP 4. Notify your customers, compose and send product recall notices.
STEP 5. Dispose of all recalled products.
STEP 6. Fix the cause of the recall, for example, labeling.
What is the difference between a food recall and food withdrawal?

A food recall is often mixed up with the term food withdrawal. It's important to understand that there is a difference between these two. A withdrawal is when unsafe food is removed from the marketplace before it has reached the customers.
A recall is when unsafe food has already reached a marketplace and must be removed from the supply chain. In this case, customers are advised to take corrective action, for example, to return or to dispose of the unsafe food.
What documents do I need?
Let's face it, the local authorities' visit can break your business the same way as a food recall. Your traceability system together with the food recall plan and other HACCP documentation needs to be working and ready for the audit at any time. Up-to-date traceability and recall documentation is one of the first signs to authorities that your facility takes food safety and inspection seriously.
You can find all most wanted and important HACCP plan documents from our HACCP plan free template hub.
Product recall important documents include:

1. Product recall checklist. Feel free to use the template above or use any software that creates it automatically for you.
2. Food recall plan as a part of product recall hazard analyses in your HACCP plan.
3. Product recall notice. A request from the product manufacturer to return the product because of food safety matters. Different states and countries have different requirements for product recall notices.
Not sure where to start with your product recall and traceability? Don't have enough time? FoodDocs platform can direct you through the HACCP process and get your food recall documents done in no time, so you can focus on what you really need to – managing your business.
Check also these popular templates