HACCP plan
How to start a food truck business?
A food truck business is a mobile kitchen that prepares and serves food to consumers at different locations. Starting a ...
---
A food truck business is a mobile kitchen that prepares and serves food to consumers at different locations.
Starting a food truck business will require you to make a solid business plan for a food truck and learn food truck basics.
Similar to a traditional restaurant, food truck businesses are mandated to follow food safety protocols in a specific location.
It is the 21st century and everything is changing faster than we could imagine. The times are turbulent and entire businesses and business models are changing overnight. It can be a scary time but it can also be the time to chase after new, bigger dreams with a clear goal in sight. Think of the current situation as a catalyst, not as an obstacle. If you have always wondered how to start a food truck business, this may be the time to start.
Opening a food truck is relatively cheaper than opening a restaurant. The other good news is that starting a food truck with no experience can easily be done and managed with a well-thought-out business plan. Some tools allow you to do things digitally and ways to market yourself without having to hire a sales manager. The food truck industry is a perfect meeting place for business skills, creativity, and a bit of extra stamina. With the right plan, you are all set to go!
Learn how to start a food business and the food truck basics with us. Find out the best way you can manage your food truck, become compliant with food regulations in your area, and maintain compliance in your everyday operations with this food truck business guide.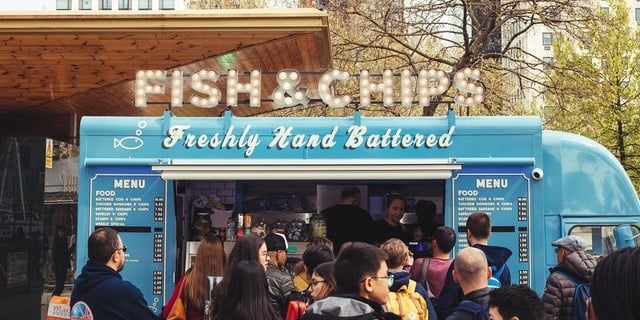 What do you need to start a food truck business?
Although starting a food business may seem a bit intimidating, you can start one relatively modestly. In the case of a food truck business, you have to first ask yourself, "What do I need to start a food truck business?" Don't have much experience in the hospitality or catering industry? That's not an obstacle! If you are very much into cooking foods and have a passion for food that can be good as to-go meals, then you've got the first thing you need already covered.
A well-covered research
A food truck is pretty much self-explanatory. It is an on-the-go motorized vehicle equipped to prepare and serve meals to consumers. Many successful mobile catering businesses have been founded by people with no prior experience in serving food or in working with food trucks. Although more complicated than how it seems, startup food trucks have significantly increased in visibility all over the world. In the United States alone, it was estimated that the market size of the food truck industry has reached $1.2 billion with a 4.7% market size growth in 2021 alone.
Although there are already many food trucks available worldwide, the market for this niche is fleeting and can easily change in an instant. Conduct complete research on what are the trendiest dishes at which location you are planning to launch in. Additionally, use this research to identify the risks you may face as well as areas you may need to focus on such as gaps that need to be filled in the food truck niche and the average cost to start a food truck business. Your first step to making this research is to read and follow our step-by-step guide on how to open a food truck business.
Figure out a food truck concept
After figuring out that you want to start a food truck business, the next thing to do is to figure out a concept for your business. Unlike a restaurant, a food truck business would be able to offer a more limited variety of food. Although you can switch up your menu now and then, picking out a concept narrows down your choices for a menu and concentrates your niche consumers. In picking out your concept, try to be simple yet unique while considering your interests and expertise. Good market research can also help you in making informed decisions about your chosen concept and avoid heavily saturated markets.
To help you figure your way around how to start a food truck business, you need a step-by-step plan and smart tools that will help you manage your business in the most efficient way possible.
How much does it cost to start a food truck business?
A food truck business is an amazing way to become an entrepreneur, work creatively, and make a positive impact in your community. In 1974, the first taco truck, King Taco began its operation from a converted ice cream truck and soon became a successful brick-and-mortar restaurant chain in Southern California.
As of February 2020, there were more than 24,000 food trucks in the United States earning about $1 billion a year. Although this revenue may seem big, at what cost will it take to come up with your targeted profit per year?
Many different marketing analyses have estimated that the average cost of setting up a food truck is anywhere between $28,000 and $114,000, whereas some estimated higher between $75,000 and $250,000. When planning to start a food truck business, you have to consider the costs that you will be spending, budget them, and anticipate any unforeseen expenditures. Aside from the actual ingredients, you will be using, there will be a lot of fixed and variable costs when starting up a food business.


Some of these costs will include:
Insurances
Employee wages
Cooking and storage equipment
Uniforms
Marketing and advertisements
Utility products (e.g. tissues, packaging materials, and trashbags)
Permits
Truck
Gas

These costs will vary depending on the quality or level of each variable you will purchase. With a very limited budget, you may need to start modestly and gradually move towards improving these factors along the way. Find out more about how much each component will cost you in the next sections.

How to start a food truck business in steps?
Starting a food truck business is as big of an endeavor as starting any type of traditional restaurant. Although the cost will be less, the preparation is pretty much the same. Each state has specific food rules and regulations intended to protect public health. At one point you may need to check the
specific business license and permit requirements
in your area from the website of the
U.S. Small Business Administration
If you are wondering how to start a food truck business in the most prepared way possible, we have prepared a list of crucial steps you will need to do to become prepared.
1) Write a food truck business plan
Operating a mobile food facility is not that much different from operating any business in a competitive market. You need to be aware of the needs of your target group, of the emerging trends on the food scene and in the food truck business, and know what your competitors are doing. As such you would need a solid business plan. You don't want to add another homemade pasta truck next to a town square full of Italian food. The more research you do before starting, the easier it will be to make strategic business decisions.
An average food truck business earns between $40,000 to $200,000 per year. Several factors can easily affect this level of profit. To help you maximize your potential earnings, make a detailed food truck start-up business plan that will list important information about your business. A sound business plan is an essential step and is the backbone of your dream food truck. Every successful food truck business owner knows how to make a food truck business plan. A business plan for food truck owners will contain all the necessary information about your business and show any potential investors that you are prepared to go on a business.

On your food truck business plan, write down your:
Executive summary
Concept

Company description and legal structure
Business address
Goals and vision for your business (your business idea)

Product line
Target market and the market gap you are trying to fill
Marketing strategies for your business
Financial projections
Management system
2) Identify sources of funding
It would be best if you have already saved up for your dream of starting a food truck business. Having your own personal assets saves you a lot of time processing funding requests and the like. Despite this, we understand that not everybody has the opportunity to save enough funds in time. As such, you have to know every option for food trucks which you can get funds from such as a business loan. Some of the ways that you can get funding may include:
Bank loans
Small-business grants
Personal investors
Crowdfunding
Equipment loan
Credit union
3) Register your food business and get permits and licenses
Register your business with every local authority in all areas you are planning to operate in. Check the rules and regulations on how long in advance do you need to register before you are allowed to sell. Food truck licensing laws and permits constantly change. It would be a good idea to join your local restaurant or mobile vendors association to stay updated on the changes in the laws that might affect your business now and in the future.
To name a few business permits and licenses you may need, here are they:
This permit aims to reduce the times that you need to pay taxes. Some states in the US allow foodservice businesses to buy ingredients and supplies at wholesale with no taxes as long as they have this permit.
This type of license includes your vehicle permit, driver's license, and sometimes even a mobile food vendor (MFV) permit. Your vehicle permit and driver's license level may vary depending on the size of the truck you are carrying. The latter permit is quite harder to come by. In some states, MFV permits are limited by law to control the number of mobile food vendors. This permit allows your business to operate in private properties in a commercially zoned area. Verify your requirements in a local authority branch and acquaint yourself with renewal procedures.
A health permit serves as proof that your food business is operating with proper food safety practices and that it follows the common and international food safety regulations. This permit is awarded to food truck operators after passing a health inspection which requires you to show your storage, cleanliness and sanitation management, and comprehensive HACCP plan.
If you're using cooking equipment and gas on board, the fire department needs to inspect your food truck before you can open for business. Your local fire department will educate you on the regulations you need to follow. They will also do routine inspections of your fire suppression system.
At least one of your food truck business employees, preferably the manager, must have this permit to certify that someone in your food business has been properly trained in keeping your food practices safe. This permit or a food safety certification also proves that a representative is knowledgeable about food safety.

4) Plan your costs and buy a truck
This is the paramount question you need to answer when starting mobile food businesses. Usually, this decision heavily depends on the finances available as the average cost of a new motor vehicle can range anywhere from $50,000 to $175,000. Buying a new actual truck is expensive. Buying a used one can be risky. You need to do a bit of research before sending those dollars flying from your bank account.
If you already have a custom food truck or you have decided to rent one, the next thing you need to factor in is the cost of your commercial kitchen equipment. If you want to update existing kitchen appliances or need to buy all the equipment for your food truck from scratch, you need to list all that down in your business startup costs.
Food stock? Have a clear overview at the starting point. You probably already have a good idea of the food and menu items you are going to create. Anticipate the number of servings you may need per day. Trying to understand the number of ingredients you need to start your business helps things run smoother on your first day, week, and month of operation.
Here are estimated amounts of some of the food truck startup costs you may need to save up for a food truck business:


Fuel cost. this depends on your concept (whether you are set up locally or plan to drive around). When factoring in the gas you will use for cooking, a food truck may use up an average of $600 per month for both. This is excluding truck maintenance.
Wages. For a cook alone, the computed average salary of a food truck cook is $28,442 per year nationally in the United States. Depending on the size of your food truck and the number of your employees, this figure may change.
Business insurance. Several types of insurance are applicable for a food truck business. One of the most prominent insurance would be general liability food truck insurance which protects food trucks from customer injuries and damages to your property. This insurance averages at $560 per year.
Marketing costs. Your advertising strategy will greatly vary the cost that you need to spend. Word-of-the-mouth advertisement costs almost next to nothing. Promotional posts on social media are in the same range. Although, when you want to have a farther reach on your advertisements, you may need to devote $1,500 to $3,000 for a starting business depending on the scale you want. Marketing plays an important part in your sales. This avenue is how people get to know you even before you go to your target location.
Maintenance. Your food truck equipment, which includes your cooking equipment and vehicle repairs, will need regular maintenance and repairs, so consider these costs from the get-go. Maintenance may play around $500 to $1,000 depending on the quality of your equipment.
5) Figure out where to park
One of the main purposes of using a truck for a food business is for you to access different locations. Depending on the site you are in and your advertisement strategies, potential customers may either flock to you or you may drown in a sea of other food trucks. No one will cross two highways, a football pitch, and a dodgy underground passage for a dish of satay poutine.
Want to keep your food truck in business for the long term? Test out different locations (and your core menu items!) and start building up your loyal following from there. Based on your town or city, it is probably worth trying out some of the following locations:


Food truck parks. Team up with a food truck community to meet up on a specific spot at a specific time and day to attract more people.
Street parking. Another good idea but not always the easiest spot to find. You should choose your spot based on your target food truck customers. As you have identified in your business plan, you will know which venue would your target market be most likely to go to. Construction workers, downtown business district employees, and stay-at-home parents follow different itineraries at breakfast, lunch, and dinner time.
Local farmers market. Farmers' markets are niche community events, that may require an event booking. So, before setting up your food truck at one of them, make sure that what you are offering matches the general theme. If the market is all about freshly picked produce, home-baked pies, and products from the local butchers, then energy balls with unknown ingredients might not sell that well.
Business districts. These spots house busy office people that would enjoy a variety of food for lunch. If your city and the business park owner allow it, this will be a great location to set up in. Don't forget the power of marketing! Your food truck is your business now and you want people to know you are there. Plan by sending out flyers or notices to ask for permission to park your food truck near their offices.
Nightclubs and bars. Aim for your city's renowned night spots. People may be looking for a way to sober up and if your food offers that, these spots may just be great for you. Make sure that your target customers will easily see or smell your food truck when leaving the establishment on their way home. Notify the club owners and always ask for their permission.
Colleges and campuses. Students are always on the lookout for quick and tasty food experiences. Colleges also hold campus sports events and other special events that attract great crowds. Food truck vendors need to have a permit to park on campus, so get that first.
Festivals and sports venues. A food truck scene is a warm sight at every festival, state fair, and large outdoor event. People who have come here are already in good spirits and are willing to spend money. Renting a food truck spot at a famous festival can be a bit out of your budget at first, so consider parking at a nearby street to still catch the arriving or leaving crowds.
6) Invest in food truck marketing and advertising - the secret to success
Attract your customers with experiences they can't get at home. A successful food truck does not become successful only because of the location it has managed to score. It is the content that makes or breaks it.
Do your research about trends and think about what makes your eyes shine and your mouth water. There are ice cream cones but are there ice cream sandwiches? There is Korean food but are there Korean tacos? Partner up with local farms and artisans to create a healthy food truck menu when everyone else is doing deep-fried. Stand out from the crowd and build your customer base with pride.
Your meals are a great marketing tool themselves. In this age of technology, information about something that tastes good will travel faster than your food truck. Most food trucks would also invest in making their vehicles look attractive to customers. Consumers eat with their eyes first. So, you have to have a visually appealing setup.
Put social media marketing to work for you. As a food truck vendor, you can save a lot on marketing costs by looking into how successful food trucks or other food businesses are marketing themselves on social media. There is no particular need to hire a sales or a marketing manager just for this. You probably already know what works if you are following any food businesses on social media yourself.
One more thing: do not try to copy anyone else. Find your voice. This will make you stand out. Think of campaigns from other fields of business and see whether they would work for you. Do not worry if no other food truck you know has ever had a similar campaign idea. Be the one who stands out.
7) Create a comprehensive HACCP plan
All restaurants, food trucks, bakeries, cafes, and even food businesses operating from home need to comply with food safety regulations to prove and guarantee that the food they serve or sell is safe for their customers. Some countries such as the UK and the US require food businesses to have a risk-based preventive control program to identify all food hazards and ensure that they are controlled.
A
HACCP plan
or Hazard Analysis and Critical Control Point plan is an internationally recognized system that aims to reduce the risk of safety hazards in food. This document describes all your food-related activities and the risks associated with them. A HACCP food safety plan contains sets of preventive control and corrective actions for any
food safety hazard in your business
. It also identifies monitoring activities and verification procedures to ensure food safety.
It used to take a long time to get your HACCP plan, so food business owners tended to be afraid of it. These days, you don't need to go on a HACCP course to learn how to compile your plan or even have a food safety consultant come around. Using a
digital tool
like FoodDocs enables you to get your HACCP in 1 hour. Instead of spending a month or more trying to draw up flow charts, the program creates your HACCP plan according to your food truck's business activities and current requirements
based on 8 questions
. It is a simple and perfectly contact-free solution for our current times.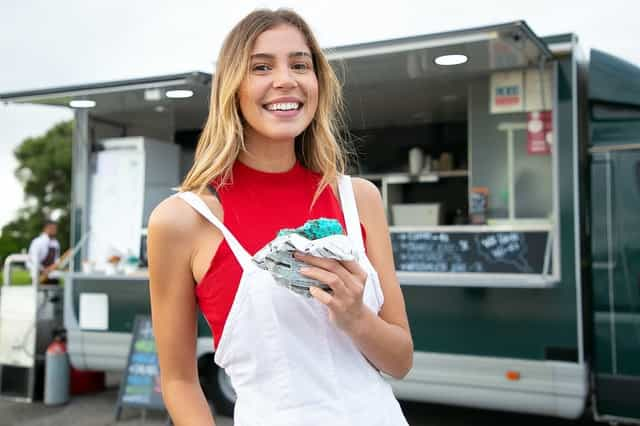 Consider using a point-of-sale system
With the ever-changing world filled with innovations, even payment systems have changed. Paying in cash has become less and less common and most customers just use business credit cards or mobile payment systems to purchase their needs. Especially in a time such as that of 2020 and 2021 when a global pandemic has hit the world, personal contact through the exchange of cash can be a bit risky. As such, why not consider using different point-of-sale (POS) systems?
Digital POS systems allow you to pay for goods through an app or software installed on a smart device. Similarly, a food truck owner can also use this tool as long as you register to a digital POS provider. The portability of POS systems makes for a good strategy for a food truck business that is on the go.
Some of the most widely used POS systems to date include the following:
Square
Toast
Shopify
Upserve
Harbotouch
Clover
Lightspeed

Despite being digital, most POS systems are easy to use because of their smart features. Companies also pride themselves on ensuring that their system is secured and compatible with other POS systems. Some systems can even translate which among your products sell the best. Digital POS can accommodate any type of payment channel such as a credit card or cash.

What makes food trucks fail?
As you are interested in how to start a mobile food facility business, you are probably equally curious about how to keep a food truck business from failing. We have talked about everything that gets your truck on the road, let's now look into factors that can potentially hurt your small business before it can even fully take off.

Here are the four (4) most common mistakes to avoid:
#1 Lack of planning
Lack of planning will result in failed inventory management and underestimated food costs. If your food takes too long to prepare, if you constantly under- or overestimate the quantities needed, or if everyday life keeps showering you with bad surprises, you need to sit down and have a look at your schedules and bigger strategy. Evaluate your mistakes and identify their root causes. Review your business plan or revise if needed.

#2 Lack of marketing
Never think that people will just run to you because you are there. There is no shortage of restaurants, food trucks, and takeaway options on the market. You need to be aware that work and effort need to go into getting the word out, and that no food truck gains loyal followership just because they are painted nicely and sell something that smells good - although that helps! Never forget the marketing aspect, no matter how good your food is. A lack of proper, strategic promotion is a factor that can make or break your business.

#3 Lack of energy
It is common to burn out when working in the food industry. Beginning mobile food facility owners tend to underestimate the amount of work that goes into running a food truck. Don't try to bite off more things than you can chew when first starting. For example, there is no need to have your food truck present at all festivals during your first summer. Give yourself days off and protect your ability to be inspired. After all, it is your creativity and inspiration that help you create your unique brand.
To help you with this problem, hire competent employees. There is no need to do everything yourself. With a bit of funding on board, it is worth employing some people who know what they are doing and how to do it fast.

#4 Choosing a wrong product
This relates to doing your research before getting your food truck on the road. How to start a food truck in a way that will bring in money? The answer is to find the right product. Don't just jump on the first idea that enters your mind. Look, walk, and Google around.
Your product should not be too uncommon or too common. If it is of poor quality, the customers will not return. If it sells OK but the profit margin is too low, your business will not last. Think it through on all levels. For example, it is a good idea to incorporate one popular or common meal into your menu when opening up your business. Then, let your customers explore their way from there.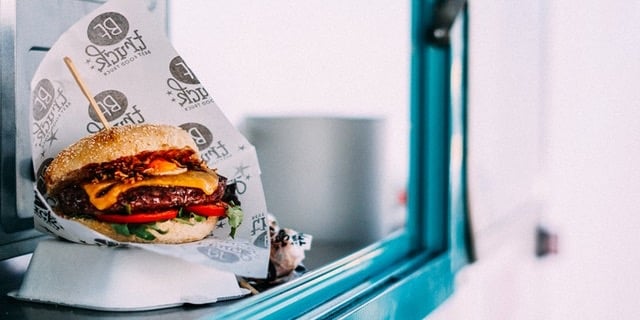 If you think everything through, talk to people who already own and operate food trucks, take it step-by-step (and bite-by-bite). Your unique brand will be ready to take on the streets. It will be good and it will be worth it.
Health compliance with digital tools
The flexibility of a mobile food facility when it comes to serving different types of foods is an advantage for food business owners. Despite this, serving a very complex food menu can make your HACCP plan-making process a nightmare. HACCP plans can be process-specific and may need to be revised for every product you have. What if we told you that there is a way for you to become HACCP compliant for all your food products and process in just 1 hour or less?
With a unique tool like FoodDocs, you can bring yourself up to date with all food safety regulations whenever the world or your business has to change. There is
no need to hire a food safety consultant
every time a small change needs to be registered or to spend a lot of time waiting for them to come to inspect your food truck. You can save time with all the tedious processes of making HACCP food safety management plans.
Our digital HACCP plan
is accepted by the authorities just like the paper version is. A digital HACCP plan can also become a business tool that helps you stand out from your competitors by building a brand known for its safe and delicious food. Using a digital platform helps to make sure that you are compliant with all food safety laws, follow all food safety guidelines, and also allows you to accomplish the following tasks:
Identify food safety hazards
Setup preventive controls and corrective actions
Monitor all food-related activities in real-time
Manage you team
Maintain high food hygiene standards
Streamline processes
Guarantee traceability of all data collected.
At FoodDocs, we create a HACCP plan that is tailored to the nature of your food business. After answering basic steps and questions about your food truck and the nature of your operations, our built-in software will automatically generate a comprehensive and complete HACCP food safety plan. This plan is customizable to entertain any revisions or additional information you want to add.
Our system was built by food safety experts who have had their fair share of time in the food industry. You can relax and be at ease to know that all generated information is based on a database of food safety information on current and updated food safety regulations based on your location.
With FoodDocs, you can build your HACCP plan 500x faster than hiring a food safety consultant and even cheaper! It will only take you an average of 1 hour to get a complete HACCP plan with monitoring forms, digital flow charts, waste management, and traceability plans, as well as other essential documents needed for HACCP compliance.
Start focusing on your food truck business management and let us at FoodDocs handle your HACCP plan requirements. Sign up to get a free 14-day trial that you can use to set up a HACCP plan and continue to remain compliant with our help.