BIG 6 FOODBORNE ILLNESSES
Feel free to use our free Big 6 Foodborne Ilnesses Poster.
Just enter your email and download the template.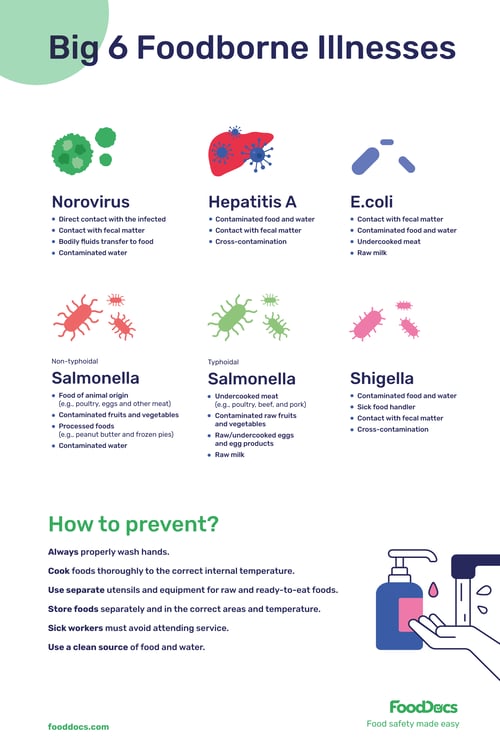 Big 6 foodborne illnesses
Every year, at least 48 million foodborne illnesses are caused by 250 foodborne disease agents in the US. These foodborne illnesses put the lives of consumers in danger. In addition, they also slow down the economic growth of a nation. Out of these 250 foodborne illness-causing agents, six of them dominate most of the foodborne illness cases. Knowing these big 6 foodborne illnesses would help food handlers address them properly and prevent them from causing any problems.
To serve quality and safe products, food establishments must train their employees on the sources, symptoms, and proper handling techniques to control the spread of the big 6 foodborne illnesses. These sets of knowledge must become the foundation for food safety in your food business. These foodborne illness agents can easily enter the food supply chain at any given point without proper food handling and monitoring systems. They can cause different forms of food poisoning and harm your customers. As such, start your food safety training by providing your food service employees with the Big 6 foodborne illnesses poster from FoodDocs.
What are the big 6 foodborne illnesses?
Treated as the most highly infectious and dominant pathogens, the big 6 pathogens include the following:
Norovirus
Nontyphoidal Salmonella
Salmonella Typhi
E. coli
Shigella
Hepatitis A
Of the previously mentioned 250 foodborne diseases, the majority of them are caused by biological hazards that may either be a variety of bacteria, molds, yeasts, viruses, or parasites. These mentioned big 6 pathogens constitute most of these foodborne illnesses, whereas others are unspecified agents. Collectively, they can be found in animal fecal matter and can work their way into the food through the food handlers and untreated water.
A great source of the spread of contamination from these pathogens is cross-contamination. Among the three major vectors, food handlers are the fastest modes to cross-contaminate food. Without proper food safety practices, they can spread these pathogens inside and outside the kitchen.
Touching kitchen surfaces, and then raw meats, raw seafood, raw fruits, or other food sources without washing hands in between can cause widespread contamination of food by pathogens. Additionally, an infected person, whether a food handler or a customer can become a fast spreader of these pathogens. Avoiding cross-contaminating foods is a top priority inside a kitchen area.
These pathogens can cause mild to severe foodborne illnesses in consumers that can manifest through the following gastrointestinal symptoms:
Mild to severe diarrhea (Can be watery or bloody diarrhea depending on the degree of infection)
Abdominal cramps
Vomiting
Fever
Nausea
Weakness of body
Depending on the severity or degree of the contamination, these pathogens can cause more severe symptoms such as acute or chronic disease, blood infection, and can eventually lead to death. This is most especially true for individuals with weakened immune systems such as pregnant women, children under 5 years old, and the elderly. With their optimal growth under favorable conditions, they can cause larger environmental diseases and even infect a healthy person.
Why is it important to know the big 6 foodborne illnesses?
A part of the responsibility of a food handler is to protect consumers from potential food safety hazards that may cause foodborne illnesses. The first step to do this task is to acquaint food handlers with what hazards are they dealing with. They must be aware of which are the bad bacteria and other pathogens that can cause any disease in humans.
By knowing what are the big 6 foodborne illness-causing pathogens, food business managers can make food safe and reduce costs from food safety issues as well as food wastage. When foodborne illnesses occur, it is a part of a food establishment team's responsibility to handle food safety complaints and help in addressing the matter. In some cases, lawsuits can become involved which will cost your food business.
Learning about the big 6 foodborne illnesses helps mitigate the majority of the food safety hazards in the food industry. These pathogens can be seen in the most common sources in the kitchen, two of which are water and the raw food items themselves. When addressed properly, the negative effects of these pathogens can be controlled to a minimum.
Despite the significant effects of these foodborne illnesses, they can be controlled. Cooked meat that was processed to a safe temperature has significantly less tendency to retain these pathogens. Improper cooking temperatures can encourage bacterial growth. Additionally, knowing the target pathogens can help food handlers to identify the correct temperature for the storage of high-risk foods.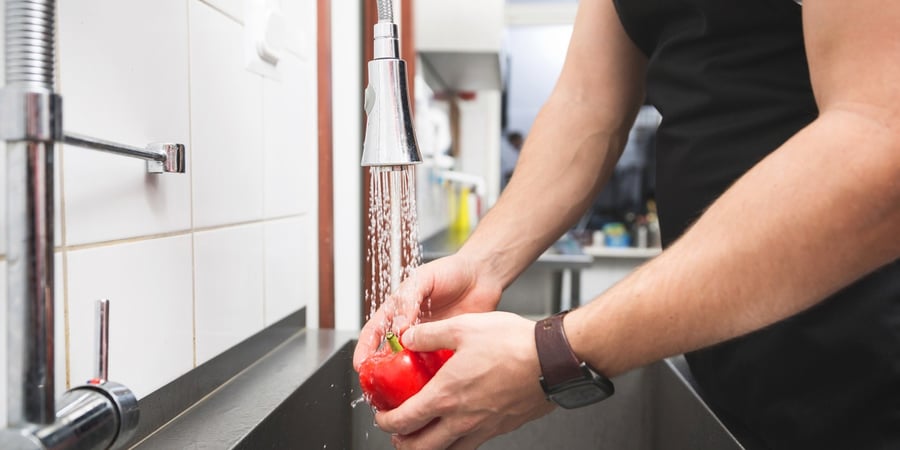 What is a Big 6 foodborne illnesses poster?
A big 6 foodborne illnesses poster is a reference material that contains the most significant pathogens in the food industry, a list of common symptoms from their effects, and appropriate food safety practices to control them. The objective of this tool is to educate food handlers whether in a food establishment or at home about the significant foodborne illnesses.
Using this reference poster for food workers, it would be easier to identify which among the pathogens is the causative foodborne agent of food poisoning. This will then help them address the problem. Additionally, the big 6 foodborne illnesses poster contains the most effective food safety practices to prevent and control these pathogens, some of these practices include:
Always properly wash hands with soap and warm water. Download our free handwashing poster.
Always clean food contact surfaces with suggested cleaning solutions and keep the kitchen environment clean.
Cook foods thoroughly to the correct internal temperature. Use a working and calibrated digital food thermometer.
Use separate utensils and food preparation equipment (e.g. separate cutting boards) for raw materials and ready-to-eat foods.
Store food products separately and in the correct areas and temperature. Use working and calibrated food thermometers to ensure refrigerator temperature. Chill foods inside a refrigerator and keep hot food hot using proper equipment.
Sick workers must avoid attending service.
Use a clean source of food and tap water.
Always practice high personal hygiene standard.
Who needs a Big 6 foodborne illnesses poster?
Regardless of whether you are a food handler in a food service establishment such as restaurants, grocery stores, bakeries, ghost kitchens, and food trucks a big 6 foodborne illnesses poster can be useful for you. The pathogens included in these posters are commonly sourced from very conventional ingredients that are normally present in any kitchen.
Some of these sources include high-risk foods such as raw meat, fresh fruits, vegetables, unpasteurized milk, water, and raw eggs. The risk of having these hazards on your food increases when they come from an unapproved source of materials. The nutritious qualities of these materials serve as a good medium for the growth of pathogens and contaminate any ready-to-eat food. Additionally, this poster can help food handlers remember the most important food safety practices to control the big 6 foodborne infections.
What are the benefits of a Big 6 foodborne illnesses poster?
Like most food reference materials, the main objective of a Big 6 foodborne illnesses poster is to increase awareness among food handlers and consumers. This tool can become an important part of every food business's food safety management system and help your team control foodborne pathogens.
To clearly see how this poster can help you in managing your food safety procedures, here are a few benefits that this poster could provide you with:
Reminder. As mentioned, food handlers are the most probable carriers and spreaders of the big 6 foodborne illnesses. As such, constant reminder of what to do and what not to do in the kitchen is needed. A Big 6 foodborne illnesses poster can serve as a daily reminder for food handlers to do common practices such as regular handwashing and cooking foods to the proper temperature. It also gives food handlers an idea of which foods are considered high-risk. Keep your poster in a bright and noticeable place to serve its purpose.
Food safety promotion. When placed in other areas of the food service facility, such as the service area, a Big 6 foodborne illnesses poster can help promote food safety among consumers and servers alike. As food safety is a shared responsibility between the food handlers and the customers, the knowledge about these pathogens and food safety practices must be readily available.
Cost-saving. With all food handlers reminded daily of the proper food safety practices, your food establishment becomes protected from complaints and lawsuits. The awareness that this poster brings also helps reduce the amount of food waste as a result of spoilage.
Food safety training. A big 6 foodborne illnesses poster can also become a great training material for new food workers. It can be used to acquaint them with the most significant foodborne pathogens as well as the fundamental food handler safe practices in the food industry.
The information in a Big 6 foodborne illnesses poster is important in keeping food safety controlled in your food establishment. It contributes to the requirement of food safety practices to become effective which is consistency. For these practices to consistently play their parts, they have to be observed every day.
How to create a big 6 foodborne illnesses poster?
A Big 6 foodborne illnesses poster is a very useful reference tool in a food establishment. Although, for it to achieve its objective, your poster must have some of the key elements of good visual aid. The information on your poster must be based on factual references, updated, and relevant. In addition, the poster itself must be clear.
Learn more about how these elements play in making your poster:
Fact-based information. The information that you put on your poster must come from reliable sources such as food safety agencies, peer-reviewed articles, and registered surveys. This ensures that the information you use is true and verified. This is a very important element in what is at stake is the health of consumers.
Updated. The scientific community continuously conducts food safety research to improve the available information for food safety practices. Consult regulatory agencies to gain access to the most updated information. Outdated reports may not be true anymore or can be inefficient when applied to your everyday food preparation activities.
Clear. In terms of the images and the texts you put, everything must be clear. Whether they are instructions or just information about the common source of the big 6 foodborne illnesses, clarity must always be present to avoid confusion.
Relevant. Although you can put a long list of food safety practices on your poster, that may be a bit unnecessary. With a very long list, the poster can look cramped up and become hard to read. Only include the most relevant information such as sources of the pathogens, symptoms of sickness, and the most important food safety practices to control them.
Want a big 6 foodborne illnesses poster that has all of these elements? You can use our free version as all information we have used is verified and from trusted sources. Additionally, we also have some of the most important food safety posters that you can download and print for free. You can also access more templates for some of the most important monitoring forms, advisories, and checklists from our HACCP plan template hub.
Digital solution to prevent the big 6 foodborne illnesses from spreading
The majority of the identified foodborne illnesses and reported cases are caused by the big 6 foodborne pathogens. Monitoring their control and prevention is therefore a significant job to produce only safe cooked foods. To do this, food handlers must be fully equipped and well-trained. A food safety management system can be of great help in this field. Despite this, your traditional FSMS does not offer intuitive solutions and can sometimes become ineffective without constant reminding.
To solve this problem, our team of food safety experts has come up with a digital Food Safety Management System. Intimidated by the word "digital?" Do not worry because our process would only take you an average of 15 minutes to finish. After answering a few basic questions about your food operations, our system, powered by artificial intelligence, will automatically generate a comprehensive digital FSMS fit exactly to your everyday operations.
What does a digital FSMS offer to every food business? Here is a list:
Customizable digital monitoring forms built specifically for your daily food safety operations. These digital monitoring forms can be set to be automatically filled based on your previous data entries. This feature saves a significant amount of your employee's time and ensures accurate entries every time.
Smart notification system so your employees will never forget any food safety task that is due.
A real-time dashboard that reflects your everyday progress. You can use this feature to identify areas that need more attention for improvement.
Unlimited cloud storage that you can use for all of your digital forms and documents.
Every form that our digital FSMS provides can accommodate changes and improvements through customization. You can easily add, edit, or improve any document to accommodate unique operations in your food business.
Let our digital FSMS help you keep your food safety compliance statute by creating more efficient ways for you to monitor and control hazards such as the big 6 foodborne illnesses. Switch to our digital platform and save your employees' time in doing all of the repetitive tasks every day.
Join our list of more than 15,000 customers who are enjoying an efficient digital FSMS and everyday food safety compliance by joining us at FoodDocs. Learn more about our digital FSMS services and explore how our product works using our free, 14-day trial.
Check also these popular templates