THERMOMETER CALIBRATION LOG
Feel free to use our Thermometer Calibration Log template.
Just enter your email and download the template.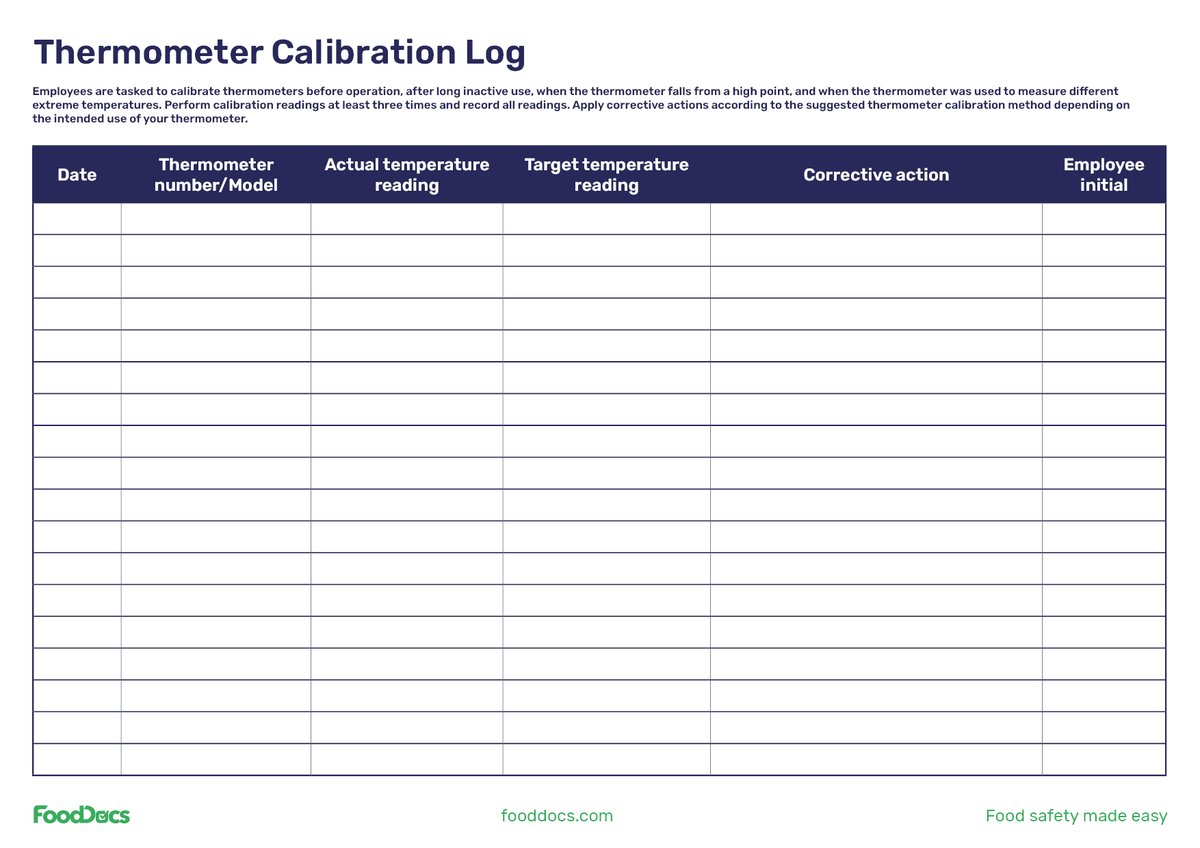 Thermometer calibration log
Any kitchen equipment may need some form of maintenance at some point. This is also the case for food thermometers. This kitchen apparatus is a piece of very common equipment. It is used to measure the temperatures of food as well as storage temperature. There are different types of thermometers in the food industry, but their main objective is to achieve clear, accurate, and precise temperature readings. To do this, calibration is required. Employees are required to record all gathered information on their thermometer calibration log.
Find out how to use a thermometer calibration log and how to get one fast.
What is a thermometer calibration log?
A thermometer calibration log is a document where temperature readings during thermometer calibration are recorded. It also records the corrective action performed to resolve the inaccuracy of the thermometer. This document serves as proof that your thermometer and product probe is duly calibrated and that it gives accurate readings. Whether it is for an oven, refrigerator, or dehydrator thermometer calibration, recording the results is important.
Accurate temperature readings are important for food safety practices such as cooking and cold storage to name a few. The growth of pathogenic microorganisms depends on the surrounding temperature. Operations such as cooking aim to eliminate these microorganisms and improve eating characteristics. For low temperatures, the growth of pathogens is controlled and significantly slowed down.
For operations such as these, their effectiveness depends on the accuracy of their temperature reading. Target internal temperatures for cooking particular raw foods are intended to target microorganisms that are vulnerable at a specific temperature change.
Who needs a thermometer calibration log?
Any business that requires the use of a thermometer would need a thermometer calibration log. Regardless of product type documentation, if it requires to be processed with a controlled temperature, you will need a thermometer calibration log. Thermometers can be used for measuring temperature during cooking, refrigeration, hot-holding, and other operations. Accurate temperature reading for these operations can be achieved by regularly calibrating thermometers. During calibration, actual temperature readings and calibrated thermometer readings must be recorded accordingly.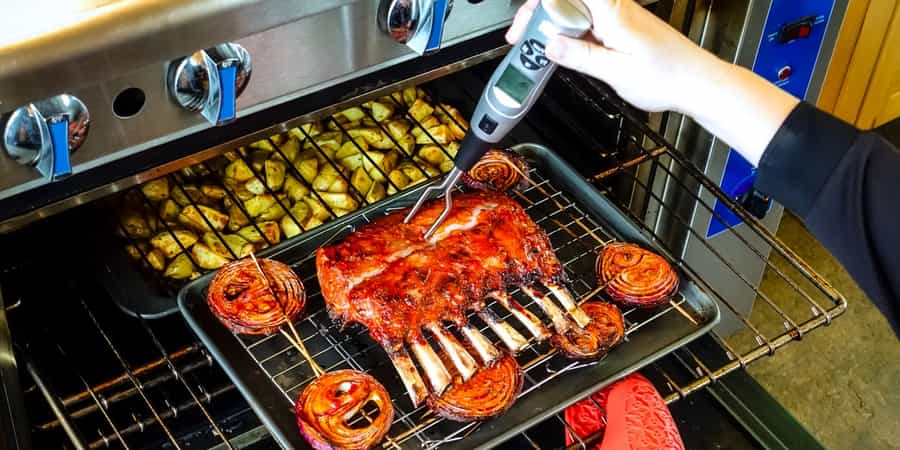 Why is a thermometer calibration log important?
Keeping a record of your calibration activities is an important food safety operation. Thermometers will require calibration depending on the frequency of use and other instances. Some thermometers are suggested to be calibrated before every start of your daily operations, whereas some periodically. For more sophisticated temperature calibration, thermometers are often sent to service facilities that specialize in calibrating thermometers.
For manual calibration, a thermometer calibration log can offer the following benefits:
Ensure food safety. With a properly working thermometer, food safety operations are ensured to be working correctly and are properly executed. This means that the product you are processing in your kitchen is free from food safety risks. It also ensures that food safety standards being are followed. Using an inaccurate thermometer significantly increases the risk of causing foodborne illnesses as the product may be undercooked. Alternatively, if the thermometer is reading way over the correct temperature, the quality of the product may be affected.
Proof of calibration. A thermometer calibration log will be used to record all calibration processes. Employees are required to input the initial reading they monitor as proof that the thermometer required calibration. Additionally, the corrective action, which is the calibration process, must also be recorded. The calibration process must be done at least three times to ensure that the thermometer is properly calibrated. The document must also be signed by the employee who performed the calibration. A thermometer calibration log can become an integral part of your food safety management system documentation, especially for audits and inspections.
Diagnose faulty thermometers. During thermometer calibration, you can also assess from the temperature readings if the thermometer is becoming faulty and would need maintenance or replacement. Records on the thermometer calibration log can show erratic readings which may hinder calibration. Use the thermometer calibration log as a supporting document to request a new thermometer.
Promote accountability. In a thermometer calibration log, the employee assigned to perform the calibration process is required to put down his or her initial. This process is performed to increase accountability among employees. The food safety manager can be assured that the calibration process is always performed and that it was performed correctly.
How to get a thermometer calibration log?
You can always make your own thermometer calibration log. The important thing is for it to contain the necessary parameters to ensure that the thermometer calibration process is well recorded. Your thermometer calibration log must contain the following:
Date of calibration
Thermometer model or assigned number
Actual temperature reading
Target temperature reading
Corrective action performed
Employee initials
In calibrating thermometers, it's important to log the model or assigned number to identify the correct thermometer. Different thermometers are used to measure temperature for specific operations. This would help employees identify which thermometer is faulty. Additionally, the corrective action pertains to the calibration method and the resulting temperature readings of the process. A thermometer calibration log does not have to be a complicated document. In fact, you can use our free thermometer calibration log template.
This log document is only one of our many food safety templates. At FoodDocs, we offer several checklists, posters, and consumer advisory templates that you can use in your food business. You can easily download and print them for your convenience. Check out our HACCP plan template hub for more.
Digital solution to monitoring thermometer calibrations
The importance of thermometer calibration cannot be understated. In fact, this operation is often considered as a corrective action for a Hazard Analysis Critical Control Point (HACCP) plan. A thermometer calibration program is just one of the many food safety tasks that you have to do to ensure food safety in your food business. This means that you would have to monitor all other operations listed under your HACCP plan on top of handling other business functions.
For newcomers in the food industry, achieving food safety compliance is quite a feat to do. Not everyone gets approved on their first try. Not to mention, keeping your compliance status is another thing to worry about. At FoodDocs, we have built a way to make compliance easy and accessible for all food businesses.
We feature a digital Food Safety Management System with a built-in HACCP plan builder software. These two products are intended to get you compliant and help you stay compliant in the most efficient way possible. For both products, all it takes is for you to answer a few questions related to your food business.
Our built-in HACCP plan maker can help you create all the most important parts of a HACCP plan. After answering the questions about the operations in your food business, our system automatically generates all the important parts of your HACCP plan. This plan that we automatically generate for you is specifically designed based on your daily operations. This whole process would only take an average of 1 hour to complete.
With our built-in HACCP plan maker, you can get the following documents:
A basic flow diagram of your daily operations
Identified and accurately analyzed food safety hazards
Appropriately assigned critical control points and critical limits
Corrective actions
Monitoring procedures
Verification procedures
Recordkeeping
All documents can further be customized for necessary improvements. With our built-in HACCP plan builder, you can build your HACCP plan 500x faster than when you hire a consultant to do the job for you. For almost all food businesses that involve cooking and controlled storage, our system generates corrective actions such as calibrating the thermometer to determine whether the problem is just a misreading or an actual issue with the cooking process. Additionally, calibration is an important part of our preventive measure suggestions to ensure that operations such as cooking are able to meet their intended objectives.
Once compliance is done, next comes monitoring food safety to maintain compliance. With our digital food safety management system, you can always stay on top of your daily food safety operations. With a similar process to our HACCP plan maker, you can make a digital food safety management system in just 15 minutes. Once registered, our system automatically generates significant digital monitoring forms for your operations. These forms can even be set to become automatically filled during operation.
With our digital FSMS, you can get the following:
Automatically filled digital monitoring forms. The information logged into the forms is based on your previous data entries and would only need quick verifications.
Never forget or miss a food safety task with our smart notification system. Using our mobile application, our system will send you intuitive notification alerts that notify you of any task due to being done.
Save at least 20% of your time from managing your food safety operations using the real-time food safety dashboard that you will also get. This dashboard reflects your daily progress and can identify which areas need more attention.
Store all of your documents in one place without needing any physical space. Use dedicated cloud storage for your food business to keep everything organized.
Customize and improve the digital FSMS based on your needs. You can input any unique operations to your food business and our system will generate the monitoring forms. With our digital FSMS, compliance with food safety standards can be easily maintained. Monitor multiple thermometer calibration logs, on top of other operations, with ease using our digital FSMS. You can rest easy that calibration is never forgotten and is always properly recorded with our system features to keep your operations food safety compliant. With our help at FoodDocs, you can significantly cut on the manual work while ensuring that no one forgets to do any food safety task.
Sign up with us at FoodDocs or try our free, 14-day trial to experience our services. You can continue your compliance journey with us by availing of our food safety plans.
Check also these popular templates
Easy app for monitoring to have an instant overview
Implement your

Food Safety System

in 15 minutes

Easy app for monitoring

to have an instant overview
Ready-to-use

HACCP Plan

in 1 hour