FREE TEMPLATE: UK CHOPPING BOARD COLOUR CHART
Use our free poster for chopping board colour chart.
Just enter your email and download the template.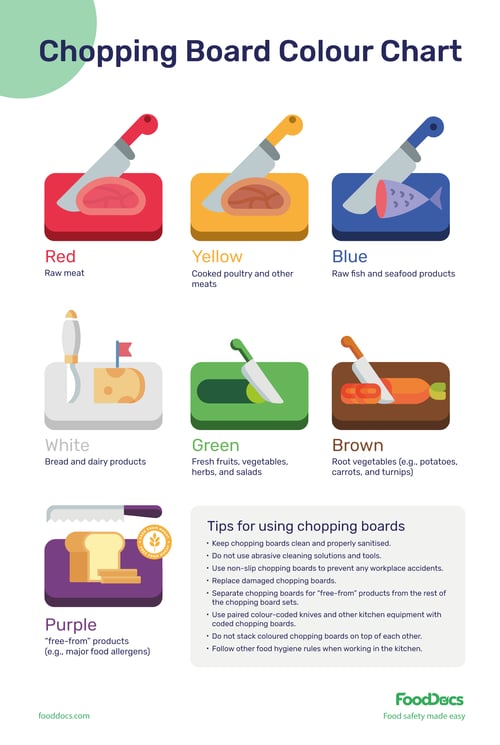 UK chopping board colour chart
The colour-coding system used for designating chopping boards used in food preparation significantly prevents the contamination of foods.
Designating specific colours for kitchen items and tools has been a universal process that helps comply with minimum food hygiene standards. One of the most popular examples of the colour coding system is used in chopping boards.
Chopping board colours serve as a clear visual cue for staff to follow and promote safe and efficient food handling practices in commercial restaurants. The food industry in the UK uses a generally accepted system for colour-coding chopping boards.
Key points covered in this article:
The colour-coding system for chopping boards prevents cross-contamination and cross-contact in foods.
Colour-coding chopping boards is not a formal food safety law, but it is highly encouraged by food safety agencies.
In the UK, the most common food and colour combinations used for preparing foods are yellow for cooked meats, red for raw meats, white for dairy and baked products, green for fresh vegetables, brown for root vegetables, blue for raw fish, and purple for "free-from" products.
Although used for specific products, colour-coded chopping boards must always be properly cleaned and sanitised.
Worn-out chopping boards increase the likelihood of physical contamination and the spread of bacteria among foods.
Using a colour-coding scheme for chopping boards is just a part of a wide range of food sanitation practices.
Food businesses can use FoodDocs' Food Safety Management System to monitor an established colour-coding scheme and other food hygiene tasks in a restaurant.
In this article, we discuss the significance of chopping board colours and how your team can efficiently monitor food safety compliance using our digital platform.
All details are discussed in-depth in the following topics:
What are recommended kitchen chopping board colours?
In the UK food industry, coloured chopping boards are commonly used as a means of
preventing food cross-contamination
, with different colours such as white, yellow, blue, red, green, brown, and purple being assigned to specific types of food.
The mentioned colours are commonly assigned into a universal colour code with the following food combinations:
Yellow - used for cooked poultry and other meats
Red - used for raw meat
Brown - used for root vegetables (e.g., potatoes, carrots, and turnips)
Green - fresh fruits, vegetables, herbs, and salads
Blue - used for raw fish and seafood products
White - used for bread and dairy products
Purple - used for allergen-free products
Using a correct colour-coded system for chopping boards is a practical yet very effective way to minimise
food safety hazards
in a professional kitchen. The system is part of the critical preventive controls for the food safety of a food business. It helps prevent harmful bacteria and
major food allergens
from spreading and causing serious allergic reactions in consumers.
It is important to note that no specific law requires a colour coding system for chopping boards in the UK.
Use our free Downloadable Chopping Board Colour Chart to guide your team in using proper chopping boards during any type of food preparation.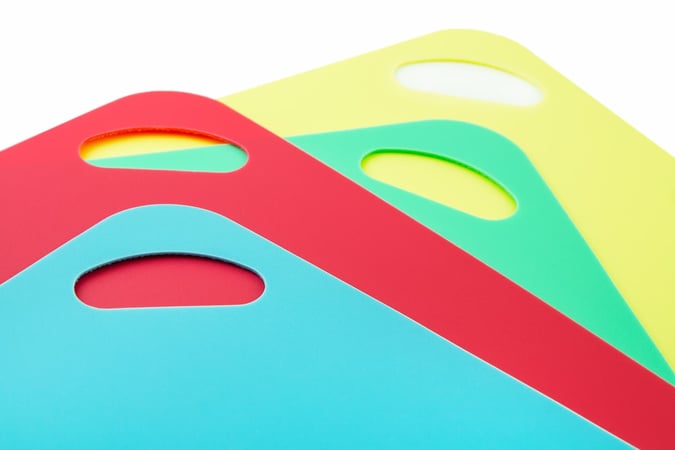 What is the system for chopping board colours UK?
In this section, we will discuss the different chopping board colours and food combinations with the following topics:

Different restaurants in the UK use various systems for colour-coding their chopping boards. Food safety agencies in the country encourage using the coloured chopping board system, but there is no established food regulation for using them.
This colour-coding kitchen equipment scheme is more elaborate and includes a dedicated board for allergen-free products.
In this section, we discuss the different colours of chopping boards used for a particular type of food product.
Which chopping board colour should be used for raw meat and poultry?
The recommended kitchen tool colour when handling raw meat is a red chopping board. Raw ingredients, such as beef, pork, poultry, or lamb, are advised to be prepared using a red board.
Using a red chopping board specifically for raw meat can help immediately distinguish the proper kitchen tools and prevent the spread of harmful bacteria in the kitchen. Although food handlers are advised to use only the red chopping board, the tools must still be properly cleaned with soapy water and sanitised in between use when preparing different meat products (e.g., pork to chicken or vice versa).
Which colour of chopping board to use for raw fish and seafood?
A blue chopping board is recommended when preparing raw fish, shellfish, other seafood, and related products. The blue colour makes it easier for you to see any residual scales or food parts that need to be removed.
What colour of chopping board to use for cooked chicken and other meats?
Cooked meats, such as chicken and pork, are recommended to be prepared using a yellow chopping board. Cooked meat often still requires preparation after processing, such as when plating slices of steaks.
A good example of using a distinct cooked meat chopping board is when you are making a sandwich. The meat will require slicing for redistribution in the sandwich.
The yellow chopping board used for cooked food must not be used for partially cooked or ready-to-eat products like deli meat or sushi slices.
What chopping board colour should be used for fresh fruits and vegetables?
For preparing fresh fruits, vegetables, and herbs, you are advised to use a green chopping board. These products include leafy greens, apples, tomatoes, and cucumbers used when preparing a salad.
On the other hand, a brown chopping board is recommended for preparing unwashed root vegetables. This category includes potatoes, carrots, and turnips. Unwashed vegetables require cleaning as they often come with soil. A brown board will help keep the soil from spreading to other food ingredients.
It is important to remember that these chopping board colours must not be interchanged. Vegetables prepared on a green board require little to no cooking and will cause food poisoning if contaminated.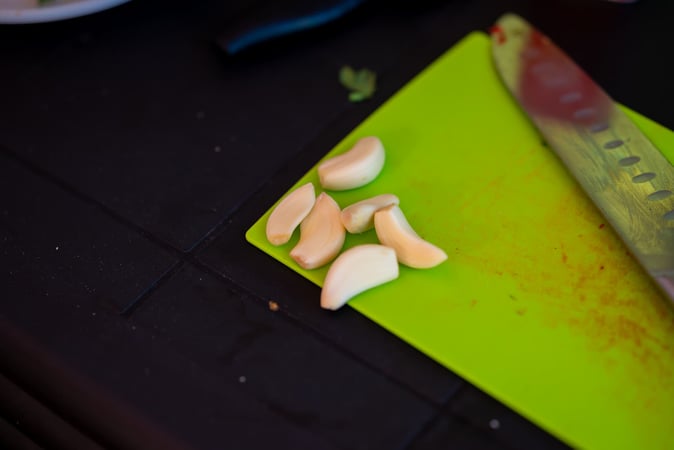 What colour of chopping board to use for baked products and dairy?
Baked goods and dairy products are recommended to be prepared using a white chopping board. Although bakery products are less likely to contain harmful foodborne pathogens, they may contain a lot of major food allergens. As such, a dedicated white board used for preparing bread products must always be available.2
Similarly, dairy products, including different types of cheese, are often delicate and can be easily contaminated by other foods or bacteria. Using a designated board for these items helps to ensure that they are not exposed to any harmful bacteria or flavours that may affect their taste or texture.
What colour of chopping board to use for free-from products?
The most widely used chopping board colour for free-form products is purple chopping board. "Free-from products" refer to foods that do not contain major food allergens, including gluten, soy, dairy, and nuts, and are often labelled as such to indicate that they are suitable for people with food allergies or intolerances.
Using a dedicated purple board for allergen-free products can help decrease the risk of cross-contact or the spread of allergens. Your employees must remember that purple cutting boards require strict sanitation in between use.
Use our Downloadable Free Food Allergen Chart to guide your employees who assigned to prepare allergenic foods.
Why is using coloured chopping boards important?
Using a universal colour-coding system for chopping boards in a restaurant kitchen is a part of the food safety and hygiene system of a food business. Although simple, the coding system is a proven scheme that effectively prevents the spread of unwanted microbial contamination and other types of hazards.
Specifically, the importance of using coloured chopping boards can be summarised through the following points:
Controls and prevents cross-contamination. The main objective of the colour-coding kitchen system is to control the spread of potentially harmful biological contaminants during the preparation of high-risk foods. Using designated chopping boards can minimise the possibility of transferring pathogens from one food to another.
Protects consumers with food allergies. Using designated coloured boards can help control products that can cause a fatal reaction for people with food allergies. Strict implementation of the colour code can regulate the presence of allergen contamination in a kitchen.
Provides a clear system for tracking. Each colour is typically designated for a specific type of food, making it easy to keep track of which board was used to prepare which type of food. This can be especially helpful in a busy kitchen with multiple chefs.
Supports food hygiene practices. Using coloured chopping boards helps to maintain a high level of cleanliness and organisation in the kitchen. The practice supports other food sanitation tasks, such as proper handwashing and sanitation of food preparation surfaces.
Helps with food hygiene and safety compliance. Although the colour-coding system is not a law itself, it acts as a system that helps to achieve rules in avoiding cross - contamination. The system satisfies one of the 4 Cs of food safety or the major rules of food safety.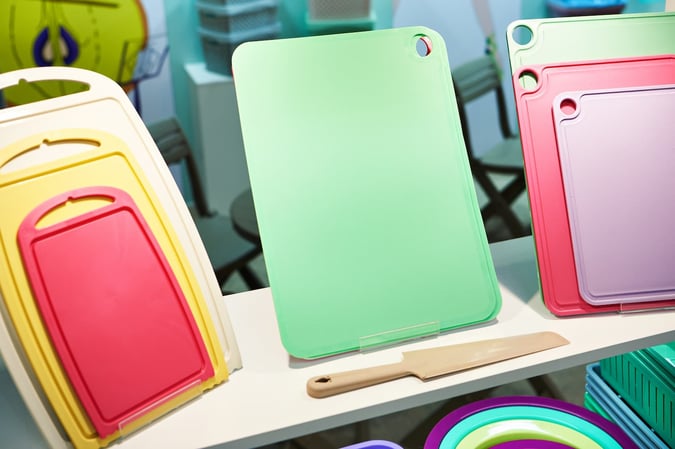 Maintaining proper use of the correct coloured chopping board set can significantly help a food business in controlling food safety. This system must be consistently monitored to ensure that it is consistently being followed. In addition to following the system, cleaning and sanitising the chopping boards after every use must also be followed to achieve the main objective of the colour-coding scheme.
Help your food safety team control the risk of food contamination and ensure food safety and hygiene compliance at all times using our smart Food Safety Management System at FoodDocs. Using our software, you can get automatically generated, customisable monitoring logs and checklists that you can use to intuitively monitor food safety tasks, such as using colour-coded equipment.
Explore more about how our system can help you by using our free 14-day trial.
What are the risks of not properly using colour-coded chopping boards?
The biggest risk in failing to use colour-coded boards properly is the occurrence of accidental cross-contamination and cross-contact. This scenario can cause a widespread case of food poisoning and an outbreak.
For example, food handlers in a very busy commercial kitchen use a single wooden chopping board to prepare chicken and vegetables. In this case, the likelihood of spreading pathogens from the raw poultry to the vegetables is very high. Vegetables require lower internal cooking temperatures than chicken; therefore, transferred pathogens can survive.
Another risk of not properly using colour-coded chopping boards is food spoilage. For example, cutting raw meat on a board that is also used for fruits and vegetables can cause the board to become contaminated with harmful bacteria. This can cause the fruits and vegetables to spoil faster, which can compromise the quality and safety of the food.
How to safely use coloured chopping boards?
In addition to using coloured chopping boards, these kitchen tools must also be properly maintained. Worn-out chopping boards can promote physical contamination, especially if you are using old chopping boards. Some types of chopping boards can also be harder to clean.
Here are some useful tips for using and caring for chopping boards:
Keep cutting boards clean and properly sanitised.

Do not use abrasive cleaning products and tools. Cuts on chopping boards can become hiding places for biological hazards and food particles.

Use non-slip chopping boards to prevent any workplace accidents.

Replace damaged chopping boards. Chipped parts of chopping boards from deep knife cuts can unintentionally mix into the food and cause physical contamination.

Separate coloured cutting boards are used for free-from products even after sanitising to ensure no cross-contact will occur.

Use paired colour-coded knives and other kitchen equipment with coded chopping boards.

Store chopping boards properly. Do not stack coloured chopping boards on top of each other, as this can trap moisture.

Follow other food hygiene rules when working in the kitchen.
In addition to taking care of your kitchen equipment, food sanitation involves other essential tasks to control food safety hazards.
Using Chopping Board Colour Coding in HACCP System
Using colour-coded chopping boards is an important aspect of food safety in the kitchen. The system is also about following good practices, such as using separate boards for high-risk foods, allergen-free foods, and specific tasks. By following the colour-coding scheme, you can ensure that your chopping boards are used safely and effectively, reducing the risk of foodborne illness and improving hygiene in the kitchen.
To ensure that food handlers in your business will strictly follow the colour-coding system, you need to implement a comprehensive food safety system to monitor your operations. The best available solution to this task is to use our intuitive Food Safety Management System at FoodDocs.
Powered by artificial intelligence and a machine-learning program, our smart software can automatically generate the necessary food safety documents to help you maintain food safety compliance.
When you use our software, you can get the following benefits:
After completing the sign-up, our system will automatically create digital monitoring logs and checklists according to the operations of your food business. The customisable logs and checklists that you will get can help you intuitively monitor food safety tasks. Some of the essential checklists that you can get include the following:

Master sanitation schedule. Keep track and ensure that daily, weekly, and monthly sanitation tasks are done with this schedule.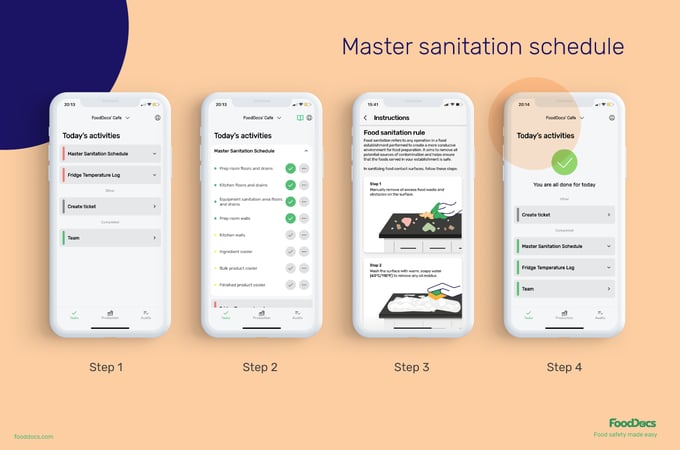 Master sanitation schedule process in FoodDocs software
Sanitation and cleaning checklist. Use this intuitively generated list of cleaning and sanitizing tasks to keep all areas of your facility clean all the time.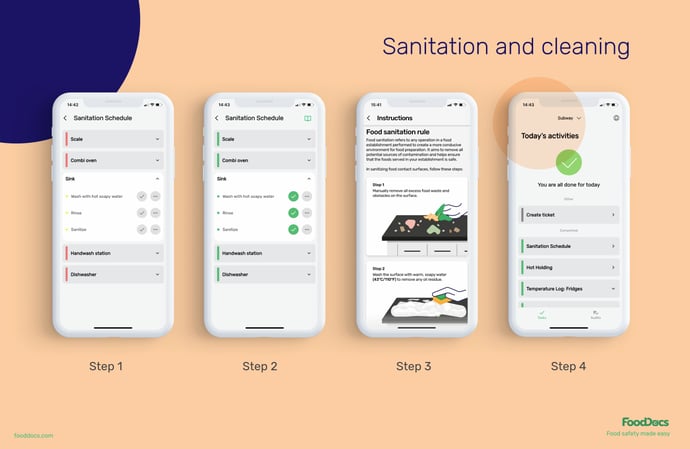 Sanitation and cleaning checklist in FoodDocs software
Employee hygiene checklist. This checklist is dedicated to your employees to ensure that they maintain proper personal hygiene. Add and improve on the tasks generated for you.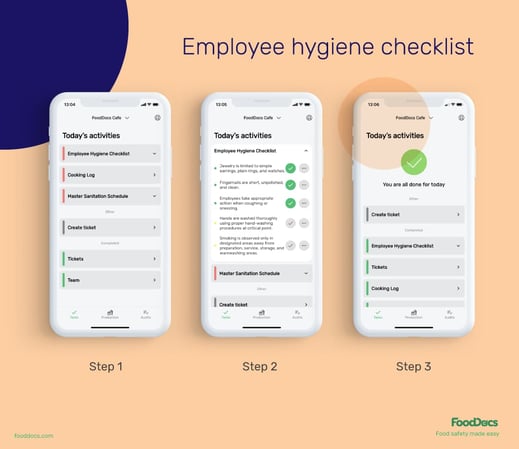 Employee hygiene checklist in FoodDocs software
Each log and checklist comes with a detailed set of instructions on how to use the log and perform the task. You can use this information to ensure that your team understands how to perform the operation. You can also upload your versions of the instructions.

You can also get a digital Recipe Book that you can use to manage allergens in your business. All you need to do is upload restaurant recipes in bulk, and our system will automatically create an allergen matrix. Use this to develop strategies on how to protect consumers with food allergies.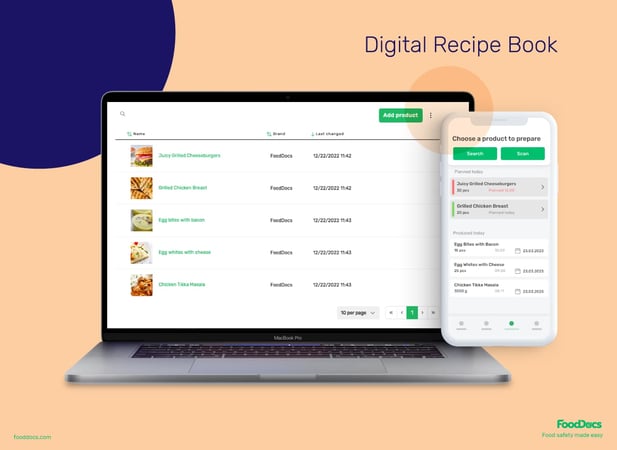 Digital Recipe Book from FoodDocs
Get intuitive alerts using our mobile app equipped with a smart notification system. This program sends notifications to food handlers, reminding them of a task that is due. Use this feature to ensure that all food safety tasks are done on time.
Food safety managers can significantly benefit from our smart software. Our system also has features that can help in improving operation efficiency:
Save up to 20% of your time supervising your team manually by using our system's real-time dashboard. Using our dashboard, you can get a quick overview of your food safety progress. The dashboard will show areas that require more attention, allowing you to address them on time.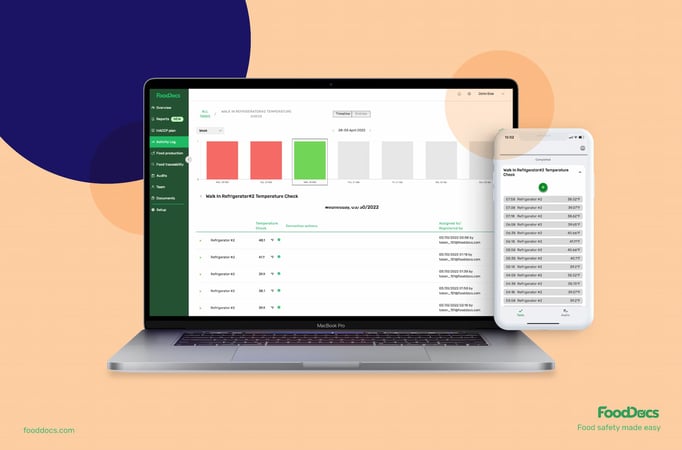 Real-time dashboard from FoodDocs
Store and organise all digital documents in one place. When you use our smart software, you get cloud storage where you can archive essential documents and easily access them in case of an inspection.
Our system was designed to be adaptive to changes. You can easily apply revisions from inspectors or for general improvement by simply customising your monitoring logs. Your food safety managers can do this anytime once you have established your digital Food Safety Management System.
All it takes for you to set up your digital Food Safety System is to answer a few basic questions about your business. The whole process will only take approximately 15 minutes.
Become more sustainable by switching to our digital doos safety platform at FoodDocs. Our innovative software can help you maintain compliance with all the essential food safety regulations for your business.
Start your digital food safety journey by using our free 14-day trial.
Easy app for monitoring to have an instant overview
Implement your

Food Safety System

in 15 minutes

Easy app for monitoring

to have an instant overview
Ready-to-use

HACCP Plan

in 1 hour