Case study
I would not make any cakes today if FoodDocs did not exist!
Nadjeźda Kaarma, who prepares delicacies in her home kitchen and is the master and a living legend, now shows, how easy ...
---
Nadjeźda Kaarma, who prepares delicacies in her home kitchen and is the master and a living legend, now shows, how easy is to start with your food business with help of FoodDocs. Also, we will hear how simple is to create technical descriptions that you need, if you sell your products to another company.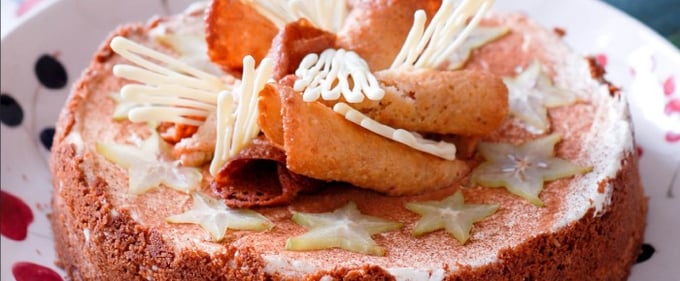 The cake master Nadježda Kaarma is a living legend. For forty years, her marvellous bakings have found their way into cafes, morning television, and cookbooks. Now the beloved confectioner is working in her own home, diligently filling the orders of her sweets loving customers.
Nadja is amazed at how people still remember her from old times but there are more and more clients. "In my opinion, I have ordinary cakes but people always tell me that they have never had better cakes," says Nadja with a big smile. The characteristic flavours, authenticity, and fresh raw materials of her cakes have won her customers' hearts.
Quality is the base of everything
Nadja is not afraid to experiment and often invents something new that suits the customers well. "Biscuit is still a biscuit but you can add almond flour or buckwheat flour and get a whole new experience," says Nadja.
To hold the quality of her products high, Nadja chooses her raw materials with great care. "If I need a lot of whipped cream for a cake, I talk to the local store so they would stock up on it. I order marzipan and chocolate in because I trust German quality," describes Nadja.
Nadja admits that the competition is strong in the bakery market and quality must be carefully maintained. At the beginning of baking cakes at her home and selling them, she took the principle that without a high-quality production the cake business can not last.
Substantial management
For starting her own cake business Nadja needed to create a company and take care of the important documents. She had followed the
food safety requirements
while working in cafeterias but someone else had taken care of the paperwork.
Oscar, Nadja's son, had also never been in the food business but he offered to help and began to research the established requirements.
"I found out that we need to compile a
HACCP plan
. I found instructions and I had trouble with papers for two weeks. Then I gave up and thought I will not do it," recalls Oscar the bumpy start of their company.
He describes how reading up on complicated regulations and instructions turned out to be time-consuming and troublesome next to other things that needed to be done. Then he tried to find an example of a
HACCP plan
and ended up on the FoodDocs page.
"
It seemed easy. I thought, if this system gets us through the bureaucracy, we will try it,
" describes Oscar helping her mother.
With a couple of days, Nadja and Oscar managed to complete most of the HACCP plan in FoodDocs.
"It was easy to start from scratch and do it because there are separate steps in the system that tell you exactly what to do and how to do it,
" says Oscar about getting rid of his hard troubles.
Getting forward step by step
In the HACCP plan, Nadja had to describe appliances used in her home kitchen and monitoring them. Mother and son decided that it is wise to separate raw materials for private use and for their enterprise in different refrigerators because in that way it is easier to monitor the temperature weekly and clean the surfaces.
FoodDocs also led them to think about scenarios when something goes wrong. For example, when preparing food at home there is often only one entrance and exit door. It creates a situation where clients' moving route overlaps with both the input and the removal of products and waste and there is a risk of cross-contamination.
"For avoiding hazards, we decided to regulate moving routes according to the time. During the day, when it is cake baking time, trash will not be taken out. Trash is taken out in the evening when the work is done and the finished products are packed," tells Oscar.
In the warmer season, there is a hazard that flying insects are drawn in by the scent of a sweet smell. Oscar says that because of FoodDocs' instructions they knew to pay attention to it: "According to the season, we have flypaper or glue trap in the kitchen to avoid wasps and flies getting into the cake."
Fateful moment
As always, after finishing the HACCP plan, official food safety control followed. It went so smoothly. Even before the control arrived, Nadja and Oscar were confident that everything is alright. "
We surfed in the FoodDocs page with the official and looked through our food safety plan, everything was perfect. They also ordered a cake from Nadja afterward!"
laughs Oscar.
The cake master has a plan to start using the FoodDocs' production module where all the ingredients of the products are brought out. If the client orders a cake and wants to know the information about allergens, the entrepreneur must enable it.
"You can calculate for example how much peanuts you use in the cake every time but it is so much easier to get that information straight from FoodDocs, that calculates that for you automatically," explains Oscar. The system gives you the certificate of conformity which can be given to the company that resells the product if necessary.
When Nadja and Oscar look back at the start of their food business, they are convinced on one thing – dealing with all the documents and complying with the HACCP plan by themselves would have overwhelmed them. Even so badly that it would have been easier to go back to paid employment.

"Nadja would not make any cakes today if FoodDocs did not exist," says Oscar.
Nadja adds that the greatest gift does to what she really likes: "It makes me really happy if a client writes to me telling they loved my cake!"