HACCP FLOW CHART TEMPLATE FOR FREE
Use our free tool to create HACCP Flow Chart.
Just replace the words on the form when needed and download.
So, go and use them for yourself.
5 steps to create a HACCP flow chart
A HACCP flow chart, also called a HACCP flow diagram, is a pictorial representation of all your processes, usually considered as the most difficult part of a HACCP plan. That's why it's the most common reason that food business owners turn to food safety consultants or food safety software. It just seems too complicated to create.
In this article, we go through briefly what a flow chart sample is and how to create it the quickest and easiest way. Also, feel free to use our HACCP flow chart template. Just replace the words on the form where applicable and download or print it out.
If you want to take the easiest way and let the software do the job for you, sign up for HACCP builder software and see how machine learning creates the flow chart sample automatically together with all other compliance documents.
What is a flow chart?
In the food industry, a HACCP flow chart represents all the steps that your raw materials go through before becoming a finished product in your menu. Steps in a HACCP flow diagram may include: receiving the products, storing products, preparing products, cooking, cooling, re-heating, serving, and food donation. Depending on your HACCP processes, you may have many more or fewer steps than those listed here.
Is a HACCP flow diagram mandatory for food businesses?
Depending on where you are located, but it may be a regulatory requirement to have a HACCP flow diagram for your food business. In case you need to be HACCP certified, you will definitely be required by law to have it.
What tool should I use?
There are lots of different tools and software that you can use to create a HACCP flow chart sample. Whatever format or tool you decide to use, make sure that it is flexible – because things change, especially in the food business and after Covid-19, so the more flexible it is to modifying – the better.
Some examples to use when creating a HACCP flow chart:
1. Pen & paper - It is allowed to create your flow process chart on paper, even in the 21st century. I agree that it's not the most convenient way, but when you're not very technical, go the traditional way.
2. Microsoft Office solutions – Excel, Word, and Powerpoint are reasonably good for creating a HACCP flow diagram. Boxes and arrows – everything is there. It just takes time and skill to find them.
3. Different web designing tools - Like Creately, Miro, Draw, etc. True, these tools are more complicated to learn, but once it's clear you're able to create much more than just a flow chart.
4. Food safety software - Some HACCP software companies even include an automatic HACCP plan builder that creates a flow process chart automatically and is customizable at any time.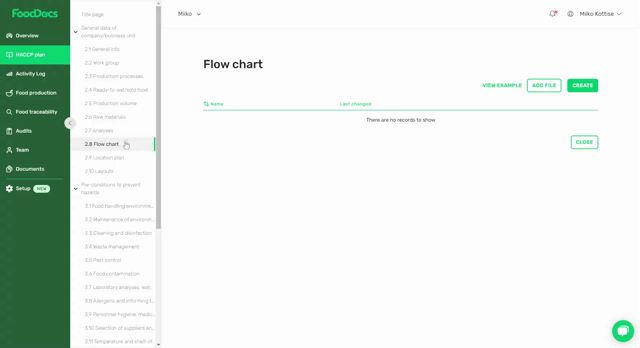 How to create a HACCP flow chart with 5 steps?
STEP 1. Define all processes in your company
As already described, you should document all HACCP process steps you have in your food business, nothing more or less.
Some samples that your processes might be:
Picking herbal products
Ordering/buying products
Receiving products
Storing products
Thawing/defrosting
Cleaning dirty vegetables
Preparing non-animal food
Preparing animal food
Cooking
Cooling
Freezing
Re-storing
Re-heating
Drying
Packaging/labeling
Transporting food
Serving
Food donation
There is no need to point out too much, like cleaning and sanitizing, inspection, audits, testing, etc. Focus only on the steps that your raw materials go through before becoming a finished product in your menu. If your HACCP processes are very complex and contain several steps, consider creating several different HACCP flow charts. For example, in food production companies, it's common to create a HACCP flow diagram for each product.
STEP 2. List all HACCP process steps
After defining the steps, list all your processes according to your facility's real-life situation. It might seem that there is only one simple option, but usually, there are several ways that HACCP processes can change for the location. For example, after preparing the food, it can go directly to serving without being cooked. See below how the flow process chart changes: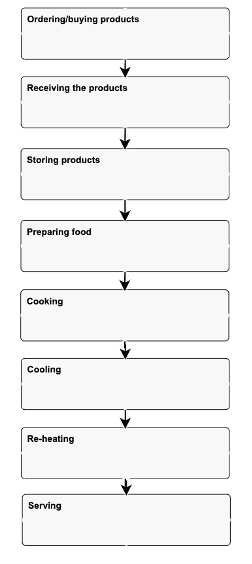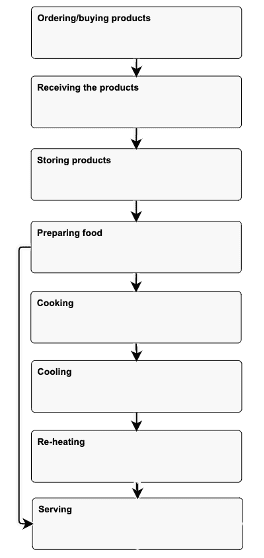 STEP 3. Define Control Points and Critical Control points.
Depending on the region, sometimes you need to validate and mark your HACCP flow chart, whether your process steps are Control Points (CP), or Critical Control Points (CCP). For that, you need to list each step of the HACCP process and note down all possible hazards for each step. Evaluate the possible hazards of each step separately based on their severity and likelihood of occurring. Some steps can contain a single hazard, while some steps can have several.
If this all sounds too complicated for you, our teammate Violet has put together a great article about The Most Common Critical Control Points for Food Businesses. Feel free to read more about this topic. Also, when using FoodDocs HACCP builder software, the whole HACCP flow chart template will be created by the software.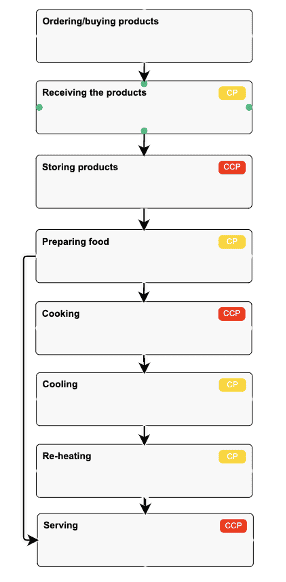 STEP 4. Define control measures
The next step is to define and mark which control measures are made, whether measuring the time, temperature, or quality. Also, to mark, are you recording the results? Here, it's the same as with Critical Control Points (CCPs) – in some regions you need to add them. In some places, not.

Step 5. Verify your HACCP flow chart
After completing your flow diagram together with the whole HACCP plan, there are some concrete times when you need to verify that your HACCP flow chart is correct. These key times are:
1. Once a year, at least.
2. Whenever there has been a change to any of your HACCP processes, like installing new equipment or removing existing equipment from the process.
3. Whenever you start to use a new ingredient, that can have an important impact on the production process. For example, a raw material containing an allergen.
So, as you see, things change, especially in the food business. Covid-19 has also made the food sector leaner, so the more flexible your HACCP flow chart is for modifying – the better. Feel free to try HACCP builder software that helps you to create and modify your flow chart at any time so you can focus on what you really need to – managing your business.
As you already know, a HACCP flow chart is just one part of a HACCP plan. Feel free to check our HACCP plan template hub – documents that are important and most wanted parts of your HACCP plan. Just change the wording by clicking on the words and print them out.