Food safety
What cannot be used to dry utensils? Guide for food handlers
Sanitized utensils must not be dried using a dish towel as it increases the risk of cross-contamination and encourages ...
---
Sanitized utensils must not be dried using a dish towel as it increases the risk of cross-contamination and encourages the growth of bacteria.
The best way to dry cleaned and sanitized dishes is to air dry them in a dedicated and previously sanitized drying rack.
Properly drying dishes and utensils is an essential part of the cleaning and sanitation process.
There are several common operations in a kitchen of a food service establishment that is performed without food handlers even realizing their significance. If you are a food handler or a food business owner, the question "What cannot be used to dry utensils?" may have crossed your mind but do we really understand the significance of this question? You may think that this is an unusual question and can be answered by a simple solution, but believe it or not, this question gets asked a lot in the food industry.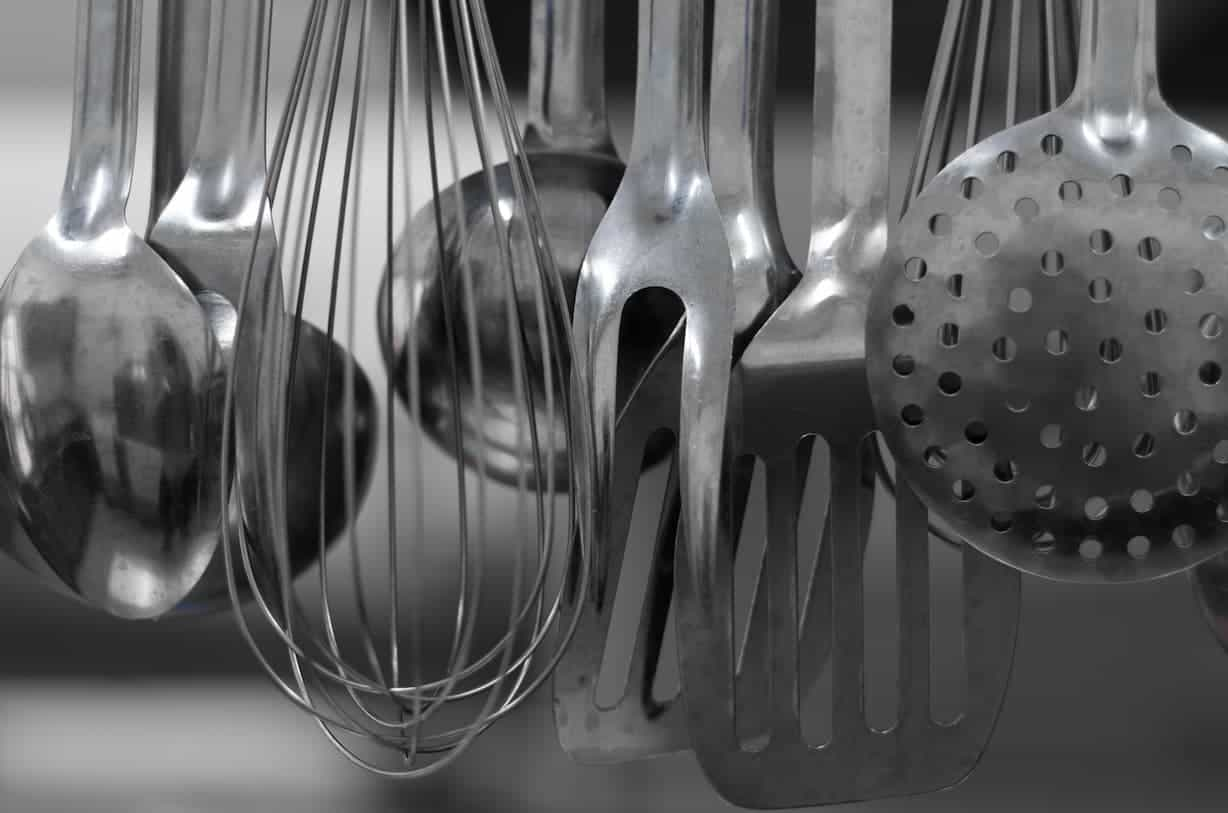 The reason behind this is not as simple as your solution in the kitchen. Unclean food contact surfaces may cause foodborne illnesses as a result of cross-contamination and therefore must be maintained and properly sanitized. Food establishments are mandated to uphold strict food safety regulations which include proper food sanitation. A part of this process is to properly dry utensils and surfaces to ensure that the sanitation process is complete and effective.
Learn what cannot be used to dry utensils in a food establishment and how this operation can save you from causing a foodborne illness outbreak as we answer some of the most frequently asked questions on the internet.
How do you dry kitchen utensils?
The best way to dry kitchen utensils is to air dry them. In some states, it is even a part of their food safety regulations to air dry sanitized utensils. Air drying comes after the process of cleaning and sanitizing. Before drying kitchen utensils, food handlers must properly perform sanitizing first to ensure that the utensils will not contaminate other kitchen equipment.
After sanitizing, kitchen utensils are placed in a kitchen rack with all the other utensils and dishes for drying. This rack must never be used for other purposes such as storage of excess utensils in the kitchen. Only recently sanitized equipment and utensils can be placed here. Additionally, the racks must also be cleaned and sanitized regularly.
Can you use a table to dry utensils in a restaurant?
When air drying utensils, you can only use a dedicated drying rack. This prevents drips from the utensils and dishes from going everywhere and other contaminated tools from coming into contact with the sanitized materials. Additionally, a drying rack can help food handlers stack utensils neatly. If sanitized utensils are only placed on top of a table, they can become contaminated easily.

How do you properly dry equipment and utensils?
Drying kitchen utensils in a food service establishment and your personal kitchens may be different. It is always tempting to use a cloth towel to dry kitchen utensils as it is faster but this increases the risk of causing foodborne illnesses. Food safety training programs normally teach air drying is the best way to remove the excess water on plates.
Drying is the last part of cleaning and sanitizing kitchen utensils. It is an invaluable step that ensures the cleanliness of everything that is used in the kitchen. Without a dishwasher equipped with a dryer, kitchen utensils must be properly air-dried before use. The excess moisture may attract harmful bacteria and has a more chance of cross-contamination.
How do restaurants dry dishes?
Larger food businesses use industrial or commercial dishwashing machines. This type of equipment automatically washes large batches of kitchen utensils and dishes at once and features an automatic drying capacity. Using commercial dishwashing machines improves the efficiency of the cleaning process and creates a seamless transition between food preparation and service. It also ensures compliance with food standards concerning cleanliness.
In a smaller scale restaurant, a 3-compartment sink is a common equipment. In such a case, utensils are dried in a dedicated compartment or a drying tray. Dishes and utensils are never dried using a dry towel as this can cause cross-contamination.
How do you dry dishes in a commercial kitchen?
Most commercial kitchens use an automatic dishwasher equipped with a dryer for quick drying. This equipment helps them cope with the fast-paced environment of a restaurant. Alternatively, a commercial kitchen can use air-drying as a method but this will require them to have several sets of dishes as air-drying takes time.
How do you dry items after washing?
The best way to dry dishes in a restaurant is to air dry them. Using a dish towel invites cross-contamination and increases the risk of foodborne illnesses.
Can you hand dry dishes in a restaurant?
The general rule is to never use a hand towel to dry dishes in a restaurant. Towels promote cross-contamination regardless of whether they are new, recently washed, or never been used. The safest way to dry dishes is to place them in a drying rack and allow them to air dry. Do not use the dishes until they completely dry out.
Is it proper to put away cups and knives after you have towel-dried them?
It is generally not safe to use towels to dry cups, knives, or any utensils in the kitchen after sanitizing them. Using a towel has the risk of introducing pathogens and encourages the growth of bacteria. Sanitizing utensils only removes the preexisting food safety hazards but it cannot protect them from future contaminations. As such, the best practice would be to air dry utensils rather than using any type of towel.

What do you use to dry plates?
There are many ways that you can dry plates. The thing is, only a few can be used in a restaurant that complies with food safety regulations. Plates can be dried using two drying methods:
Using a dishwasher with dish drying features.

Air-drying plates on a previously sanitized drying rack.
These operations offer the most effective solutions to drying plates without any occurrence of cross-contamination. Less contact with other materials and food contact surfaces occur and therefore minimizes the risk of transferring any foodborne pathogen.
How do you dry dishes quickly?
The quickest way to dry your dishes in a restaurant kitchen is to use a dishwasher equipped with a drying system. This type of equipment uses forced, heated air to speed up the drying process. Alternatively, you can also use dish dryers which are cabinets solely dedicated to drying freshly sanitized dishes and kitchen utensils. In drying dishes, they must first be cleaned and sanitized thoroughly to avoid spreading contamination among utensils inside a drying cabinet.
Can you dry dishes with a paper towel?
Single-use paper towels can be used to dry towels. These tools are clean and have not yet come in contact with any other materials and therefore can be used to dry dishes. The drawback of using paper towels is that one sheet can only be used once and must be immediately disposed of. This means that you will be generating a lot of kitchen waste just to dry dishes.

What do restaurants use to sanitize dishes?
Cleaning and sanitation in the foodservice industry are two very important health codes to keep customers safe. The importance of food safety and sanitation must never be ignored and always be upheld. After physically removing food debris from dishes and before drying, three different methods are recognized for sanitizing dishes. These methods include:
Using diluted chlorine solution

Using quaternary ammonium salts

Using the hot water method
In sanitizing dishes, factors such as the concentration of the sanitizing solution, proper application, and contact time are all crucial. These factors ensure that the sanitation procedure is effective and will be able to reduce the risk of foodborne pathogens significantly.
Help guide your food employees in understanding food safety and sanitation using our poster. Additionally, you can also create a more efficient system for cleaning and sanitation by using our restaurant cleaning checklist. Find more useful food safety tools from our list of templates, checklists, posters, and other important documents at our HACCP plan template hub.
Do restaurants bleach dishes?
Some restaurants use bleach as a sanitizing agent on dishes. This is a perfectly safe practice given that the correct concentration is used. For sanitizing the approved and recommended concentration of bleach to be used on utensils and food contact surfaces is 50 to 200 ppm.
How do restaurants clean utensils?
All areas of a restaurant require thorough cleaning. Utensils and contact surfaces are not exempt from this rule. Cleaning involves certain steps that need to be done in the correct order to become effective. An example of common practice and an effective cleaning routine in a food establishment involves the following steps:
Washing and manual removal of leftover food products

Cleaning with soapy water

Rinsing

Sanitizing

Drying
Each step is essential to make the next one effective. Failure to properly clean utensils prior to sanitizing can make the process inefficient and increase the risk of cross-contamination. Cleaning is also done at regular intervals and must always be followed.
Instances such as the following may call for a mandatory cleaning:
Before and after handling any raw and ready-to-eat food item

Once every four hours in a shift

When visible dirt build-up occurs

When spills or food-related accidents occur
Food safety standards in cleaning operations are described in a required food safety tool which is the Sanitation Standard Operating Procedure or SSOP. This document describes the proper way of cleaning and sanitizing all areas of a food establishment.
How do you hand wash dishes in a restaurant?
Similar to the previously described set of steps in cleaning, hand washing dishes must also be done in order. Unlike an automatic dishwasher, hand washing dishes takes time as it is done on individual plates. The following steps are involved in methods for washing dishes:
Remove all leftover food pieces.

Rinse the dishes with hot, soapy water

Scrub dishes thoroughly

Rinse dishes to remove the remaining soap

Sanitize dishes

Air-dry dishes
Remember to place all sanitized and clean dishes for air drying on a drying rack. Do not leave them on the sink or near any unclean utensils. Proper drying ensures that the food dishes will not be cross-contaminated and can be used for serving foods without causing foodborne illnesses.
What is the best way to dry utensils after cleaning and sanitizing them?
The best way to dry utensils, dishes, and other kitchen tools after cleaning and sanitizing them is to let them air dry on a dedicated drying shelf. When an automatic dish drying machine is not available, manually airdrying them is the safest way to go.
Using towel cloths increases the risk of introducing contaminations to the sanitized utensils and can potentially contaminate all other tools in the drying rack. The air drying operation, although simple, is an essential tool and is guided by food safety regulations. It is often a part of basic food safety topics in food handler training programs to attain a food hygiene certificate from a health department. Proper cleaning and sanitizing must be part of every food handler's basic food safety knowledge.

Food safety compliance using a digital solution
Drying dishes and utensils is a vital part of the cleaning and sanitation process of any food establishment. Regardless of how small it may seem, the effects of properly performing drying tasks for a high level of cleanliness are significant in controlling food safety. Monitoring this task, along with other food safety operations, is key to complying with food safety regulations and preventing the occurrence of food poisoning.
To do this efficiently, your regular traditional Food Safety Management System (FSMS) won't make the cut. Although reliable, the usual paper-based methods take time to cope with the fast-paced developments of the food industry. Every day, innovations are introduced and new monitoring forms and procedures must be devised for them. The solution is to get your team a system that can easily adapt to any changes.
At FoodDocs, we offer our digital Food Safety Management System as the solution to this hurdle. Using our system, you can easily switch from a traditional FSMS to a digital platform without too much effort. By simply answering our basic questions about your food business, our system can automatically generate a digital FSMS for your food safety team. The process happens in an average of 15 minutes.
After processing, your team can get automatically generated digital monitoring forms that feature an auto-fill function. Using this feature, you can save time and make your monitoring procedures more efficient. Your monitoring forms will be automatically filled based on your previous data entries and will only need verifications.
Need reminders regarding your food safety tasks? Our system ensures that no food safety operation is left undone. With our mobile application, our system sends out intuitive notifications to remind food workers of food safety operations that need to be done. You can even review your daily progress using our real-time dashboard feature. Save 20% of your time from manually overseeing everything and identify key areas for improvement faster.
Our system also supports sustainability as you leave your paper-based forms behind. You can use the dedicated cloud storage for your team to store, organize, and access everything easily. What's even greater is that the monitoring forms that you get can be further customized to accommodate improvements and revisions.
Build your comprehensive digital FSMS in just 15 minutes and enjoy food safety compliance. Experience every feature we have highlighted for yourself by availing of our free, 14-day trial.