FOOD ALLERGY CHART TEMPLATE FOR FREE
Use our free tool to create a food allergy chart.
Just replace the words on the form when needed and download.
So, go and use them for yourself.
Company name:

Your company

_
Opening and closing checklist template
Your opening and closing routines for your cafe, any type of restaurant, pub, or shop are part of the most important jobs of the day. Every restaurant owner should know it and that's why this job is given to the most trusted, qualified, and accountable staff.
The opening and closing checklist template is a great document to organize your daily restaurant operations, like keeping your food business establishment always clean, organized, and ready for the next day. Our default template contains some of the most common yet important food safety tasks you need to do before and after operations. Some of these tasks range from wiping down the working area, sanitizing the bench and all utensils, throwing away the garbage, and setting up the alarm before leaving. These sample tasks are here for you to prevent human error in the fuzz of daily operations.
We have created a free template for an opening and closing checklist that is fully customizable. Just replace the words when needed and download them for printing. You can also add or remove the rows before downloading. At the end of this article, you can find other template samples, including kitchen closing procedure checklists to make kitchen operations more systematic as well as manager opening and closing checklist.
This article covers:
Free opening and closing checklist template
Benefits of having an opening and closing checklist task
How to implement opening and closing checklist
How to digitalize checklists and avoid producing paper piles
What is an opening and closing checklist template?
An opening and closing checklist is a list of duties your staff needs to do before opening or after closing the restaurant business. These tasks are considered pre-opening and post-operational tasks to keep your food business secured and free of any food safety issues. This checklist is an important tool for double-checking all the needed activities to ensure a smooth operation and efficient workday for all the staff and to be fully ready for the experience for customers.
Opening and closing checklist can be used as a reminder by laminating and posting it on a very visible spot of a restaurant premise so everyone could see it when passing that. It can also be used to keep staff accountable for their designated tasks. To get the most out of it, print the checklist for each working day and ask your team to register and sign it when they have finished the day operations. This documentation can become proof of your compliance with food safety operations for health inspections.
Sounds like loads of paper? That is true. These printed checklists will eventually pile up and need to be disposed of. To manage your food business more sustainably, use food safety management systems that include digital checklists. Our HACCP plan software has a checklist program which you can also view through our mobile app. Get notified of the tasks that you need to do every day and never forget doing them.
Who needs opening and closing checklists?
Having a proper daily closing checklist as well as a pre-opening checklist is always useful for your company. Generally, whether your business is a service bar, a hotel, a restaurant, a food manufacturing business, or a retail store, an operations checklist will always be applicable to you. It reminds your establishment staff of their responsibilities around the operations area.
Some activities that smaller food business owner can cover usually includes counterchecking the closing procedures done on the previous night, orienting the bar staff before the operation, putting on security alarm, and cleaning food preparation surfaces. On the other hand, a larger food business team is more focused on concrete working processes and has their operations guide compiled in a bar operations manual. In larger businesses, like restaurant chains or retail businesses, opening and closing checklists are often standardized. It means the checklists are exactly the same for all locations to maintain a consistent brand image.
A checklist with procedures is not meant only for waitresses or hostesses, it's as much useful for your restaurant manager, chef, kitchen and bar manager, cooks, and cleaning team. It's needed for all your team members, who have several tasks to keep in mind every morning and evening. The most useful checklists are opening and closing checklists for employees who work seasonally, like students during the weekend or employees from agencies. These people are not familiar with your business specifics and opening and closing checklists present a great help in those cases.
Checklists are an essential tool to motivate and to keep good relationships among your employees. Checklists are concrete forms to show the expectations to your whole team. With this, there will be no misunderstandings between your staff members about daily tasks. Each member will be designated with a task and promote staff accountability. Everything is always done on time and if not, the opening and closing duties checklist makes it easy to resolve the uncomfortable situation.
What are the benefits of having an opening and closing procedures checklist?
No matter the size of the business or the type of business model, opening and closing checklists are always useful and have several benefits.
1. Training your employees
Training employees is an invaluable step in a food business. An employee's volatility is the biggest problem and this makes training so challenging. Managers and shift managers are usually overwhelmed with several tasks to find time for staff training. Clear and well-prepared opening and closing checklist templates present a great help here. These checklists can become a tool to orient your employees with their designated tasks. It is a simplified tool that is easy to follow.
2. Motivating your team
The team is motivated when they know what is expected from them. It means, the more precise are the tasks, the better will be the results. This aspect makes everyday tasks achievable and measurable for evaluation. So, a restaurant opening checklist together with closing tasks is a great tool in building motivation. Also, people are motivated when the company's indoor climate is good and people get along. For that, it's important to prevent problfematic situations between different personalities by assigning them specific tasks that do not overlap. What can be more demotivating when coming to work and realizing that the evening servers team didn't close the business properly? The list of tasks makes everyone aware of their duties and when something is undone, it's easy to identify which item was not accomplished and who was responsible for it to keep a certain level of professional environment.
3. Cost saving
It's well known that hospitality has low margins, so it's important to keep all the details under control. Switching off the lights, heat, and ensuring clean faucets, or doing routine security procedures like turning on the security alarm system can be more important than you can imagine. To lose control over basic daily things can end up with an extreme heating bill or even causing a burglary or even something worse.
4. Helps to ensure food safety
Having a proper opening and closing checklist template helps to ensure food safety and prevent foodborne illnesses. Add basic food safety tasks that need special attention to keep your business food safety under control. For example, all kinds of temperature measurements and cleaning tasks are directly related to food safety and ensuring compliance according to your HACCP plan. For start-up businesses, start a culture of good handling practices by adding business startup checklists that can sample tasks such as include bar cleaning tasks, a routine for cleaning surfaces and maintaining clean floors, inventory for essential materials such as paper towels, clean containers, clean towels, and safety equipment.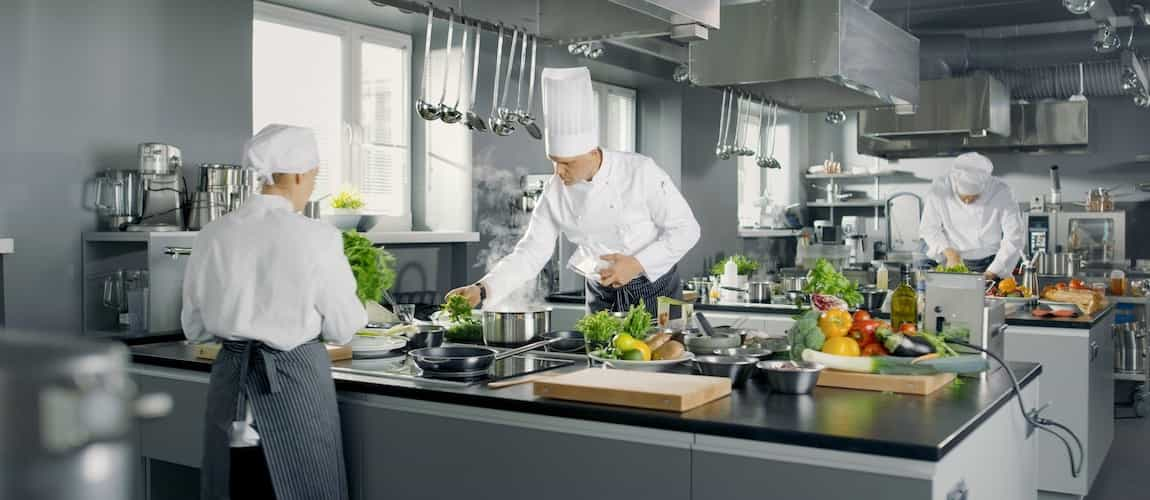 How to create an opening and closing checklist?
Here are some useful tips when composing your checklist:
1. Identify activities. Write down all activities you consider important when opening and closing your food business. Be specific in writing the tasks in your checklist. Ambiguous tasks usually cause confusion and can ruin day operations. Make sure that you cover all business operations related to food safety in your checklist.
2. Categorize your list. Categories can be divided into that tasks that need to be done in the morning, before the customers start to come, in the evening after the customers have left. We also suggest pointing out key tasks that should be done after all customers have left. During a busy night, establishment standards can easily be breached because of all the things your staff do. Categorizing tasks can easily help them remember closing responsibilities even after an exhausting day.
Categorize your list also according to the jobs, so front-line employees have one list and kitchen staff has the other. With this, it's easier to ensure staff accountability.
3. Set the frequency and other notes. In some cases, additional notes and descriptions are needed to be added. For example, if any of the restaurant equipment needs more thorough cleaning every second Sunday, you need to point it out separately. All cleaning tasks should be listed up accordingly in your cleaning schedule with the list of kitchen equipment, cleaning frequency, and appropriate cleaning supplies.
4. Make the checklist available for all involved parties. This means sticking your checklist on the wall, printing it out, or introducing a digital checklist to your team by inviting them as a user.
5. Archive your documents. These checklists are considered an important part of your food safety plan. Store them accordingly after the checklist completion.
How to implement an opening and closing checklist template?
The best way to implement a smooth functioning basic checklist template is to ask your house staff to be involved in the creation process. With this, your checklists will be built by people who actually do the tasks every day. Make your checklist comprehensive by asking your senior server to create a list of the most important activities and complete them as a whole document.
After completing the document, introduce it to your whole team. Explain the reason and the benefits of the opening and closing checklists. Additionally, introduce an archiving system to your team for recordkeeping purposes.
How to digitize your opening and closing checklist?
Are you tired of producing more and more paper piles because of your daily checklist? Want to run your business in a more sustainable way? More and more food businesses switch from paper checklists to digital food safety management systems to save costs and run their business more efficiently. You can digitize not only opening and closing checklists, but also the whole documentation of your food business, together with the HACCP plan, monitorings, checklists, and much more.
The benefits of digital checklists:
1. Help your team to remember all restaurant daily duties - notifications keep your food safety under control and on time.
2. Save your employees' time - the digital Food Safety Management System fills monitoring sheets and checklists automatically according to previously inserted data. The only thing you need to do is to confirm or change them.
3. A real-time food safety dashboard helps you to be compliant and save 20% of the time your manager spends on supervising.
Will switching from paper to digital process take a lot of my time?
The most common fear among food businesses regarding going digital is the time they need to learn the new process. Our people in FoodDocs have spent over 20 years in the restaurant industry and know the ins and outs of daily life in the food business. This is the reason why switching from paper checklists to digital with FoodDocs is possible in only 15 minutes - an automated setup enables you to go digital after completing your profile. According to your profile, we set up the most common food safety tasks for you so you can start trying filling them just right after signing up for our 14-day free trial. As easy as that, you have nothing to lose. If you are still hesitant, our very responsive customer service can walk you through all the processes and get it done in no time.
In terms of archiving, digital checklists are always stored and easily found both by date and by filler. This makes it easy to show them to your health inspector when needed.
Opening and closing checklists templates
Every business in the restaurant industry has its own specifics and items to put on its opening and closing checklist. At FoodDocs, we have created this basic checklist template for you so you can use it as a checklist sample template. To make it more flexible, we added a feature so you can add and remove lines for customization. Feel free to change the wording before downloading.
When starting the FoodDocs trial, we'll create a digital opening and closing checklist template automatically for you. It means you can start trying digital checklists just right after completing the signup. Together with the opening and closing checklist, we can also assist you in making all the most useful food safety checklists related to your business.
To find more similar templates, check our free HACCP plan template hub where we have listed all the most needed food safety templates for our customers, including kitchen cleaning checklist, pest management plan, etc.
Get access to more monitoring forms and checklists by signing up with us! Join us and avail of our Food Safety Management System services and get more flexible and significant documents for your food business.
Restaurant manager opening and closing checklist
Opening and closing checklist is not always only for restaurant employees, it's also a perfect tool for a restaurant manager to keep all operational tasks organized.
Some important items in a Restaurant Manager Duties Checklist include:
Restaurant opening checklist:
Set an agenda and arrange a staff meeting
Review menu items with the kitchen team
Explain daily specials to staff, explain allergens
Taste menu items with the staff to ensure the highest food quality
Answer emails, respond to reviews and social media posts
Review reservations
Make sure your team has all checklists, like the restaurant kitchen cleaning checklist
Make sure the dining room together with the guest bathroom is tidy, filled with toilet paper, and ready for the customers
Make sure restaurant cleaning supplies are away from the dining area
Check the table settings and the cleanness of table linens
Check supply fresh flowers and other inventory
Check if there are any other critical tasks
Restaurant closing checklist:
Review staff schedule for the next day
Review the sales reports
Review the cash registeres
Check the food safety tasks fulfillment
Check restaurant cleaning checklists have been completed
Make sure all equipment is switched off
Double-check inventory
Also security procedures are one of the most important closing task
Make a list of tomorrow's tasks
Include remarks of the tasks performed within the day
Opening and closing checklist for kitchen pdf
Kitchen operations also need a document to keep in mind all the needed tasks. The kitchen team is usually the first to arrive in the morning for all the preparations that need to be done in the kitchen before the day starts. That's why kitchen opening tasks are important to list up and make available for the whole team.
Here are some of the tasks for your kitchen checklist :
Kitchen opening checklist
Prep cook is responsible to make preparations for the day
Check if preparations are according to the prep list
Don't forget to invite the staff tasting
Fill the ingredients for kitchen stations
Follow food safety standards in all your activities
Complete all needed safety measures
Clean all food contact surfaces
Keep away all cleaning materials from the working station
Kitchen closing checklist
Put perishable food items inside the fridge
Put all cooking utensils back on their respective racks
Refill condiment bottles such as pepper shakers
Clean floors
Clean refrigerator coils
Make sure that walk-in refrigerators doors are closed
Make sure waste disposal is done properly like kitchen trash cans have been emptied
Not sure where to start with your opening and closing checklist? Don't have enough time to switch to a digital food safety system? With FoodDocs, you can switch to digital just after completing your profile. Our 14-day trial lets you try the digital checklists totally for free, no credit card required.
Check also these popular templates
Easy app for monitoring to have an instant overview
Implement your

Food Safety System

in 15 minutes

Easy app for monitoring

to have an instant overview
Ready-to-use

HACCP Plan

in 1 hour