Customised monitoring sheets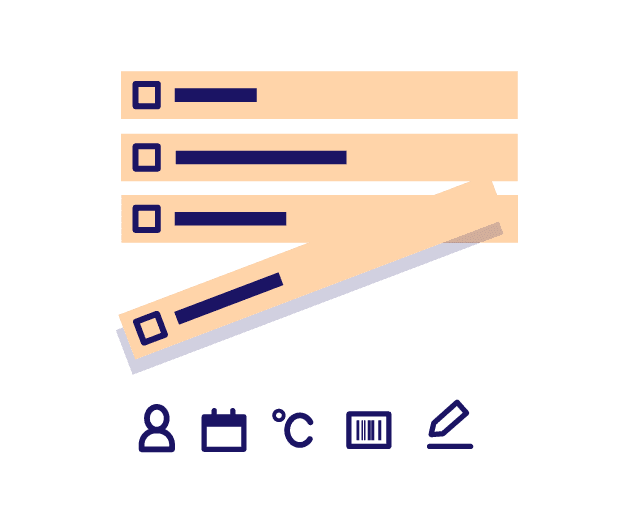 Get your digital monitoring sheets quickly and easily by signing up with FoodDocs. Get everything done on time by assigning monitoring tasks to your employees and teams according to their roles.
Applies to:
New food businesses, cafes, ghost kitchens, restaurants, fast food businesses, small producers, home production, supermarkets, schools, kindergartens, food transportation businesses

---
---
Step 1: Sign up to FoodDocs
Mmm, you are really close to those perfectly filled in monitoring sheets. Just fill out the registration form and log into your FoodDocs account.


---
Step 2: Start to set up your monitoring sheets
---
Step 3: Customise your monitoring sheets
You can use the monitoring sheet templates we have created based on your company's profile.
You can customise the settings of your monitoring sheets under the SETTINGS icon.

You can edit your monitoring sheets according to your needs. Change device names, edit frequencies and temperature ranges - adding more detail helps to minimise human errors. You can also add images and videos to help to train your employees to monitor correctly and efficiently.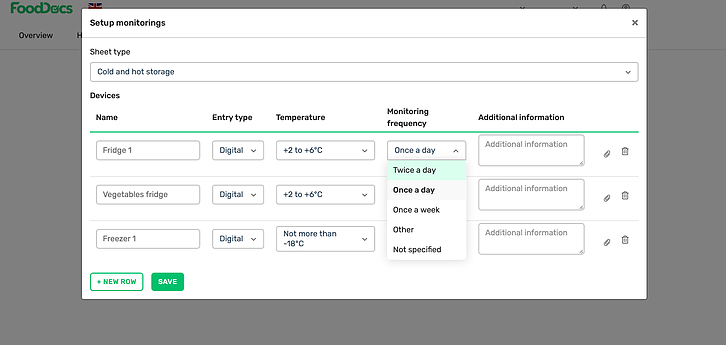 You can see all monitoring sheet templates we have created under

SETUP MONITORINGS

. Feel free to use them for setting up sheets for:

cold & hot storage
food core temperature
customer complaints
food delivery control
production traceability sheet
food serving
pest control
cleaning and disinfection tasks
analyses
calibration
maintenance
supervisory tasks
more to come...

---
Step 4: SAVE your monitoring sheets
---

Step 5: Download FoodDocs app from AppStore or Google Play and start filling out your monitoring sheets.